Spoilers
1) McCrae and Spencer are nominated
2) Andy has HOH and POV
3) If Andy uses the POV whoever he uses it on will have the single vote to evict. If Andy does not use the POV GM has the single vote to evict
4) I'm pretty sure McCrae will be going home tonight
5) During tonight's show the first part of the final HOH is played. It is usually endurance.
1:35 AM GM doing her nails being close to the Nick shrine..
Big Brother 15 N*de flashback times here
2:00am bedroom Spencer and McCrae
Spencer – "I still think Amanda was the best game player in the house"
McCrae – "yuuup.. I believe that in a way I don't know what it's going to be like watching it"
Spencer thinks from their inside perspective Amanda was a top notch player.
McCrae says he didn't come into the game wanting to play the game he played. He wanted to play more the game Amanda played.
Spencer says he didn't have the physical or mental strength to play Amanda's game. Spencer adds that it really took it's toll on Amanda.
Spencer says being on the block so many time ssucked but there was nothing he could do. He was in a position after the moving company that nobody wanted to work with him.
Spencer- 'it's been a pretty crazy summer for me'
McCrae – "that would have been been so tough, i've been on the block for 1 day you've been on the block 30 days"
Spencer – "I don't know how many days i've been on the block.. I guarantee it was half the summer"
Spencer- "I know you and Amanda would go up there and tell them to put me up"
MC – When'
S – "Whenever.. I know for the HOH to have a smooth week they would put me up"
MC says the day Howard went up that was the case.
Spencer says it doesn't matter it's all good, "I think you are a wonderful; person and when it boils down to it it's just a game"
MC – "yuuup I agree"
MC says Spencer played a good game he knew what to do while being on the block where as everyone else would have freaked out on the block. MC says they have that saying for a reason PAwns go home but with Spencer that wasn't the case.
Spencer – "You gotta know your role in the game"
MC says Jessie didn't know her role she tried to be someone else and screwed up.
S – "She just couldn't keep her mouth shut"
S – "I left Amanda a ugly goodbye message.. I regret it never paid Amanda or her game much respect"
McCrae says when Amanda left she told him to stick with Spencer and Andy. Spencer – "I know your game went haywire after she left.. you had some major victories after that"
MC – "I wish she had left one week early.. so I would have more time to get back into it"
MC – "I felt crippled after she left.. I was like F*** now what"
MC – I didn't know where everyone's heads where at.. I didn't know who was pair up.. everyone's partner had been taken out and they've had time to regroup and sh!t"
S – "So f*** crazy there are only 6 days left"
MC – "YA …. FU** I don't think I'm going to see it"
S – "I have no idea where Andy's head is at"
MC – "He gave you no indication"
S – "I mean He never talked at all today"
MC – "Ya… it bugs me he was like yeah we'll talk in a little bit and we never talked at all.. What are am I supposed to f*** think.. I can do nothing but worry now"
Spencer says he can tell MC not to worry just be rested and ready for the competition, "Think positive.. you know"
MC – "I'm not a positive thinker"
S – "you gotta be"
Spencer asks if he's going to be a bigger fan after he's been on it. MC doesn't know he thinks he was already a pretty big fan. \
S – "this is exhausting.. it's sort of mentally crippling"
MC – "Ya"
S – "Who do you think will be selected for Allstars"
MC – "AManda for sure she makes good TV if nothing else "
Spencer thinks it would be Amanda, McCrae and Andy. MC doesn't think he could make it this far again.
S – "It's crazy that Dan made it all the way twice.. I think it's amazing.. I thought it was cool at first now I just think it's Amazing"
MC – "If you talked to Andy tomorrow.. keep pushing that she will beat him in the final 2.. it's better for him to bring me over GM"
Spencer – "She could .. I think your affiliation with Amanda will hurt your jury votes"
MC tells Spencer that she will win this game because his hands are clean, "Plus she was skating like crazy out there".
MC says if Andy uses the veto on him he is not taking GM no f**** way. Spencer says same, "there is no way I will take her over you"
MC _ I was pushing that tonight but I have no idea what his plan is"
S – "Tomorrow you just need to get into his ear.. I would rather go into the final three with you and Andy.." Spencer doesn't know what sort of deal Andy has made with GM but Spencer knows MC and Andy will take him to the end but GM won't.
S – "I'll try and talk to him and you try to talk to him we'll stay on top of him"
They say goodnight
5:00AM Sleeping
9:00AM ZZZzzzz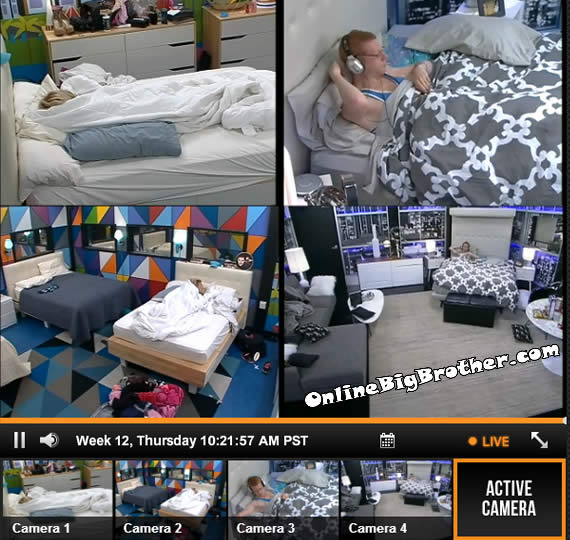 10:23am lights on
11:07Am
Andy is the first one to move.. Heads downstairs to the bedroom where GM is sleeping in her Nick bed with the Nick Shrine. He says good morning and grabs something out of the dresser.
11:21Am everyone back in bed
11:43Am fish
12:15pm Still showing the we'll be right back screen..
If you enjoyed the site this season please consider a donation.