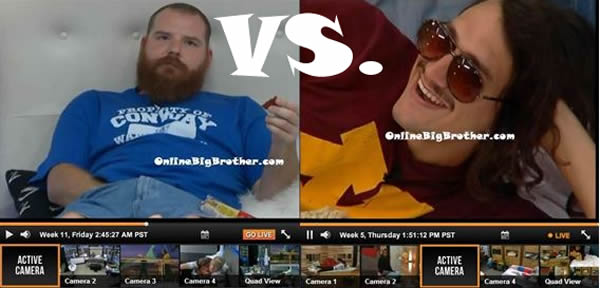 Big Brother 15 Live Feeds: FREE 2 DAY TRIAL
On tonight's live eviction episode we will get to see Andy's nominations as HOH where he nominated Spencer and McCrae for Eviction. During tonight's episode will see the Veto competition that Andy won and whether or not he uses it. Since Andy made the nomination as HOH and won the veto there is no reason for him to change the nominations. As a result Ginamarie will have the sole vote to evict McCrae or Spencer tonight. The Exterminators Alliance (Andy, Spencer and Ginamarie) have a final 3 deal – Ginamarie will be voting to evict McCrae tonight. Earlier in the afternoon today – Andy, Spencer and Ginamarie broke the news to McCrae about the Exterminators Alliance. McCrae was shocked and disappointed to learn that he had no chance of staying and that his time inside the house was up.
Following the Veto competition, Veto Ceremony and the Eviction – The remaining Final 3 House Guests will compete in the first part of the 3 part final HOH competition.
Head of HouseHold Winner: ANDY
Power of Veto Winner: ANDY
Veto used: No
Actual Voting Results:
Ginamarie votes to evict: McCRAE
FINAL 3 House Guests: Spencer, Andy, Ginamarie
Sunday Episode:Special never seen before footage and HOH Part 1 Competition Revealed
Wednesday Episode: Finale where Dr. Will confronts the jury.
7:35pm The Big Brother live feeds are still showing TRIVIA..
8:15pm STILL TRIVIA…
8:40pm TRIVIA..
9pm Not back yet..
9:05pm The live feeds are back up with Andy, Spencer and Ginamarie competing in PART 1 of the 3 part HOH competition. Its a roller skating competition where they are holding onto a rope with a bar while going around and around in a circle. There is no talking going on at the moment. They are all concentrating and trying to not lose their balance.
Big Brother 15 Live Feeds: FREE 2 DAY TRIAL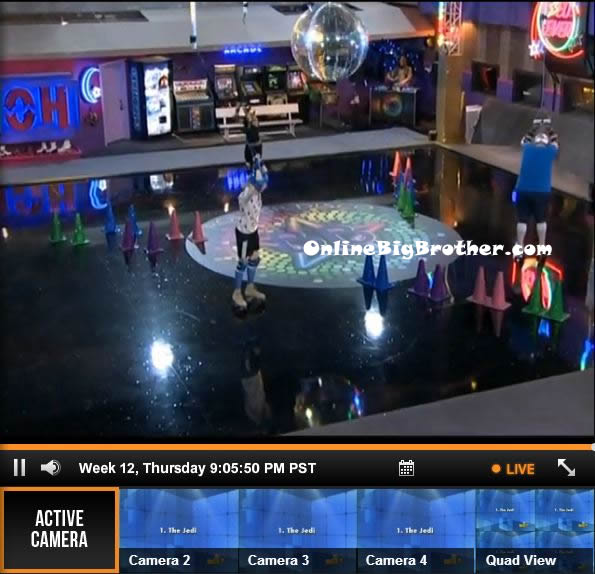 PART 1 of 3 HOH – Endurance Competition winner: ?
3 PART HOH Competition leading up to the FINALE on September 18th:
FIRST of the three part HOH competition is played. This will probably be endurance.
SECOND part of the three part HOH will be played over the weekend / early next week. This one is usually the skill/physical competition.
THIRD part of the three part HOH will be played on the finale episode. This competition is a question competition where the winner will decide who they want to take to the finale 2. The final 2 house guests will then answer questions from the jury members and the jury members will then vote on who they want to win Big Brother 15.
Please consider donating. Simon and I work 24/7 all season long to bring you all the live feed updates and spoilers. ANY amount is greatly appreciated! Your donations go directly to paying the server and bandwidth fees required to run this site.
Use the Big Brother Live Feeds to FLASHBACK to SEE what they can't show you on TV:
BB15 N!p Sl!ps / N*des