Head of Household Winner – Dani
Have nots – Da'Vonne, David, Ian
Nominations – David, Kevin, Ian and Tyler
Power of Veto Players are – Ian, Kevin, Dani, Tyler, Enzo, Da'Vonne.
POV Host: – Nicole
Power of Veto holder – DaVonne
Power of Veto Ceremony – Da'Vonne used the veto on Kevin. Ian nominated in his place.
Powers – Christmas, Dani, David
Live feeds —-> Grab your Live feeds here. Try it free.
Rank the houseguests —-> Big Brother 22 Ranking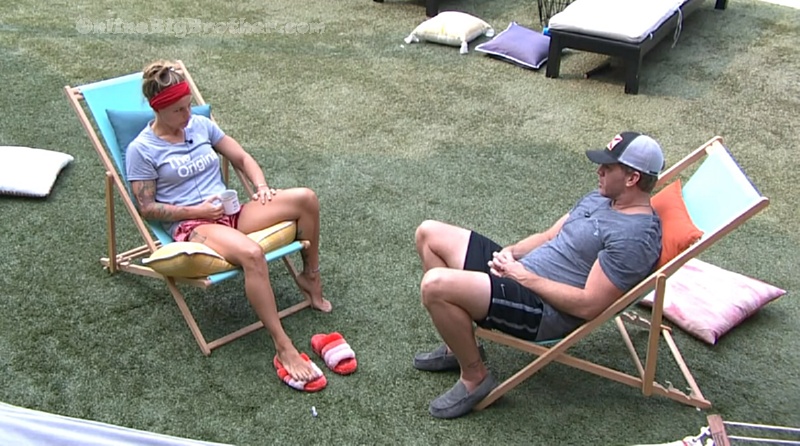 10:14 am Memphis and Christmas
Memphis doubts Nicole will try and flip the house She's going to "ride the wave" with teh committee. Adds that Nicole is going to try and smooth things over with Ian to secure his Jury vote. Says she's not stupid she won't blow it all up for Ian.
Memphis starts talking about Ian's pitch to him "the way he came to me"
Feeds flip… (CBS can't risk Memphis saying something inappropriate?)
When we're back.. they start talking about Enzo. Christmas says she talked to him last night he seems "very receptive to.."
Memphis – we just need to keep him on ice for a little bit. It could get super dicey and we have to throw his a$$ on the block. We're not going to but we could end up next to him. I don't want to have a conversation with someone like that then..
Christmas – ceya
Memphis says maybe them three can join forces and make a run for Final 3 "that conversation needs to happen in the next 10 days"
Memphis – we can't pull the trigger too soon we might have to send him out
Memphis – I'm with you I think he would be a great third.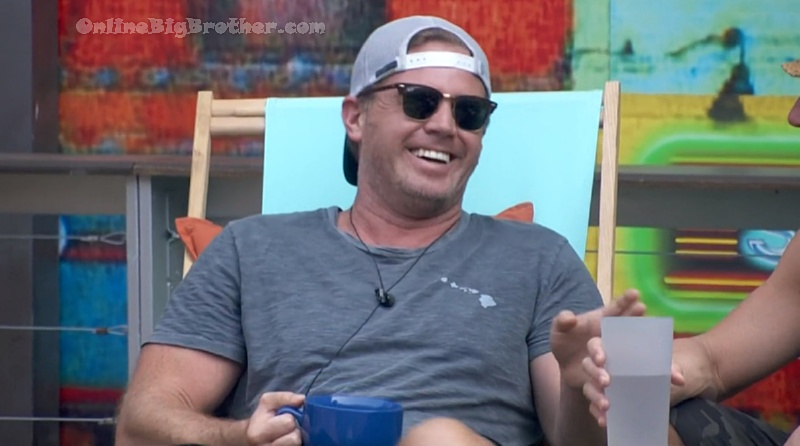 10:50 am Enzo and Memphis
Memphis talking about how different Ian was talking to him the other day "He's a persuasive person"
Enzo – he's wearing jeans now..
Memphis – he was putting on an act these past weeks.. I'm like Dude you literally are talking to me like a completely different person.. Dude this f***ing guy.. Obviously I want to send his ass home I just hope we have the votes.
Memphis thinks they should have the votes this week.
Memphis – I have an idea that I have been mulling over it has to do with me and YOU and it has to do with two other people.
Memphis – me and you making the final. it has to do with us creating two different alliances, me and you and one other person.
Memphis – two separate alliance but me and you are in both with a person on the side.
Memphis – the only way this will work is if we're both here in two week so I don't want to pull the trigger too soon because it can flip flop..
Memphis – if you are game I am going to bring you the one person and we will hash it out make a final 3. then I will bring another person to you and we're going to make the same deal with that person
Enzo – yeah I know what you are saying yeah
Memphis – the only thing that over laps in these two alliances is me and you
Memphis – the crazy thing about the alliance we'll create two. We'll create them with the exact same name.
They laugh
Memphis says once they get to 8 it's going to get "cut throat as f**"
Enzo is game for it.
Memphis says he's going to wait a bit before pulling the trigger on this plan.
They start to talk abotu the vote this week. Enzo says they have 4 votes. They agree they don't want to leave it up to Dani this week.
Enzo – her HOH was a f***Ing mess..
They laugh
Enzo – she put half the house on the f***g block and she can't play in the HOH .. what the f**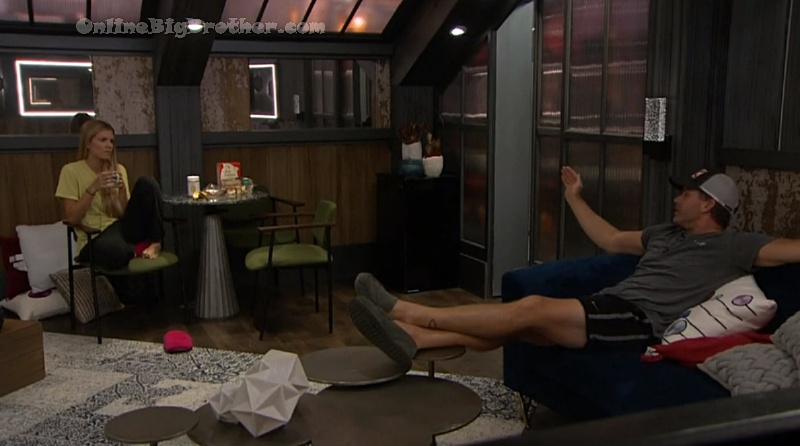 11:12 am Dani and Memphis
Dani says she didn't plan on putting Ian up she knew he has to go but was thinking in a couple weeks
Dani – I just want to make sure we are making the best move. realistically Ian isn't coming after me, You our Nicole.. i'm telling you 100% he's not coming after you and we have to remember Nicole legitimately has him in her back pocket.
Memphis says Ian has played them all like a fiddle says he had a conversation with Ian yesterday and all that nervousness wasn't there. He was calm and articulate.
Dani says Ian told her and Nicole last night his main target is Da'Vonne because she used the veto and put him in danger.
Memphis says Tyler is one of the best players in the house "do you keep him to throw him under the bus next week or the week after.. "
Memphis – to be honest with you if we somehow do make it to 6 it's going to be tough.. A lot of luck basically. He's the first f***er to go
Dani – eyah
Memphis says the other 5 in the alliance will all agree.
Dani – how close are you to Christmas.. swear on anything don't repeat this.. it's just a rumour
Dani – there's a rumour that Christmas and Tyler have a final 2.. I feel there's a little validity to it.
Dani says when she was HOH they hung out constantly
Dani – this was new and really strange.. he came up here that time when he tried ot self evict and he was up here for hours.
Memphis – I'm really worried if we send Tyler home we might lose control of this hose
Memphis says Tyler won't put committee member up if he wins next week
Dani – neither will Ian
(Feeds cut for a huge chunk)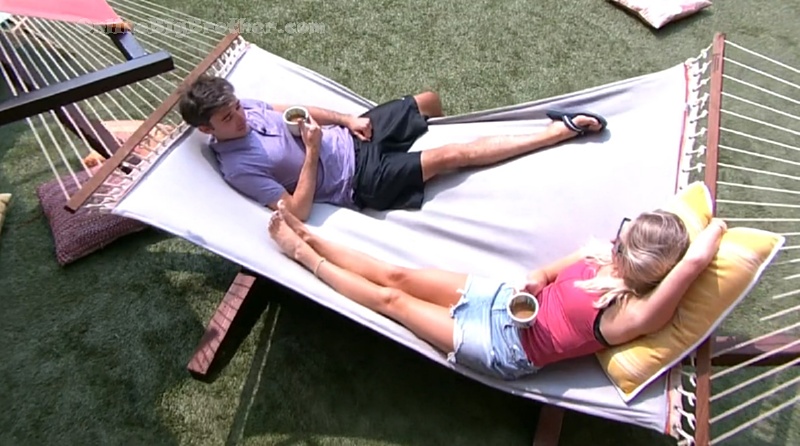 11:55 am Ian and Nicole
Nicole – I talked to Dani last night.. I am going to work on Memphis today
Ian warns to not force it.
Nicole – I'm going to be smart about it. I'm not going to no try it's going to come out organically
Ian – Day is solidly on my side right
Nicole – I think so, she is someone playing all sides..
Ian – here is the harsh reality as long as it's me, Cody, Enzo and Christmas than i'm good
Nicole – yeah ..
Ian – that is all i'm trying to tell myself. To flip Enzo and Christmas will be work
Ian – to flip them to vote me out will be work.
Ian says if tyler is in the final 2 against anyone he will give Tyler his vote to win .
Ian says production told him today .. feeds cut (I think they told him he has to stay in jury to get his money because he's now talking about jury votes and not quiting)
Nicole says Kevin is the next one to go.
Ian – if I go and he doesn't follow me out of here I will be pissed
Nicole – you are my best friend in this house and you are my favorite person in this house I ma having the hardest time with you on this block..
Nicole – we're the two winners here we can get you to stay.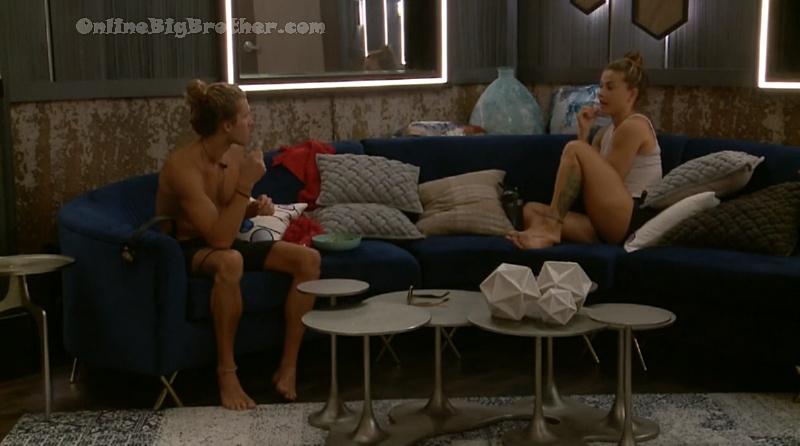 12:35 pm Tyler and Christmas
Tyler – remember when you were HOH and somebody yelled final 2 and power.
Tyler – Kevin told her (dani) that he heard my name but he might have told her that he heard.. YOu and me have a final 2 and Christmas has a power
Christmas – those f**8ers
Tyler- doesn't make sense he only heard my name..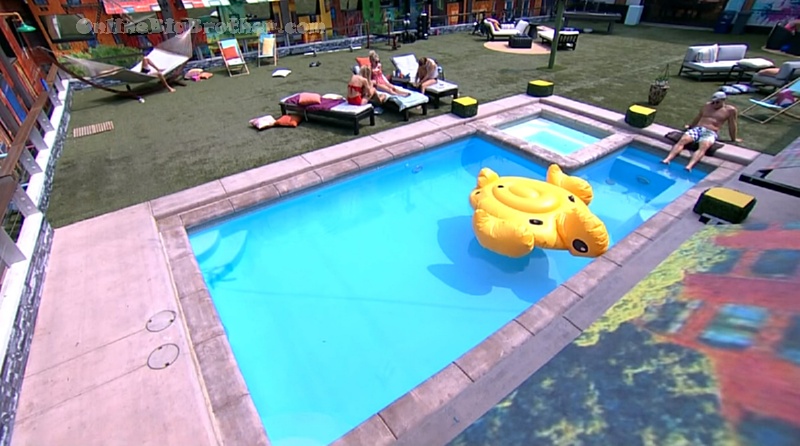 1:12 pm laying around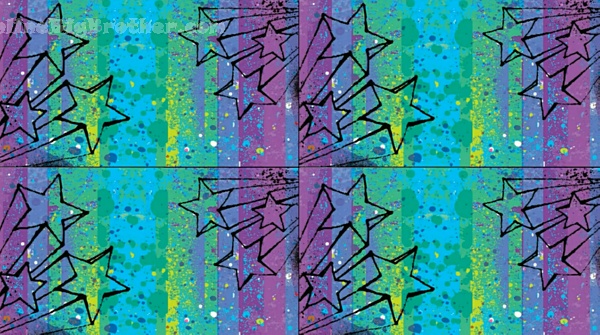 1:42 pm LIve feed update
1:53 pm Kevin gets some new hair.
Kevin gets some new hair #BB22 pic.twitter.com/IjtBGfHwvJ

— OnlineBigBrother.com (@bigbspoilers) September 15, 2020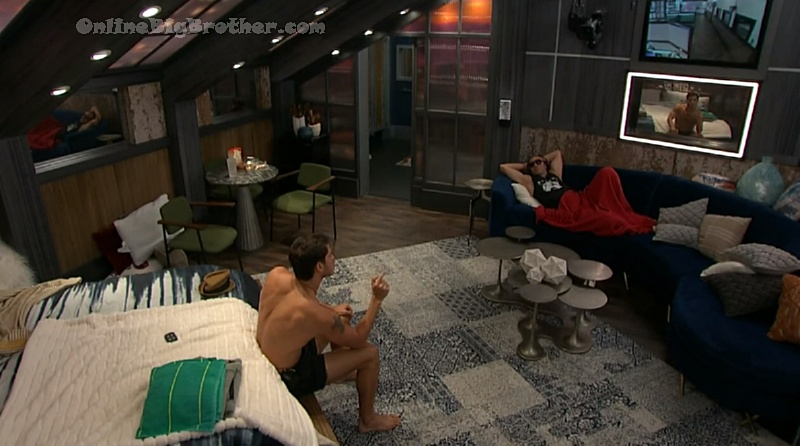 2:03 pm Cody and Enzo
Enzo didn't like Tyler telling him that Da'Vonne using the veto would mean he would go up.
Cody – was that Dani saying that
Enzo – exactly
Enzo – I liek Memphis I do but c'mon now.. we're final 8 now..
Enzo says he trust Memphis more than Nicole and Dani
Cody agrees.. "he's never going to throw you up"
Enzo says he's kinda wanting to get rid of Tyler to even out "that f***ing alliance that you guys have"
Cody – yeah
Enzo – I don't know we have what it takes to get rid of Tyler.. I don't give a f** yo
Enzo – either of these two are not coming after us
Cody – if we go after Tyler what makes me nervous is this alliance makes you think you're allied adn they'll have no problem putting you up
Cody – I want to avoid this group ever targeting you.
Cody says his group (Committee) "f***ing loves you right now Memphis wants a final3"
Enzo says he doesn't trust Da'Vonne. Cody will target her if he wins HOH net week. They agree next week Da'Vonne or Kevin go next.
Enzo says COdy shold be worried about Da'Vonne and Kevin winning the HOH
Cody – who would Kevin put me next to? the only person I'm worried about going up against is you. that is the reason I want to send Ian home
Cody – what if i'm next to Nicole and Ian is still in the house what if Dani wants Nicole to stay and now Ian.. that's 2 already .
Cody – after this week bro 4 is the majority now I'm next to Nicole and Christmas wants to keep Nicole because she's closer to Nicole than me and if if.. Da'vonen has a vote or Kevin.. I'm gone next to Nicole.
Cody says he wants Ian gone over Tyler for this reason.
Cody says Dani was trying to play "Cute" on her HOH
Cody – Ian is one of our Numbers he's not one of their numbers. She's caving Ian because of her cuteness with Da'Vonne
Enzo – if I win HOH i'm about to flip this whole house upside down
Enzo – I'm tired of it.. I'm going to put up one of the girls and someone from the other side and me like figure it out (Wow Enzo what a BIG move)
Enzo – it's too much yo.. it's 7 alliance yo it's too much
Cody says he wants to get something between Enzo, Memphis and him so that it locks Memphis from going after Enzo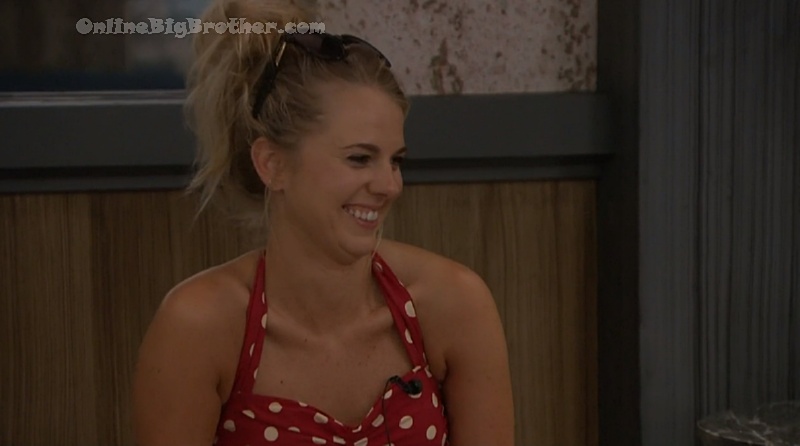 2:22 pm Nicole joins them..
N – what do you think abotu this plan
Cody – no
N – I'm pretty sure Tyler has to stay..
N – I want to figure out how to make Ian stay
Enzo – does Tyler even want to stay
Cody – yeah he does now
N – if Ian has to go which is probably 80%, 90% .. i'm still trying to feel out the options but..
Enzo – I'm not sold oin it i'm still open
N – If Tyler stays which he will we have to make sure those three vote to keep Ian.. so that's really important (Kevin, Da'Vonne, David)
Cody says David told him outside he's voting to keep Ian
N – Ok that way it won't look .. it'll be 5-3. I 'm going to claim David's vote and I'm going to say David flipped does that sound good?
Enzo wonders if David is really telling them the truth
Nicole says Da'Vonne using that veto was terrible for Nicole and she doesn't trust Da'Vonne anymore at all.
Nicole goes on about feeling like "Garbage" for Ian leaving she will pretend to keep him.
N – Spinning it on David is best for a game move so they will get paranoid with David.
Nicole says there's nothing wrong with them making Da'Vonne think the vote will be 4-4 then when it comes out 5-3 they'll say David flipped.
2:47 pm Dani comes in "I don't trust her at all, Da'Vonne
Nicole tells her they are figure out what to do to "save face"
Nicole says they need to have a sly 5 meeting.. they fill Dani in on the scheme above.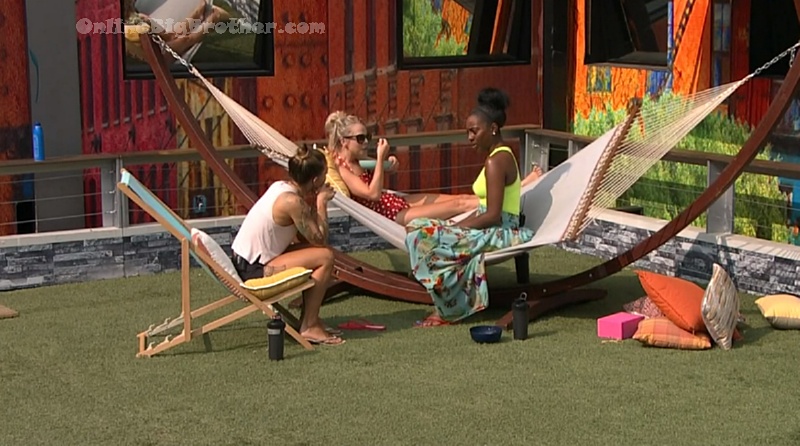 3:35 pm Da'Vonne, Christmas and Nicole
Da'Vonne says she used the veto because she didn't want to lose Bayleigh and Kevin back to back
3:48 pm the four girls meet on the hammock. They decide to have a meeting later that's not out in the open. They call themselves the "shady ladies"
3:51 pm Da'Vonne and Nicole remain in the hammock
Da'Vonne asks what is up with Christmas
Nicole – I don't know..
Da'Vonne – she's rubbing a lot of people the wrong way .. She was up at 9 and talking to David..
Da'Vonne says she thinks Ian is fine this week.
Cody joins them
(I'm hoping Nicole's plan to come out looking good results in Tyler leaving. Maybe that's her goal?)
3:56 pm Christmas and Tyler in the storage room
Christmas tells him David is pushing hard for her to keep Tyler she's not sure if Kevin and Da'vonne are in the mix.
Tyler says if Kevin or Da'Vonne ask her say that David convinced her to keep Tyler.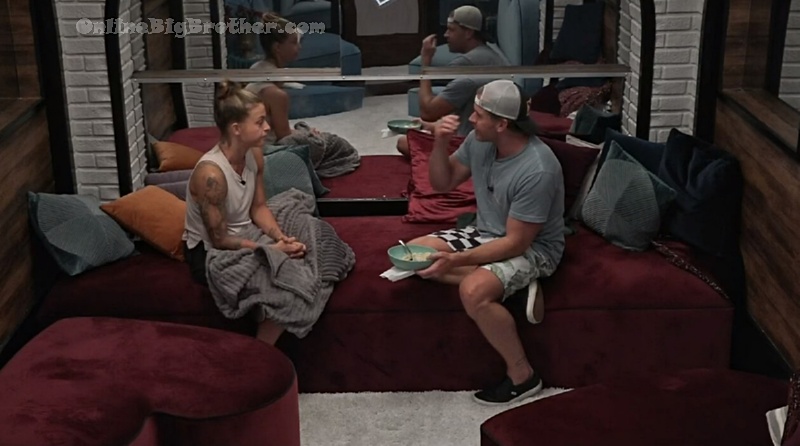 4:00 pm Memphis and Christmas
Memphis says he's concerned with them (Dani/Nicole) trying to cut a committee member he doesn't care about what their side alliances are. He doesn't think they are far enough in the game to start cutting their own members.
Memphis bring sup his conversation with David earlier today where he proposed they play up their feud.
Memphis – he's not bright in this game..
feeds start cutting again.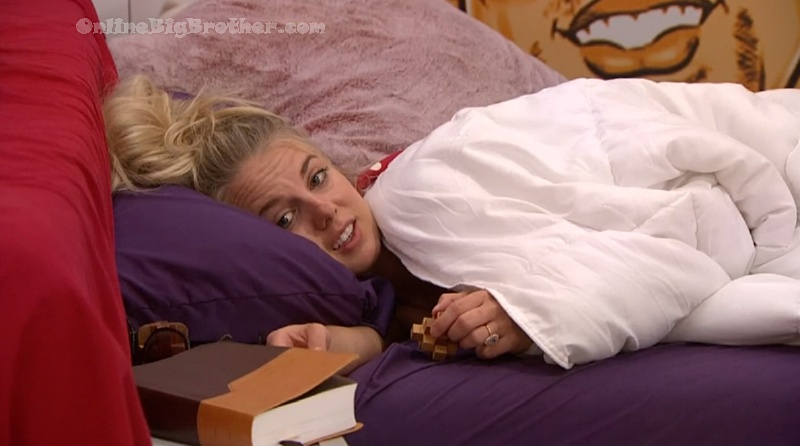 4:34 pm Christmas and Nicole
Christmas – why is it so weird and awkward (around Da'Vonne)
N – we don't trust her she doesn't trust us
Christmas – true, I didn't want to initiate that conversation because I didn't know who it will be interrupted
N – yeah
Christmas – that conversation I had with Ezno was like ..
N – yeah I had no idea I was like this is so awkward . I was sitting there wondering who said that to
Christmas – I was for sure going to ask
N – Yeah I'm glad she told you
Christmas – like.. now I know I can't trust Enzo. It wasn't sensitive information.. it Could have been twisted
N – anything you tell Da'Vonne she'll fact check . that why I tell her nothing
Christmas – yeah me too
N – She said something to me about you. You're talking to David a lot
Christmas – when did she say that
N – after you got up. something about last night.
Christmas says there's 'weird" stuff going on she can't figure it out.
N – like what
Christmas – like her associating me with David.
Lots of Feed blockages… .
N – we need a committee meeting before Thursday.. I want to get a plan in place for when the vote comes out so she's not wanting to pitchfork me
Christmas – Kevin just asked me 'what do you think is going on. it just doesn't make sense that he's a pawn'
Christmas – I said honesty I don't know I really don't want to go against what the HOH does or is asking for.
Christmas says the other side is fishing for information "Big Time"
Nicole says they have to "blindside them"
Christmas – David's trying to gas me up
N – at least you know what he's doing
Christmas – and Day. I can't trust Enzo..
N – I don't think his intentions were bad but that is how I felt with Tyler.
Christmas wants to ask Memphis about it. Nicole thinks that is a good idea it'll show him he can't trust Da'Vonne.
4:49 pm Enzo joins them. Christmas tells him Da'Vonne asked her about her speech.
Christmas – she said I heard you have a problem with what I said about like… it was really awkward.
Feeds cut..
When we're back Christmas is saying Day told her someone said she had a problem with Da'Vonne's speech about untouchables.
Enzo – I'm the one that f***ing said I think your speech is a little too over the top.. when you said untouchables you probably rubbed Christmas the wrong way you need to watch that
Christmas – ohh ..
Enzo – she twisted it.. What the f** is going on..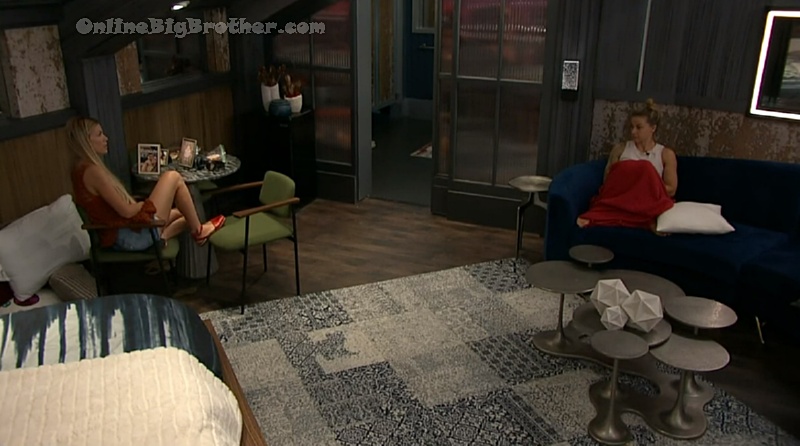 5:24 pm Dani and Christmas
Christmas – we have to win HOH.. the next two we have to win. If we win the next three we're f***ing good.. (No sh1t)
Dani – that's alot.. you have to expect a shake up. I'm really nervous.
Christmas – this disruptor power
Dani really screwed me over and the veto power really really screwed me over. Christmas, she hasn't even said sorry to me. I mean that might be petty of me or whatever. I told you how sad this is making me it's hurting me and you see me hurting. You can't even not only on a game level you can't even say sorry.. do you know what I mean? I feel like I've apologized to her .. blah blah blah it's lame whatever.. then she asked me for my alcohol.
Christmas – I don't know what is going on with her right now
Dani – she thins she's in the best spot in the house
Christmas – is it Kevin then her. In the hierarchy
Dani – I think Kevin should go first. her and David are not that close they are nothing like a Kevin and a Da'Vonne.
Dani – he's actively coming after us
Dani says Kevin is "shady as hell"
Dani – it's so funny how people change when there's a power shift. He had a veto used on him and now he's thinking he's invincible
Christmas – Da'Vonnes demeanor has definitely changed since winning that veto
Dani – Agreed 100%
Christmas – welcome to Big Brother for your third season
Dani – you're so mean..
They talk about how Kevin cannot win the HOH next week
Christmas – f*** it I'll win it next week and put him up.
Christmas – why are they working so hard to flip the vote when they think Tyler is going home and they want Ian going home
Dani – I promise you Da'Vonne is trying to pit me and Tyler after each other that's the vibe i'm getting.
Christmas – it's funny we wanted to keep Tyler anyways. It will give them a confidence boost because they'll think they did that
Dani – that's fine
Dani says Da'Vonne thinks the vote will be 4-4 and she will break the tie.
Christmas – why the hell is Kevin asking me what we're doing
Dani – i know
Dani about Da'Vonne "do you not literally care about me at all at all. It crazy.. crazy to me. ugh it's so annoying"
Christmas – yeah the fact you had to put somebody else up and then now
Dani – now she's going have me send somebody else out it's really annoying..
Christmas – That's really annoying (Shitmas is the biggest follower)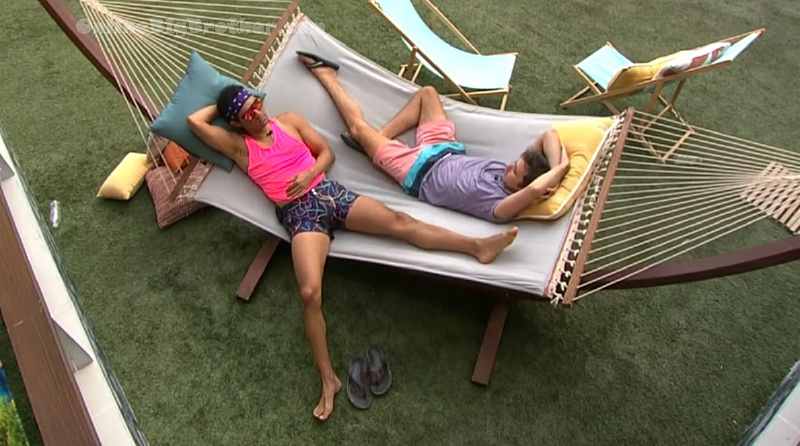 6:12 pm Ian and Kevin
Ian tells him this is the same Hammock from his season. He broke the first one that on Season 14 and this is the exact same one they replaced it with. Kevin says it feel like it is breaking. Ian says it's designed to have a little give when you rock it.
Kevin – you have me, Da'vonne, David and Nicole locked.
Ian – OK thank you
Ian says if he does go he's not going to us "Bitterness" for her jury vote.
Ian says he has a formula he'll use to determine who he is going to vote for. 30% competition wins, 30% strategy "Did someone make a nice play.. you know nice move.. did you know what was going on", the final 40% is social "Did I enjoy your company. did I have fun hanging out with you did you make me want to put a key with your name on it in the box"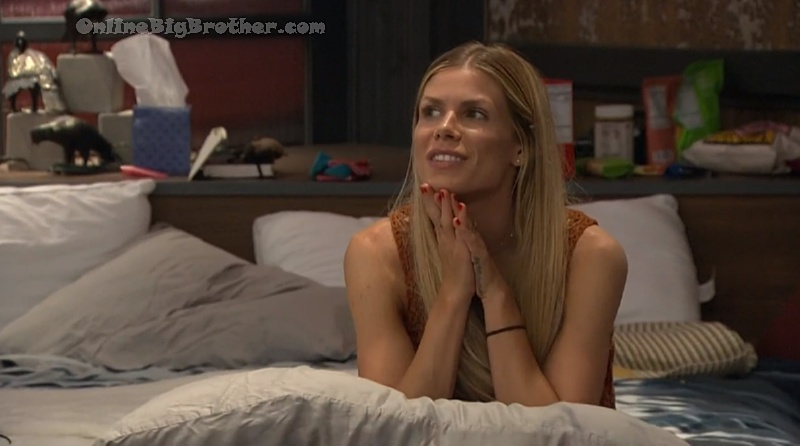 6:20 pm Dani and Cody
Dani – he won't even come in here, Kevin does not like me… Whatever
Cody – over it
Cody – yeah … umm …
Cody – the thing that makes me nervous about Kevin is he mentioned that I nominated him to Nicole, Enzo has nominated him and you have nominated him like..
Dani – he's coming after you
Cody – why is it me
Dani – I have always had a suspicion he's coming after you
Cody – why
Dani says it might have been the outside yeller
Dani says their covid exam is 8:00 – 8:30
COdy – is tomorrow the half way party
feeds flip
6:40 pm
Dani and Cody making dinner together they're having a invite only pizza party
Cody shares a story about his brother Paulie being a big nose picker.
They giggle. .
COdy talk about Paulie being on the challenge "he gets paid pretty nicely.. it's weekly and it's nice weekly"
Cody – there prize money is nice he makes a pretty penny he makes a good amount of money
Dani – you said that's like his gig now
Cody – yeah. that's what he does twice a year
Dani – it's twice a year! that's crazy. three months each time!
Cody – 2 and a half months..
just chit chat….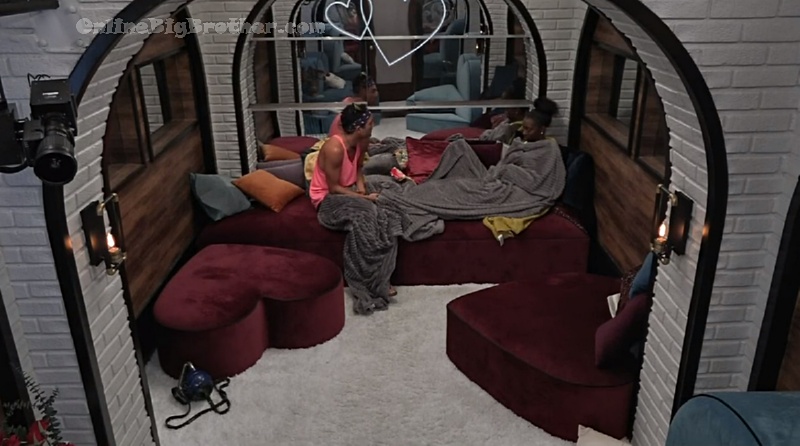 6:52 pm Kevin and Da'Vonne
Kevin says the way Da'Vonne plays is she throws out false information then see's how you respond and feeds it back to someone else.
Kevin – I asked her girl what do we do.. she said aren't we supposed to do what Dani said and Keep Ian
Da'Vonne says Enzo and David both said Christmas is pushing for Ian to go.
Kevin – the more I learn about hos Christmas plays the more I don't like it
Da'Vonne – she's all over the place.. she runs right back to Nicole .. she's aiding them
Da'Vonne – there's a guys alliance..
Da'Vonne asks him if he's in the guys alliance.
Kevin laughs says he's never been in an alliance even on season 11.
Da'Vonne – David is in some sh1t I knew it. I knew it.
Kevin – there was a guys alliance he tried to join it they kicked him out.. maybe they recruited him back in
Da'Vonne – there's like 40 different alliances in this house
Kevin – that is why conversations are so awkward here. that is why conversations get stifled to nothing when there's more than two people there's too many overlapping alliances.