POV Holder:
Nicole
POV Competition
Aug 27th
POV Used
NO
POV Ceremony
Aug 29th
HOH
Nicole
Next HOH
Sept 1st
Original Nominations:
Paul AND Big Meech
After POV Nominations:
Paul AND Big Meech
Have Nots
Corey and Victor
Care package
Corey
Watch the next week of the feeds for FREE – 1 week Trial!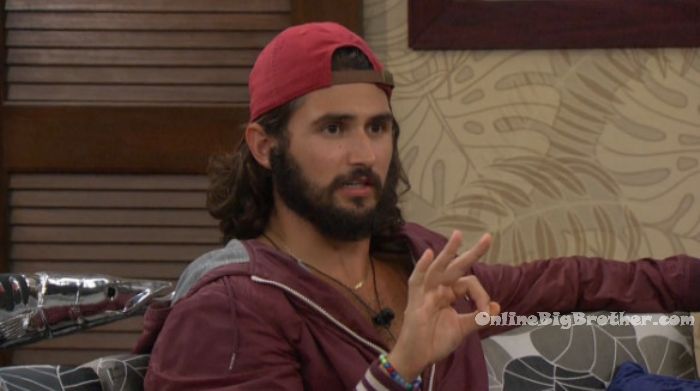 12am – 2:20am HOH room – Victor, Paul, Nicole and Corey. Vic explains to Nicole and Corey how when he, Paul, James and Meech were in the kitchen, Meech got weird about the final 3 HOH. Vic says that James said when you get down to the final 3 the table gets smaller 1 person wins HOH and that person take… Vic says that Michelle was like James! Like stop. I was like what do you mean, I was like there's 3 comps. The first one is endurance, and the other one .. And she was like you'll just see. Paul says James was like yeah you'll see. Nicole says Michelle doesn't like it when a super fan gives information. She thinks she is going. That's weird, how did you react? Vic says I said that's weird Michelle. Fools being sketch. Natalie said from a distance who's being sketch. Good thing she (Meech) is going home tomorrow. Nicole says its been like that since forever. Its commmon knowledge. She's just sketchy. Nicole tells Vic about the final 3. Vic says I'm happy, they can't sh*t on me for nothing. Vic and Corey start talking about football.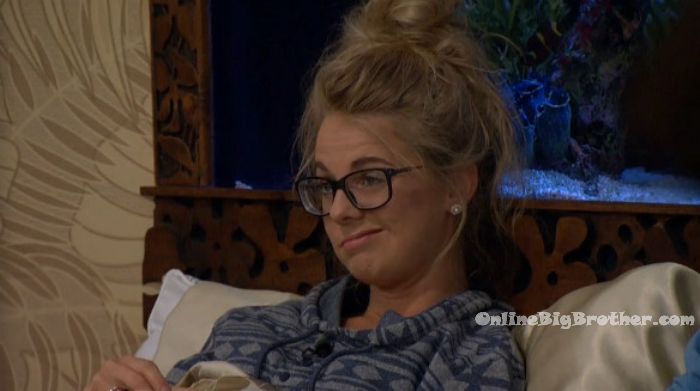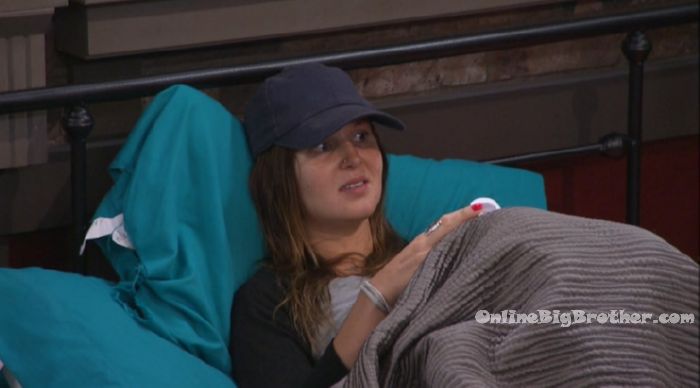 12am London bedroom – Nat asks what were you lying to them about? James says I don't remember. meech says it wasn't anything. Nat asks she was telling them about final 3? Meech says I wasn't, we were talking about the table getting smaller and they brought it up somehow. Nat tells James yeah don't tell them. Was James telling them the right answer? James says no. I don't remember. Meech says I don't remember either. Nat asks who asked Vic or Paul? Meech says Vic, he's getting on my nerves. Meech asks James are they bribing you not to tell me I'm going home? James says no, I'm not taking any bribes. Nat tells Meech he's not allowed to say. Nat asks can we all agree we're not taking any bribes. James says he didn't take any bribes. My gut tells me you're not going home. If they don't tell me .. Meecy asks are you worried about it? James says they didn't put us up .. well they didn't put two of us up. Nat says Paul is the bigger threat and Nicole is playing emotionally right now. Meech says I'm only hugging you, you and Corey and Paul. Nicole never, Victor never. Nat asks do you think there are any more twists? James says no I think the jury buy back was the last one. Paul says when we were up next to each other our families must have been like eeek.. Swing miss, fool comes back. We're like herpes. We're like herpes, we might be temporarily gone but we're coming back stronger then ever! Vic says don't say that, they'll associate us with herpes. Paul says who care. Vic says I don't want that. Paul says our in box is empty. They find a cure… Looks like I was just an STI, I'm cured!
Watch the last month of the feeds for ONLY $5.99! Try it FREE for 1 week!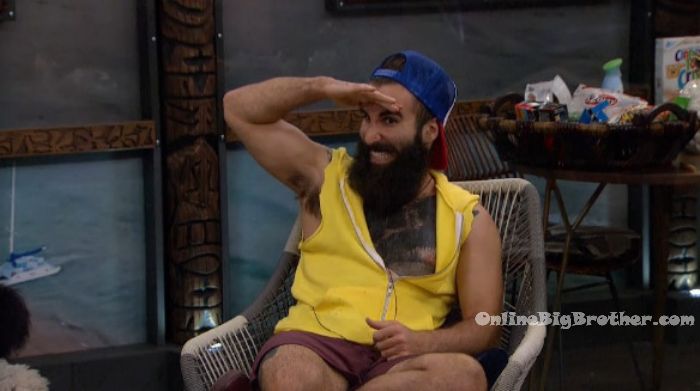 12:50am – 3:30am James tells Nat we can't fight her (Meec) fight for her. She has to be the one to go up that and be like. I don't want to do that, what are we supposed to do. Like if my a$$ is on the line I would be up there. Nat says you have to push her. James asks what do you want me to push her off a cliff? Nat says no. She's going to listen to what you say, not what I say. If you're telling her she doesn't need to, she isn't going to. James says some times you don't want Meech talking to people because she rubs people the wrong way. They might put her in a awkward situation where she has to tell the truth. Nat tells James Vic is a bigger threat than you. They know you don't hang out with the people you work with. Nat says Meech told me I was really good at this game. I'm the best observer, the best analyzer. All the advice you gave me I took it and absorbed it. Meech joins them again. Nat says Paul needs to go home. I love how Paul, Vic, Corey and Nicole are all 4 people… that people have wanted out all season. Paul joins them to go to bed. They go to sleep.
3:30am – 4:40am
Corey is the only house guest still awake. He eats and stares at the memory wall. He then start doing the dishes and cleaning the kitchen. He cleans the kitchen floor / HOH stairs.
Show your support by making a donation.
Donations support this site more than anything. If you dig our spoilers please find a way to support us.