Head of Household: JED
Nominations:Tera and Tina
The Power of Veto Players are: everyone but BReydon
POwer of Veto Winner: Tera
Power of Veto Ceremony: ?????
Have nots: ?????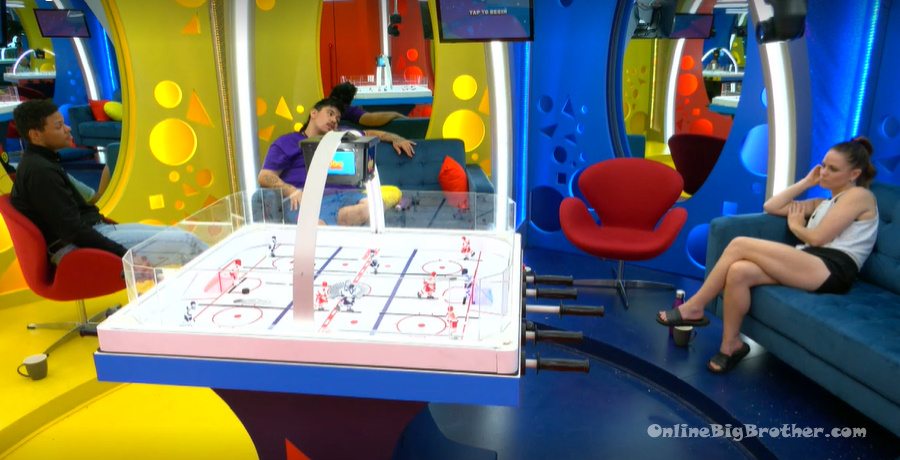 12am The Live Feeds return from being blocked for the Power Of Veto competition. Tera won the Veto!
Games Room. Breydon, Tera and Keifer are talking about the veto competition and how it had to do with memory and math. Keifer – I've never seen a veto that had to do with memory. Tera – the fraction got me big time. Breydon – me too! Keifer – not the comp for me!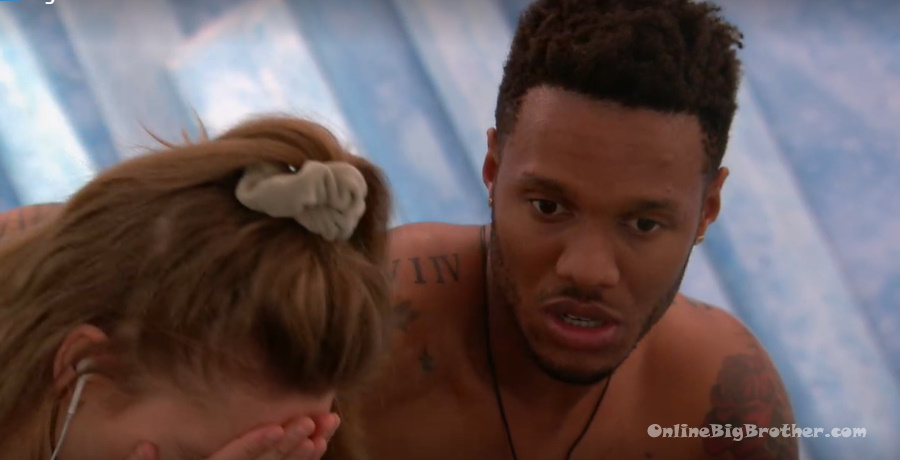 12am HOH room. Ty, Beth and Jed.
Jed – I am going to talk to Tera and ask what would you do? Who do you think is best to go up? I am actually curious what she says because she was talking about Keif. Like how are you going to get out Keif. He is going to beat you all. He's not taking me to the final two. He's all about the boys. She doesn't think that we're in an alliance .. she thinks that we're close but doesn't think we're in an alliance. And she actually is quite rational. So I would love to hear what she says. Ty – yeah I would be curious to know too. I would be curious to know what Tina would say too. Would Tina and Tera say the same thing? Jed – I don't know. Tera talks different than Tina. Ty – Tina would never bring up Keifer.. she would say Breydon. Jed – the thing is, if I put Keif up with Tina .. at least one of those three are going home. It matters but .. at the end of the day one of them needs to go. And at the end of the day Tina has not done anything for us in this alliance so why are we showing crazy loyalty. You know what I mean? Ty – no, we don't need to. Jed – but ideally if Keif goes up .. he is going home. Beth – yeah f**k! Its the same thing with V! If Keif goes up .. he goes! Ty – holy sh*t! Jed – Breydon OR Keif? Ty – Its Keif Jed! Jed – it is Keif. I hate to say it but it is. Beth – I don't want you to ask Tera .. don't give her the satisfaction of knowing she helped make this decision because she will go to the jury and say that. Jed – okay. Ty – that's a good point. Beth – no this is your move Jed. Ty – are we letting him know? Beth – I think this is different than V… OOHHHHHhh F**K! I don't know! I don't know! I don't know! That's your guys call. Ty – I would say yes. Jed – let him know? Beth – this is different.. OH F**K! Ty – what is your gut telling you? Jed – I think I would let him know. Beth – he is the kind of guy you let know. Beth – its so bad, but its so good! Jed – what are the odds this guy has a power or some sh*t? Ty – high.. he would find it.. I don't think he's found it yet because he would have told us. Beth – he wouldn't have.. he doesn't tell us anything. Ty leaves.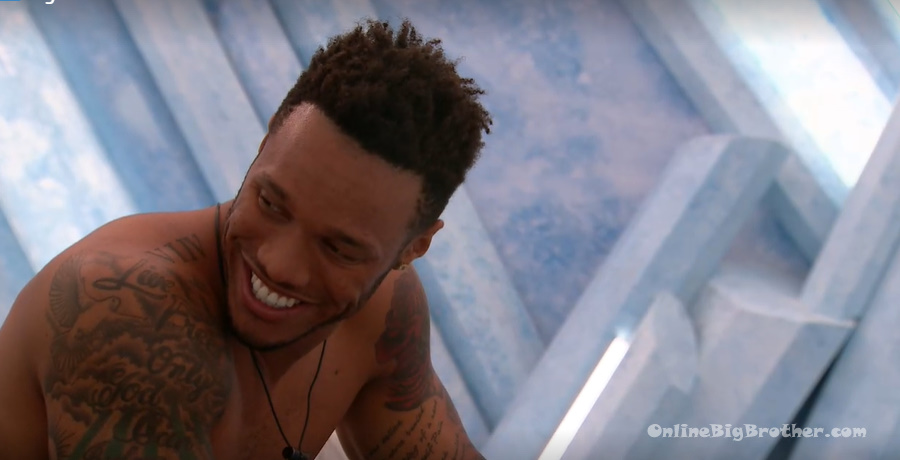 Storage room. Beth and Breydon.
Beth – everyone is gunning for you to go home. Breydon – I know. Beth – I just went up stairs and said no! We have to put Keifer up. He is going to win this game. Breydon – what do you mean everyone is gunning for it .. like Ty too? Beth – no, no .. the three (Tera, Tina, Keifer). Breydon – oh yeah I know they are. Beth – Jed was like lets just put up Breydon and I was like no.. because the votes are so weird .. Put up Keif and vote him out.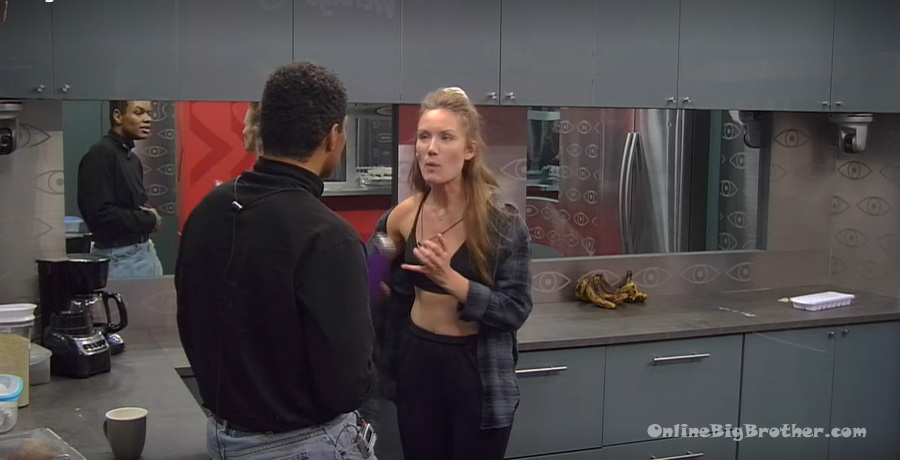 Bedroom. Tina and Tera.
Tera – I don't know if he (Breydon) is pitching to not even go on the block. Tina – he is probably pitching Keifer. Tera – honestly now .. we will see if the boys are actually loyal to Keifer. A part of me wouldn't be surprised if he did it. Tina – god! I really don't want to go up against Keifer. Tera – I know if you go up against Keifer .. you would stay. I part of me would not be surprised if they did. Its not the outcome I would want to see but I still don't trust those guys. I mean but we'll just keep going with our pitch for Breydon. They're going to do what they want to do at the end. I don't know if they did put us up there together so that they could do that to Keifer. And they're telling us its Breydon to keep him (Keifer) calm. This will determine if Keifer made the right call by trusting them and protecting them. Tina – they're so adamant about being loyal. Tera – yeah but who do you think they're loyal to? Tina – it depends on if they actually made a final deal with him. Tera – I don't know.. I honestly think either way you're fine. Tina – I hope so but stranger things have happened. He needs a resume move.. I'm not a resume move for him.