Head of Household: JED
Nominations:Tera and Tina
The Power of Veto Players are: everyone but BReydon
POwer of Veto Winner: ????
Power of Veto Ceremony: ?????
Have nots: ?????
Big Brother Spoilers – As of right now the targets are Breydon or Tera.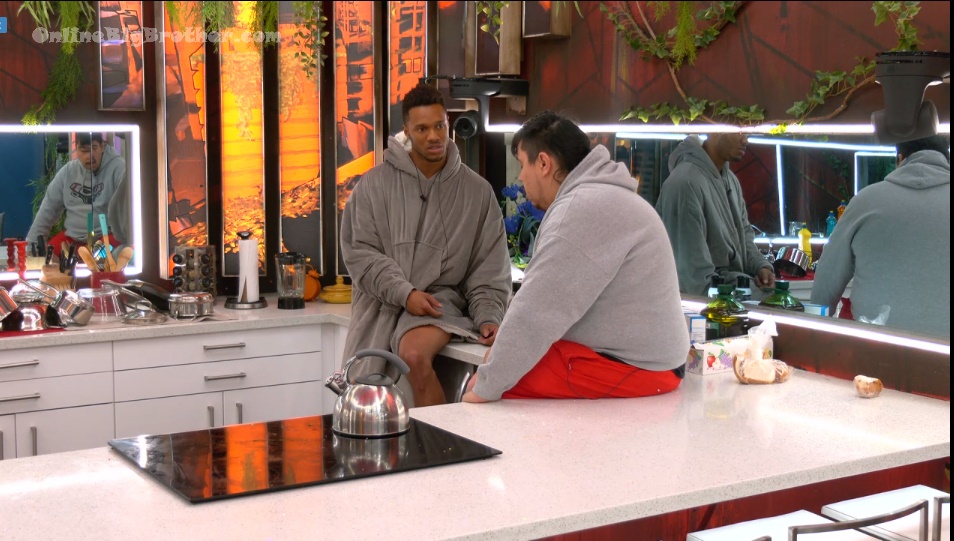 9:30 pm Kief and Ty
They're talking about getting Tina to take a shot at Breydon not at Ty if she wins next week's HOH.
Kiefer says he's "pretty sure" Breydon will put up himself and Tina.
K – I don't think he will come for you and Jed
Ty – you will survive on that one.
Kiefer agrees "there's a lotta outs on that one"
Kiefer says the only time it gets interesting is if Tina wins the Power of Veto but he will bet on them winning that one not Tina.
Jed joins them.
They talk Breydon going up if one of the T's goes down.
Jed – I don't know what the better situation moving forward. Him or one of the T's
Kiefer – I would rather compete against both the T's, Tera has already given up.
Ty mentions if they keep the T's and one of them wins HOH
Kiefer – we're actually f***ED
they laugh
Jed – if it was a random chance.. with buttons we would be F***ED.. if Breydon won we wouldn't be f***Ed
Kiefer – I'm doing the math and there might be another double
Kiefer called to the Diary room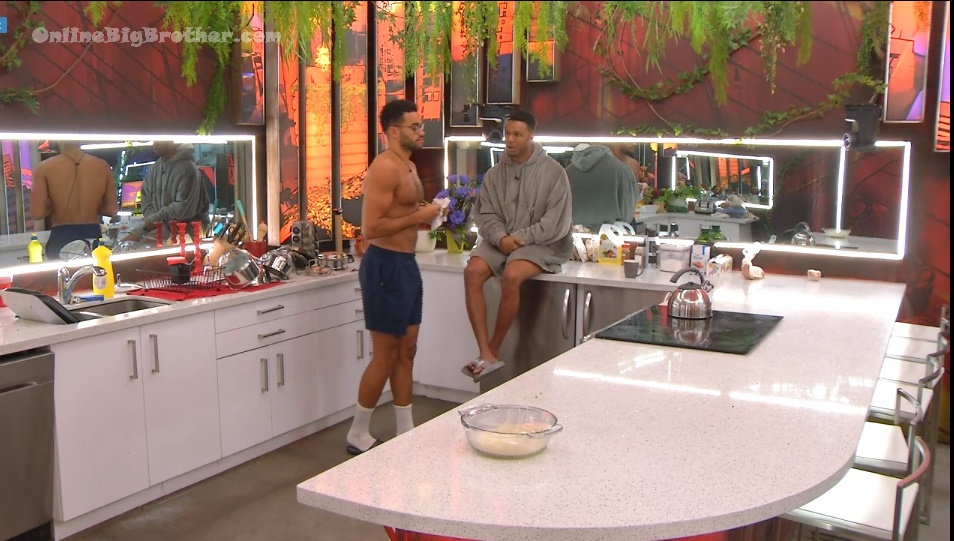 Jed – after all this time, Me you, and Beth he thinks he can insert himself like that. like he's been here.. he walks in the room with us and just sits down (The nerve of BReydon what an a$$hole. )
Jed – he doesn't even ask ohh can I come in
Jed – if you don't do that and he wins..
Jed – you can let him be Butt hurt let him win and all of a sudden…
Ty – you got to keep him happy
Jed – he's just so annoying. In any setting socially. Doesn't catch social cues. Why do you feel you can walk into another alliance that has been built since day one (the nerve)
Ty – I don't know
Jed – and you've been on the side that has been gunning for us the whole game
Ty – I know
Ty – when we joke about things.. he was in the ruse
Jed – I know
Jed says he's considering sending BReydon home this week
Ty says TnT aren't going to win sh1t
Ty – I just want to get rid of him before he gets a power
Ty – we can get away with pulling Tina down and making it look like a loyalty play
Jed – yeah, But who can pull her down?
Ty – it's not a loyalty play if she was never going to go home
They agree Kiefer will have to win the veto and do it.
They agree it has to be Tina, Tera or Kiefer that win the veto.
Ty – do we get rid of him and bet on ourselves or keep him in case.. If we keep him and he wins we can't f**Ing get rid of him
Jed – I know.. that's true cause next week we wanna get rid of him and if he wins
Ty – he could win it's not like it's impossible he's been close every time.
Ty – he's decently athletic, he's pretty smart
Jed – he remembers sh1t quick
Jed – now he wants to be a puppy to Beth.. it pisses me off to the MAX
Jed says Breydon can't be alone. brings up a time when he was "hanging" with BEth in defender about family stuff. "He pulls up is like Ohh I'm going to talk block… Talk blocking… I was CHEESED"
Jed – I don't know how to navigate it obviously if I'm Cheesed I'm going to be a D1CK
Jed – if this keeps happening I'm going to have to say something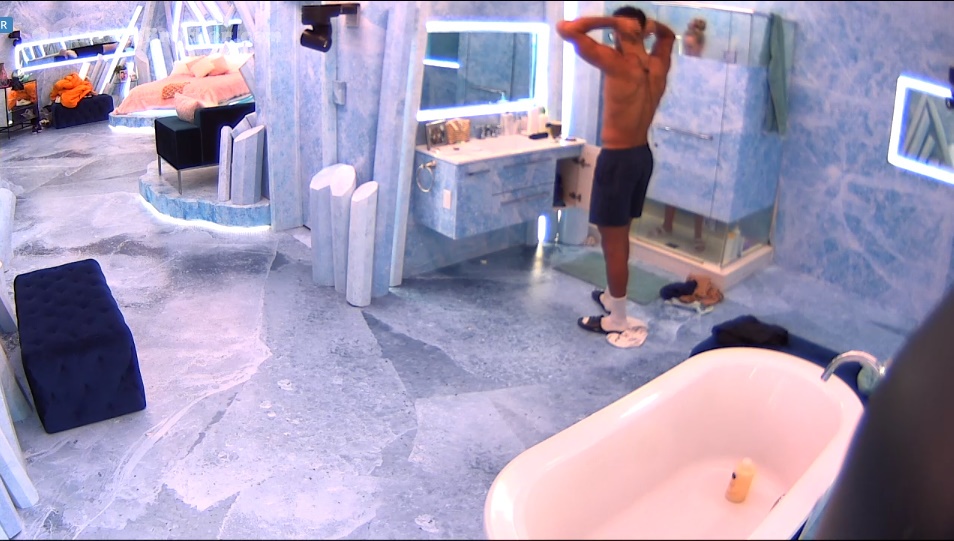 10:30 am Jed and Beth
Jed complaining about Breydon coming into rooms.
He goes over some of the scenarios he went over with Ty and Keifer a bit ago.
Jed – if we Keep Brey and he wins we can't get rid of him.. If one of the t's win we're f**ed
Jed says Breydon will be the person that Canada gives A power to.
Beth – if we do it now we find out and it's done
Jed – the way those powers work you'll never see it after the vote
Jed – if someone comes down he'll go up I'll tell him.
Jed explains Breydon won't be surprised if he goes up on the Veto ceremony if the veto is played. He doesn't think power will be played on eviction day says they've never done that before. So if Breydon has A power he'll use it on MOnday.
They talk about never being able to talk because BReydon is always around.
Jed – I told Ty man I don't care if you are here
Beth – just tell him to get the f** out without him getting BUTT hurt
Beth laughs
Jed laughs "Exactly"
Jed – maybe it gets to the point where I'll have to have a conversation
Beth – If we are just chilling we just say it straight up.. we're talking about home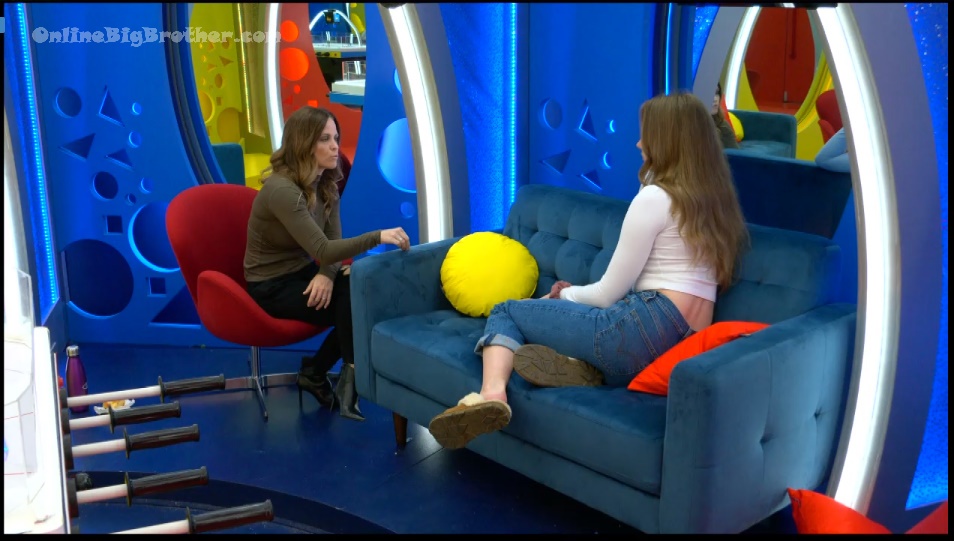 Noon Tera and Beth
Tera campaigns to Beth says the only reason she wanted to break up the trio is to get closer to Beth. Tera says the other side all thought the Boys ran the house. Tera highlights that the boys will have the Jury votes. Spicey V will never vote against the boys.
Tera – if you make it to the end they will say you were carried I know that is not true but they will say that.. BReydon being in Jury will be good for you he sees you as stronger
Tera – do you think they will give you credit for getting out Vic? They will say it's Jed's move or Ty's move.
Tera – the only way I make it to the end is yo I will never put you up.
Beth tells her she has a lot to think about.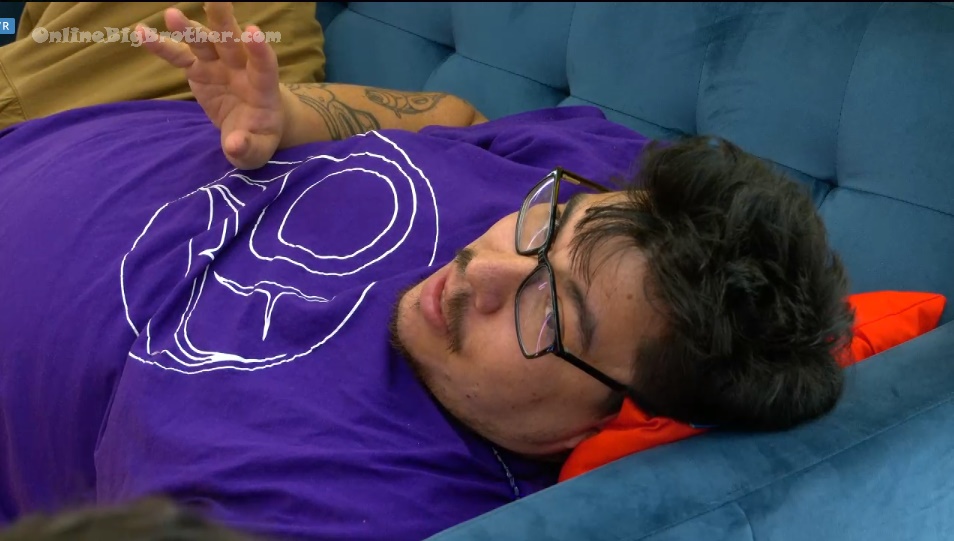 4:30 pm Tina and Kiefer
Kiefer says he's influenced the trio throughout this entire game.
Kief – A lot of their moves were my moves. things I had suggested.
Tin – I hope you get to final 2 Kief and I Hope you win it. I think you deserve it.
Kief – I hope you're there with me
Tina – I would be happy with 2. Gotta say. Can you imagine walking into the house together than walking out.
Kief – that would be my dream Teens (Tina) that would be my dream. What a story. Legends
Tina laughs
Kief – I'm Two HOH's away from winning this game.
Tina – let's get it done
Kief – I need to win the four and I need to win the three
Tina – what a crazy ride…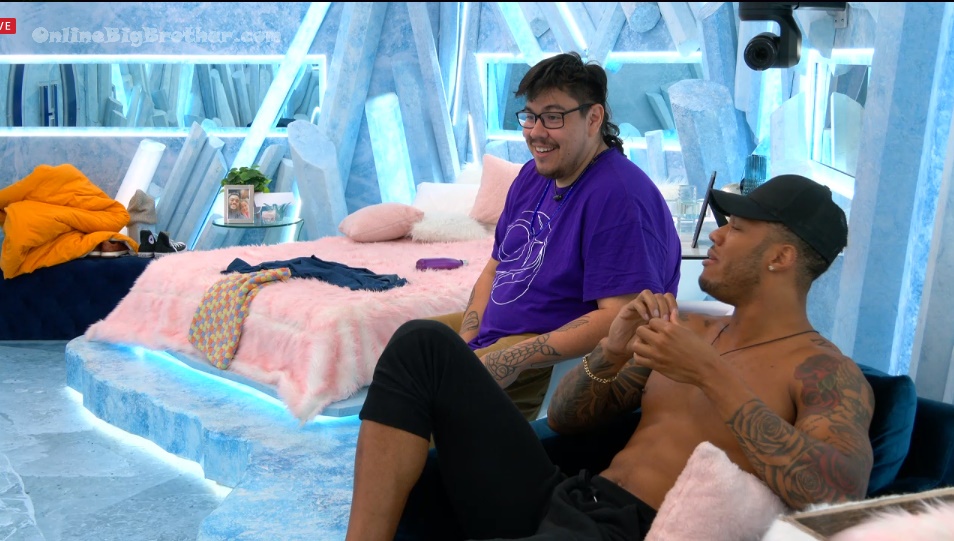 7:00 pm Sunsetters
Kief – Best case scenario is blue line wins POV and pulls Tera down Brey goes up and we vote him out
Jed – she will never do that but that would be hilariously sick
Kiefer – wouldn't it
Jed – didn't I say that last week. That would be the most GOAT move take someone else off the block
Kiefer – we would all be part of history the sunsetters why not make this the most memorable POV ceremony of all time
(Barf)
Jed – whats the perpos
Kiefer- to f*88….
Jed – there's not way Tina will do that
Kiefer says he can talk her into it.
9:36 pm Feeds down for Veto..
11:00 pm no feeds