Head of Household: VIC
Nominations: Breydon and Austin
The Power of Veto Players are: Ro, Vic, Breydon, Austin, Ty
POwer of Veto Winner: Ro
Power of Veto Ceremony: ??????
Have nots: Ro, Vic, Breydon, Austin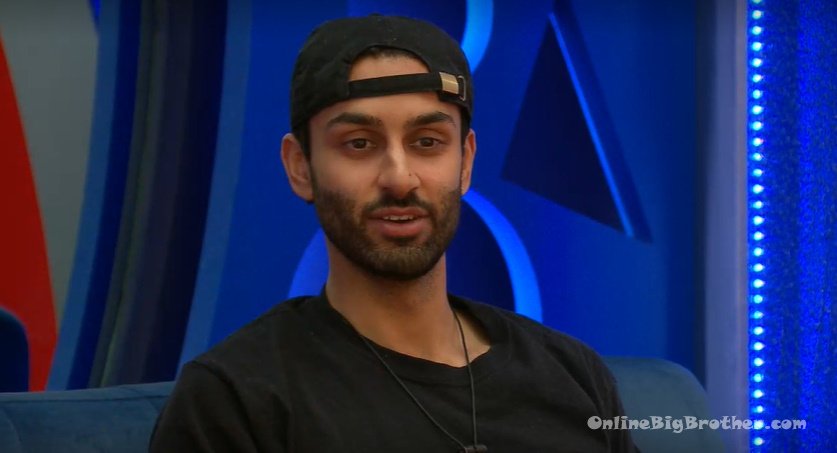 11:40pm Jed, Roh and Beth.
Beth – we are just making a plan like if Breydon comes to me. Jed – what are you feeling? Roh – I am not going to use it. As soon as I won it, I never intended to use it. I was like I am not using it. All this chatter around final 6 was around and so I wanted to get this cleared up. Jed – we ah never said that you know what I mean!? Like obviously we talked to you about us four but then we never have pitched a six to them. Beth – and I don't even think that is an issue anymore. Jed – it was an assumption but it's fine. Its good that we talked about it first before that happened. So like what kind of rationale are we talking about here? Beth – just like in the meantime like when Breydon is coming to ask like what do you do? Will you keep me if Roh uses the veto? Roh – well like what I did was I heard her out .. both of them came and talked to me .. because I do have to hear them out as the veto holder and what I told them is from a game perspective is basically it is not smart for me to use the power of veto right now. And I told them that is likely what I am going to do but obviously on a personal level. I love you as a person. I would hate to see you leave this game so I told them at the end of the conversation that I have not made my decision.. BUT I have, I won't be using it. That is what I told Beth but I was you to be prepared for them to come to you .. like for instance if Breydon comes and asks you if Roh uses it on Austin will you keep Breydon in the game. I would obviously like that it wasn't looked at like it's totally up to Roh. Jed – like you don't want it to be fully on your.. Roh – I don't want it to be fully on my shoulders.. so if they come to you like that what is the best thing to say? Would you just tell Breydon out right .. like no you wouldn't keep him? Jed – so like this is in the case that you take Auston of the block and someone else goes up? Roh – its because I told them I haven't made my decision. If I had told them that I have made my decision, then they wouldn't come to you. Jed – I think the best thing to say would be .. we don't have the numbers to stave you. Or do we? Roh – no you would. You would. Jed – it's a relationship thing with the house .. because so many people want one of them out so if we save them it exposes us. Beth – we could just be straightforward and say by keeping you here none of us no longer have relationships with the remaining four people. But they will also say we have a final 6 we can get the rest out. I have no issue kind of being honest and saying in the long run marathon of this game, I don't know if that's the best move. Jed – at the end of the day I don't think I can trust them in a final 6 situation. If it was us four, I do think I would trust you.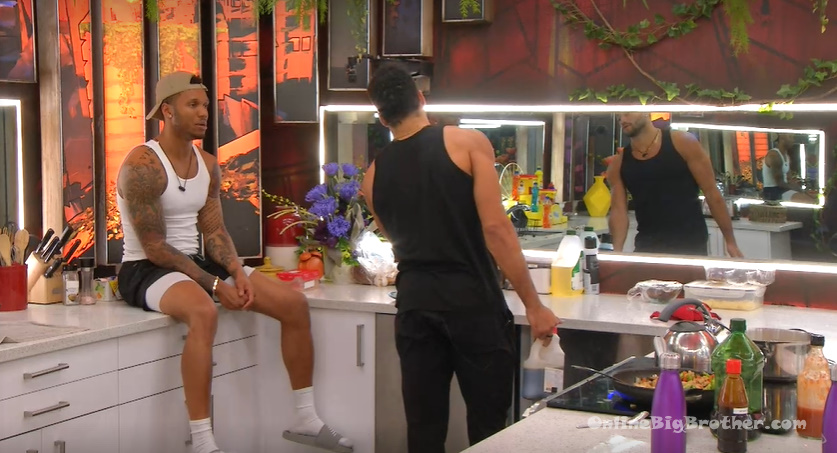 Keifer and Tera.
Keifer – she has got to go. Tera – Trust tree.. out of the two boys, which would you want to go first? Keifer – I don't even know if I could trust you with that information. Tera – I am not going to say anything. Tera – I can't trust Ty. Kiefer- I can't read him. My number one pick.. I built a relationship with Jed on day one. Tera – do you think those guys actually have a final two relationship with each other. Keifer – I think they don't .. but I think its unspoken. I think Beth is their three and I would be their four. Tera – we just have to survive this week and see what happens with the HOH. Keifer – exactly. I am going to go for it f**king hard! Tera – well at this point if I don't start winning sh*t, I might as well just go home. Send me home, its embarrassing.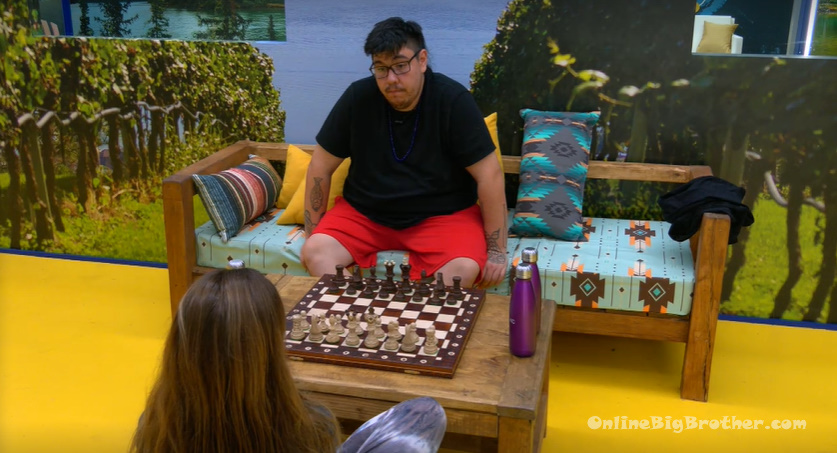 Jed and Beth laying in bed chatting about needing wins..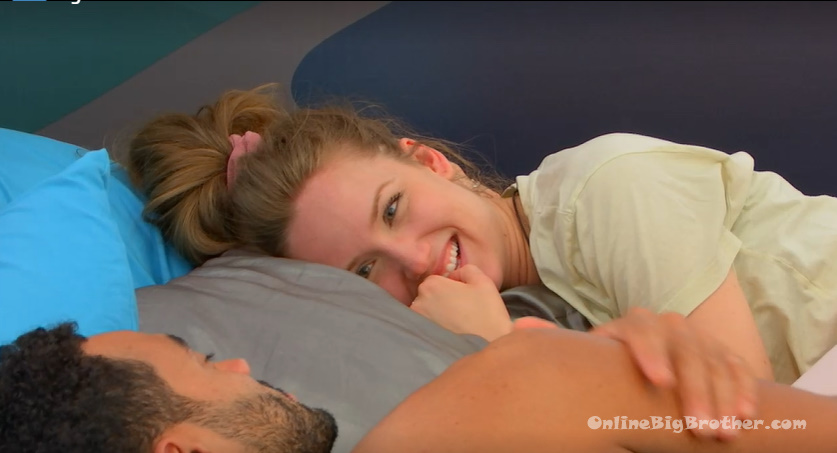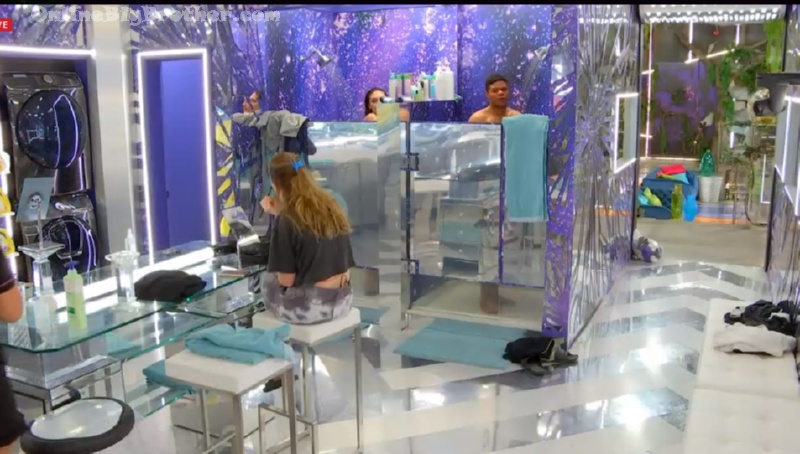 9:44 am Early start for some..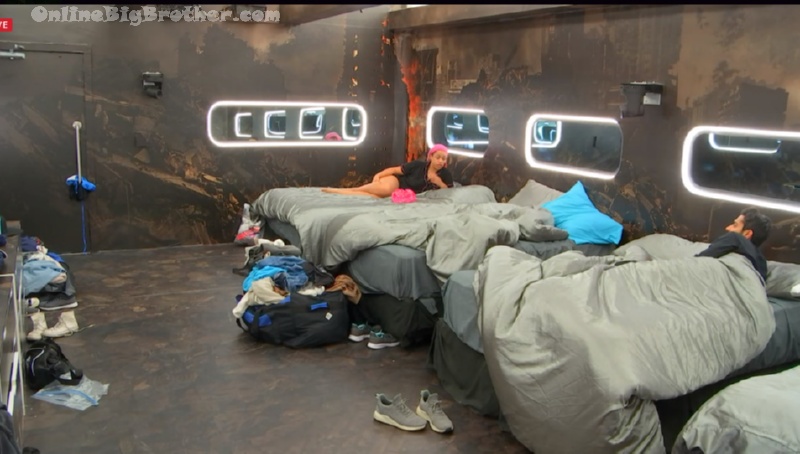 9:48 am Ro and Vic
Ro says he's not contemplateing using it.
Ro – there's no way I can use it
Ro – its sucks I don't want to keep playing the boys game. I feel like we just keep doing favours for them but our hands are literally tied we don't have any other choice.
Vic – I know, Me, you, Tina, Tera and Kiefer that's 5 we could take over the game.
Ro – I still think we could get Breydon too honestly
Vic – for sure
Ro – you know the boys are trying to say this is your HOH right?
Vic – yeah, It's not me.
Ro – ohh I know it's not you
Vic – it's Ty
Ro – yeah pretty sure
Vic – what a$$holes.. like f*** off. I know they are trying to pin it on me that's why they put me on slop.. good one
Ro – do you think if Kief won he would put me up? I don't think he would put me up
Vic – I don't know I don't think so. I think he wants you to stay to make a move against the boys
Ro is going to try and ask Tina and Tera to work on Kiefer because they have the best relationship with him.
Ro – Breydon can see right through those guys too so there's no way they can flip him
Vic – that's all the numbers we need to control the game
Vic – I think the boys will go after Tina and Tera. I heard something.. getting annoyed how they are just cruising through pretending to stress out when they're not even in danger. I can see them going after a duo that's not us.
Ro – were they saying that in a room by themselves.
Vic – no a room.. it was me… Jed..
Ro – if you were there you just didn't overhear them.
Ro says the boys say Tina and Tera because it's an easy thing for them.
Vic – Jed, and Ty will make it all the way unless someone makes ma move (if only someone had the power)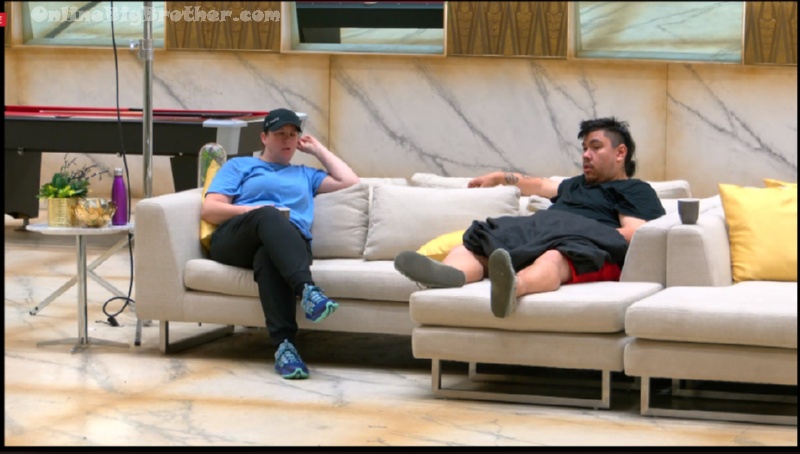 10:00 am Kiefer and Tina
Tina warns him about Vic says watch what you say around her. Keifer thinks Vic is most likely to make that big shot (Against boys) says she could be the secret HOH if she is she very well could be a comp beast because "That comp was tough"
Kiefer – I'm at a point in this game I truly think no matter who wins OH I don't touch the block.. why would I win? The only one that might put me up is Breydon and that is a MIGHT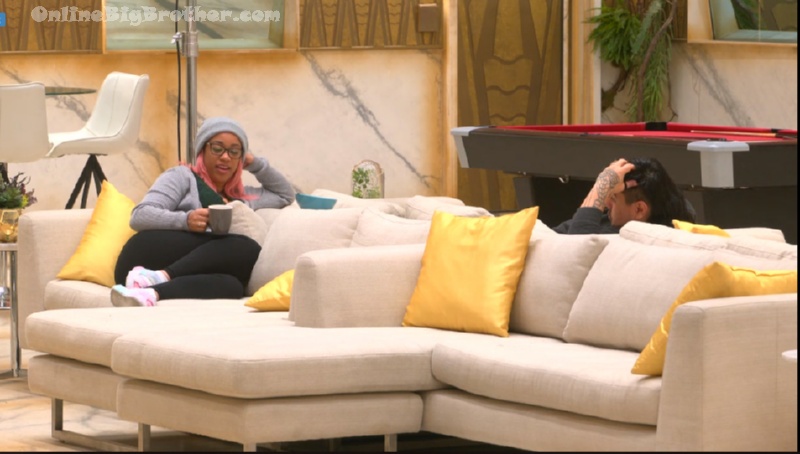 11:15 am Vic and Kiefer
Afreeing their each thers final2
Kiefer says he's close to Tina but tina is also very close to Tera.
Vic says they have to win the next HOH "it's a way to prove our loyalty again to both side"
Kiefer – I did have a really good talk to Tohan.. he's just so hard to read
Vic – I"m worried about Rohan it's f**ing smart as hell
They talk about how great Rohan did in the POV competition. There was a puzzle and by the sounds, it was very difficult.
Kiefer – in my mind he's a F**ing genius
Vic – we made a good move taking Kyle out first
Keifer – it broke that four they're broken now. Ro's not with them. He would use the power of veto if he was and try to rally
Kiefer adds if Kyle was here, Ro would have used the veto on Austin
Kiefer adds he feels that Jed, Ty, Kyle, and Ro had an unspoken agreement.
Vic – wow, Tina said the same thing.. I didn't think so because of the way they went after Kyle
Kief – did they go after Kyle or did I go after Kyle?
Vic – true.
Kief – they were very excited that Ro won the POV..
Vic – Ro, and Breydon need to go next (Sigh sounds like fun..)
Kiefer agrees "And then it's a fight"
Kief – then we pray Tera wins HOH
Vic -that would be amazing she would not put us up.
K – Tera or Tina
Kiefer – if it comes down to a memory comp there's no way I lose… There's no way.. I got it. and Ty and Jed know I'm a savage.
K – hopefully game respects game when it comes down to it. I don't see myself getting past final 4 with them
Vic – me neither
K – They don't take me to final 2 no matter what
V – why not? you are good at the game everyone loves you?
K – yeah.
V – no one will take me to final 2
They go on about not caring about winning just caring about getting to the finale.
Vic – one cool thing now is Since we know I'm the f***ing thing we can see how people lie
Vic – like I can tell now that Jed and Ty are telling the truth. what's their go to.. it's kinda cool
Vic – people have narrowed it down to me but I'm still denying it
K – deny to the death, people still think it's Ty.
Vic – I am planting amazing seeds.