Head of Household: VIC
Nominations: Breydon and Austin
The Power of Veto Players are: Ro, Vic, Breydon, Austin, Ty
POwer of Veto Winner: Ro
Power of Veto Ceremony: Rohan did not use the veto.
Have nots: Ro, Vic, Breydon, Austin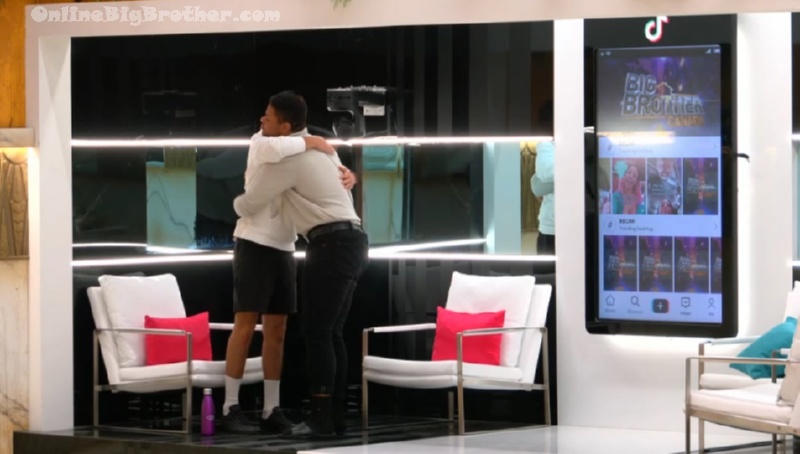 11:30 am Roshow and Breydon
Ro – if it's the boys, tina, Tera, and Beth in the end that's f***ed
Ro says if one of Breydon and Austin are going anyways why would he rick pissing off the house.
Ro – the conversations we had on the couch before. I fully intended to use it. I thought I could work myself around this.
Breydon – find a way out
Ro – find a way out to use it on Austin or on you. So I genuinely did think that. The only thing I didn't share with you guys is what I was thinking.. like what are the consequences of this.
Ro – I thought I could have ironed them out but obviously that is not the case. Obviously, I should have shared it so one of you went out to win.. but I was in a different mindset at the time. There's an invisible HOH we kinda think it's TY but at the same time, anything can happen.
Ro – I'm sorry fr talking all the time. It's like me airing out my conscious
Breydon says Ro is the only person in the house he can trust now
Ro – I hope that trust is still there that I didn't portray it
Ro asks if Austin is really mad at him
Breydon – She's mad she's mad at herself and pissed off at the fakeness of the players
Ro says he sees that he doesn't want her to think this decision is him playing into "them"
Ro – Or playing the same game they're doing or getting stuff done for them. It's not that we all know what is happening here we will do our best to win and get them out of the house
Breydon – she's like I can't stand the fakeness..
Ro – one of you is going regardless.. so umm.. obviously it sucks for you guys you have to play against each other. If she comes down you are going home
Breydon – for sure I told her that..
They hug it out.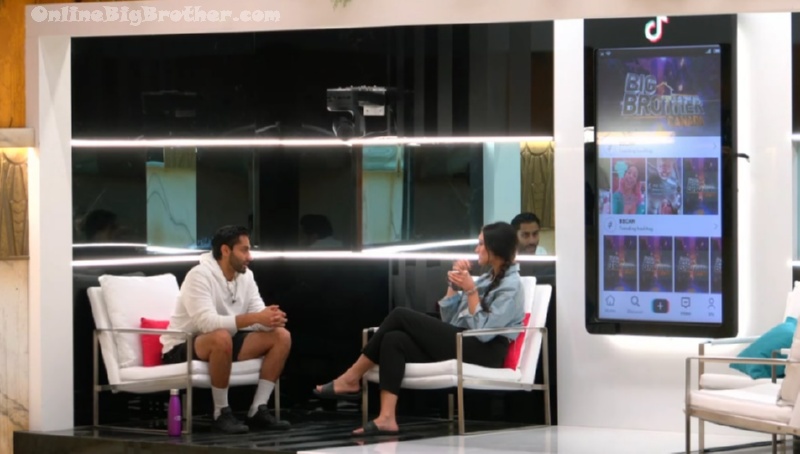 12:00 pm Austin and Roshow
Ro – Did you sleep ok
Austin – I didn't sleep much
Ro – I didn't sleep either for what it's worth
Ro – Ok I just want to start with the conversations we had on the couches prior to the veto and LIke want you to know I genuinely did want to use it on you and when you guys asked me about that I thought that if I did win I could iron out whatever needed to be ironed out and use it on you to be taken off. I thought I could deal with the consequences and make sure that it didn't affect me negatively. Obviously, I was wrong in that line of thinking. It's not that I sat that and lied to you on the couch I genuinely did want to pull you off the block.
Ro – I got way over my head
Austin says she would have appreciated honesty more when it came down to the three of them and he wanted them to throw it to him
Austin – you said YEAH 100%
Ro – yup
Austin – I asked you probably 4 or 5 times.. and you said 100 percent.
Ro goes over many talking points outlined above. Adds that he will do everything with Breydon to them "them" out of this game (the boys and their ilk)
Ro – If I win HOH this week they are both going up (heard that before)
Ro – I don't want this to be seen as me doing what they want me to do
Ro says he wants to pull Austin down but "she" and "Jed" have been very clear they will vote to evict Breydon "One of you two will go home regardless of what happens"
Austin – yup
Ro says if one of them is getting evicted anyways he doesn't want to damage his game by using the veto.
Ro – the best game decision is not to use it. I can't apologize enough I know this is a game I didn't think it would be this hard. I'm not going to ask you to forgive me I hope will be over it given time.
Ro says the boys are saying Austin is "hard pitching" to Ro to use the veto to put up Tina and Tera.
Austin says she's already being ignored by the house
Ro – I am not going to seclude you from the house.
Austin says she's used to it especially among girls, "I'm used to it I'm fine"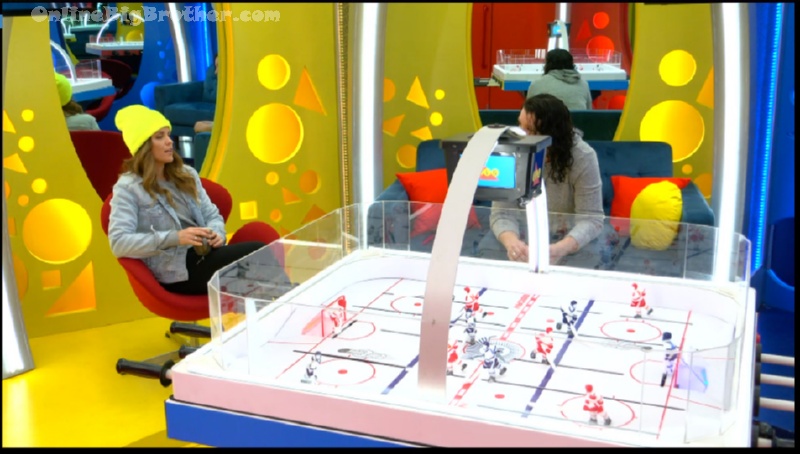 12:00 pm Tina and Tera
They bring up Ro mentioning if they can get the votes to save Austin. Tera says Vic wants Austin out this week there won't be a flip.
Tera – she wanted her out last week
Tina – we need four votes.. if it's me, you, Ro
Tera – I was what about Keifeffr but Keifer is too close to Breydon he wouldn't do it.
Tera adds that Ro wants to have the conversation with Vic and She doesn't want him to know there is no way Vic would flip. She's wondering how to stop him.
Tera – I told him to wait about it I don't know how to say DON'T tell Vic otherwise it will travel to the boys
Tina – it'll go to the boys and put a target on Ro's back
Tera – targets already on ros back
Tina – it'll be more
Tina – Ro can't have a conversation with Vic it will blow it up completely
They contemplate if they can get Kiefer to flip.
Tera – he won't make a shot against them (Boys)
Tina – he won't.. .he's teetering now
Tera – he won't make a direct play against them while both are still standing say one of us wins HOH..
Tina – we take one of them out.. yes
Tera – if one of them come down he will vote one of them out
Tina agrees
Tera – that's the only situation in my eyes he goes against them and even after that he might not be fully against them he might go with the other one and try to grow that bond.
Tina – I don't think so
Tera says Vic is playing both side but has to know she's better off with them, "Those guys are full of bullshit she HAS to see that"
Tina says it doesn't matter who Vic is sitting next two beside either Jed or Ty. Vic is winning the season.
Tina – it's not going to f***ing matter. Vic's game is a lot stronger and if she's the invisible HOH it doesn't matter who she is sitting up against she's going to get jury votes.
Tera says the boys will not take Vic to the end.
Tina – she will go to the final 3 with 2 of them
Tera – no she won't she'll go with us.
Tina – I don't know
Tina says Vic will take one of the boys and she will win.
Tina points out that Vic lies to them.
Tera – you don't think Beth wants Ty outta here?
Tina – not yet..
Tina thinks final 6 is when that group starts making a move on themselves.
Tera – which means we are f***Ed. They will continue pegging people. It will start with Ro then whoever is left. Or they might flip the script and put us up because we are the last pair
Tina – that is what will happen
Tera – we have to win at this point.
Tera laments not winning the HOH, "I would have put the two boys up and on slop including Kiefer"
Tina – I would LOVE to see them on f***ing slop
(give TNT an HOH ASAP)
Tera – I don't think it's Ty I really do think it's Vic
Tina – I agree, I had it down to Beth and Vic but… I think it's Vic
Tera – I'm so over their arrogance
Tina – what I wouldn't give to walk in a room and see a fancy veto for me to take and throw their asses right up quick.. Swap out the two.
Tera – that would be so amazing
Tera – the worst part is we will have to take the shot then we'll be in serious trouble the next week. We will feel all the heat for that.
Tina – if one of us can get it and get one of them out
Tera – you kinda have to go for it
Tina – you have to take that chance
Tera – between me and you, if it's a double situation. you almost have to take out Vic
Tina – you have to take her out one the double or backdoor
Tera – she will go insane the house will be so uncomfortable, She'll go nuts. She is playing dangerously both sides.
3:30 pm Feeds are down…
6:43 pm Feeds had been down for a good while. No idea why.
Rohan still not useing the veto. Austin still the target.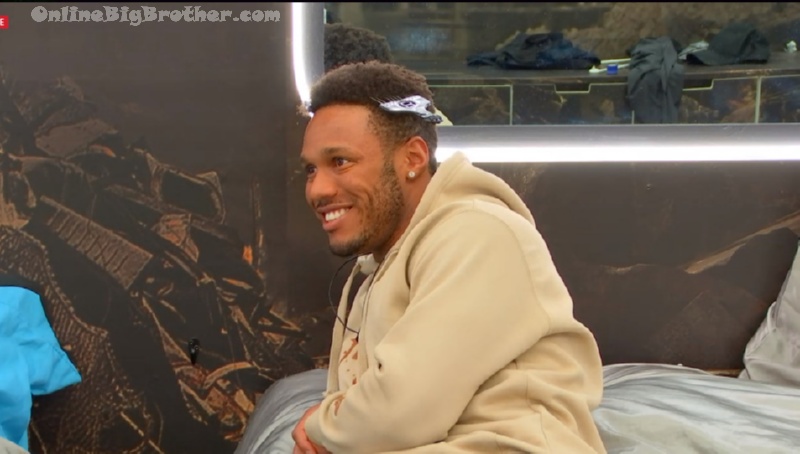 6:51 pm Ty and Beth
Comparing notes about Tina trying to protect Tera.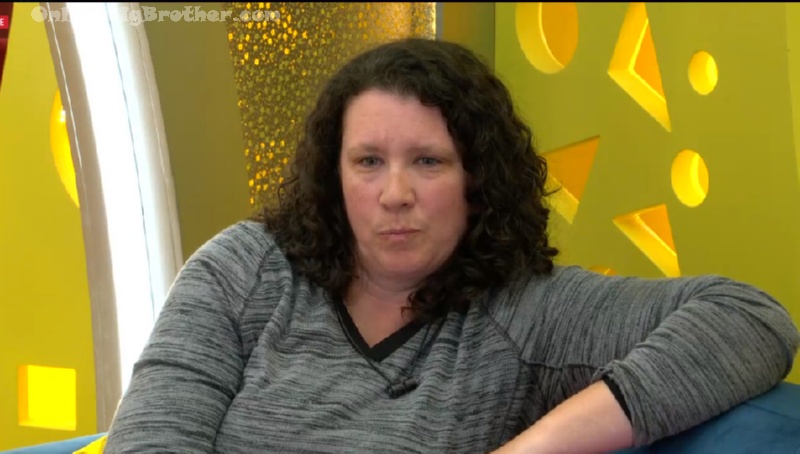 7:00 pm Tina and Ro
Tina says Tera and Ro are people she 100% trusts. Vic is lowest on her totem pole out of her inner group. (none Beth, Jed, Ty)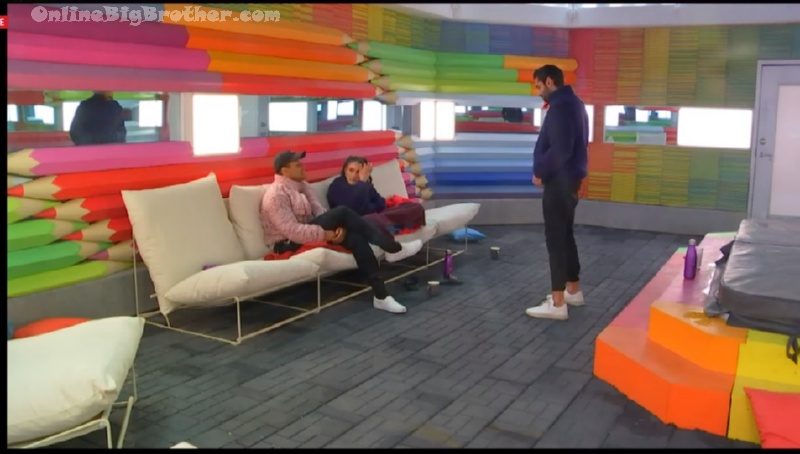 9:36 pm Apparently they already had the Power of Veto Ceremony. Rohan didn't use it.
10:30 pm Breydon has been talking with beth. Kiefer is in the ktichen.