Head of Household: JED
Nominations:Tera and Tina Kiefer
The Power of Veto Players are: everyone but Breydon
POwer of Veto Winner: Tera
Power of Veto Ceremony: Tera used the power of veto and Kiefer was the replacement
Big Brother Spoilers – They want to keep Kiefer now it's funny.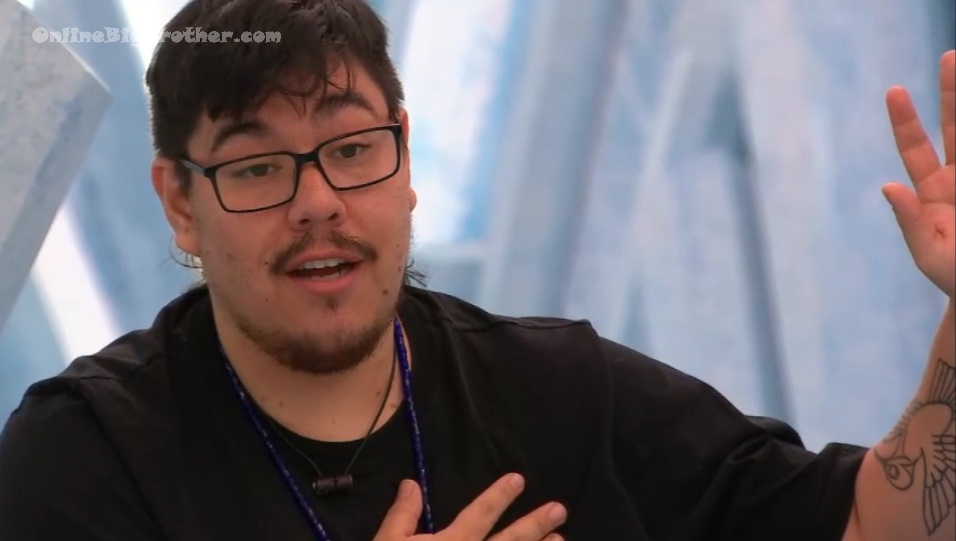 6:10 pm Jed and Kiefer
Kiefer starts off saying he will take Jed to the end he's not confident Ty and Beth will. "I don't think they think they can beat you"
K – I am a guaranteed final two never cut you EVER
K – I know this decision was made on its own it was a three-person decision I'm not putting all the blame on you,. It just hurts man.. Your people if it was you or Ty? You don't even get a chance to fight for yourself.
Kiefer – what is best for your game?
K – I feel like it's too late
Jed – I said this all week. If Tera comes down I see you and Tina as a strong pair
K – I would cut Tera and Tina in a heartbeat for you guys I told Tera to her face she would go up in the double.
K – I swear on my family and my kids I would take you Jed
K – to be the best you have to beat the best
Kiefer – Ty doesn't win against you
Jed – I know for a fact he doesn't (for a fact?)
K – that's why Beth will take him
Jed – ty won't take Beth.. I actually don't know what will happen
K – I've never been disloyal I've always had your back.
Kiefer – you have to win out without me you don't have to win out.
Jed – I really have to consider that.
Keifer – I've never said your name
Keifer goes on about how he's never swore on his family in this game and he's swearing on his family now.
Kiefer – to be cut by you it stings different
Jed – I got caught up with the size of the move
K – it's a big move if you take me out and make it to the end you do win in this game.
Keifer says Jed's odds of getting to final 2 goes down
Jed – you've done the most honestly you've done everything I had dreamed of like you literally have
K – I just don't want to go out like this.
K – I want you to see it how I see it because I haven't been wrong yet..
Kiefer brings up the conversation with Beth where she told him JEd and Ty are making a mistake taking him out. Keifer says she's doing jury management.
Kiefer says he needs three votes
Jed – you need two votes
K – you would have to break the tie
Jed – I would be comfortable with that if I had to
Kiefer says he got way too comfortable. Goes on about wanting to beat the best and not go out "by f***ing Rohan"
Keifer says if he went out when they hit the final 4 he can hang his hat on his performance "be so proud of what I did"
k – No matter what happens as soon as I walk out of that door my life will be instantly better doesn't matter if I win or lose
Kiefer – I'm actually alright leaving at the 7 I feel like I had an impact on the game I feel like Canada potentially loves me
Jed – If Tina went home I think it still helps my game.. maybe it's not a big move but keeping you is a big move.
Kiefer swears on his family and kids he's not after Jed reiterates keeping him is a big move for Jed.
Kiefer says they could have put Breydon up and vote Tina out. "That's why I said If I'm going on the block I'm going home"
k – Breydon is aiming at you man
Kiefer – I would never put a sunsetter up unless I was forced to by a power of veto and I've proven it
Jed – I'm sorry I put you through this I really am.
K – I feel like you're my best shot and I'm your best shot
Keifer brings up the early days of the Defenders when the two of them shared a bond.
K – the struggle of staying off the block and getting me off the block.. you know what I mean
Kiefer- I would be proud if my son grew up like you (ZOMG)
Jed – that's real sh1t
Jed – Kinda fires me up.
Kiefer – If I do go you got my vote, If you get there because you'll have to win out
Jed – at the end of the day .. like first of all it's nothing personal. It really killed me to do it like I said before this isn't set in stone and at the end of the day mistakes can be made.
K – I feel loyal to the squad still
Jed is going to call a sunsetter meeting.
Kiefer – for your game it's good to keep me, For Beth's game, it's good to keep me. For the four scenario
Jed says he respects Keifer "You're an inspiration for me"
Jed – I don't think you would swear on your family LIke V and go back on it.
Kiefer says he wanted to go the distance with Jed and LT, "LT was real as f*** I can't be fake.. "
Jed says there's a chance Kiefer stays
K – I want to get to that Final 4 I know the odds are stacked against me. I don't know the days that well..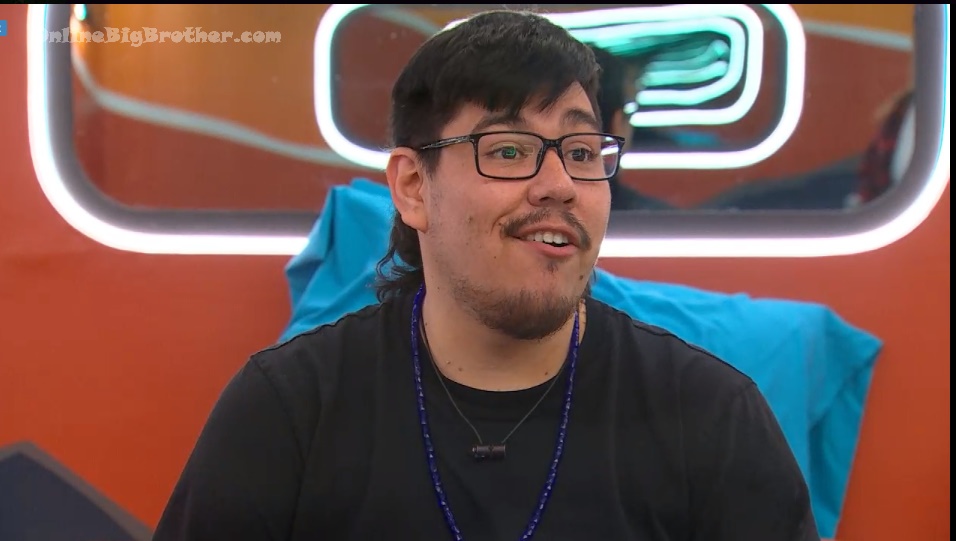 7:00 pm Kiefer and Tera
Tera – do you think it's set in stone
K – I dunno Jed is a hard guy to read.. He did say he felt he made a mistake.
Kiefer – I don't think I am staying I don't think he believes I won't put him up.
Kiefer tells her if he stayed it's because he promised them he wouldn't put them up. That means he would have to put up Tera and Breydon. Tera would go if Breydon won veto
K – I don't want to be in that position
Breydon joins them.
They talk about the party tonight. Kiefer says he's heard there will be margaritas
Breydon leaves..
K – yeah I would rather just go. (then betray TnT.. lol)
K – he did say he thinks he made a mistake. That's probably the last talk I'll have with him though.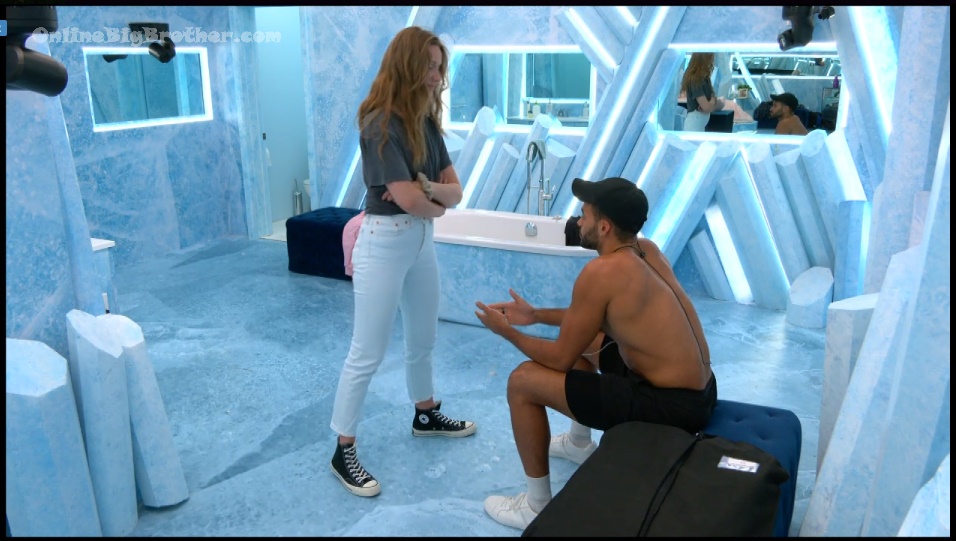 7:10 pm Jed and Beth
Beth goes over her conversation with Kiefer brings up the part where she said she felt Jed got caught up with wanting to make a big move after her big move.
Jed – I told him that. I told him I'm not too prideful to be like. Oh, I did it so I have to go through with it.
Beth – came with Vic last week
Jed – I'm not Vic on her HOH I'm not flipping on my HOH. I don't care at this point.
Jed – To me if putting him up and not sending him home could be a bigger.. a big move.. in my mind. It is a BIG MOVE. The decision to not send someone home and to take a risk and then somehow down the line he ends up saving us again. I can say that's the biggest move of my game.
Jed – I don't have too much pride to take him down now after putting him up
Jed points out by keeping Kiefer in the house there's a "bigger move" in the house over the two of them.
Jed – taking him out is a bigger move than us.. Like it hit me like it just hit me.. Even Tera said that to me today. She said yo know Kiefer going makes you and Beth really scary. I was like yeah.. I know

They hug and kiss.
Jed – I'm trying to do what's best for us.
Jed slaps her a$$ "I think I love you"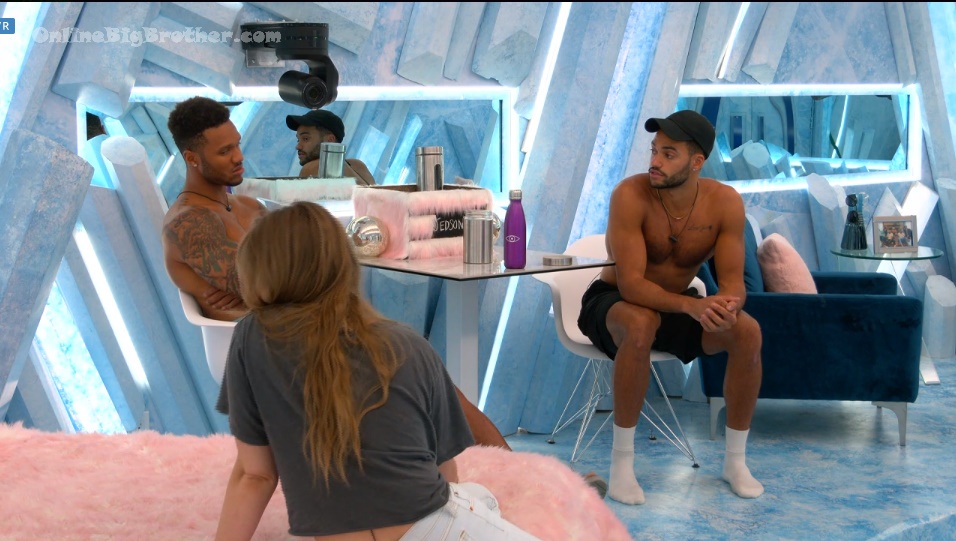 7:45 pm Beth, Ty and Jed waffling again…
Ty – our concern originally was three of them being here.. sending BReydon home was the wrong move.. Putting Keifer up as a replacement.. we never said he was going home
Jed agrees
Ty – breaking up a duo and a Trio at the same time is a big move to me
they laugh
Jed – I made sure to say you're not the target. I think that is why he can bounce back with the loyalty.. (ZOMG)
Jed – I really don't think it's better for our game if he goes
Beth brings up Keifer whole "Self eviction" game he's been playing
Ty says he's in full agreement with keeping Keifer "Tina has never done anything for us and she never will"
Beth – she never will
Ty – I still think we go Final 4 with Kief and just fight it out
Jed – at this point I'm down ..
Ty – he's beatable
Ty says in every scenario keeping Kiefer is better for their game than TnT
Ty – we don't need Breydon's vote but we should get it.
They agree they should keep Kiefer now.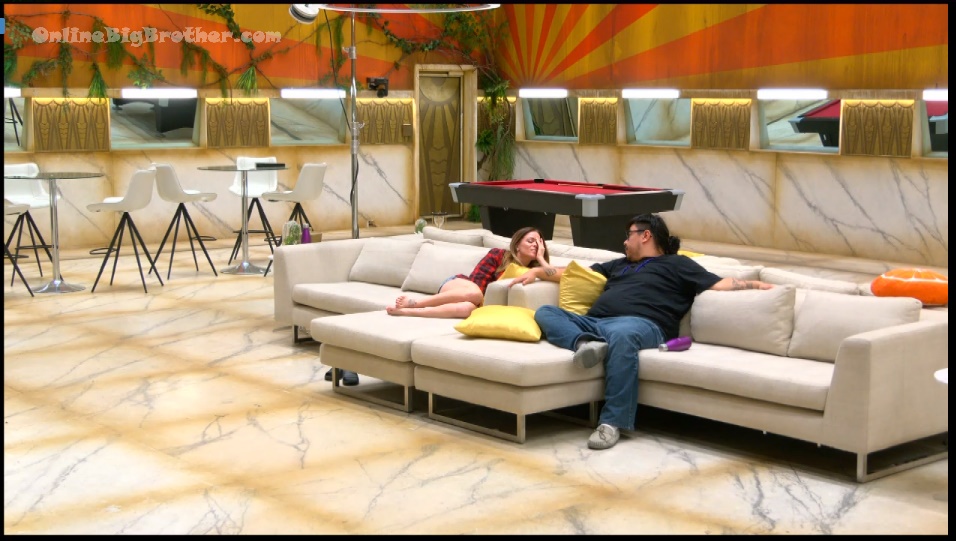 8:40 pm Tera and Kiefer
Tera tells him when they put you on the block they make you suffer
Tera – they will talk it over for hours and hours.. they really know how to f* with people
K – I don't think there is a chance they keep me
Tera – I think they are thinking about it. they'll talk about it for hours and hours
K – And nothing will change
Tera – painful
Tera – they really do just like to f** with people's emotions
Tera – if they change their mind don't be f**Ing loyal to those f***ers I can see them doing it though
Kiefer – I would have to be loyal to them if they changed their mind
Tera – you don't have to be anything to anybody.. you say what you have to say in the moment
Kiefer – I don't know
Tera – nothing is written in blood in this house. You play your game for Kiefer
Kiefer – I think I can beat them if they keep me. If they keep me this week I'm going to win this game
Kiefer – Surviving a backdoor. I just added a HUGE thing to my resume I would have to win every..
Tear – oh there's music "party time!"
Kiefer – soembody's phones range..
Feeds cut.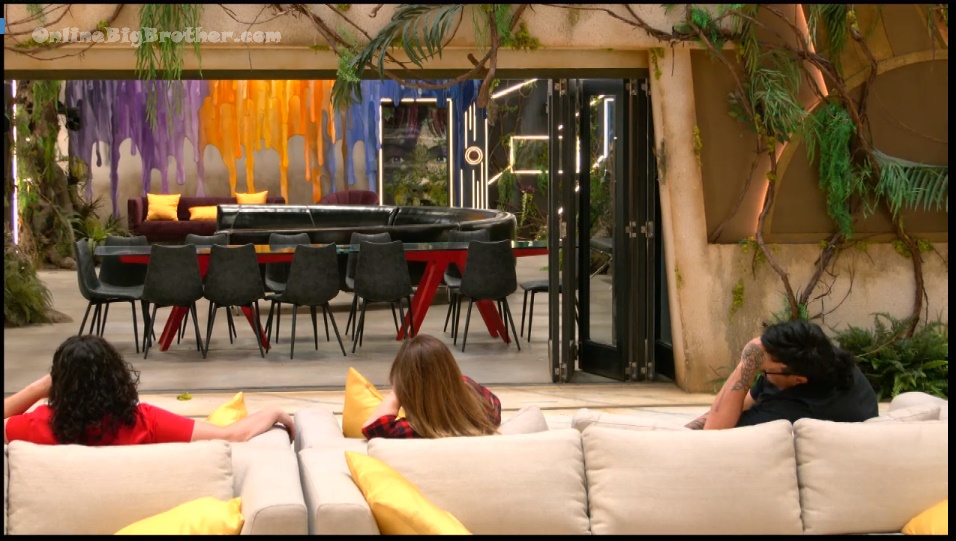 8:45 pm Tina and Tera
Tera brings up that the trio really likes to mess with people "Play with their emotions"
Tina – makes you wonder if all the tears were crocodile or not.
Tera – with who?
Tina – everyone
Tera – I really hope we can trust Breydon.. I think so
Tina – I honestly don't think so. The same gut feeling I had with Vic I have with Breydon
Tera – do you think he's up there telling them what we said
Tina – not to the extent Vic was doing it. I don't think he'll take a shot
Tera – he has to know he's the next on their list
They laugh
Kiefer joins them.
Tera – day 46
K – Christ I can't wait for day 48. These people are cold-blooded savages. They have no hearts
Tera – they don't
K – It's insane.. I'm going to be f***ing pissed if they keep me
Tera – they just toy with people that's how I felt during the whole thing with Vic. I felt like a fat mouse and they were just f***ing with me trying to decide if they want to eat me or not
Kiefer says he feels like after this week he'll be a cold-blooded savage.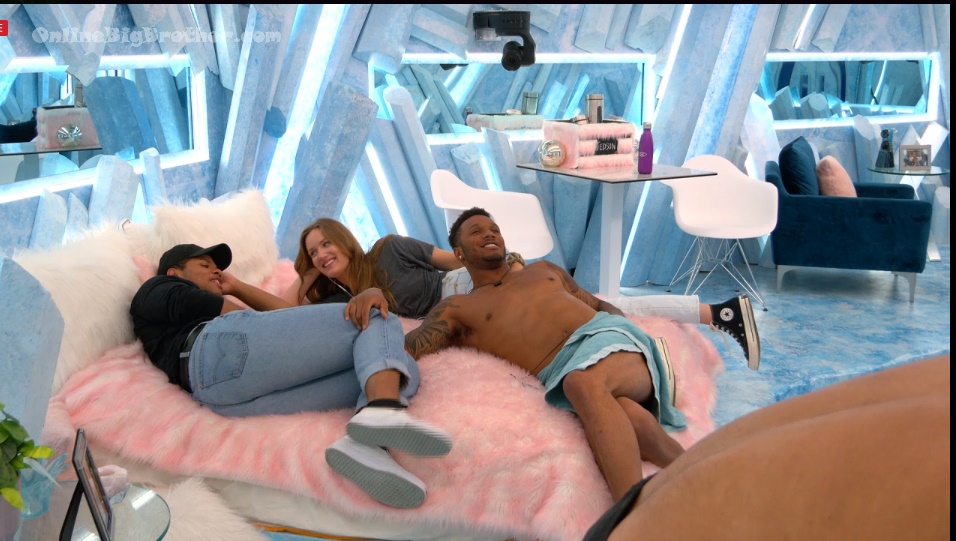 8:48 pm Feeds down for a party
11:12 pm feeds down for party
12:07 am No feeds 4 u
1:46am Still blocked.. tune in tomorrow to hear all about the party BB wouldn't show us 🙁
10:00 am Wednesday morning.. Feeds return they had a party last night. Buckle up for none stop waffling.