Quick Big Brother Spoilers
Head of Household:  Taylor
Nominees: Turner & Brittany
POV Players: Taylor, Brittany, Turner, Monte
POV Winner: Monte
Veto Ceremony:
Lock your ranks in before midnight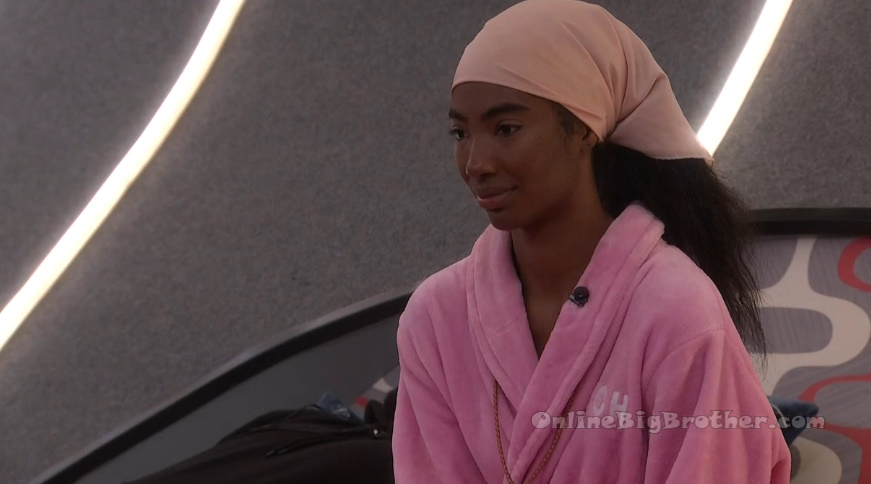 12:40pm HOH room – Monte and Taylor.
Taylor – I am still being lied to Monte! Nobody has owned up to voting me out of the house still. Monte – what do you mean? You asked Brittany or Turner? Taylor – Mmmmmhmmm. Monte – what you talk to both of them recently? Taylor – not about it, just no one has said anything. Everyone has operated this week as if no one tried to vote me out. Monte – as if it didn't happen. Taylor – yeah. Monte – yeah, I don't know. I mean.. I find it hard to think that Turner would be so transparent about how he felt and then Alyssa trying to guilt trip him into not voting her out. And go all week confirming he is good with our final three and then decides at the last minute to flip his vote after Brittany came up to him saying that he should give her (Alyssa) and then tells us exactly that.. like that just seems too obvious that he wouldn't do that … whereas Brittany the whole week acting shady. Threatening me and from her game perspective it makes the most sense for her to want to vote you out because you would have been the next best competitor in the HOH comp. If you weren't here, she would be in final three. That is the reality of it. So I think she knew that would have been a possibility if you were to have stayed and she tried to flip her vote. Taylor – but at that point we were so locked in that it shouldn't matter. Monte – I don't think so. I think she thought that the two of us were getting close enough and that when we had that conversation with the three of us in here and she saw how you were responding to her mentioning Michael's game was compromised because of it. I think she realized that you were calling out her bullsh*t! And at that point she said I am on the outs here. What is best for my game because both of these people don't believe me is that the one that is closest to Monte .. wants to keep her so why don't I do the exact opposite and get rid of her so that I have less competition for this HOH comp. Whereas I was trying to do the exact opposite and trying to make sure there was more competition against her for the HOH comp so that she would not proceed into final three so easily and then have a choice of who is being put on the block. It makes too much sense to me. And then for Turner to say in his goodbye message that he made it very clear… Big Brother blocks the feeds. Monte – his actions and his reasoning and how much he communicated to the both of us not just to me but to the both of us about where his head was at makes it too obvious that he was not the one to do that. I think it was best for Brittany's game to try and get you out this week so that she could win that HOH.. and fortunately she didn't because Turner stayed true to his word and voted Alyssa out against what he would have preferred. Taylor – that logic just doesn't… like I see the path you're painting here but for Brittany to vote me out and secure herself in the final three then what do you think would happen .. her and Alyssa.. so what she beats Alyssa for veto .. keeps Alyssa and get rid of Turner? Monte – no gets rid of me. Taylor – she gets rid of you? Monte – yes Taylor! I am telling you its been so obvious that she's been wanting me out of this house. it seems like very obvious. She would have booted me out in a heartbeat. Turner joins them and the conversation ends.
Taylor – oh my god I was so stupid last night… Turner – what? Taylor – dropping the headphones and shuffle (ipod) into the tub.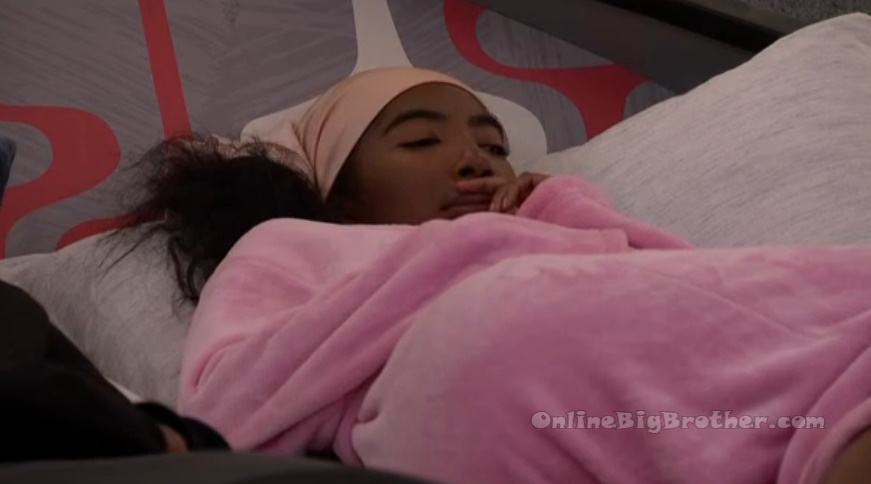 1:26pm – 1:54pm Taylor, Brittany and Monte are sleeping in the HOH room.
2:30pm Bedroom – Brittany talking to the cameras.
Brittany – If I would ever get the opportunity to play this game again which I would absolutely love someday at least I couldn't hide who I was. I would just be myself and I would just be who I am. There would not be a lot of growing pains that I would not have to over come should I ever get this opportunity again. And if I get to continue doing this, I get to just be myself. It was so fun getting to share that with people that truly do know me. And know who I am to my core which is the same Brittany that they've gotten to know. And now I am just excited to share that with Taylor and Monte … and not so much Turner because I don't think he likes me anymore but that's okay. I don't think he ever really liked me. Taylor and Monte were just really excited to get to know me and get to know me that way. I think ultimately it was a good call sharing. I think where I would have done things differently is to have not shared with Michael. I only shared with Michael because I thought he know and I thought it was eroding our trust but now I am realizing that I gave him pretty strong ammunition to use against me on his way out. That literally never crossed my mind which shows how naïve I was gullible maybe.. I don't know. He used my help to set himself up better but ultimately at the end of the day people didn't care about the those things as much as him winning comps. He should have been strategic about which ones he won. Brittany starts talking about how badly she wants a family. I almost wish my why for being here didn't mean so much. I think my why for being here is strong that it is literally like in my mind and I need to work on this because I don't know if this is 100% true .. it feels like in my mind .. losing big brother is no family. No babies! No having kids.. because I know that I need a large sum of money to have those things given the infertility things that I have been dealing with.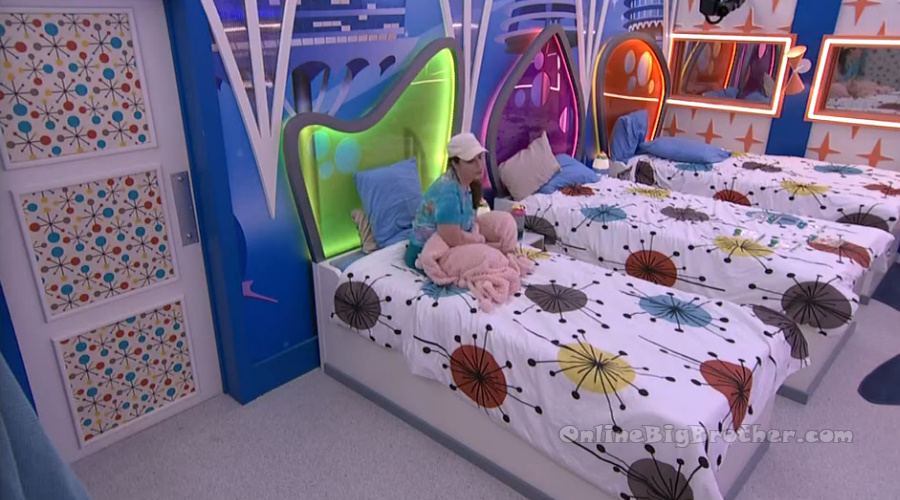 Taylor talking to the camera in the backyard.
Taylor – this has is giving me the most difficult path to the final three. I have no choice but to win all these comps. So I need to be studying .. I need to convince Monte and I need to be studying every single day. That is my game… win! Part one I have to win and Part two I have to know everything about this game. I need to look at that memory wall every single day and know everyone's score card. Thank god I am HOH so I can just stare. If Brittany goes week it is better for my jury management. Its a harder road if she goes this week but if she goes this week its better for my jury management.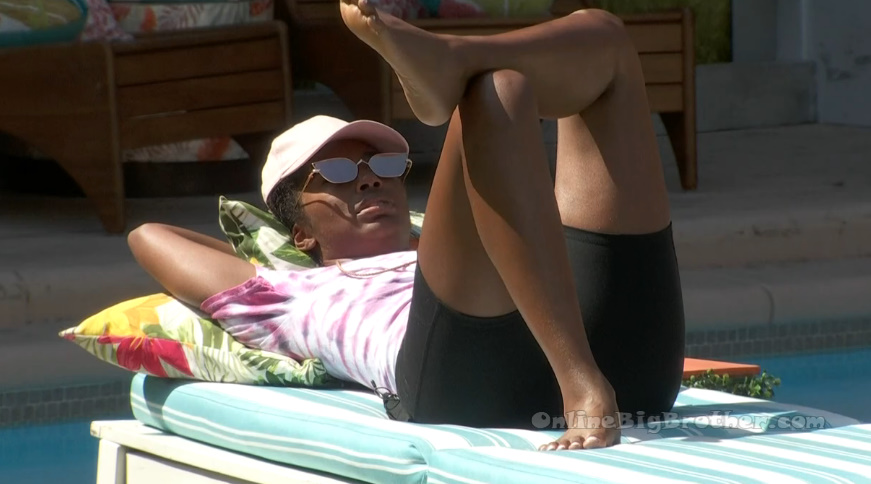 3:20pm Backyard Upper Level – Turner and Monte talking about Tesla and Elon Musk.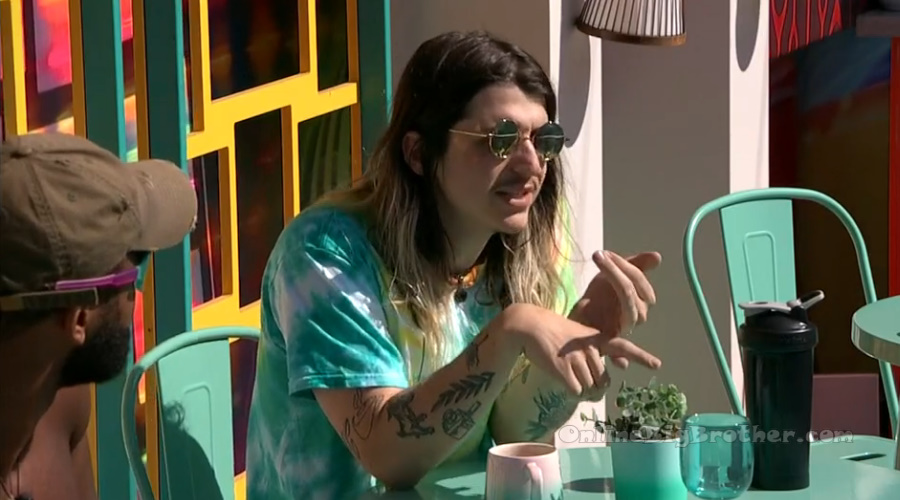 3:46pm Backyard – Taylor and Monte.
Taylor – I guess I have just been wondering if you are so locked in with me .. why make the journey to the end more difficult than it has to be. I just don't see Turner as competitively more of a threat to you and I making it together.. than Brittany. Monte – Based off his 3 HOH's .. yeah that is fair. Taylor – and I've said it since I won the HOH. Like I don't give a f**k who I trust at this point, its who can I beat. I just think the odds are greater… like look I am locked in with you and Brittany so if we're both working against her who is arguably a weaker competitor considering the comps that we're likely going to do… Monte – you don't think you can beat Turner? Taylor – I think it will be significantly more difficult for me. The only thing I beat Turner in was.. the fashion comp. Brittany joins them and the conversation ends.
4pm Backyard – Brittany and Taylor.
Taylor – I am working it. Brittany – yeah, any progress? Taylor – we keep going back and fourth on how is going to be a bigger threat in a mental comp. Brittany – when I talk to him .. any points you think I should have counter points on .. not arguments but be ready for? Who is going to be a bigger threat in a mental comp? Taylor – yeah. That is the biggest one. Brittany – I can think of plenty of examples where Monte has beaten me in the mental at the end. Monte joins them and the conversation ends.
5:34pm – 6:20pm Quiet evening in the BB house.. Workouts / eating and relaxing.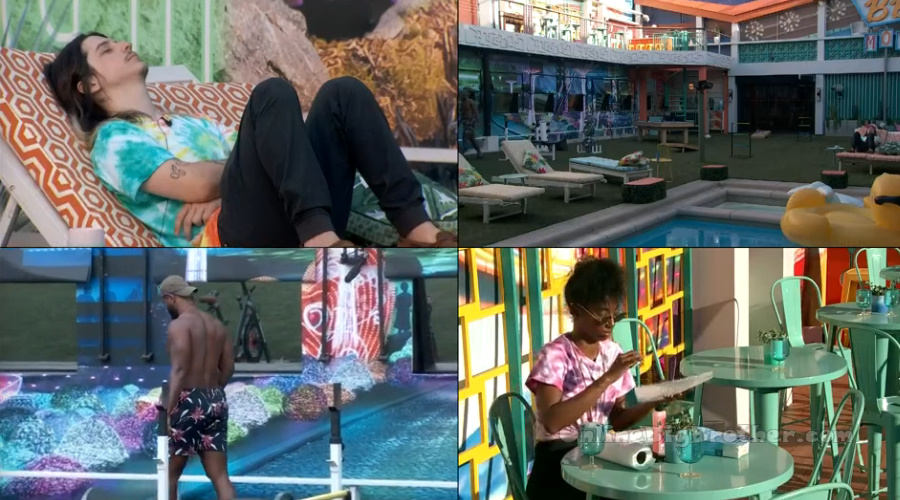 6:19pm Hammock – Brittany talking to the cameras.
Brittany – I have to prove that I am not smart / a mental threat .. but my first inclination to prove that is to not .. as a smart way to show it which shows that I am smart which is not a smart decision. Taylor is saying not to show the Crafts .. not until the end of the week but then Monte came in right after she said that so I need to hear from her why she thinks that. I was also doubting if Mental comps are the thing that he is most worried about. Ohhhhh… man its hard not to give up. I am not giving up though. Or I should better word it that I am continuing to explore arguments .. continuing to explore facts that help my case. I feel like I should trust Taylor and her judgement on this.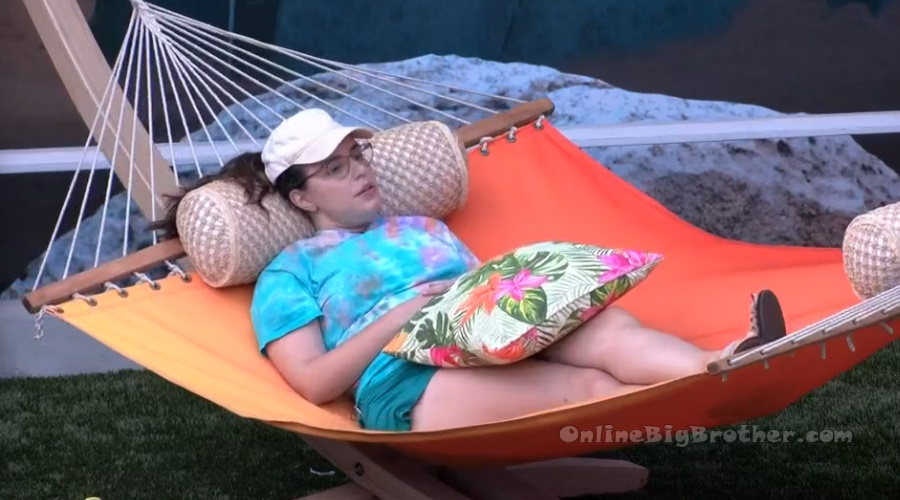 6:58pm Turner has the HOH camera. They plan to make more tie dye shirts.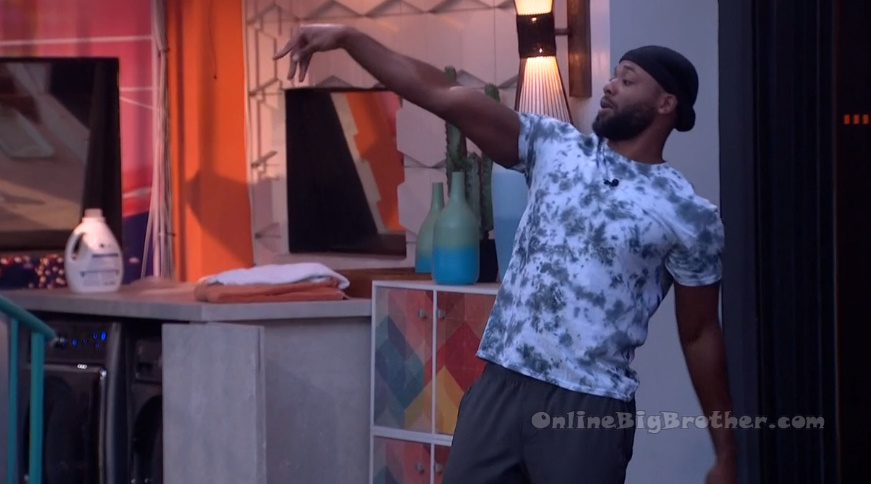 7:03pm – 7:42pm HOH room – Taylor and Brittany.
Brittany – are you playing with M&M's too (used to study the days/events/comps/votes with). Taylor – yeah playing with votes.. Brittany – I don't think I can do the M&M's (to try and convince Monte to keep her) .. I think it proves the exact point that he (Monte) is most worried about. And you know Monte.. Taylor – yeah. Brittany – he will take this whole thing and eb like AH HA! This proves what I was.. and then he will be like I gotcha! You know what I mean? Taylor – yeah. Brittany – so I can't do it.. but it also sucks because its my strongest argument. Taylor – what if you do the exercise WITH him instead of saying look at all the work I already did. Say lets do the work together. Brittany – it takes a LONG time. Taylor – because then he is the one doing all the thinking and not you. Brittany – yeah, could be an idea. Clearly the math shows that it makes sense… but in doing that it shows that there is more of a chance.. it shows that is how my mind works and that I am a fan of the show. Its show don't tell. Its always better to show and not tell. Taylor – you have all the time. Thursday is still far away. We've seen what happens when someone pushes too hard too soon. Brittany – I do want to do my pitch and then let him ruminate over it. Taylor offers to show the "graphs" to Monte since she is already guaranteed to be final 3. Brittany – you would really have to be careful not to push one side or the other. You would really have to look at both of them and give them equal time. That's the beauty of a visual you can talk about both equal but the visual will show it. Brittany heads down to rest.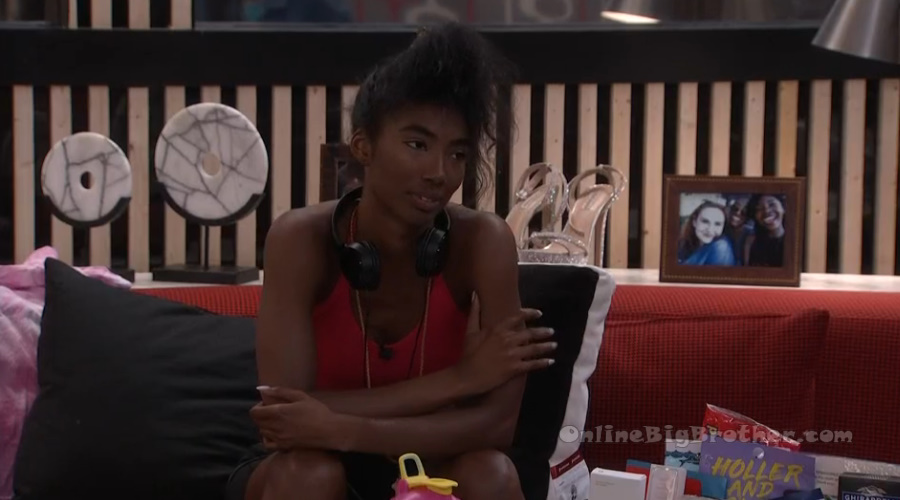 7:56pm The feeds are on FIRE!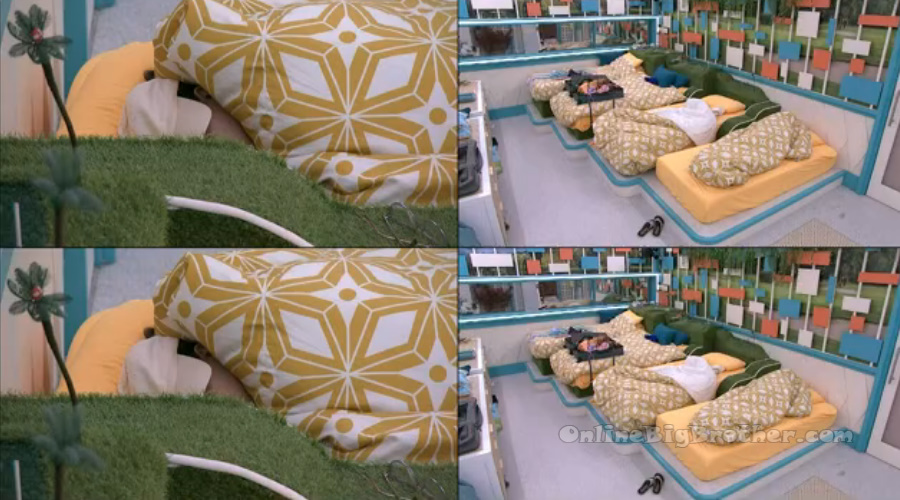 9:15pm Backyard – Turner and Monte doing tie dye t-shirts again.. Turner is recording the process.

11:15pm – 12:26am Monte, Brittany, Turner and Taylor are chatting and eating out in the backyard. Taylor heads in to have a bath.
12:30am Turner and Monte play a game of pool.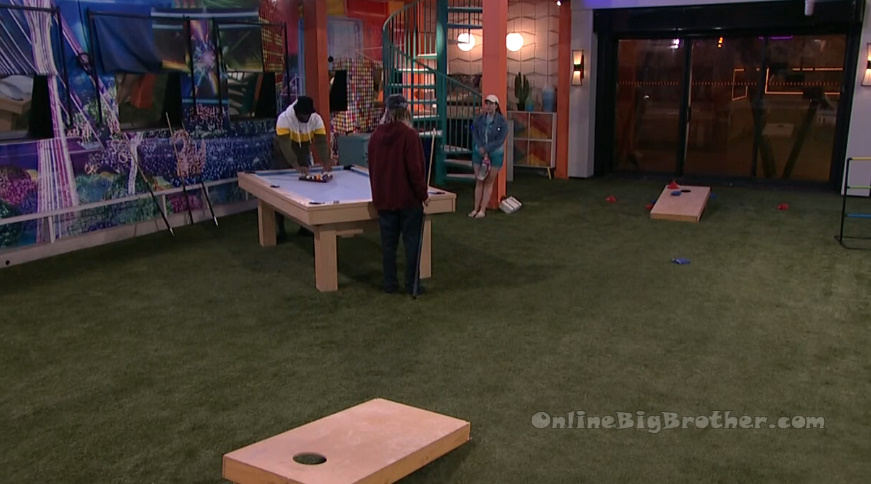 Without reader support this site and these spoilers wouldn't be possible.
If you've enjoyed our updates this season consider send us a tip to show your appreciation! 😉
Any amount is greatly appreciated!