Quick Big Brother Spoilers
Head of Household:  Taylor
Nominees: Turner & Brittany
POV Players: Taylor, Brittany, Turner, Monte
POV Winner: Monte
Veto Ceremony:
Lock your ranks in before midnight
The situation – Monte and Taylor appear to have broken up .. Brittany is still the target On Thursday.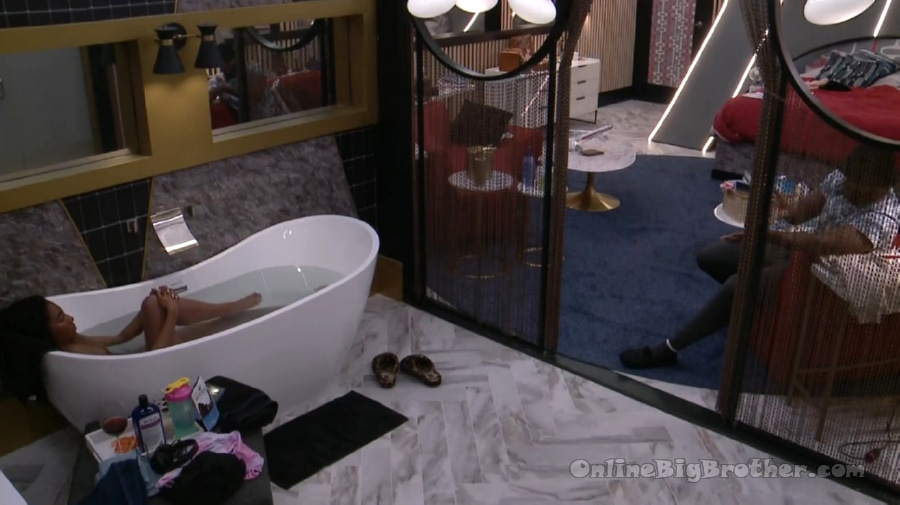 2:00 am Monte and Taylor
They are talking about Taylor making a comment about Monte not seeing his goddaughter. We start the conversation late.
Taylor apologizes "I am so sorry for that Truly.. you are not someone I want to deeply disrespect"
Taylor – I am not a person that will throw personal things into someone's face with the intention of harming them. I did that unintentionally but I did that and I am very sorry for that.
Monte – I'm not going to say I don't forgive you for what you said. Makes me know you have the capability to be more warm and not so cold. So toned deaf to sensitive things or rude and joking. I know that is not you all the time so to see that side come out today. I've seen that side come out before but honestly it didn't care about it that's Taylor that is who she is.
Monte – now seeing you revert to that it's confusing and frustrating
Taylor – it's a subconscious reaction too. We're laying in the bed together in front of the house. Maybe it's a subconscious effort so I don't Look like that lovey dovey girl that doesn't think of the game and throws everything away. That has nothing to do with how I talked to you about a personal thing like a child in your life.
Taylor – I don't want to be defined by my relationship to a guy it is highly likely I will amp up the colder aspect for the sake of not being tied together. That is a big fear of my. Look at how we talked about Kyle and Alyssa.
Taylor – I think about how fans of this show talk about women in this game and I think about my experience in this game so far. I am target from the jump I am berated publically by a man and my existence in this game is saved by a guy, Turner. Until I started that fauxmance with Joe I wasn't able to really be allowed to create friendships or be given the benefits of having conversations with people that didn't want to talk to me. I developed this very deep trust with Joe and I was thrown under the bus when he was at Dyre Fest.
Taylor – I came here to be this awesome competitive person like a really strong women whos got space with everybody who gets along with everybody but so much of my game has been defined by relationships both positive and negative. The way I have alienated intentionally and unintentionally the women in this game. So now that you and I have gotten closer in a intimate way there is a fear how that is perceived to the outside.

Taylor – that part about your goddaughter was uncalled for and unnecessary and I apologize to you all day. I hurt you and it was unnecessary.. Period.
Monte – You wanted to show you were this strong independent women that is all about you stuff and doesn't need anybody else. Or doesn't have to have this stereotypical soft and warm character that you know most women would play in this house. A lot of time it's phases when you are on the block it's like a lot softer in communication less condescending, less those types of jokes that rub people the wrong way. From me personal I have never felt that way. I don't know the types of conversations you had with people before hand. Jokes, Maybe this wasn't the first time it has happened. If it's happened to be of all people who I believe you would someone care about this moment. So this is just something I am observing that I want to share with you because I am like. I think this happens subconsciously in the game when you feel more comfortable you become more sarcastic.
Monte says when there is less certainty with how she is in the game it's a different version of Taylor, "More the Taylor I see in here when we're together"
Taylor says she tries to not hurt people but at her core she is "SO Sensitive"
Taylor- I know how easy it is to be hurt
Taylor – I don't want to hurt people I don't care about I don't want to hurt people I care about.
Taylor asks him how he's doing. Monte says he would have reacted in a much harsher way if he wasn't on TV and have other people around. " that is why I just needed to work out and blow off some steam"
Monte – I have a very low tolerance for disrespect when that happens it's such a turn off at times.
Monte – when it comes to staying the night here I don't feel comfortable doing that NOW just to be honest with you. I want to talk and have these conversations with you as friends. My emotions are heightened when I am intimate with someone that I feel is treating me a certain way. I get more frustrated
Monte – as a person and a friend I feel no differently towards you. From a game perspective this doesn't impact any of that.
Taylor – I feel we were way too physical I hate that this is the circumstance that makes us pull back a bit. I would like to know you more. I don't know enough given how frequent we've been going there was a gap between sleep overs and us getting to know each other.
Monte – I agree
Monte said what happened today showed him he has to take a step back and figure things out.
Taylor agrees. "This game is a lot"
Monte – it's fair and natural for us to have a lot of pent up sexual tension and they acted on it.
Monte – I don't criminalize the both of us for that
Taylor – no I never did It will be different for you how it is received. I know I will have different consequences but I made a decision
Monte – that sucks because of how society is set up I wisht that was different.
Monte says that Turner know about them he guessed it.

Taylor wants to understand what is comfortable for MOnte in terms of Cuddling, Flirting and visiting the HOH late at night.
Monte – Of course I want to keep talking about stuff like this and getting to know each other on that level is very much more important the way we've been getting to know each other.
Taylor – it's been fun
Monte – us having one on one conversations like this. I think the intimate stuff can convolute things and make things more complicated.
They agree they "Need to chill out"
Taylor – Ohh Monte
Monte – Ohh Taylor
Taylor – I am glad we had this conversation
Monte – me too it helps us get closer
Taylor – hard conversation help people get closed I would rather have this conversation than not.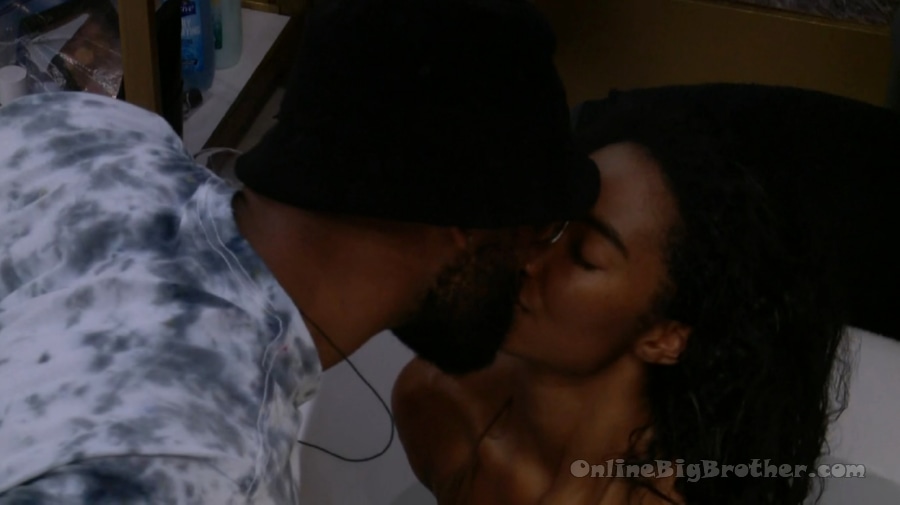 3:20 am They kiss. Monte heads downstairs to sleep.
5:00 am zzzzz
8:25 am Zzzzzz
9:45 am zzzz
10:00 am Feeds blocked for wake up.
11:40 am lights Brittany in the shower everyone else sleeping.