Click here for your CBS All Access – Live Feed 1 Week Free Trial!
6:30pm
Tom, Kato, Natalie and Lolo playing a game of pool. Meanwhile downstairs Kandi and Ricky are playing cards. Tom and Kato head into the HOH room. Kato – the more I think about tomorrow.. if Tamar doesn't have it.. then we know someone lied. Tom – Tamar doesn't have it. Ricky's got it. Kato – but it can't help us. If you put Ricky up, it can't possibly help us. Tom – how could it not help us… then at lease we know. Kato – we'll know if Tamar doesn't have it. Tom – the longer we sit up here the more nervous people will get which is good for us because we don't know what is going on right now. So lets make them nervous. Kato – here is what I am thinking .. tomorrow you put Tamar on.. Tom – you mean we win the veto and take Joey down? Kato – we have to put Tamar up somehow if one of them wins. That's the only way we find out. Tom – I think I already found out though. Kato – by the pool game? Tom – yeah, kinda because of things that have happened. Ricky suggested that Tamar has it. Lolo just said I think Tamar has it. Why would they both suggest that Tamar has it?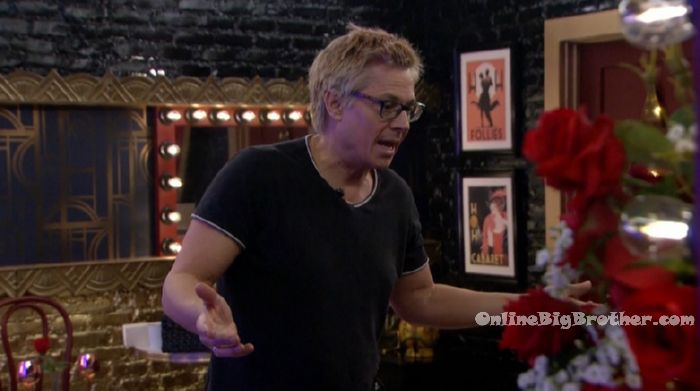 Kato – they're narrowing it down? Tom – or they're trying to make us think that Tamar has it. The person that has the power does not have to reveal that they have the power. If we put Tamar up and she protests I don't have it. Kandi says I don't have it. Go to a vote and Tamar goes home. Tamar never had it. We never find out. Ricky still has the power for the next week when we put him up. If Ricky does have it we have to find out before he decimates us. We have to do more investigative research to narrow it down to see if he might have it. Lets imagine if Ricky has it and we win veto and pull Joey off the block. And I say this is going to come as a surprise to some people here. I am putting someone on the block that without a doubt has the power. Everyone thinks I'm going to put up Tamar .. and then I put up Ricky. Watch the faces. If I'm wrong still vote Kandi off. If we're wrong we'll know and if we're right we'll know. Kato – my gut tells me he doesn't have it. When you were in the room for 2 hours.. I've never heard Tamar so quiet. Tom – if Tamar or Kandi don't use it then we know we've been lied to .. and then we basically f**k our alliance. No we don't f**k our alliance we say goodbye to our alliance. Kato – I am going to pull Dina aside and make her swear that she doesn't have it.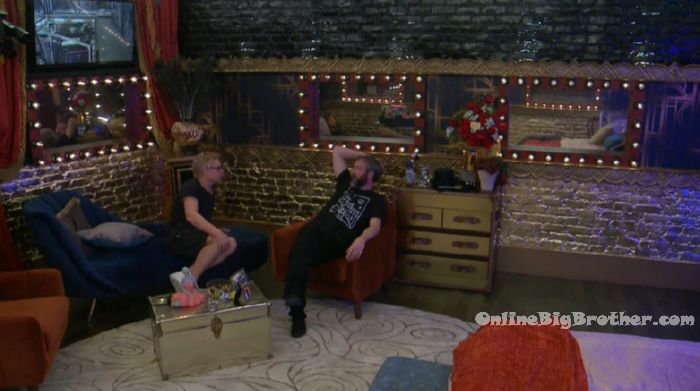 7:10pm Lounge room. Dina, Kato and Tom. Kato asks Dina to look him in the eye. He asks her if she has the power. Dina – I don't have it. I swear I don't. I would tell you guys. Tom – who do you think has it. Dina – I honestly thought it was Natalie or Kandi. Kato – I think its Ricky, Lolo or Tamar. Dina – oh maybe Lolo. Tom tells Dina to go get it out of Tamar. But don't tell her that we told you to do it.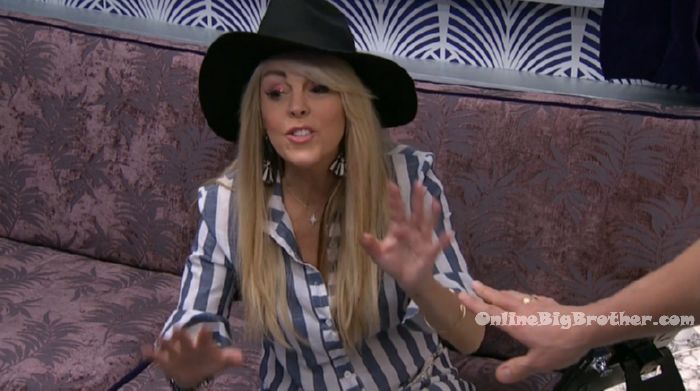 7:20pm Tamar says that she doesn't have that thing. I would tell you if I did. Tom – I put the two people on the block that I thought had the power. Now I really don't think Joey has it after conversations with him. I think Kandi has it and if she does she is fine. Will you ask her for me? You're her friend. Tamar – and what are you going to do if I ask her? Tom – Whoever has the power and isn't telling us should go up on the block .. that would be fair. Tamar – you telling me that someone's got to go up .. so If I don't ask her..is that what you're telling me?!!? Tom – No because I'm going to know who has the power before that happens. Tamar – I don't do threats .. don't be that kind of person! Tom – that's not what I was doing. I'm not that type of person. Tamar – well a little bit. That's how I took it. Don't be that dude! Tamar – why don't you put up Natalie? She has 6 million instagram followers. Tom – it doesn't work like that. Tom – I did not threaten to you. Do you know why? Because I'm not that guy and because I would be afraid to threaten you. Tamar – why? Tom – I've seen how you can throw down. I don't want to get down with you.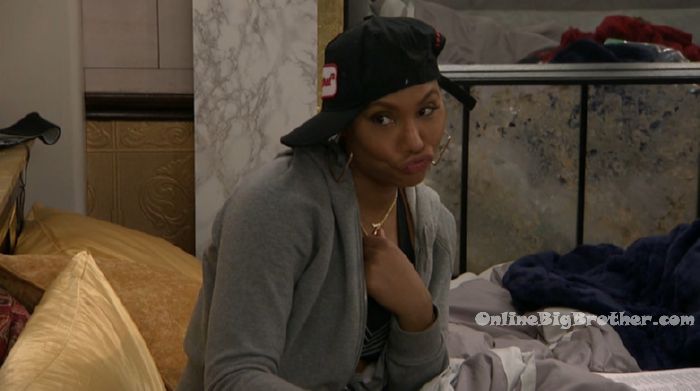 8:33pm HOH room. Kato and Tom. They both agree that they think Ricky has the power. Tom – how do you know? Kato – I can't. They (production) will yell at me. Kato – he goes to the diary room for 1 minute, 2 minutes and then comes right upstairs and lifts weights like that. I've never seem him do it. Tom – and he just started getting mad at me .. what did you talk to Tamar about? Ricky joins them.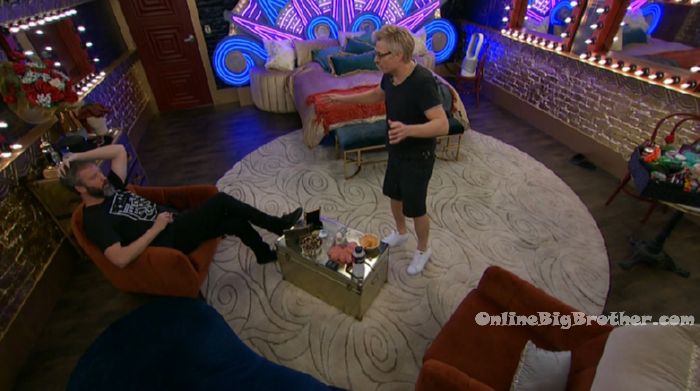 10:05pm Kandi, Tom and Kato. Tom asks Kandi if she has the power. Kandi – its irritating me that I am telling you I don't have the power. You still believe I've got the power. Tom – I didn't say that. I was just asking if you had it. Kandi – and even if I didn't have the power I would never have used it against you. Tom – I believe that. Kandi – and this is what's frustrating to me. Tom – if you did have the power … the power I believe is for you to be able to take yourself off the block so it wouldn't matter right? Kandi – no it would matter Tom. Because at the end of the day you put me on the block! And you don't know what the power is! And clearly I have not won any vetos or HOH's. To put me on the block is to say that you're doing it to sacrifice me and its so frustrating. Ricky comes out and says you guys understand that this is a game!? And part of the game is putting people on the block and them getting evicted so why are you guys acting all b***hmate .. its part of the f**king game! Kandi – I get that its part of the game. But if they keep coming after me about the power then I am going to tell them how I feel about it. Anyways I am good! Ricky – learn from people that have left before like Ryan who took it gracefully. Its a game! Kandi – I can say how I feel and I don't give a damn what he says about it. Kandi starts crying. Tom – I don't wand to see you cry. Thanks Kandi. We won't ask you again.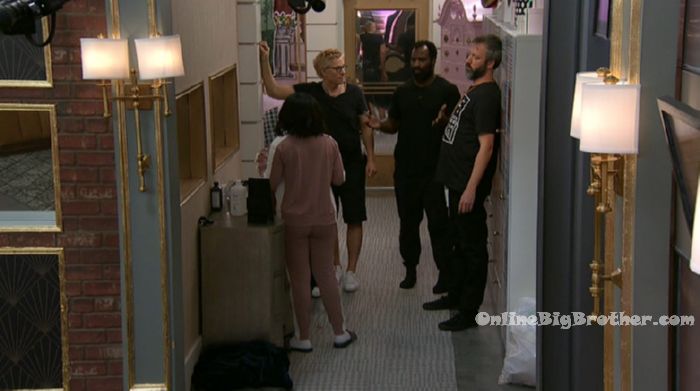 1:50am Tom talking to the cameras. Tom – I have a feeling my crazy decision tomorrow is going to blow up in my face. At the very least it will be interesting. At the most it will be a great move. I can only hope for the best and prepare for the worst. Tomorrow is going to be a very telling day … and if I do suffer the consequence of this decision I make tomorrow by putting a few targets on myself that end up being fatal. I will be talking to you guys online and watching the rest of the season from home. I am taking a big shot. Its a risky shot. But I am in it to win it. I appreciate you watching and I will talk to you later…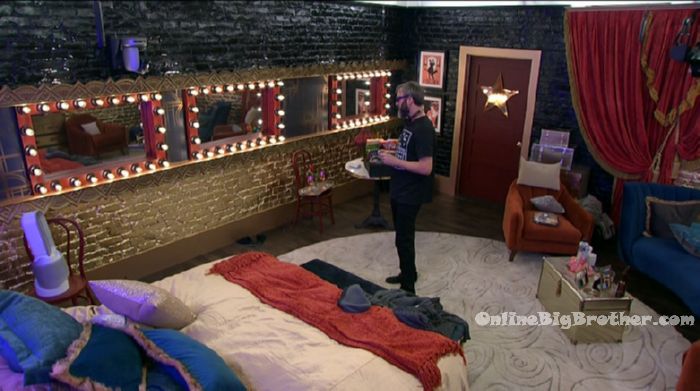 Support this site by purchasing your Amazon goods through our links below. It doesn't cost you anything and we get a small commission off your purchase.
Amazon Canada
Amazon USA