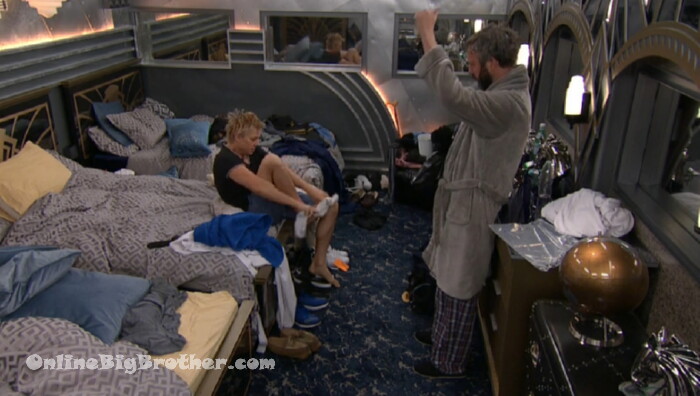 The power that has everyone losing their minds over went to: Tamar
Natalie wins the Power of Veto
9:30am houseguests wake up. They're not sure when the veto is. Mostly Chit chat.. Tom and Kato talk briefly about saying something to JOey. They decide to talk about this in more detail after they clean up.
10:30am Feeds down..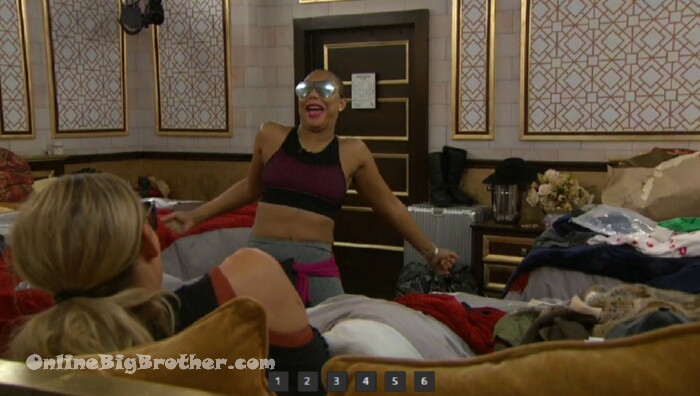 11:20AM Feeds are back The veto players were picked.. Tom, Kandi, Joey, Dina, Lolo, Natalie. Tamar hosting
Tamar says she is so excited about her new found relationship with God.. "it's always been there I just felt like we've got closer.. I'm grateful for that"
Tamar – I'm so mad I'm not playing in this veto.. I feel like it'll be luxury
Tamar – It might be luxury…
LOLO – Luxury?
Tamar – A luxury veto .. you win trips, Money ..
LOLO – GIRL they don't do that on Celebrity..
Tamar – sh1t yeah they do.. yes they do..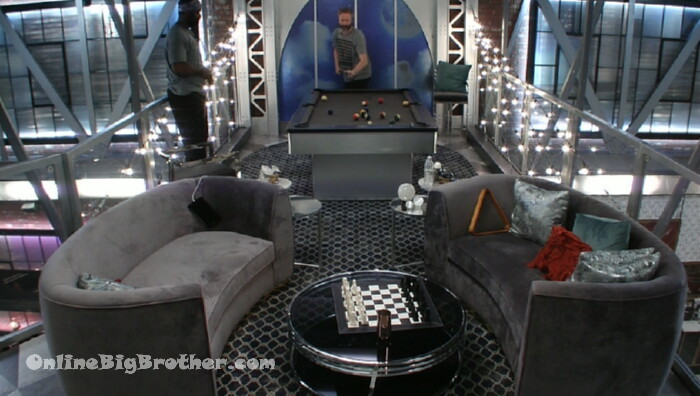 11:36am Tom and Ricky
Speculating about the Power of Veto. They were told:
Tom – this will get you through a sticky situation ..
Tom – I don't think the person with the power is in this..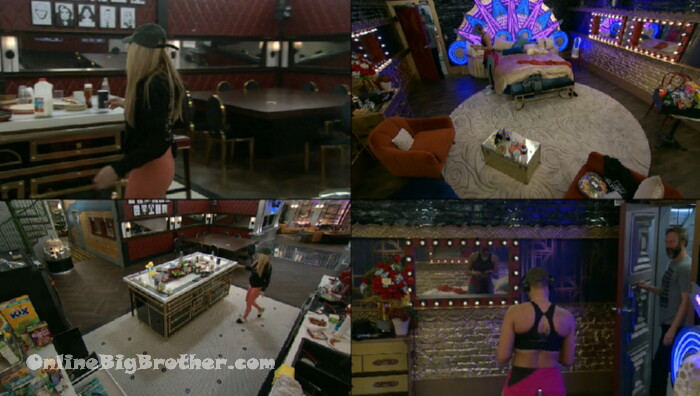 Tamar comes up to use the HOH music.
Tamar – so I'm not playing in this veto am I safe
Tom – uhhh.. yeah .. I think you are
Tamar – you think
Tom – well I mean I think you are I think you know to
Tom goes back to play Pool with Ricky. They start speculating if Tamar has the power.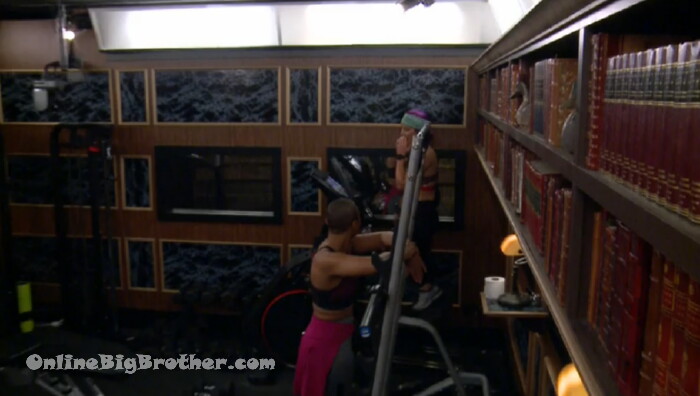 11:49am Natalie and Tamar
Tamar going on about Tom saying "I think you're safe and I think I know you are safe to"
Natalie says Tom "Pressed up on her and LO" the power introduced into the game is getting to his head, "he's starting to lose it"
Tamar now goes on if she gets put on the block she doesn't have the votes.
Natalie – you need to calm down you're making sh1t up in your brain..
Tamar – I have you and LOLO.. R
She adds to evict.. "Ricky is voting for me and Kato is voting for me.. "
Natalie – you should ask Tom if you are next.. what does that mean I think you know you are safe too..
Natalie thinks that's weird of Tom to say..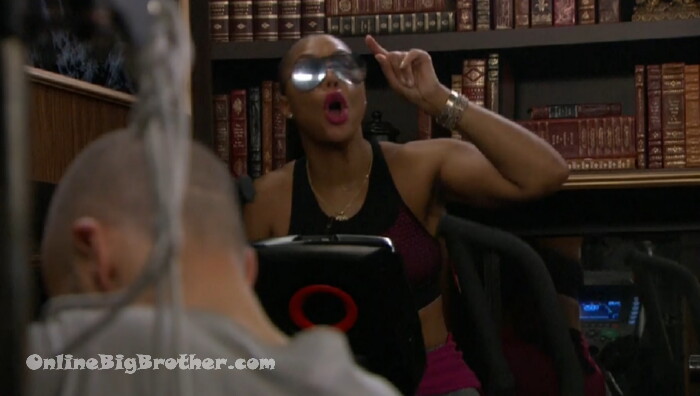 12:13pm Joey and Tamar
Tamar is going on about being personally and physically attacked and there being no repercussions.
Tamar – that's my only issues.. now it's not fun .. (OMG)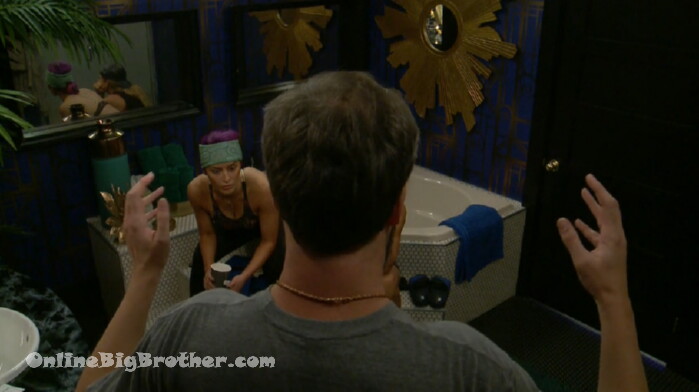 12:40pm Tom, LOLO and Natalie HOH Bathroom
Tom – so damn stressful..
Tom tells them he really wants to tell them something. LOLO freaks out they can't there's too many people outside playing pool.
LOLO – Give up the alliance.. Just give up the alliance now..
Tom – Honestly at this point we're so strong we can go out there and high five and tell everyone we're in an alliance.
Tom – I'm asking you to trust my judgment..
Tom tells her the first time he asked Ricky to be in an alliance he said no. The next day Kato won the HOH.. Ricky wasn't being nice to me.. All of a sudden I win HOH he's nice to me.. High Fiving..
Tom – I never wanted him to be in it at that point.. He was coming to me I had to say yes or no I said yes but it was never an official alliance.
Tom – He wants to be in our alliance so he ride us to the end. Pick a side and pick of the other 2 people and ride those 2 till the end.
Tom – he is our biggest threat.. I want to backdoor Ricky right now. . It's not going to be easy. It's a tough move then we don't have to worry about it anymore..
Tom – it really doesn't matter who has the power.. What matter now is we have the opportunity to get the strongest player other than ourselves out.. RICKY
LOLO points out next week they only have 3 people competing in HOH.
Natalie and LOLO mention how Tamar, Dina and Kandi "talk every day"
Tom – Dina loves me Kandi and Kandi love each other..
Tom – Joey actually likes us
Natalie – he likes you guys he does not like me
Tom – he's going to do what you guys tell him to do
"Joey does not like us"
Tom – then kick him out next
Natalie leaves..
Tom – you choose who goes out next..
LOLO – Joey is mad at me and Natalie because we sent Jon and Ryan home.
Tom – I understand..
LOLO – you, Joey Kato you guys talk he's not cool with us.. He told me last night there wasn't a good energy between us.
Tom – so we'll get rid of him ..
LOLO – NEXT week!
LOLO mentions if Joey wins HOH she's going up
Tom reassures her they have the votes to protect anyone.
LOLo goes on about yesterday Tom thought she was lying to him and yesterday Tom wanted her out of the group.
LOLO thought they had all agreed to take in Ricky.
Tom – trust me lolo..
LOLO – Tom I'm trying to trust you but I don't have a good feeling about Joey..
LOLO was happy that Tom didn't want to backdoor and she liked that.
LOLO – for me Joey has lied to me 3 times.. He's an actor who has the ability to say and act..
Tom – my plan to send him next.. Ricky today..
LOLO – He can split me and Nat..
Tom – nope..
Lolo – how
Tom – I'll show you how.
LOLO – you are just thinking of yourself Tom and it's not cool ..
She asks him if Joey wins HOH and put her and Nat up, something he already has talked about to the "boyS" and he also wins Veto how will Tom protect her and natalie
LOLO – if you can tell me how you get out of that than I agree with this plan.. I would rather have the numbers one more week.. Get rid of Joey than we have all of us do what needs to be done..
LOLO – You're a thinker Tom am I missing something?
Tom – there's a way to do it.. It's the social game it's not going to be easy for you
LOLO – why put me in that position if it's not going to be easy..
Tom – I don't think we will get the opportunity to take out Ricky for a long time..
Tom mentions if Him, LOLO, Natalie win the Veto today use it on Joey … "he's going to be really thankful"
LOLO – no
Tom – it'll help
LO – as much as you don't trust Ricky I don't trust Joey
LO tells him Joey is such a good actor that he has Tom tricked, "He doesn't like you he bitches about you constantly" (it's joey after all)
Tom – he bitches about everything though…
LO says Joey has continued to disrespect the females in the house time and time again and they are not down with that.
Tom says the reason he's not going to screw over Natalie, LOLO and Kato is because they have the perfect alliance. "you guys are a 2 vote unit.. me and Kato are a 2 vote unit"
Tom – it's so much more predictable as a group..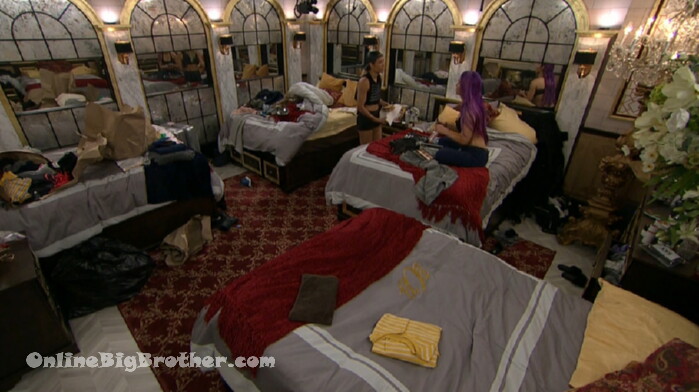 1:20pm Natalie and LO
Lo says Tom wants them to save Joey, "that's how f*ing crazy he is"
LO – I said Tom you do realize Joey blames us personally for sending Ryan/Jon home..
LO – I don't know what to do
Nat I don't neither
Lo – Joey does not like us so it's Ok for you to get rid of someone you don't like but for someone we don't like
Lo – he threatened the same way he threatened Ta.. he said well it doesn't matter even without you and Nat we have the votes..
LOLO – why do they want him out so soon (Ricky)
Nat – they think he's the best player in the house
Lo – I keep telling Tom this is not chess.. the social game
Lo – Tom f*ed up his social game everyone is mad at tom.
Lo – you don't think Ta and Kandi would put up Tom and Kato
Nat – bring that up..
Lo – he's not listening to me Nat.. there's no point having a team if they're not listening..
Nat wonders if Kato/Tom are worried they have a three with Ricky so they want to take him out.
Nat – they've thought of everything.. that is why they keep saying 4 4 4 4 4
Nat – me and you need to win HOH
3:20pm Lolo, Tamar and Joey
LO – He threatened me yo
Ta – what he say
LO explains that Tom basically told her that they have the numbers with or without her.
Joey laughs
Ta – "I don't like that don't threaten no women.. be a man.. "
Dina walks in.. LO tells her about this "incredible bible study" she just had.
3:24pm Natalie and Ricky
Nat – who do we want to win…
Ricky – it depends if we're sticking with the five or breaking it up
N – They said to win the Veto and put it on Joey
R – take Joey off
N – yes
R – and they they would put up Tamar
N – they said they would put up you and Tamar
R – I don't think they'll put me up
N – that would be a big f*ing move
R – they're acting funny.. they're thinking past this they're thinking final 5
N – I understand the long game I really do but right now we have to play
R – I was going to say if you guys win don't change anything.. I'll vote Joey out.. F* the five we gotta win HOH and Split Kato and Tom up.. the three of us have each others back
R – you guys try to win it keep it the same.
R – win HOH put Tom and Kato up..
Natalie says LOLO wants to blow up Tom and Kato.
Ricky tells her to hold off..
Natalie agrees says they have to wait.
Natalie says if they don't use the veto Tom will know they are not in on the plan
R – we can convince him to keep it the same..
N – technically we're a 5 so 3 outweighs 2
N – they (tomato) never let me and LOLO talk.. they are basically trying to say this is what you are doing..
N – this is a collaborative effort..
LOLO comes in…
R – we don't have to make a move yet.. If we win the veto don't use it
Lo – yeah agreed..
R – we got to at least pretend the five are still together at least until next week.
Lo – we're so stressed out they went defcon on us
5:10pm Tom and Kato
Tom says it's more important that they manage their relationship with Natalie and LOLO over trying to get rid of Ricky.
Kato – Yeah..
Tom – he had to also .. manage the possibility we do decide to not let Ricky out this week and we're both in here and he's outside playing pool..
Tom – if we walked out of here right now that would be weird..
Tom – I am as head of household being forced to lie to people
5:11pm Natalie and LOLO
They talk abotu how Joey was able to flip the house while on the block. natalie and LOLO agree Tom losing it over the power "Didn't help"
Talking about their alliance's plan to stick with the 5 why are they now talking about breaking it up.
Joey comes in says he talked to Ricky and they're all good.
Lo says Kato and Tom threatened them.
Joey – everybody!
Joey – they really think they have it on you guys.. maybe it's a female thing which is hilarious because you could kick their a$$
Tamar come sin
Joey – they were threatening them up there (LOL kato and Tom)
5:20pm the Veto has started.
8:55pm no feeds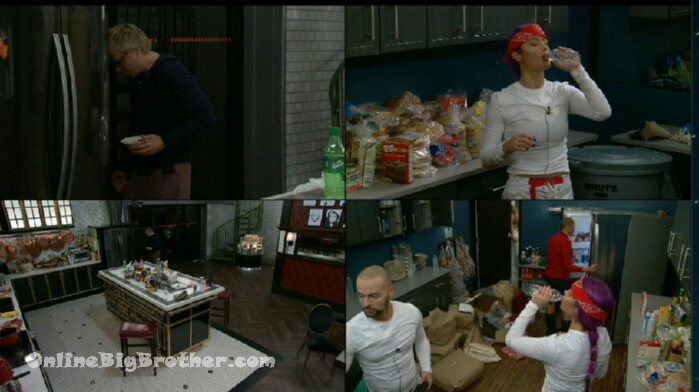 9:25pm Feeds Back Natalie wins the Power of Veto
Support this site by purchasing your Amazon goods through our links below. It doesn't cost you anything and we get a small commission off your purchase.
Amazon Canada
Amazon USA