POV Holder:
?
Next POV
April 27
POV Used
?
POV Ceremony
April ?
HOH Winner:
Jilian
Next HOH:
April ?
Original Nominations:
?
Current Nominations:
?
Last Evicted Houseguest
Andrew
Have Nots
Gary
"The award goes to"
– Award for BEST Entrance = Talla or Gary
– Award for BEST Kiss = Andrew / Aj or Emmett / Jillian
– Award for BEST Freak Out = Suzette or Talla
– Award for BEST Alter Ego = Gary as Zoe or Alec as Ricardo
– Award for BEST Cry = Aneal or Gary
– Award for BEST Costume = Andrew or Jillian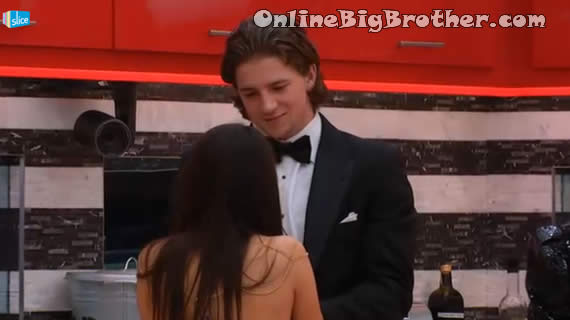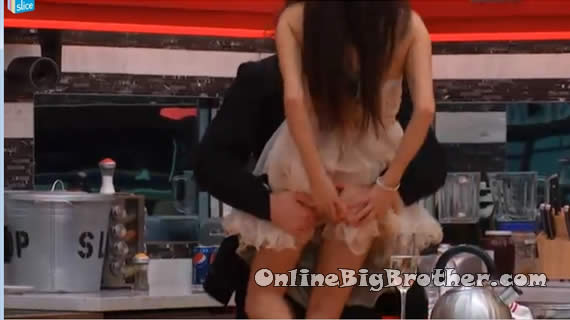 8:35pm Kitchen Jillian, Emmett and Gary
Jillian: "You look like Michael Jackson FO SHO"
Jillian tells them that Talla is upset she says that she was "Cut Off" Emmett: "YOu fu***ing joking me.. she talks all the time"
Emmett pulls her aside and starts talking to her. Tells her he knows she's mad he's lived with her for 67 days he knows when she's mad. He adds that he never talks. Talla says that she has insecurities and everyone in the house knows that. She wanted to say something and didn't get the chances. Emmett tells her that she should go into the Diary room and tell them what she was going to say.
Talla tells Big Brother she wants more Alcohol.
Talla just says they haven't had dinner and it's 9:18.. Hmm it's 8:45 where I am.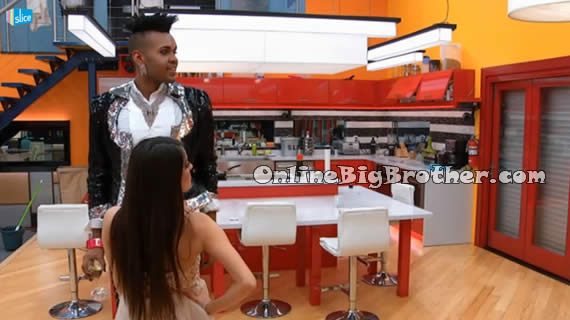 8:48pm Gary: "If a girl was in the mix I would tell her don't go join the party"
From the sounds of it they had a lot to drink.
Jillian: "Talla you are a natural disaster"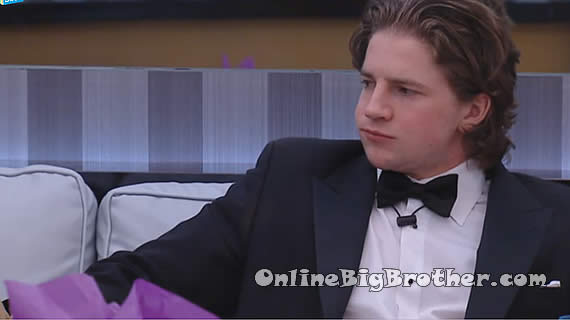 9:11pm HOH Emmett and gary
Emmett tells him that tomorrow is POV and Nominations
Gary thinks that the POV competition tomorrow is going to be rigged to make it even between the three of them. Gary wants to know what Jillian is doing. Emmett says she'll probably put up Gary and Talla. Gary seems a bit Pi$4ed about this. Emmett tells him it doesn't matter. Garry disagrees says it does in fact matter.
Gary tells him that when Topaz came to the jury house from the hospital he says she had stitches.
Gary says that he would come back and do an all stars but he's sure if he played again everyone would want him out. They would all know he's physical.
Gary: "I would like this time I'm coming to win.. as long as Talla doesn't win and you win the next HOH you have a big o check in your wallet"
"House guests please to do not ruin the dresses that have been provided toyou "#BBCAN twitter.com/bigbspoilers/s…

— OnlineBigBrother.com (@bigbspoilers) April 27, 2013
Jillian and Talla Drunk girls talking game.

(Video coming)
Emmett and Gary HOH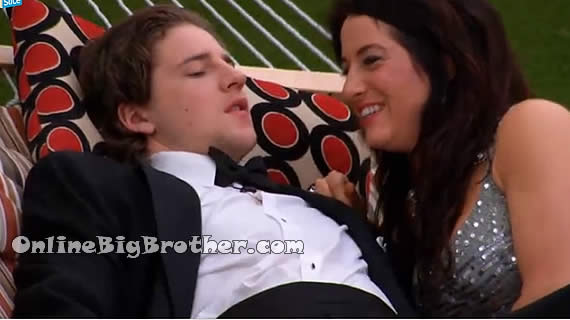 8:54pm Hammock Milkmance
Jillian saying that Talla truly believes that she will take her to the final 2.
Emmett: "You can't win this game without a little bit of lying"
Jillian says she's been lying to Talla all along. Jillian continues about how she was talking to Talla about the two of them making it to final 2.
Emmett: "You want to take her to the jury"
Jillian: 'No no no.. I don't know"
Emmett: "Talla has votes in the jury Gary doesn't"
Emmett asks her if she'd being connecting with Gary. Jillian says gary is too fake she cannot get a real connection with him, "He'll take you for sure" (gary)
Jillian now saying that there is pros and cons to whoever goes with them to the end.
Jillian tells him he's in a tough spot because Talla see him as a bigger threat than Gary.
Emmett thinks Gary will take Talla over him he needs to keep working on Gary.

(Video Uploading)
10:18pm Gary thinks that maybe Talla is pretending to be stupid. Gary: "I bet you she's like a psychiatrist or something.. I think she helps homeless people" Gary adds that maybe she works with street people or a social worker.
Gary: "She doesn't like words like Whore or Crazy.. and only people in those fields care about that"
Gary asks him what he'll do when he gets out. Emmett plans on redoing his mother's kitchen because his parents haven't touched it since they bought the house. Emmett says it'll take 2 weeks.. he'll have some beers BBQ and get it done.
(Video coming)
Talla says "oh my gosh I am so sleeping in tomorrow!" – UM PRETTY SURE YOU DON'T GET TO DECIDE THAT "COCKADOODLE DOo" twitter.com/DawgsBigBrothe…

— Dawg (@DawgsBigBrother) April 27, 2013
10:25pm Talla Talking to the the MOose in the hot tub She's asking Big Brother for another bottle of Campaign.
Talla: "Knowing I am final four is crazy crazy crazy crazy… just gotta make it to the end.. "
Talla: "I don't know why she won't put up Emmett though.. the fact that she won't"
(Video coming)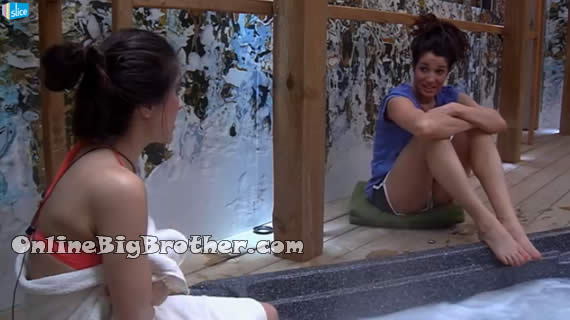 10:52pm Talla, Emmett and Jillian
Talla is drunk as f*** talking to Jillian and Emmett as they pass the football around. Talla: "Big Brother will we get another bottle of champagne or should I go tot bed… I'll go to bed"
Emmett: "talla maybe you should get some water in you"
They head into the Hot tub.
Talla: "Jillian I think I'm in love.. I'm infatuated.. "
Jillian: 'You are not allowed… "
Talla: "When am I allowed"
Jillian: "At teh wrap party"
Talla: "My a$$ hates my underwear"
(Talla's Rambling)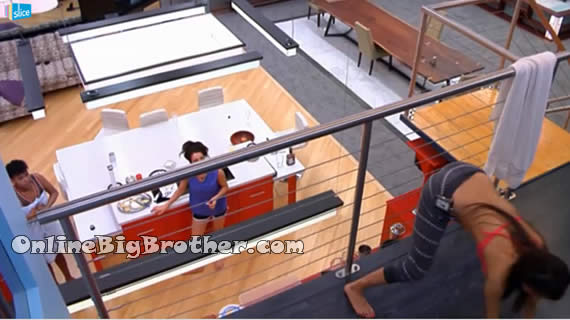 11:12pm HOH Talla Tall dancing around.. when she's done she heads outside to talk to Jillian in the kitchen.
Talla: "No alcohol.. Oh my god I just farted"
Jillian: "We're going to be friends forever"
Talla: "In the Diary Room I told the Milkman to milk a cow.. .I said Go cow a milk"
DR Leak #BBCAN twitter.com/bigbspoilers/s…

— OnlineBigBrother.com (@bigbspoilers) April 27, 2013
11:14pm Talla is dancing like she took a hit.. video is coming. (There will be 2 videos.. )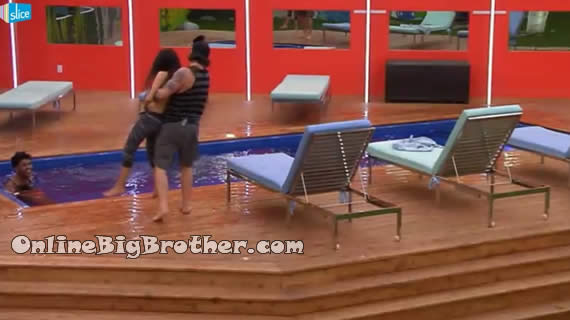 11:45pm Talla says she almost peed in the pool
Make a wave pool make a make a wave pool (watch this video if you missed wave pool)
12:25AM everyone sleeping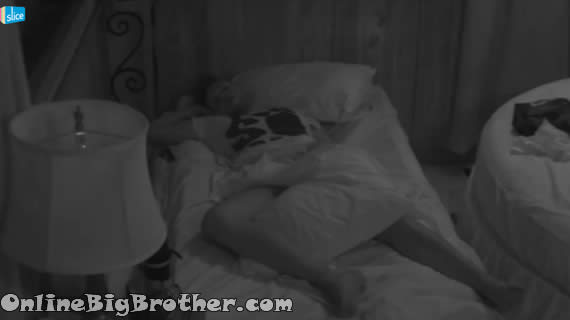 2:23am
Wave Pool compilation Talla Talla in the pool… Make a wave pool make a make a wave pool
8am – 8:30am Big Brother wakes up the house guests. They start getting ready for nominations and then the live feeds are blocked.
9:20am Still showing the hush hush screen..