POV Holder:
Alec
Next POV
March 23rd
POV Used
No
POV Ceremony
March 25th
HOH Winner:
Gary
Next HOH:
March 21th
Original Nominations:
Tom & Liza
Current Nominations:
TOm & Liza
Last Evicted Houseguest
Aneal
Have Nots
Jillian, Emmett, Talla and Alec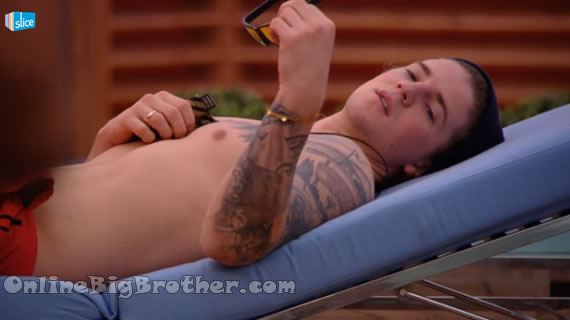 11:40AM Emmett talking about creatine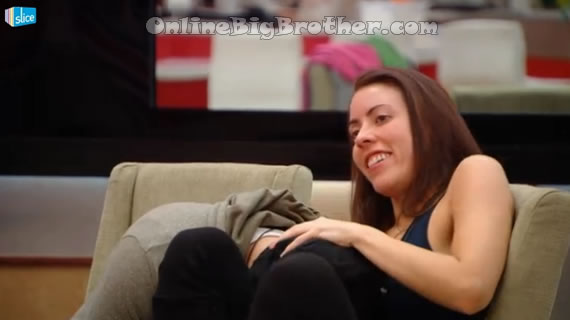 11:45AM Kitchen Table Tom and Liza
Tom: "I want to take a dump on your chest"
Liza: "Gross"
Tom: "That's how I feel when you are popping my zits or talking about your period"
Tom goes to rest his head on her lap and she pushes his face towards her crotch
Liza: "It's taken 30 years to get this number"
Tom: "What number"
Liza: "My Number"
Tom: "You got my number?"
Liza: "Yup.. umm I don't remember the area code"
Tom: "I'm from the 780"
Liza: "Oh then I have the rest"
Liza: " Anything can happen you never know"
Liza tells him she has no idea what is happening tomorrow. Tom doesn't know either. (Peter told Liza yesterday that it's going to be 9-0 for Tom to leave..)
Tom: "Yup.. maybe Canada likes us maybe we both are kept"
They both agree they need to win HOH if they stay.. Tom says that Emmett told him if he stays to lay low.. "I don't like Topaz.. If I win I'll put their asses up"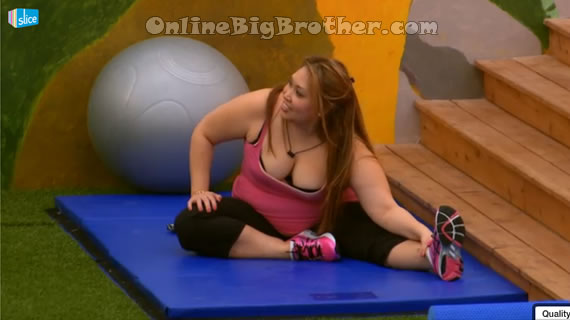 11:51AM working out Suzette and Alec
Suzette says she could handle Slop no problem. Alec points out that you never really know what it's like until you are on it. Alec: "I thought I would breeze through it.. I've been on slop for 6 days straight.. the past week we have beavertails and poutine which was alright"
Suzette: "I don't see myself getting angry and having blow ups that's not the kind of person I am"
Suzette: "I skip meals.. I end only 1 or 2 meals a day"
AJ joins them they start to work out together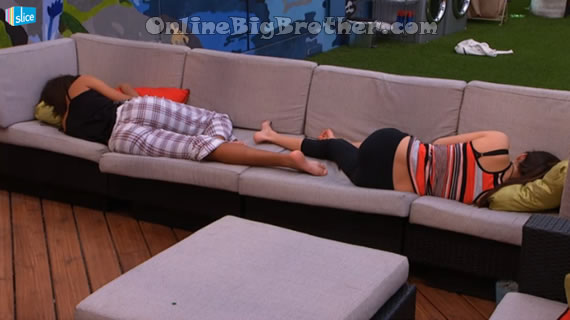 12:10PM Allotta this going on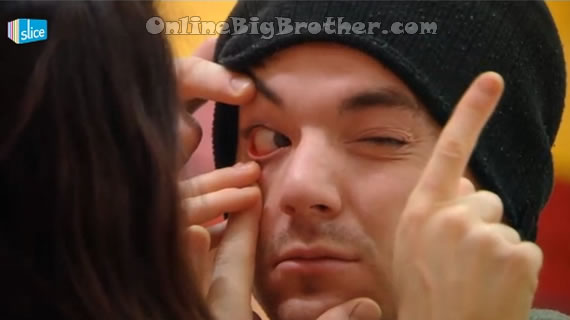 12:10PM Tom gets something in his eye.. this is the extend of the excitement today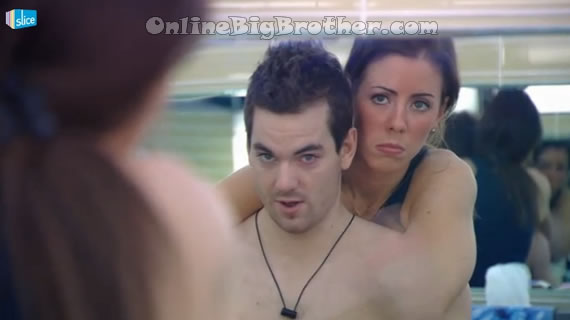 12:13pm Bathroom Liza and Tom
Liza is picking zits off Tom's back, they are hurting him. Liza says that the next one is a small one and it won't hurt.
Tom: "Don't you lie to me"
Liza: "I would never" (LOL)
TOM: "OUCH it hurts you lied to me"
liza wraps her arms around him jokes that this will be their engagement photo. Tom jumps away they both laugh. Liza mentions that staying next to Tom makes her feel like she has a awesome tan.
Tom says he's been manscaping for only 15 minutes, "it's nice being a bRO" He jumps in the shower.. Liza jokes about opening the door and exposing him like He did to Alec. Tom: "i don't care… (Feeds Cut)

(Video uploading)
1:12PM Kitchen Suzette, Tom, Liza, Jillian
Suzette starts talking about production and how some of them told her they had never met a native person before. She has a responsibility to represent herself and her people in a way that looks positive. Suzette: "I come from a conservative family they wouldn't understand it's just a game.. And I have kids watching my own children. "
Suzette clears out the kitchen because everyone has heard say this at least 6 times.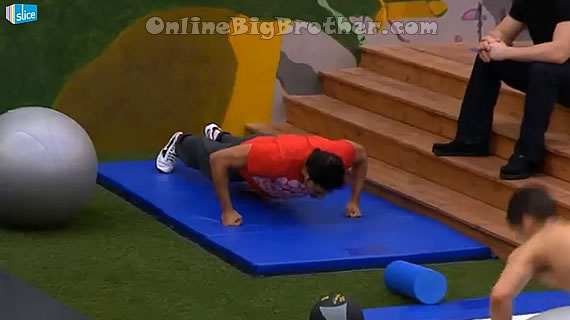 1:16pm Working out.. Tom, AJ, Alec and Andrew
They are doing knuckle push ups.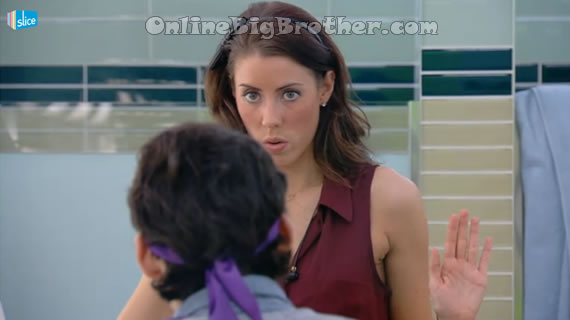 1:20pm Bathroom Peter and Liza
LIza says that Emmett tells Tom everything, and he said that Tom is going home and Liza is going the following week.
Peter says it's very important she does not know that she's staying.
Liza: "I keep telling Tom that I'm going"
Liza says that Jillian that told her that she's staying and that Gary has requested the final say in the eviction this week. Apparently Gary told Tom if he stays he needs to lay low.
Liza: "AJ/Andrew look at me like i'm dead.. they are being gentlemen about it they are not ostracising me"
Liza is pissed because she cannot "sync" with Peter. Peter agrees wishes they didn't have to be so secretive.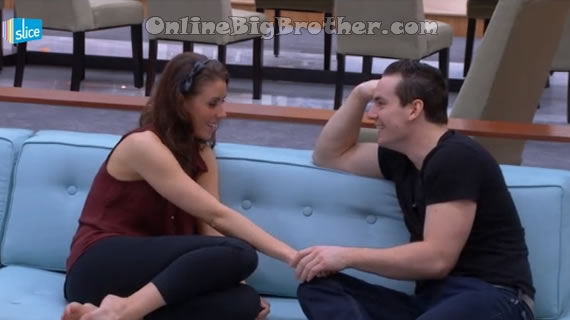 1:30pm Liza and TOm
Tom: "alright Big Brother this is going to be juicy so zoom in"
Liza: "I strongly dislike you"
Tom: "really?"
Liza: "I want to make out with your mouth"
Liza: "This is so awkward.. so unnatural.. "
Tom: 'Would you rather be on the hammock"
Liza: "You cannot tell anybody"
Tom: 'I feel like I have 15 faces staring at me"
Liza: "Nobody talks to me nobody looks at me .. you are staying"
Liza starts talking about her friend that gives "Foot J*b" she advertises online and makes 60 dollars a pop..
***Feeds cut***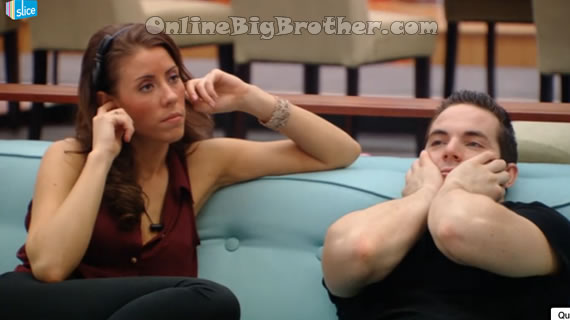 Gary, Topaz, Emmett, and talla have essentially been sleeping all morning. As a result Big Brother starts buzzing them to get everyone up. You can hear Jillian screaming to them all to wake up.
1:45pm Hammock Liza and Tom Liza is telling him about her life.. Lots of stories about death, Skin cancer, Lung cancer.. etc etc..
Feeds cut in and out a lot ..
(Video Uploading)
2:15pm Backyard Talla, Emmett, Jillian, Peter, Alec, Topaz Random chit chat :( :(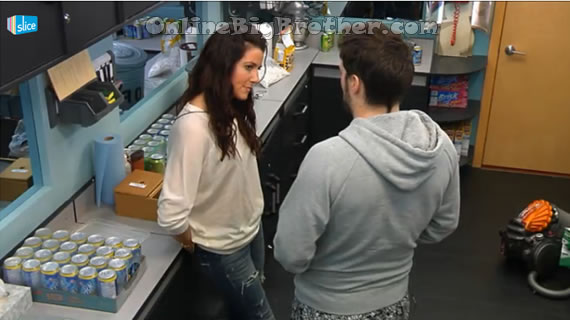 2:28pm Storage Room Jillian and Andrew Andrew says Tom is going home tomorrow but Aj and Talla don't know yet. Andrew says he's cool with that. Jillian agrees. Jillian points out how divided the house is becoming. Andrew says that he's ready to join up with Emmett and Jillian becuase sooner or later people are going to be coming after the pairs. Jillian says that sounds good.. Emmett had mentioned that to her. Jillian gets called into the Diary Room

(Video Uploading)
Share it YO!!
Tweet