POV Holder:
Vanessa
Next POV
July 18th
POV Used
Yes
POV Ceremony
July 20th
HOH Winner Team 1:
Liz
HOH Winner Team 2:
Shelli
Nominations 1 :
Jackie & James
Nominations 2:
Jason & Johnny Mac
Battle of the Block Winner
James and Jackie
Next HOH/ Next BOB
July 23rd / July17th
Original Nominations:
Jason & Johnny Mac
Current Nominations:
JohnnMAC and Audrey
Have Nots
Jackie, Audrey, JohnnyMac and Becky
TRY the Big Brother 17 Live Feeds FREE for 1 WEEK:
Click here to ensure your live feed subscription supports OnlineBigBrother.com at no extra cost to you.
6:22pm – 7:15pm Liz and Austin
liz is freaking out about the 90's dance they have to do she doesn't know any of the moves. She did practice a bit with Julia.
Austin brings up his Jeff anxiety Dreams. That Jeff is stalking them outside the house and not leaving them alone.
Liz – Why that's so retarded shut up…
Austin gives her a rundown of what has happened in the house while she was gone. Tells her Julia is trying to be nice to jackie but it's not going to work Jackie will put her up.
Liz says she's going to try and be nice
Austin says Audrey went to James and told him he's targeting james.. She was going back to her old games starting rumours.
Liz mentions Julia was working on James.
Austin tells her Julia is trying to set things up for her.
Austin fills her in that nobody has outed the Julia, Austin, Liz, Shelli and Clay alliance. But Audrey was outing everything she was involved in.
Liz is pissed calls Audrey a b1tch
Liz says she was ready by Noon to come into the game and the producers kept saying something was up.
Austin about Audrey – Now she's lying in that dentist chair doing witchcraft
Austin wishes they would have waited another week to blow everything up with Audrey He feels like next week is very dangerous for them.
Liz says she really needs to worry about Jackie and JAmes
Austin – you really only need to look out for JAckie.. everyone else we can work with
Austin thinks once Audrey leaves the game will reset the big target is gone. Things are going to be quiet for the next couple days.
Austin says Julia has really been spreading out throughout the house "There's no pressure now that Jeff is gone"
Austin says Julia is saying "We" in a lot in conversations, "She slips.. I don't think other people pick up on it I pick up on it"
Austin says he's not sure if things they tell JohnnyMac will go back to Clay If they're not he's a perfect candidates for them to pull in.

Austin tells Liz if they are both on the block and have to compete in the BOB he's going to throw it to Liz. He's confident he can stay if on the block.
Liz tells him no.
Austin adds it will be really tough for him to decide if Liz and Vanessa are on the block and he has the POV.
Austin tells her jackie was already going to put her up even before Liz nominated her. She didn't like Liz from the beginning, 'Jeff was in her ear about the twin thing all the f***g time.. he basically poisoned her with us three"
Austin says he legit went to Jackie after Jeff left but then jackie but she threw him under the bus about it
Liz – enjoy your slop b1tch
Audrey tells her everyone's friends right now
Liz – So Audrey has been in hiding again
Austin tells her Audrey was in the Diary room for 5 hours "I almost broke that door down 6 times"
Liz says she felt so bad for the people that "Have to wait for her" "They're like OK lets watch a movie.. the poor driver had to wait for like 4 hours " Feeds cut..
Austin says Vanessa was trying to make Jason thinks she's closer to Jackie by including her in a deal she made with Jason. (Jackie turned the deal down in front of jason)
Austin asks her when do they switch, Liz says Wednesday Julia plays in the next HOH.
Austin tells her it's so important for them to win HOH this coming week. He says it's going to be like Week one again you can make so many new deals.
Liz – why
Austin explains with Audrey leaving the game resets.
Austin brings up Clay saying that him and Shelli have different life goals she wants to settle down and he doesn't
Liz – of course she wants to settle down she's 33
Austin – he's 23
Liz – like you have 10 years of b1tches to f***… i'm the most anti marry at a young age it's a recipe for disaster.. its' so true.
[envira-gallery id="122871″]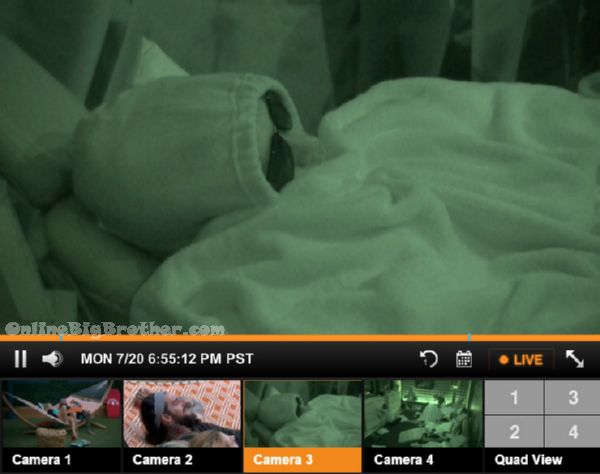 6:49pm Becky in the Have nots… Audrey doing witchcraft
7:06pm Jason and JohnnyMac
Jason telling him the twins have swapped and Liz is going to be screwed when they do the 90's dance
7:18pm HOH Jackie and Shelli
Complaining about Audrey's drama messing up the game and productions schedule. Jackie says they've all been on the block implies that she never freaked out week 1.. (pssst Shelli hasn't been on the block)
jackie asks what is going to happen next week. Shelli doesn't know says things are so different now with Audrey leaving.
Jackie – She was always the go to target
7:24pm Austin and Liz
Liz is practicing her dance with Austin's help
[envira-gallery id="122882″]
Austin helping liz out with the wackstreet dance routine #BB17 @DawgsBigBrother pic.twitter.com/s17tn3k4ZR

— OnlineBigBrother.com (@bigbspoilers) July 21, 2015
7:42pm bathroom Austin, Vanessa and Liz
(Vanessa has skin medicine on it's not the curse from Audrey )
Vanessa says Liz looks good "HAve you been working out"
liz – Ya
Liz is worried about the dance she leaves to practice.
Austin tells Vanessa he's going to dance in front of Liz and try to make her laugh so if she messes up it looks like it's because of him.
Vanessa says that's a smart idea.
They start talking about the HOH. Vanessa thinks there will be a physical component.
She asks him who will put him up.
Austin – I'm not concerned about me.. I'm concerned about her (Liz)
He thinks because she's a mystery person in the game and with Audrey leaving liz will be a easy person to put up.
Austin now says Jackie is the only one he's worried about.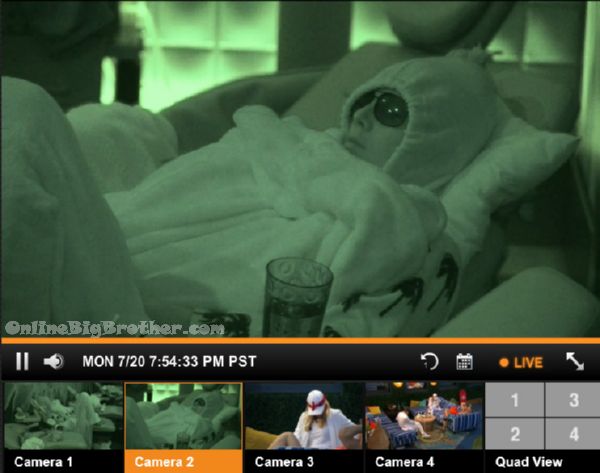 7:54pm May be doing witchcraft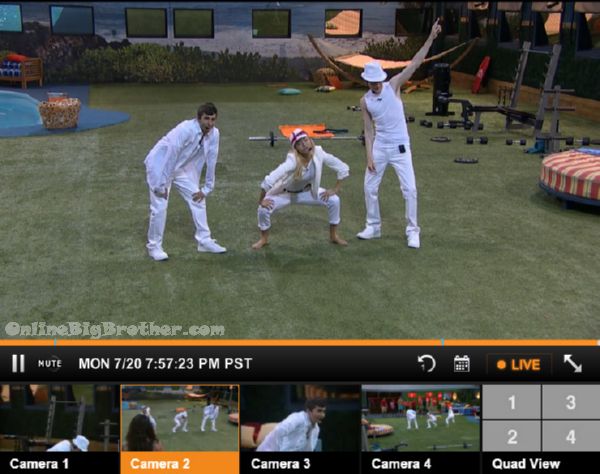 7:55pm Wackstreet dance
** Please note feeds are 26 minutes behind since last night. a little glitch **
Live Feed subscription gives you CBS All Access thousands of archived shows. Live Shows like Big Brother, all the Big Brother Seasons, and 24/7 coverage of what is happening inside the Big Brother House. Plus there's flashback that lets you go back to any second of the feeds and rewatch what happened. Simon and Dawg will index the season just watch the parts worth watching. All this for $5.99 a month try it out 1 week free. Support our efforts and get your feeds via a link on this site. Live feed subscription Sign up
[polldaddy poll=8983592]