POV Holder:
Vanessa
POV Competition
Aug 22nd
POV Used
No
POV Ceremony
Aug 24th
HOH
Austin
Next HOH
Aug 27th
Original Nominations:
Steve and Jmac
After POV Nominations:
Steve and Jmac
Have Nots
No have nots this week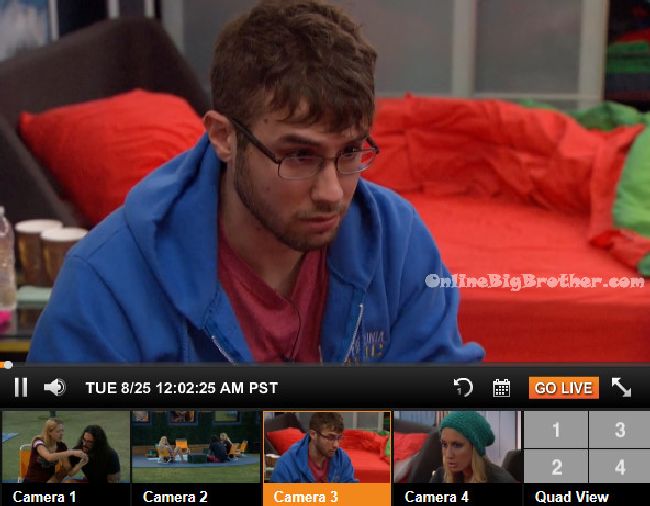 12:05am Steve tells Vanessa the moment she is referring to he was not fake with her. I didn't expect anything with you and the veto. I was trying to be nice to you because I realize what a complete a$$hole I had been. I was trying to find a way to be nice to you and make it up. I was never expecting the veto. Vanessa says I want to believe it except it sounds like a really nice story but our plan was still in place to backdoor me. And I know it was Steve, it was, it was! That's why when I won everyone was upset! Steve says Austin said he cleared everything up with you. Forget the game, forget the vote, I want to clear everything up with you on a human level. Vanessa starts crying and says even though all that sh*t was going on you knew how sh*tty I felt and you knew how Austin felt and you should have told me!!! Steve says you're justified in being mad. Vanessa says I'm not mad, I'm hurt! There's a big difference Steve!! Steve says you're completely justified. Vanessa says you could have helped fill me in on the doubt instead you used it to opportunistically get Johnny Mac to fill my place in the group. Johnny Mac joins them. Vanessa asks him do you know when you guys made that 5 person group. Steve asks was that last week? Vanessa says let him talk for f**Ks sake!! Johnny says it was last week. Steve says then I am wrong, I thought it was this week. Vanessa asks Steve is he wants to go refresh his memory because it just looks like more bullsh*t and its not helping you. They head outside to continue talking.
Watch the NEXT WEEK of the Live Feeds for FREE! Click here for your: 1 Week Trial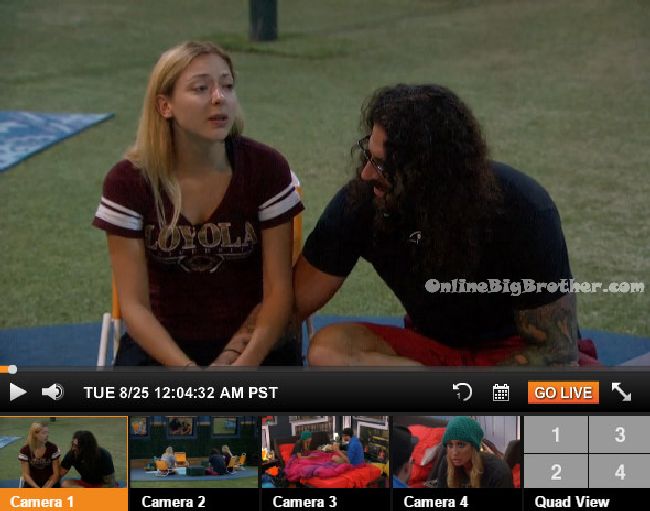 12am
Austin and Liz are sitting by the hot tub with Julia. Liz says she is just frustrated with what happened this morning. Austin says it hasn't changed anything else. Liz says it could. If one of them (James & Meg) win HOH and he's still here. Austin says then send Johnny Mac out. Liz says Johnny Mac said he felt so betrayed by us so I'm sure that's what Steve is thinking. They're both coming after us! Austin says they're just 2 people, take out the one you're more worried about winning HOH and then don't worry about it. Liz says but the one (Steve) I'm more worried about winning HOH, I want to stay here more. Austin says then have a heart to heart with Steve. Julia says you think we trust Steve more. Johnny Mac we just started working with last week. We've been working with Steve for a really long time. Austin says we told Steve we would never send him home. We should just talk with him. Austin says Johnny Mac is a waste. Who cares! I told Johnny Mac did he really think Vanessa would use the veto on you after that. She never would have. Julia says its essential that one of us win next week. Liz says you need to! Julia says me, Liz or Vanessa need to win. Austin says Johnny Mac has too many connections to the jury and so I think he should go because of that. He f**ked up he went to Vanessa with the 5 person thing.. he should have gone to Meg and James. Vanessa and Steve join them. Vanessa asks Austin when they formed the 5 person deal. Austin & Julia say it was last week. Vanessa tells Steve to stop selling bullsh*t. Steve says I'm admitting I'm wrong! Vanessa says yes after we confirmed it with everyone! Austin says oh geezzz! Vanessa tells Steve If you want me to give you a conversation, I will just don't keep spinning bullsh*t! Steve says I had it mixed up in my head and had it wrong. Austin says I think she just wants honesty! Vanessa says RIGHT!! JUST F**KING SHOOT ME STRAIGHT!!! GOD!!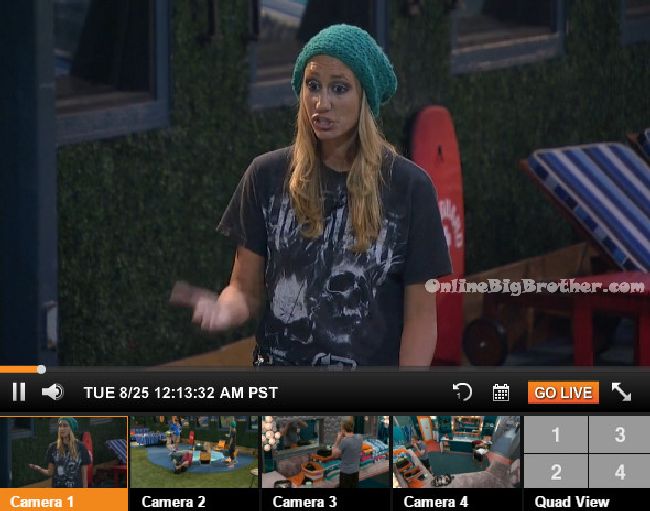 12:15am Vanessa and Steve head to the hammock. Vanessa says that she had to stop Steve because he was already sounding like bullsh*t. Vanessa says since last week there were lots of interactions with me. You were getting me to confide in you, getting me to trust you, acting like you were my friend and acting like you had my back. And I find that SO FAKE!! Like I don't need that in my life! Those 3 (Austin, Liz, Julia) had doubts about me but they weren't fake. To gun for me was strategically stupid, it was dumb! It will be your downfall in this game. It just makes me wonder what is real and what is fake with you. You can go to far in people pleasing. There's inauthenticity to it. Steve says I definitely am a people pleaser. I played this game and in life .. where I am mortified of confrontation. I swept things under the rug. Vanessa says and tried to capitalize on it just in case I won power again. What you did was really sh*tty! It was douchey! You did me so dirty over the past week. My speech today was something you needed to hear and I hope you learn from it. Steve says I want to apologize for causing you pain and for hurting you. In my attempt to not hurt you in the short term it ended hurting you in the long term. Vanessa asks what were you going to do if you won HOH? Steve says put up James and Meg. Vanessa asks then put me up? Steve says no I would have tried to clear things up with you. I wasn't sure what I thought about you. Vanessa asks how would have been the backdoor? Steve says I would have put up a pawn. Vanessa asks who Johnny would have put up? Steve says James and Meg. Vanessa says he was after me, why wouldn't he put me up? Steve says yes you're right he would have had you as a target. Vanessa asks why didn't you tell me thing with Johnny weren't cleared up? Steve says I was still short term people pleasing. Vanessa says it was your own fear of not wanting Johnny on the block with you that is getting you or him sent home. If you hadn't done that it would James would have been the target.


12:45am Vanessa calls over to the girls and asks the 3 of us are voting together? Julia and Liz says yes. They join them at the hammock. Vanessa says I will get over your it if we decide to keep you. Julia tells Steve that we love you and want to keep you. Liz says we didn't have the level of loyalty with Johnny as we have with you. Liz says we want to keep you and hope we can move forward with this. Julia says you're going to stay. Liz says so act like your normal Steve self. Vanessa say just don't be fake. Austin tells Steve I told you going into this week you wouldn't go home. Steve tells them that Johnny Mac and him had an alliance called "The Rockstars". It was never a final 2. We shook hands and said we were a team. Steve says I showed you my loyalty when I sent Jackie home .. because he (Johnny) did not want her to go home. Austin says if you make a 2 person alliance how is that not a final 2. Its not like you're going to dump it a final 4. Steve says I never saw it that way, he did. Vanessa asks Steve if you win HOH next week who would you put up. Steve says who ever comes back and Meg or James. Vanessa asks what if Johnny Mac comes back. Steve says Meg and James then. They chat about past events in the season and then head inside.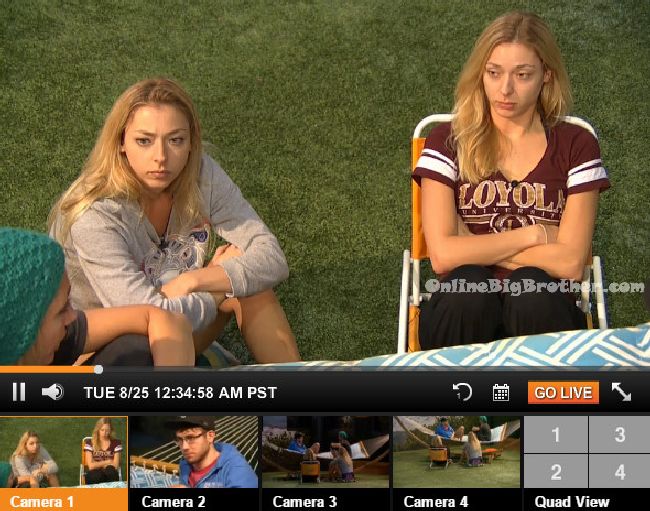 1:05pm Cabana room – The live feeds are blocked and then return to Steve talking to Vanessa alone. He says I have not brought the game and would not bring the game to the level of lying to you about what I talked to you about. Besides the game I want you to know that was genuine and I would not bring the game to that level. Vanessa says okay but you realize that I had to consider that. Steve says I can totally respect that, I just wanted to let you know that moment.. that is genuine. Vanessa says okay, alright. Steve says obviously opinions are changing rapidly as I am sure you understand but to the best of my… big brother blocks the feeds again.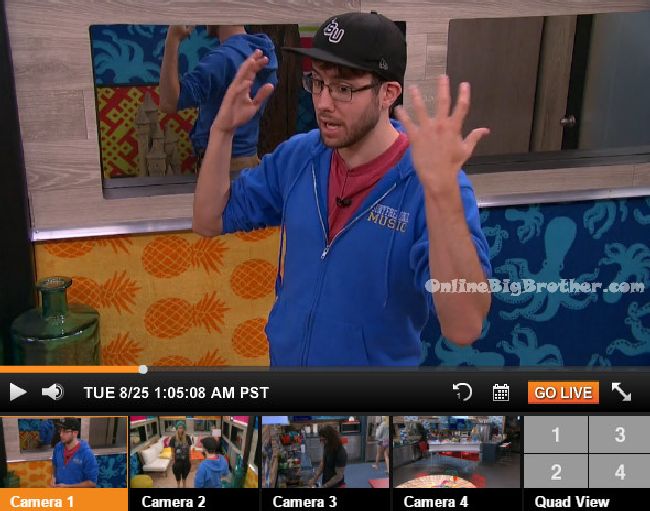 1:09am Steve is alone in the backyard. He says to the camera "Selling out your best friend is never fun but when I walked into this house I said I was leaving every single trace of my integrity at the front door. And I meant it." Steve heads back inside.
FLASHBACK and watch ALL the DRAMA: Big Brother 17 Live Feed 7 day FREE Trial!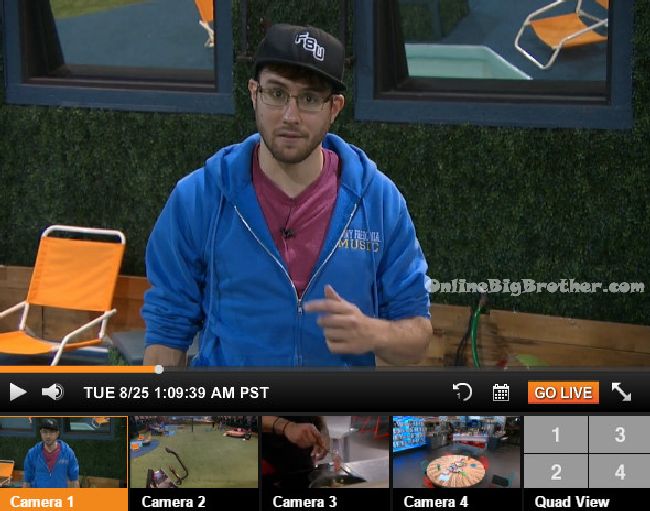 1:15am Bedroom – James tells Meg he really enjoys her company. Meg says right back at you. James says I think you're super cute and I could flirt with you all day long. Meg says I will never forget you called me a smoke bomb on national television. I mean no one will ever be able to top that! James says I bet everyone is wondering about our relationship. Meg says Steve said they've never had that Zing before. James says the friend zone? Meg says yeah. James brings up the kiss on the cheek she gave him during the podcast. Then during the truth or dare you gave me the perfect kiss. You keep those kisses coming! James says honestly I think you and I would have a really good camping trip! (Camping is code for $ex) Meg says oh my god James. James says you and I have known each other for a while now. I think we would giggle and laugh a lot. I know you would be prone to accidents so I would be really careful with you. Meg says prone to accidents .. oh my god. James says I would make sure you had all your safety gear on during this camping trip.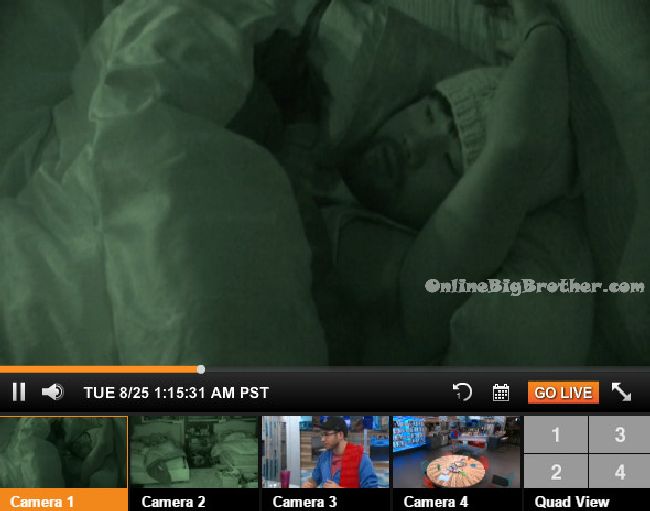 1:15pm – 2:35am HOH room – Liz gets mad at Julia for calling Steve sneaky. Julia says its a joke. Liz says not when he is on the block. He is is a very vulnerable position right now. Austin says f**k Johnny Mac, we're voting him out. Liz says I called it! Johnny and Steve working together. Julia says it was obvious. Austin says Steve was splitting hairs.. if you make a 6 person alliance you're going with them till final 6. If you make a 2 person alliance you're going to the final 2 with them. Julia says I feel very good about Johnny Mac going home. Austin says I hope he doesn't come back and win HOH. Austin leaves. Julia tells Liz you need to know I'm an asset to this triangle! Liz says you need to win. You need to prove yourself. Julia says I came so close in that veto! Liz says you did do good. Julia asks do you love me! Liz says except when trying to wake you up. Julia leaves. Austin and Liz start studying and kissing. Austin and Liz watch the "scamper cam" (Steve on the spy tv) and then go to sleep.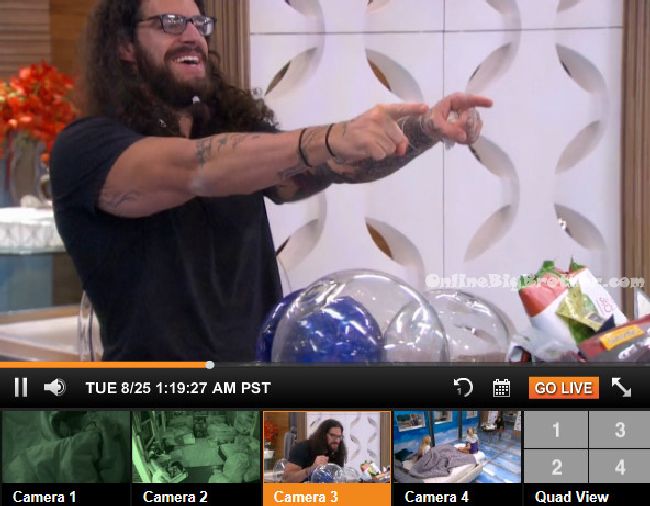 1:35am – 2:45am Backyard – Steve and Julia are talking about life outside the house. Steve talks about his schooling, Mexico and other random things. Julia heads inside. Steve heads in soon after and takes a shower. He then grabs his letter and reads it while he eats. At 2:45am he heads to bed.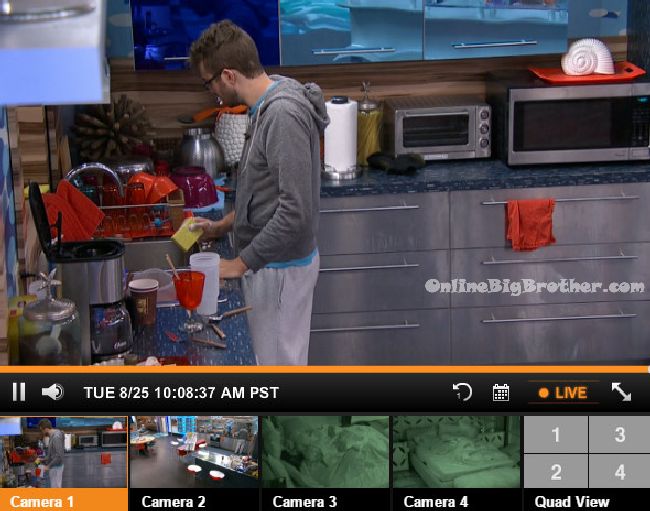 10:10am No wake up call yet. Only Steve is awake wandering the house.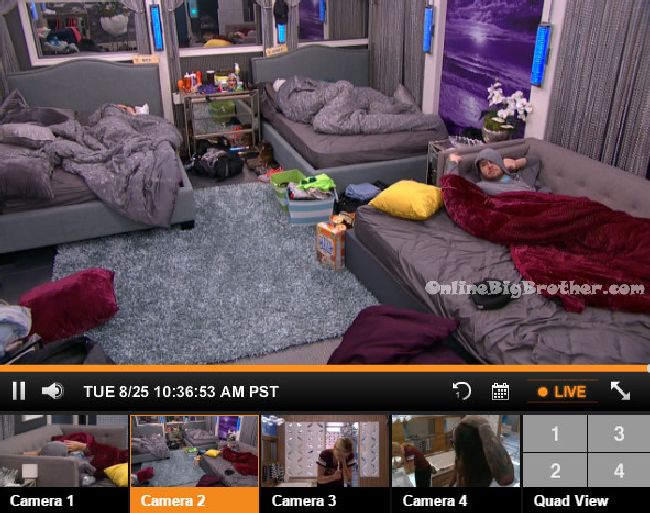 10:25am Big Brother wakes up the house guests. When the feeds return Johnny Mac is sitting alone in silence on the backyard couch. In the bedroom – James says we're just the little guys on the totem pole. Steve says yes James you are. See what I did there? James asks are you talking about my pen!s again? Steve says no your camping gear. James says let whip it out right now! Steve says on camera no, that is more a jury house activity. James says you're going to have to tell your friends you got beat by a little Asian guy.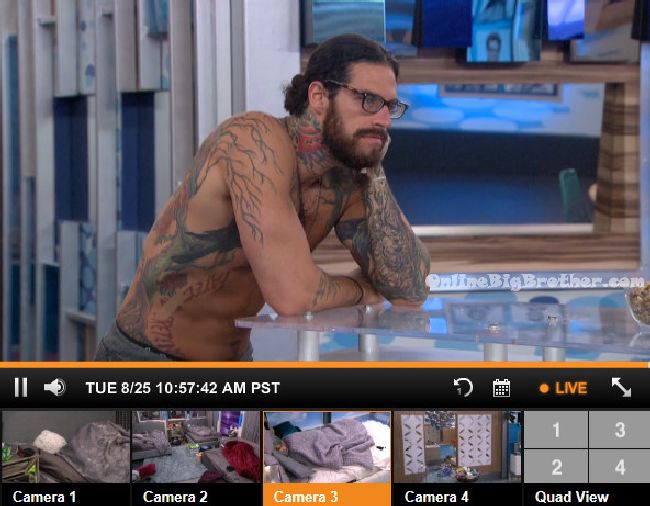 11am – 11:40am In the kitchen – Liz is making breakfast for Austin. Johnny Mac joins them. Liz says guess what day it is!? Picture day!! Johnny says its Tuesday already!? Austin heads up to the HOH room to do his HOH blog. Liz finishes making breakfast, puts Austin's in the microwave and sits down to eat hers.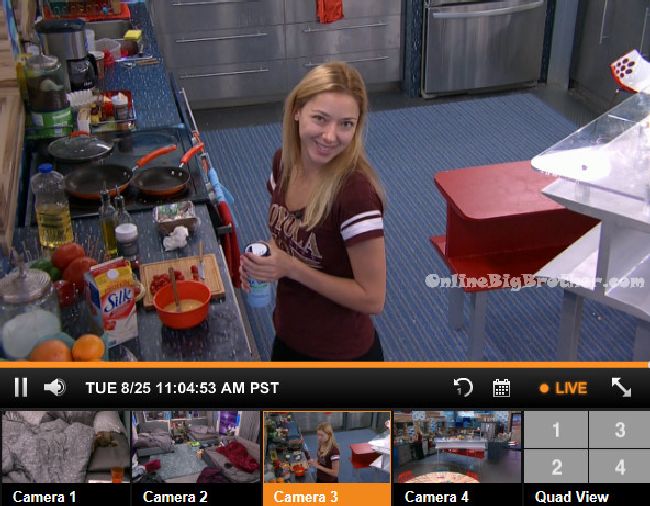 Help support all the live feed updates we provide. Show your support by making a donation. Any amount is greatly appreciated!