POV Holder:
James
Next POV
Aug 1st
POV Used
No
POV Ceremony
Aug 3rd
HOH
James
Next HOH
Aug 6th
Original Nominations:
Shelli and Clay
After POV Nominations:
Shelli and Clay
Have Nots
Austin, Liz, Julia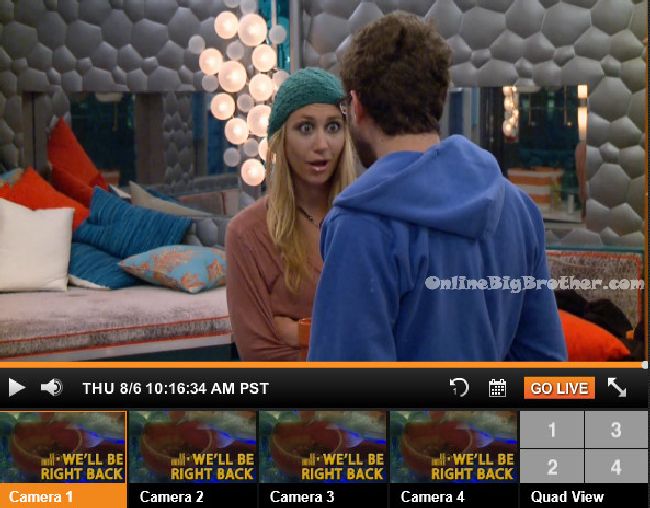 TRY the Big Brother 17 Live Feeds FREE for 1 WEEK:
Click here to ensure your live feed subscription supports OnlineBigBrother.com at no extra cost to you.

10:15am The live feeds return. In the bathroom – Vanessa is talking to Steve. Steve says that he talked to Johnny Mac and he is on board. Vanessa shakes her head and says they tricked you. Don't you see what they're dong? He's telling Johnny Mac to tell people he's on board but in reality he's voting the other way. And he is acting all mopy and sad as if he's going home. Steve says he has the 5 votes! Freaks and Geeks are on board. Vanessa says I know but I don't think he knows you're on board that's why. Steve says that Clay told me that Johnny Mac was on board (with voting Clay out). Vanessa says Johnny Mac was told to act like he is on board but he's not. Steve says got it. I don't understand Johnny Mac. That's strange. Vanessa asks do you not realize how much its a big deal they're pushing. Steve says I'm voting against the way they want me to so. We control the votes, its done. Vanessa asks do they know its coming. Steve says I'm considering telling them. I have a story. Vanessa says theres no reason not to. No need to blindside.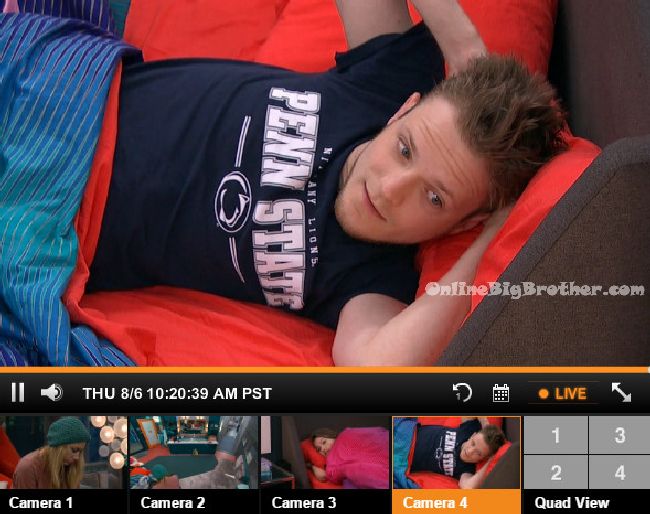 10:15am Comic bedroom –
Becky is talking to Johnny Mac. The twins tell James they're voting Shelli out. They tell that to his face but we know Austin works with Vanessa and Vanessa works with Shelli/Clay. Johnny says maybe I should talk to the twins then too. Becky says that Shelli and Vanessa are really close. They're spending so much time together. What I'm really frustrated with is that I won HOH with Shelli and she said she was getting rid of Audrey and you're telling me the whole time the plan was Day. Then last week we were told the whole plan was Austin and I agreed to go up on the block and then they changed the plan to Jason. And that sucked because I was really with them. They lie to me and switch the target.. because it benefited that Vanessa/Shelli/Clay target. Johnny says yeah. They didn't tell me. Becky says I get nervous.. Big Brother blocks the feeds. Becky says he (Clay) can't get mad at you for keeping him in the game. Johnny says yeah. Becky says I can't necessarily turn on Shelli. When can you look at Shelli and vote her out, when its too late. She's the stronger one but they're not keeping us in the loop. You were in the loop about Jason, I wasn't in the loop about Jason. I think they're freaking good and have convinced the whole house into keeping a stronger player in the game and we're believing it like zombies! But no one can be mad at you for keeping them in the game. Johnny says yeah. Becky says just tell Steve .. its between Amanda or McCrae.. which would you keep? He would keep McCrae if he had to play against them. Johnny says yeah Steve and I have to win today or we're in trouble. Becky says and yet the quite guys decide who goes home. Why isn't Shelli telling you she will work with you. Clay cornered and bullied Steve last night that's not okay. Johnny says I think it will blow up both ways. Like where is my pecking order is both ways. Becky says Clay is going to hurt short term but he won't get rid of you because he still needs you. Shelli is going to hurt you in the long term and cost you 500K.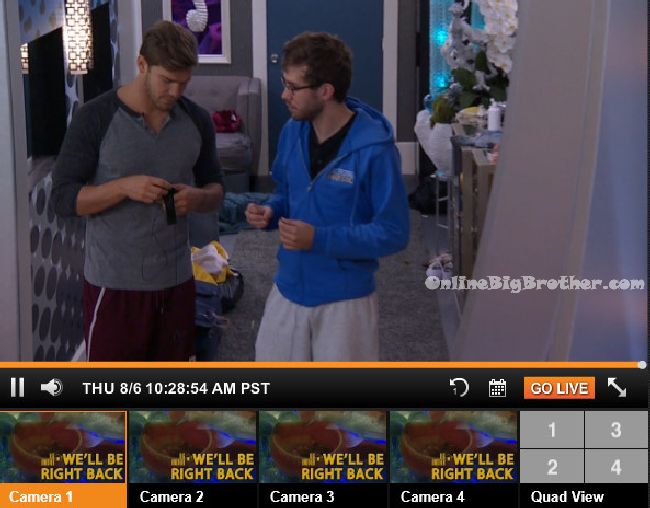 See what they can't show you on TV Try the live feeds for FREE!
10:30am Clay asks Steve are you voting me out? Steve says yes, I promised you. They head to the kitchen. Steve comments to Becky you heard Amy (Production) right? Becky says yeah in 40 minutes. (HOH lockdown). Alone in the kitchen. Clay says to Austin – you're voting to keep Shelli? Austin says yeah, we're going to do it. Clay says Steve's on board with it too.
10:45am HOH room James and Meg are in the HOH room. Meg says oh god I want to win today. James says if you win I'm going to give you a big fat juicy kiss! Meg says if I win I will not hold back I swear! And freak out! One day, one day, one day you heard it from be America! James says Enzo even won a POV. Meg asks why can't I win anything?! James says You won a battle of the block. Jackie joins them. Meg says I am so over this! We're going to be played for fools again this week!!

10:55am Big Brother blocks the feeds for the HOH lock down.
12:05pm The live feeds are still blocked.
1:10pm The live feeds return. The HOH lock down has ended and the house guests are making lunch, getting ready for the live eviction tonight and cleaning. In the kitchen – Meg comments on how she thinks one more person will go and then jury starts that's why they brought you (Julia) in last week. Steve says he is 70% sure tonight will be a double eviction with next week being a 20% chance. In the bathroom – Jackie comments that she's allowed to wear clothes for tonights eviction / HOH competition.
[polldaddy poll=9004995]