POV Holder:
?
POV Competition
Aug 29th
POV Used
?
POV Ceremony
Aug 31st
HOH
Vanessa
Next HOH
Sept 3rd
Original Nominations:
Meg and James
After POV Nominations:
?and ?
Have Nots
Johnny Mac, Julia, James, Meg
7:20pm Backyard Austin and Twins
Austin – we would be doing James a favor sending him in the Jury house with all those women
Austin says it's out James told Vanessa he would put them up next week.
LIz – we kept you safe for 2 week
Liz i- your asses stayed off my block, our block for 2 weeks for 2 weeks How dare you how dare you
Austin – we could have backdoored him last week
Liz is pissed about this.. Calls the goblins fake.
Liz "Fake fAke FAke"
7:31pm HOH Steve and Vanessa
Vanessa asks if Johnny mac is fine with working with her now because she's tried this before.
Steve says Johnny mac trust her he told him everything is buried.
Vanessa says Johnny mac has to work with them he has no other choice.
Steve is a bit worried about his relationship with Jmac he still needs to talk to him
Stee asks who she will put up if veto is played
Vanessa says if JAmes wins the veto and Meg is up they're the pawn has to be weak as f***
If Meg wins veto and James is up there it can be anyone
STeve – do you have a preference
Vanessa – no
Vanesa – you and I make terrible pawns.. I don't' like you as a pawn no bueno
Vanessa – you would be safe.. you would have JOhnny's vote..
Vanessa adds the twins aren't james fans.
Vanessa now says she could put up Julia
Vanessa – we gotta all f*** fight for the veto so we're not in that terrible spot
Steve – I spent a long moment being fake with you..
Vanessa – how long was your unrest
Steve says it started around the time the 8 person 1 week deal was made
Vanessa scold him tells him that's when he needed to trust her the most.
7:58pm Backyard Steve and Meg
Meg says she's going to head to sleep soon.. They wonder what kind of POV competition they will have. They've never had the backyard open this late on Friday before. Meg thinks the POV will be late night counting. (LOL)
8:05pm Hammock Room Austin, Liz, Meg, Julia
Meg – Well it sucks I don't want things to be weird.. I'm not going to lie I feel a little played
Austin – So do we she didn't tell us until after
Meg explains the conversation with Vanessa.. The deal was we won't put Vanessa up next week. They would put up twin/ASuint as a Pawn, "We have the votes"
Austin says Vanessa's stories was, JAmes said he would put two of the Austin/twins up explaining there's no point putting one up because you'll get all three of them pissed you get two up and one out, "I've gotten blood on my hands before"
Meg – Nooooo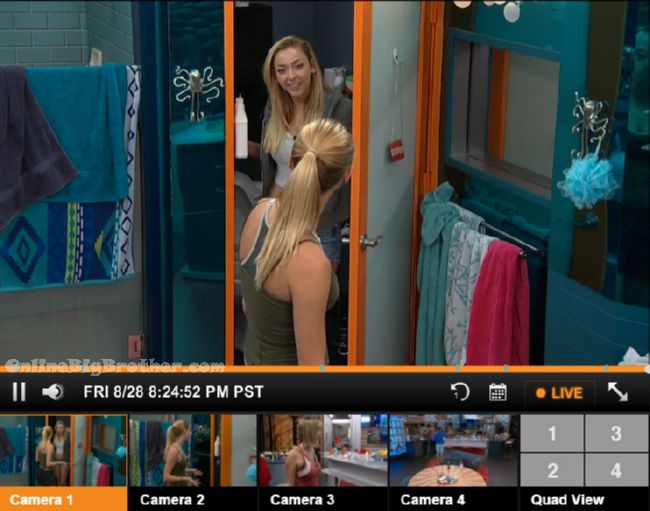 8:24pm Bathroom Liz and Julia
Liz caught Meg in a lie, it was obvious by the way she was denying.
Liz – now that i'm grown up I know when people are lying
8:27pm Steve talking to the camera
Saying it's really awkward getting HOH next week because of the interwoven alliances
Steve – if I won next week I would vote to Keep Julia put Liz and Austin up, VERY SNEAKY, VERY SNEAKY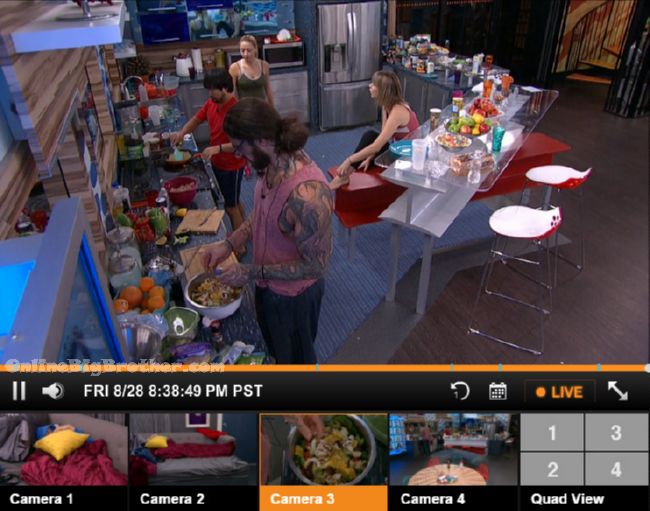 8:38pm Kitchen Liz, Austin and the goblins
JOking around about why the backyard is still open. james says it's going to be pot ball they walk out they're and there's 4 pots on the ground.
Austin says after that endurance competitions ran for 5 minutes they ran out of money
Vanessa getting ready for tonight #BB17 @DawgsBigBrother pic.twitter.com/NmRwFb5nxx

— OnlineBigBrother.com (@bigbspoilers) August 29, 2015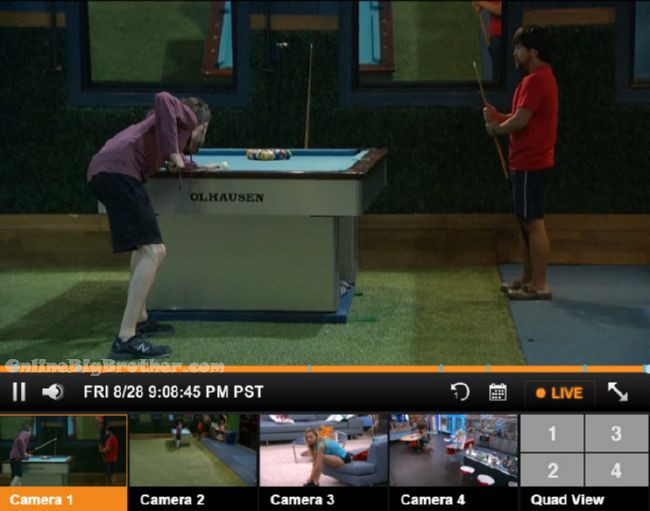 9:07pm Backyard Jmac and James
Jmac – how are you and Meg doing
James – hey you know…
James warns people in this house twist words and make you look stupid "I still have the veto to look forward to"
Jmac says the one thing he learnt from last week was to keep fighting, "Even if you know you're going home still fight, We got a show to do"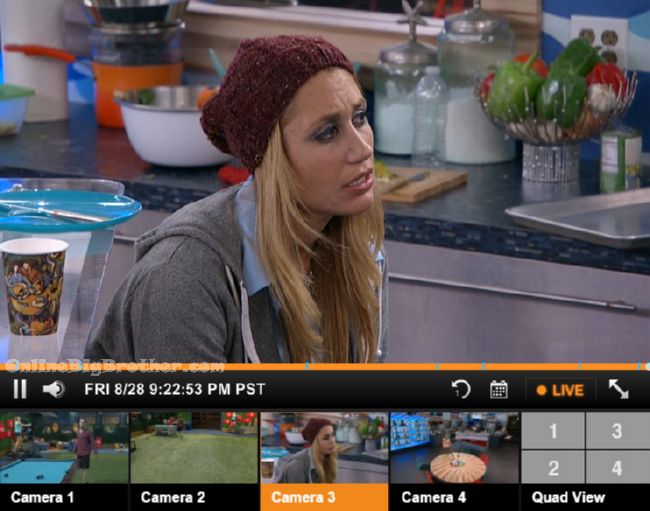 9:21pm Kitchen Austin and Vanessa
Vanessa – it's go time
Austin – no more f****G around.. it's winding down it's september
Vanessa is freaking about the backyard still being open.
Austin thinks the set is very simple there's no reason, "Could be a midnight comp tomorrow"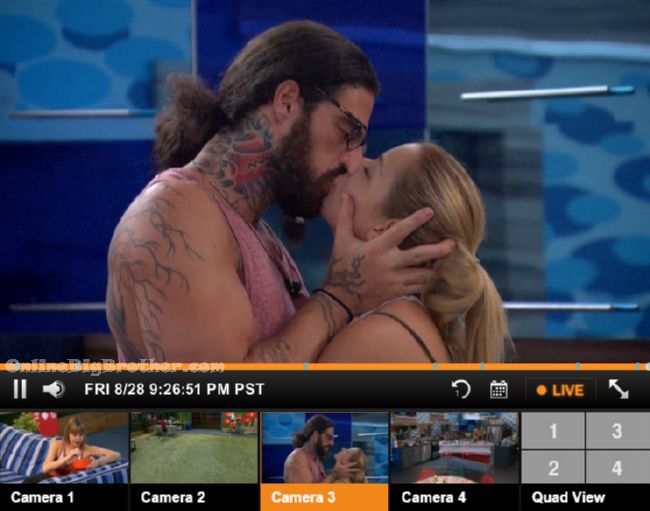 9:29pm Asuitn and LIz
Liz going over her conversation with Meg
Liz – She said she felt played.. what does she feel played about..
Austin – Whatever
liz – no not whatever
Austin sneezes
Liz – bless you
Austin – Thankyou
9:41pm Lockdown finally called.. Pot Ball tonight!
ALLIANCES:
"Goblins/Gremlins" = James and Meg
"The Generals" = anyone allied with Becky
"SOS" (Students of Sound) = Steve and Vanessa
Rockstars = Steve and Jmac
AUS-Twins = Austin, Julia and Liz
"Austin's Angels" = Austin, Liz, Julia, Vanessa
"Brass Tacks" = Gobins and Austwins
The new "Brass Tacks" = Aus-Twins, Meg, James + Vanessa
"Freaks and Geeks" "The Scamper Squad" = Aus-Twins, Vanessa, Steve
"The new Freaks and Geeks minus Vanessa" = Austin, Liz, Julia, Steve, Johnny Mac
"The Authority" = Austin, Liz, Julia, Steve
[polldaddy poll=9046808]