POV Holder:
?
POV Competition
Aug 29th
POV Used
?
POV Ceremony
Aug 31st
HOH
Vanessa
Next HOH
Sept 3rd
Original Nominations:
Meg and James
After POV Nominations:
?and ?
Have Nots
Johnny Mac, Julia, James, Meg
4:42pm Kitchen Steve and Vanessa
Vanessa says Meg was getting really emotional
Vaness a- we have a good plan
Steve – you did what you have to do.. Veto is when we have to talk
Vanessa – the DR called me
4:43pm Twins HOH
Vanessa told them that the house use to talk "Sh1t" about the twins.
The twins are agreeing that people that make fun of other people are insecure
Julia points out she's made fun of people of Jmac but thinks the goblins are jealous of them.
Liz – I'm not going to be fake with them any more.. the fact they scheme behind our back is disgusting

they are pissed at Austin because he was onboard with the goblins.
Julia – I trusted austin he's a super fan
Liz – he did more damage
Julia- we should have never been cool with JAmes and Meg.. if that little napoleon had won yesterday
Liz – "And we thought we were safe"
Liz says the goblins rode their coattails for 2 weeks
Liz – I never saw Meg's true colours until today.. her attitude is 1 million percent New York.. Stank a$$ attitude
The twins agree they are done with the goblins. Julia wants James gone.
Liz – if they expect us to use the veto that's funny
Liz – what is he doing right now he's working out.. .he doesn't care all he cares about is his TV time.. I do care about this show and I care about the money.. if you don't want to be here self evict (About Austin)
Julia – I feel the same
(About Goblins)
Julia – Guess who controls the vote this week, Liz, Julia and Austin
Liz – OHH would you look at that
Julia – You're f****cked
Liz – Little miss meg over there
Julia – she's a brat
Liz says she would have never allied with Meg and James that was all Austin.
Julia points out that it's obvious that Austin isn't in the game to win the game
Julia – Sorry not sorry Austin's Sucked
Liz – what do you mean the HOH basket
Julia – that Music was terrible
(Last night James told Vanessa he would put up Austin and a twin if he wins HOH next week. Vanessa used this to get the austin/twins alliance on her side to get out a goblin. The twins are pissed now because they thought James was on their side)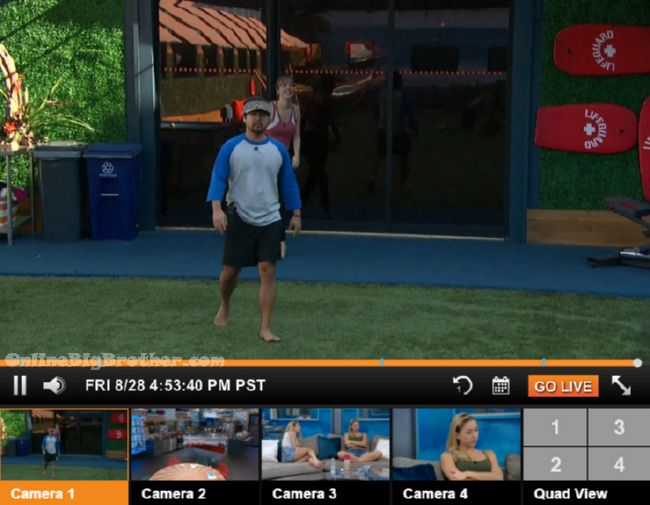 4:53pm James and Meg
They're in the kitchen looking out at Austin, Jmac and Steve in the backyard.
James says he's going to go outside and start yelling "Brass tacks brass tacks"
James- does this mean we're kicked out of the brass tacks
They laugh saying once they go to the backyard everyone will leave.
James – I'm going to make an entrance..
James walks outside.. Joking around says "Whats up you bunch of a$$holes"
James – "I'm going to make an entrance.. Whats up you bunch of assholes" #BB17 @DawgsBigBrother pic.twitter.com/bfQopxZm3G

— OnlineBigBrother.com (@bigbspoilers) August 29, 2015
5:18pm Vanessa, twins HOH
Vanessa says Meg was crying "Enough of the water works this is a game that happens you haven't won any HOH's
Liz is Pissed at Meg. Meg said her target wasn't Vanessa implying it was the twins and Austin.
Liz – Who's your target Meg what a flip flop
Vanessa says James is Scrambling he's throwing a bunch of details out there and hoping you get lost.
Vanessa says jmac and Steve's "Tightness" is exposed now so they're not dangerous. Vanessa says she had to put up the goblins as a game move.
They're agreeing Meg has a "New York Attitude"
Liz – passive aggressive
Vanessa – That kinda Negative attitude about me is a cancer that I can't risk having in the house
Liz says she won her first HOH because she visualized it happening, "It just like that book the secret"
Vanessa to Julia – "You two are the same goddamn DNA you can win"
Vanessa points out how much Meg was complaining that she's a Have nots
The twins point sout Meg has never done any dishes.
Julia – she's never cleaned EVER she's never taken out the trashed.. she never vacuums.. she's a brat
Vanessa – You're mom's raised you good
Liz – we've always had a maid but still
[envira-gallery id="130973″]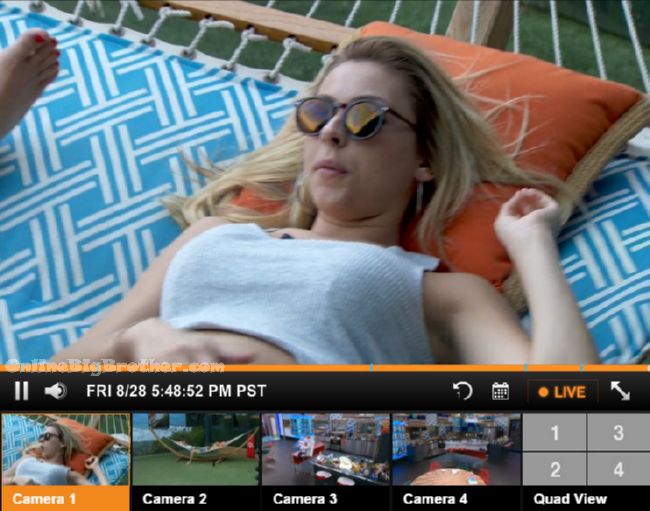 5:49pm Twins on Hammock
Liz talking about the stupidest thing she's done all summer. Going to the HOH without any makeup
Julia says they are the same weight now
Julia – when I go back to Miami I'm going to the gym every day.. What about work I don't want to go back they're
Julia – I want to be a business partner with you but I don't know what business
They both tell the "Live Feeders" They want to be "Bikini a day"
Julia – Twin-Kini
Liz starts talking about starting a business "Accessories, Skirts, Bikini's, Stuff that complements Bikinis"
Julia says she's getting pissed at herself because when she's out of the house she works out and eats whatever she wants but now she's in the house she eats whatever she wants and is gaining weight.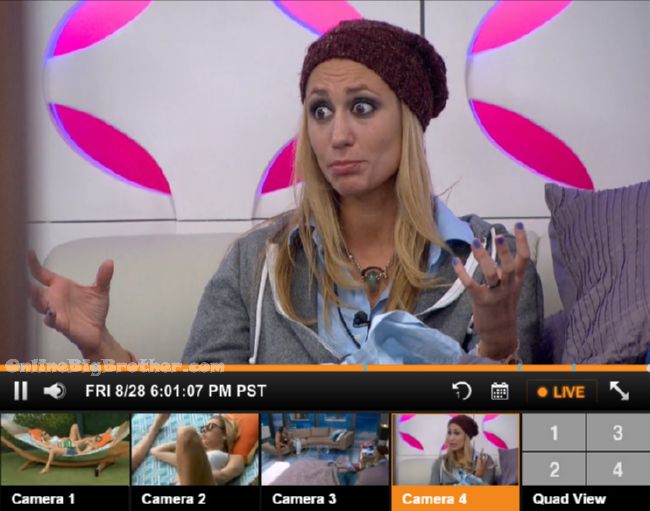 5:57pm HOH Austin and Vanessa
Austin says none of them can use the Veto because if he does use the veto Vanessa could put one of them up.
Vanessa – Ohh
This is how Austin is going to win it to the Goblins..
Vanessa says All Meg does is cry and lies
Vanessa – the little baby fits
Vanessa goes over the conversation with Meg and James.
Vanessa – "I've never had anyone in this game.. Sorry not sorry.. she's crying like it's the worst thing that happened in her live.. I've survive she can survive.
Vanessa says Meg/james social game scares her "They're cool they're fun they get into your head"
Vanessa says Meg is claiming to her she does nothing wrong "C'mon.. even James admits its, C'mon"
Vanessa – if you are going to take a swing you better hit
Vanessa – James is so rational If Meg goes we can work with him
Austin – either way we can spin something
Vanessa can't really handle Meg anymore.
Steve joins them
6:14pm Steve, Austin and vanessa
Austin says he told Jmac he made a mistake last week.
Austin says Steve CAn't use the veto because Vanessa cout put up his rockstar.
Vanessa says Austin and the twins Can't use the veto or she could put up a twin/Austin
(James will win it Don't worry)
Steve – I give hugs 80% of the hhugs in this house involves me
They talk about there being 4 have nots this week. Austin is surprised Johnnymac volunteered to be a have not.
Vanessa says it's because Johnnymac likes Julia and he knew she was going to be a have not
Austin – ohhhh
Vanessa says it's something friendly, Flirty friendly
Steve – OK.. Like me and Julia
Austin – good so Julia and him can bound a little bit keep him away from the goblins
6:22pm Goblins Poolside
talking about a chance of a twist saving them.
Meg doesn't understand how the timing of the final four works.
Meg says she's the target this week, "Vanessa is going to take you.. "
James – take me where
Meg – To work with her
Meg – you're her only shot of breaking up the rest of them"
James – she's gotta have their votes
Meg – just saying that's what I think is going on
James says Vanessa will use Johnnymac and Steve to take Austin /twins out.
Meg – If I do leave you better not give her what she wants
James – what , what does she want, she wants me to throw Austin and them up
Meg – I dunno
James – She's Gotta go
Meg – You throw Liz and Vanessa up
James- I was thinking that…… …..
Meg – The lights are on already
James- I was definitely thinking that
6:52pm Have nots Jmac and James sleeping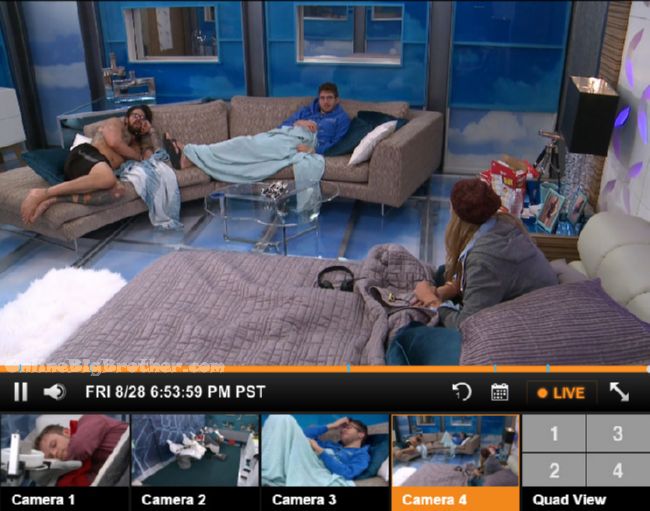 6:52pm HOH Steve, Austin and Vanessa
Talking about the Jury house.
Vanessa goes on about feeling bad for Julia because she hasn't won a competition and now she's doubting herself in them.
Austin says he felt the same way with wrestling, she has to get to the point where she doesn't give a F*** anymore and then she will succeed.
Vanessa recommends they all help build Julia's confidence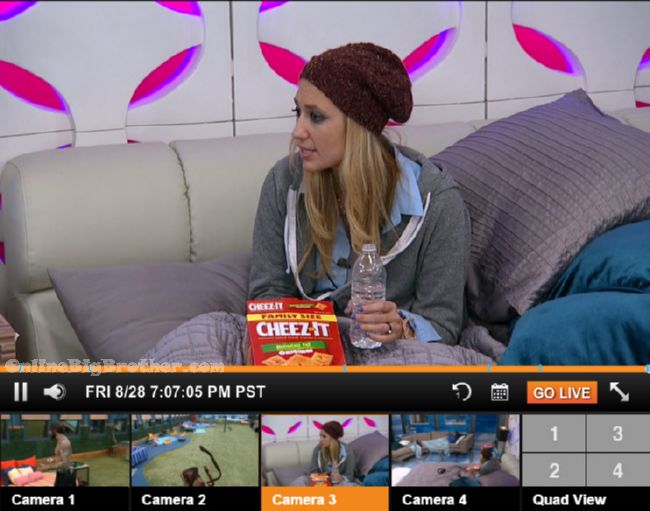 7:09pm HOH Steve and Vanessa
They talk about how the twins got on the show
Steve says Liz and Julia were found on instagram hashtag twins.. they posted a picture on instagram with the hashtag twins and someone found them.
Vanessa says the person that found them was trying to do it for another twins based show but they didn't get it. They then formed a relationship with that production company which then liaised them to this when that production company was approached about finding twins for this show.
Steve – Clay was at a Lakers game
ALLIANCES:
"Goblins/Gremlins" = James and Meg
"The Generals" = anyone allied with Becky
"SOS" (Students of Sound) = Steve and Vanessa
Rockstars = Steve and Jmac
AUS-Twins = Austin, Julia and Liz
"Austin's Angels" = Austin, Liz, Julia, Vanessa
"Brass Tacks" = Gobins and Austwins
The new "Brass Tacks" = Aus-Twins, Meg, James + Vanessa
"Freaks and Geeks" "The Scamper Squad" = Aus-Twins, Vanessa, Steve
"The new Freaks and Geeks minus Vanessa" = Austin, Liz, Julia, Steve, Johnny Mac
"The Authority" = Austin, Liz, Julia, Steve
[polldaddy poll=9046808]