POV Holder:
Austin
POV Competition
Sept 5th
POV Used
Yes
POV Ceremony
Sept 7th
HOH
STEVE
Next HOH
Sept 10th
Original Nominations:
Austin and Liz
After POV Nominations:
Liz and Julia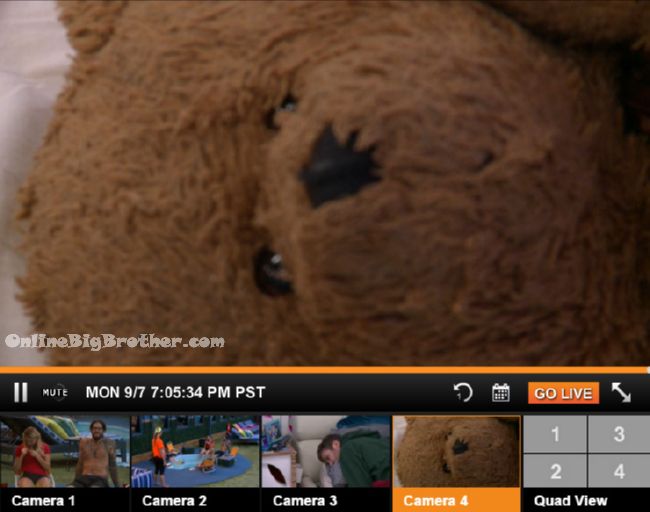 I see pain in that teddy bears eyes..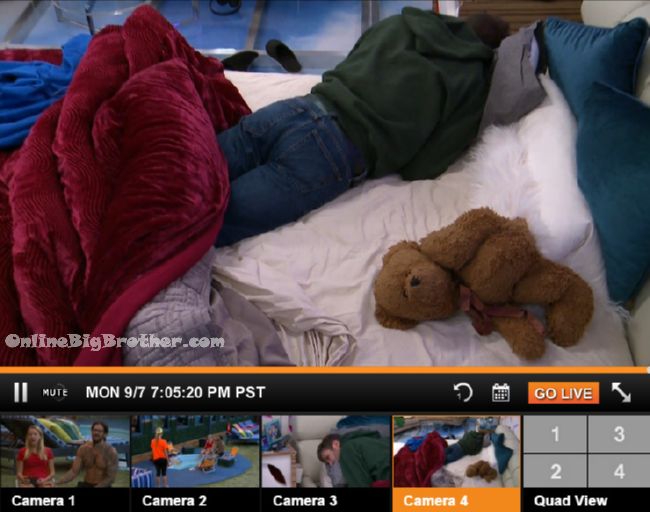 #SaveThisBear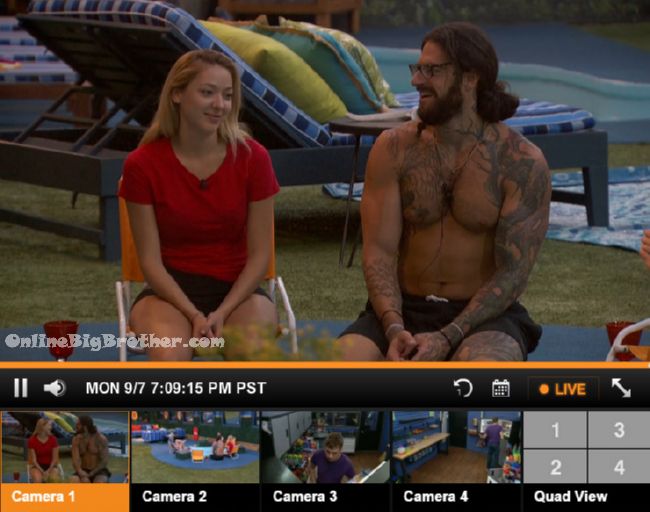 7:07pm Hot Tub Everyone hanging out..
Julia says if she was back home and it was labour day she would be wasted on a boat..
Everyone does the hourly shout out to @NikolaPoe
Jmac – Follow Vanessa, Steve and Johnymac at @NikolaPoe
Jmac says Dentists make as much money as medical doctors but it's way less 'Hectic"
Vanessa – (MD) they work more don't they
Jmac – They're a slave to insurance..
They go into What Dentists are certified to do and where they can do it.
Jmac – I could pull your tooth
Vanessa – you sound excited
Jmac – that's what I do best ya, RJJJJArwhsysuiofghokd';R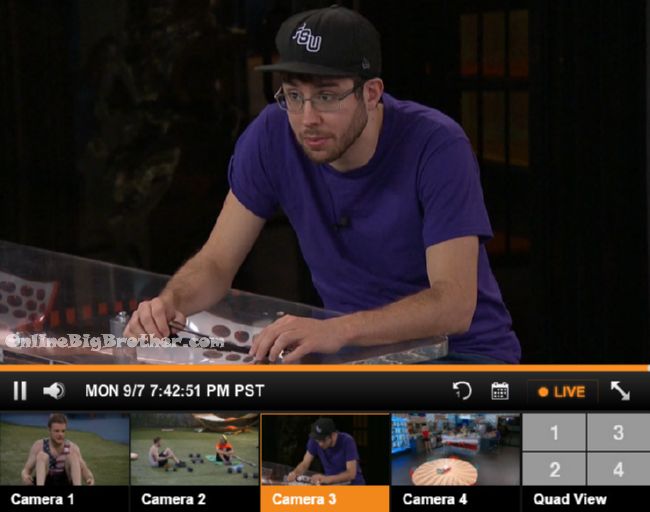 7:41pm kitchen twins, Austin and Boy
Steves says the strange thing is they wanted him to have a glass of wine but they drank it all already.
Julia – you snooze you lose
Steve – but you wanted me to have a glass
Steve – I even gave my bottle of wine
Twins – I know you did, Very nice of you
Austin brings up pot ball tonight. Brings up getting the glory hole 5 times yielding a score of 600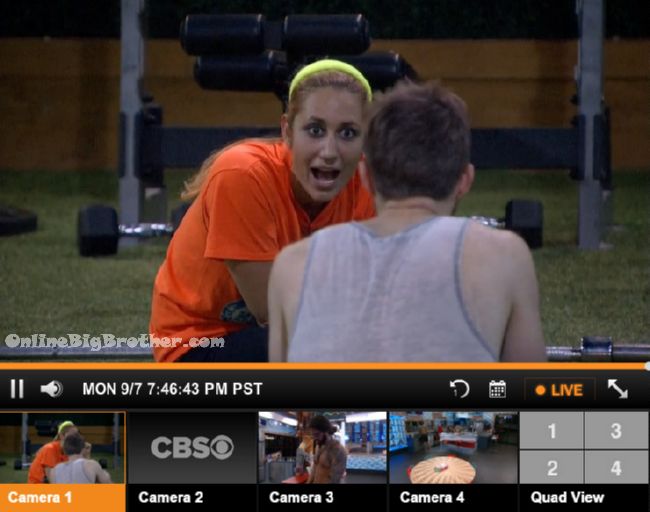 7:49pm backyard Vanessa and Johnnymac
Vanessa thinks the next HOH involves balancing, they agree Austin and Julia will not do well at it.
Vanessa points out that Austin is making it clear he's protecting Liz and Julia.
Jmac wonders if maybe Julia should go
Vanessa says with Julia in the game they have a 66% chance to win HOH. If they take Liz that drops to 50%.
Vanessa – with Julia I'm a favorite.. plus Liz can win the game why not get rid of someone that can win the game right now
Vanessa – Austin and Steve are favorites to win,, can you see that
Jmac – A lot of what you are saying I'm thinking
Steve joins them
Vanessa- I'm trying really hard to win this HOH that is why I'm working out and not drinking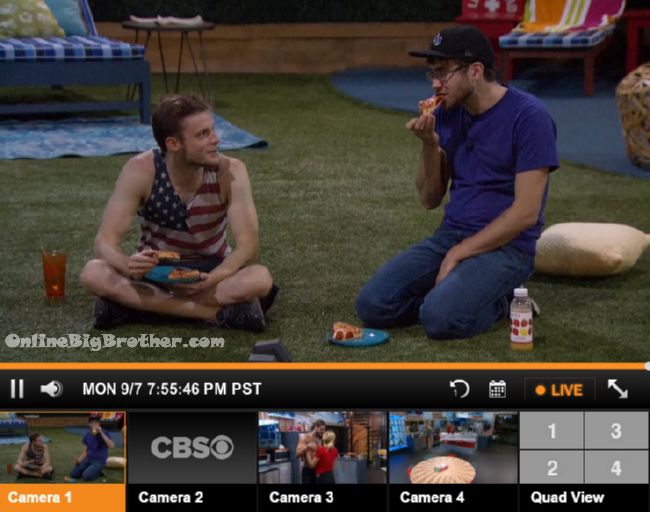 8:02pm Backyard Jmac, Vanessa and Steve
Jmac – "You ever see Back to the Future Part 2? It was in the future, I wonder if we're past that date yet"
Steve leaves..
Vanessa tells Steve he doesn't have to worry she's doing everything in her power to get Steve to the final 3 and if they can get to final 3 they will go to tfinal 2.
Steve says he's thinking about Jury votes and he thinks he can win.
Vanessa – You can win Stephen you can definitely win…. Maybe one day I'll come to you with a business plan to invest with..
Steve – you can give gifts but you can give cash
They agree Johnny Mac, Austin and the twins have a lot of fans in Jury,
Steve- I'm actually your best shot.
Vanessa says if she wins HOH she'll put up Austin and the remaining twin.
Vanessa – you better f*** win the final 4 veto..
Vanessa- it's better if johnny wins but if he can't I will
Vanessa asks if they should bring johnnymac to the final 3
Steve – I don't know I've been thinking about that
Vanessa says if they bring Julia they'll have to agree to take each other.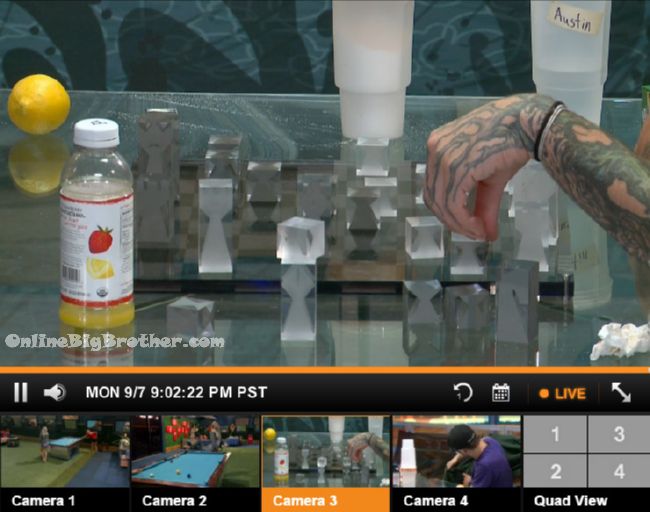 9:05pm – 9:20pm Chess Austin Vs Steve
Steve – I'm very sneaky
Steve wins
9:09pm Hammock Twins
A twin – "I'm so full I'm going to throw up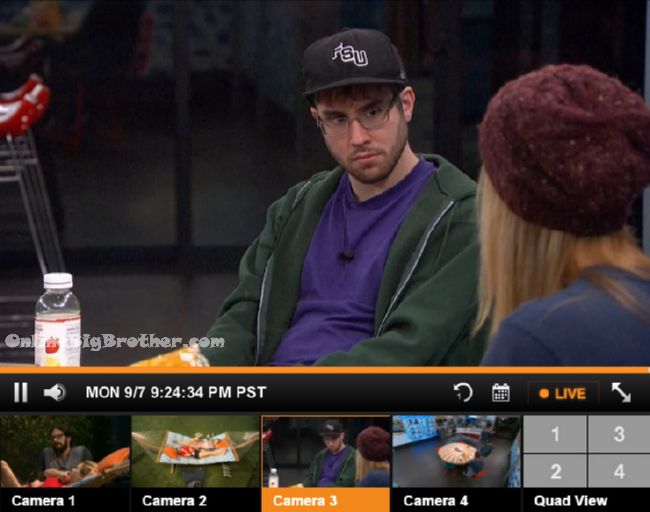 9:24pm
Vanessa – are you sad
Steve – no
Vanessa – are you nervous you can't play in HOH
Steve ya
Vanessa asks him who does he want her to vote out. She thinks logically Liz should go.
Steve – who do you want to vote out
Vanessa says Julia staying in the game is dangerous because everyone will ant to take her to the end.
Steve – You mean scumbagging.. In this game it's never happened
Vanessa – people say what they are goign to do
Steve – ya
Vanessa says anyone is foolish to think Austin will take anyone other than Julia. And Vanessa believes Julia would bring Vanessa, 'They got to be broken up"
Steve I feel like I didn't do much
Vanessa – you broke up Austwins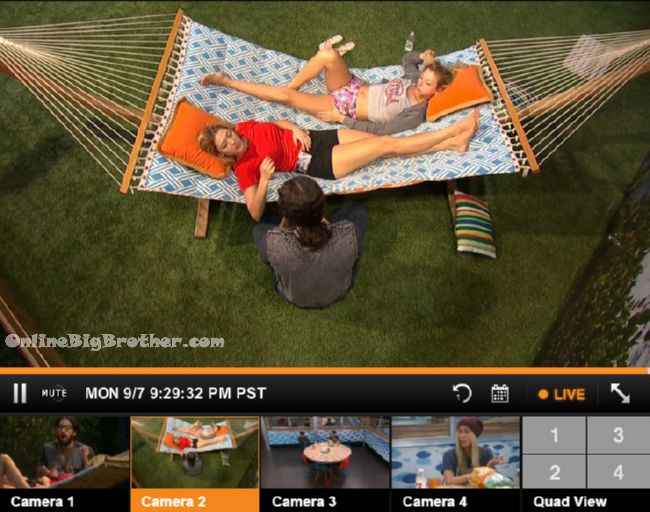 9:32pm Hammock Austin and the twins
They are saying Vanessa is sneaking around with Jonnnymac she caught them talking game the other day.
Austin tells them even if Julia stays the house still thinks they are a couple, They know Austin and Julia won't put each other up. Liz is un-sure. Austin is certain they will be just as big of a target regardless of who stays.
Julia – Liz I want you to stay.. You deserve to be here Liz you f****G killed it
Liz – She sacrificed her identity for me.
Austin – pay her back with 250 thousand dollars..
Liz – then I get Eliminated next week
Austin – Or I get Eliminated next week
Austin saying this is Liz' season she's been so dominating..
Julia – I'm playing for second place youa re playing for first
liz – not if you win
Austin – If you are in final three with Steve you are F***d we're all F*** Steve's too good at that stuff
They agree Vanessa has a deal with JOhnnyamc that is why she was so against putting him up last week.
Austin tells the twins it's all about them winning the competitions it doesn't matter which one stays if they don't win the next competition one of them will got home.
Julia really wants Liz to stay in the game. Austin tells them they will win America's favorite if they don't win the show. Austin doesn't know if he's popular but he hopes he is he's been trying to be funny.
Austin is worried that religious people might not like him because of his Judas persona.
Austin and Julia thinking that Steve, Vanessa and Johnnymac have a final 3 deal
liz – you think Vanessa would do that
Austin – YES of course it makes sense.. we're the fortress.. It's smart game move on her part
Austin – I'm so worried about pissing her off she gets so angry
Twins- And cries..
Austin – I just don't want to go through that anymore
[envira-gallery id="132649″]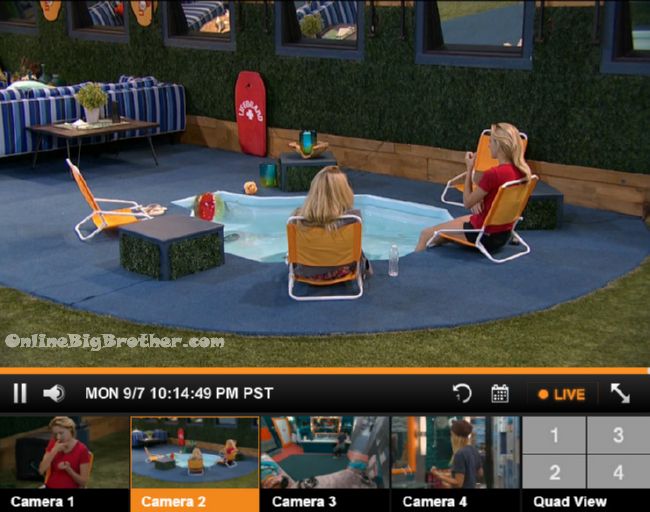 10:15pm Hot Tub Twins..
Saying they are trusting Austin more than Vanessa. They believe her to be playing the entire house.
Vanessa joins them. They say this decision is stressing them out.
They start talking about Steve in the final 2. Liz says that Steve will beat them all.
Liz says she won't vote for him.
Austin says if it's Steve and johnnymac in the final 2 he's open to hearing Johnnymac's speech. "I just might pick a key randomly this is the zest you can taste and smell"
10:32pm Hot tub Steve comes out and everyone but Vanessa leaves.. Steve complains about it halfheartedly
11:02pm Liz and Austin playing pool..
Liz, Julia and Steve tickling Austin #BB17 @DawgsBigBrother pic.twitter.com/IJWsmgYpOB

— OnlineBigBrother.com (@bigbspoilers) September 8, 2015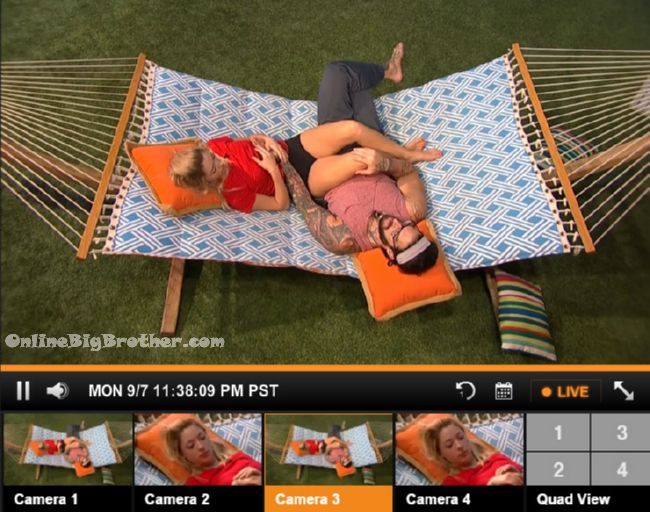 11:23pm Hammock
Liz – I was really sad the other day when we were fighting
Austin – me to.. I love you..
11:52pm Chess begins the twins Vs Austin.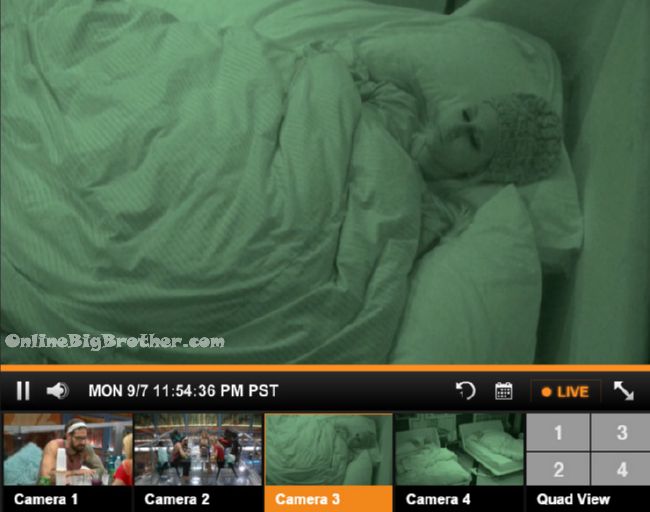 11:56pm Gears grinding
If you've enjoyed the spoilers please consider a donation using the drop down box below. Simon and I work 24/7 all season long to keep you updated on everything that happens inside the Big Brother house.
[polldaddy poll=9059938]

[polldaddy poll=9063299]