POV Holder:
Jmac
POV Competition
Sept 12th
POV Used
Yes
POV Ceremony
Sept 14th
HOH
Vanessa
Next HOH
?
Original Nominations:
Steve and Johnnymac
After POV Nominations:
Steve and Austin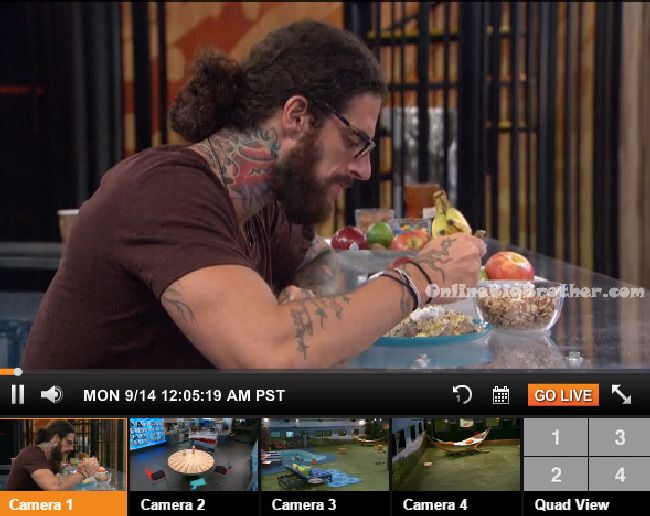 12am Austin is in the kitchen eating. He then gets ready and heads to bed. Austin says tomorrow the backyard will probably be locked down. He says he'll do some upper body workout. Liz tells him not to do anything to hurt himself. She says he needs to be on his game to win the next HOH comp. Austin says he'll be good. I just want to get to the next comp. Liz says I love you. Austin says I love you. I think we're okay no matter what though. I think Johnny Mac is serious. I think he's crazy and he's serious. If that's the case then Vnaessa is going to take us to final 3 too. If that's the case then we made it. Liz says I don't want to jinx it. We need to jedi mind drill tomorrow. Austin says first showmance ever. We just need to get to the end together. Austin says sorry bucko its time to be a man! Julia will be so pumped! Liz says to see him! I know! Austin says it needs to happen. Liz says I am more scared of him (Steve) than Johnny Mac. Austin agrees.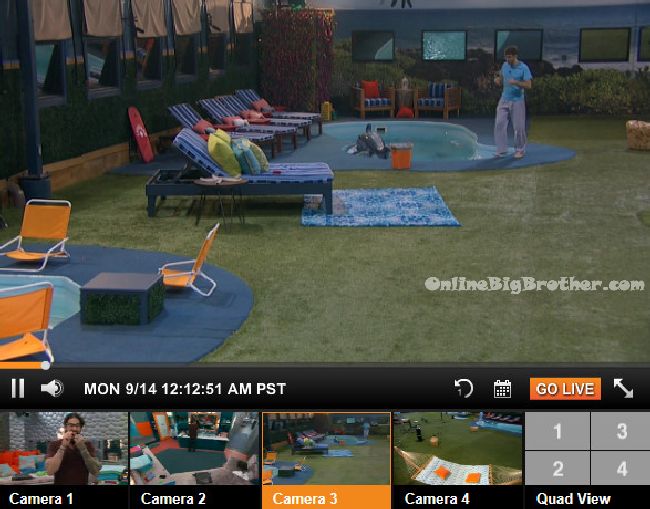 12:10am In the backyard – Steve is talking to himself. Literally every single juror except for Meg was head of household. What is your biggest strategic move. John doesn't have any strategic move that he made. There are two things that really sold me on taking John. That he didn't have any big moves that he made and he was never head of household ..ever! He was never head of household and no one would see me as stabbing them in the back. I did try to cover my bases and try to have as many layers around me as possible and get as many people to trust me as possible. My head of household I did not want it. I never had any intention be being head of household unless I really needed it until like final 6. I'm a big fan of Final 6, final 4, final 3 HOH's. I am so thrilled I was able to win those three comps. WOw I am talking to myself really elaborately about HOH's that haven't even happened. I've only had 2 HOH's. Liz is pissed at me. They made this deal with John to get me out this week. I am in such a good spot and out Austin goes. If that is what I need to win I will do it! I said I will do whatever I have to do to win this game. If they want me to swear on my mom I will do it. I want to bring this 500K to my family and I want to make my mom's life better. Honesty, Integrity and Morality were not a part of my game. At All! They play a huge role in my life but not in this game. In the context of this game, I was willing to do whatever it took to win this game. If the world doesn't like it, then sorry. Vanessa I am sorry but I am a scientist and breaking that promise .. there is my mom and when you deal with science and get me to swear on my mom .. it does not hurt her. No negative effect on her of any kind. I'm sorry I did and if lying and swearing on her name is the price I have to pay to bring her a cheque for 500K then I was willing to do that.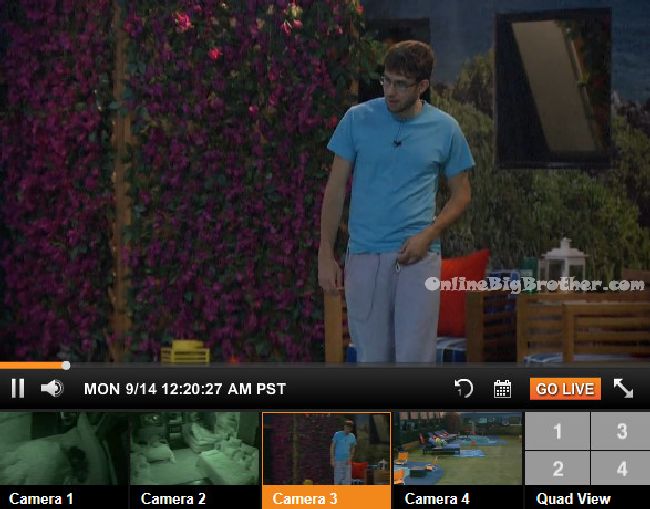 12:30am – 1:10am Steven the player and Steven the human could not be more opposite. Steve the player is a liar, he's a manipulator and a back stabber. Its upsetting because Vanessa would have deserved to win. I broke up the twin twist .. I think I made two huge moves that really changed this game. The first one is that I broke up the twin twist .. for weeks and weeks no one went after them. Secondly The biggest player in this game and the person that probably had the most effect on this game is Vanessa. She is a very, very good strategist and I am the one. During Becky's HOH she was the one to flip the vote back in our favour and then I was the one who finally got rid of the biggest player in this game. And I was the one responsible for getting rid of the biggest player in this game. I had a Final 2 with her and I gave her a taste of her own medicine. I can beat Liz. Would you be willing to throw it to her so that I would go up against Liz in the second round. If I can beat Liz, I would be willing. I am just so happy I won this endurance. I am just praying Johnny Mac wins the physical. We did it! Um I'm a rockstars baby! Liz get to steppin'! I've had a final 2 deal with Johnny Mac since the beginning of this game and I have to stay loyal to it. As with every decision in this game it is entirely personal .. it is entirely strategic and nothing personal. Johnny Mac you've been a Rockstar since the beginning of this game and I have to honor that commitment which means I am sorry Liz I have to vote to evict you. You know I love you but I have to vote to evict you. By keeping Liz out of part 3 .. it would be nice to say that Johnny was never HOH. I think I just won this game. I can't be cocky but confident. John might still not take me and anything can happen. TV show in a parking lot! Steve starts scampering around the house counting things.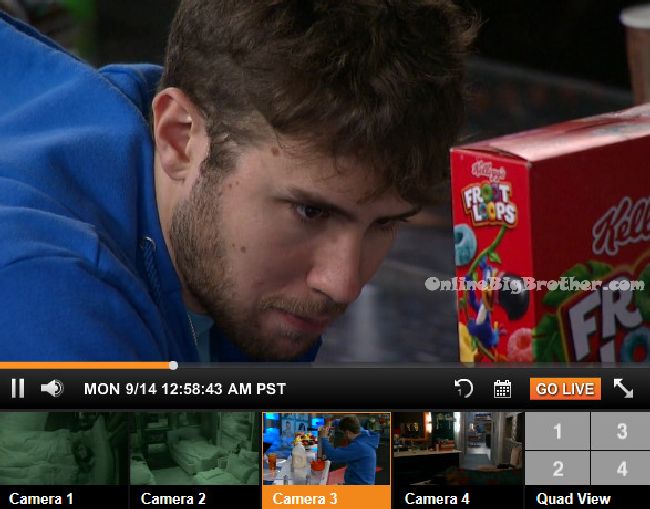 1:10am – 1:30am Steve heads to bed. He then gets up and eats. Then goes back to bed. Then gets up and goes to the bathroom. Then goes back to bed. Austin and Liz comment on how annoying Steve is. Steve then gets up again and goes to the cabana room to count M&M's and think about incentives.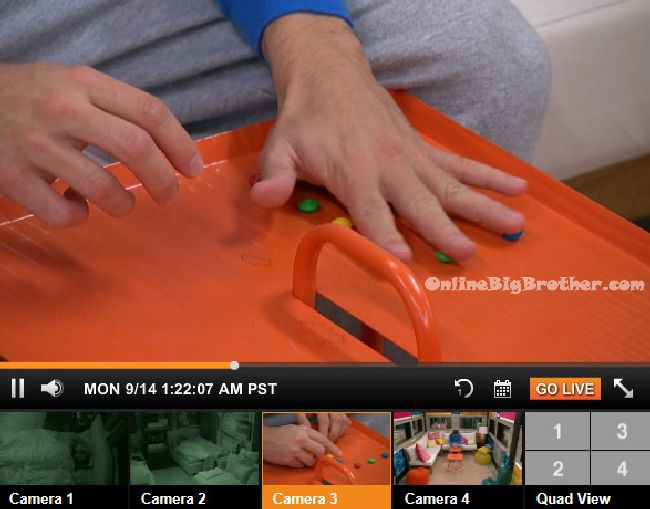 1:30am All the house guests are sleeping..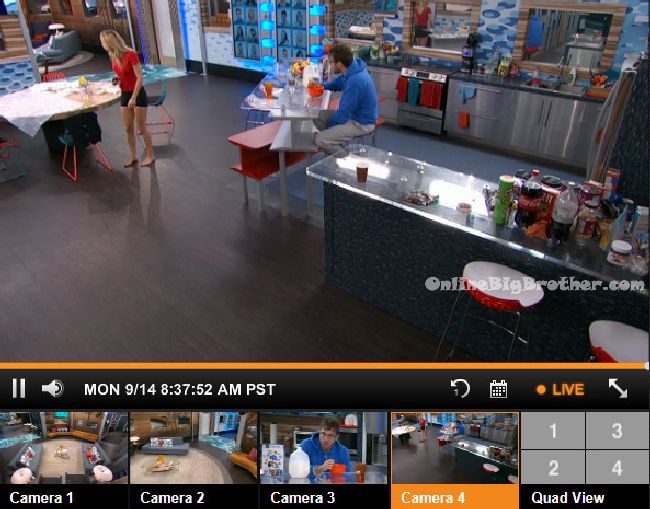 8:36am – 8:55am
Big Brother wakes up the house guests. Johnny tells Austin its 8:30am, the yard is closed and we have tie dye t shirts. Austin asks why? Johnny says I don't know. I think I'm going back to bed. Austin says its a little project. Like children. Steve says I'm a children. Austin says yeah I know. Cane we just draw hearts and stuff? Austin and Liz head back to bed. Steve heads back to bed as well.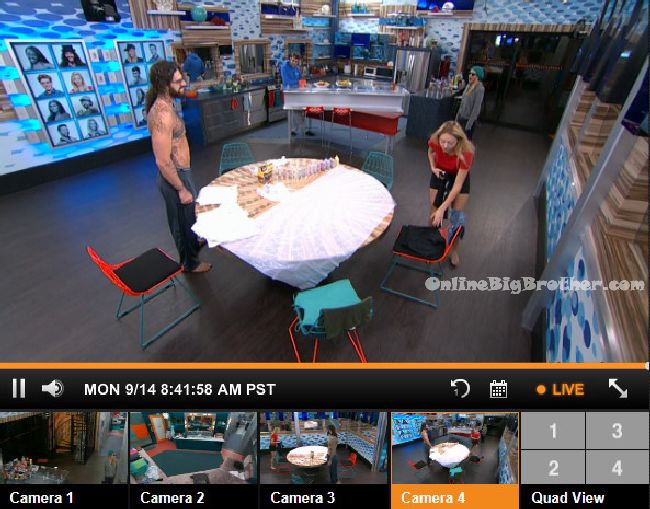 Big Brother blocks the feeds and when they come back the house guests were told they have to get up and get ready. Steve and Johnny Mac get back up.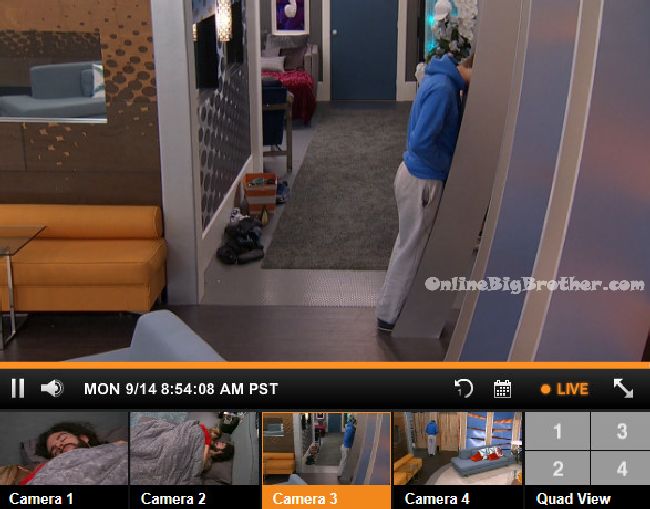 9am Big Brother switches the feeds to the live feed highlights..
Live Feed Announcement – The live feeds will be down from Monday 9am to Tuesday 9pm
(Austin or Steve will be evicted tomorrow and it will then be shown on the special Tuesday night episode.)
If you've enjoyed the spoilers please consider a donation using the drop down box below.
[polldaddy poll=9063299]