POV Holder:
Next POV
Sept 7th
POV Used
POV Ceremony
Sept 9th
HOH Winner:
Spencer
Next HOH:
Sept 5th
Original Nominations:
Current Nominations:
Last Evicted Houseguest
Aaryn, Amanda
Have Nots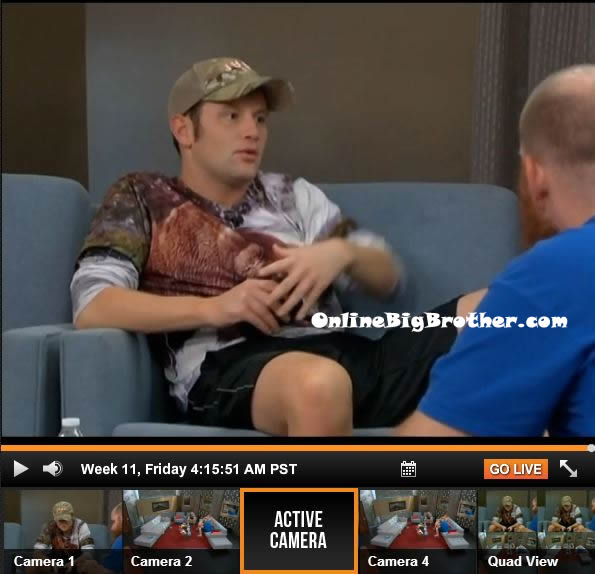 12:55am In the living room – While Ginamarie and McCrae go into the diary room to get handcuffed together. Judd asks Spencer so what's up? Spencer tells Judd that he will nominate Ginamarie along with McCrae to keep up the boys alliance. Judd says that it sucks we can't talk with Gina now without McCrae being around. Spencer agrees but says it's just for 24 hours. Judd says if we don't win that veto it is going to be hell. I am not going to feel good unless one of the four of us get it because then it will be perfect. Everything that happened today was perfect. Andy agrees. Spencer say yeah but those are the nominations, them two. Spencer says that he won the HOH fair and square. Ginamarie didn't throw it to me. Andy says he is so glad its McCrae still here. He deserves it way more over Amanda. Spencer says I am so glad that bit*h is gone. We finally get a chance to know McCrae without Amanda. Andy says he has already slipped up a bit commenting to McCrae that Amanda will be pissed at me. Why would she be pissed at me you know. Judd says it's okay even if we do let it slip to McCrae. Spencer says that next week it's the power of veto, that's all that matters. Judd says and hopefully it's just us three (Spencer, Judd, Andy) after that. Spencer says I wish there were two money things because I feel like I broke Ginamarie's heart by not giving it to her. Spencer tells Andy he can down play it and says it was really hard and that you only won like $2. Spencer says we need to win the veto to keep the nominations the same. He says that he told Gina to go for prizes if there are any just so that she gets something.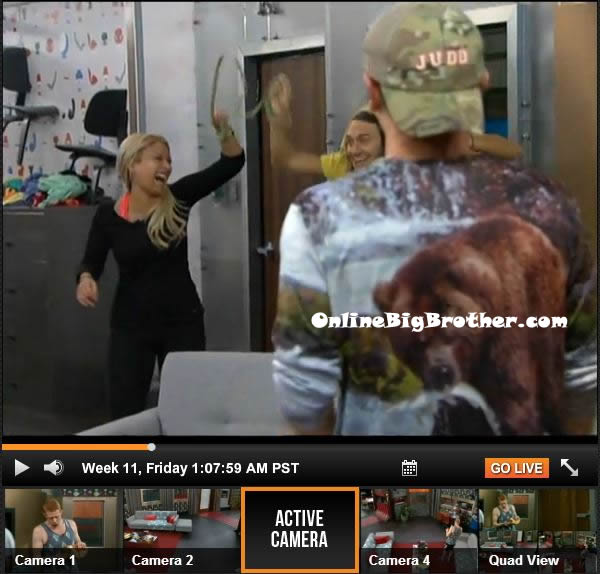 1:05am – 1:30am Ginamarie and McCrae come out of the diary room and yell "who wants to see our friendship bracelet?" Ginamarie says they're not friends with benefits bracelets, they're only bracelets! Spencer asks what are the rules with them. McCrae says um we're attached. Ginamarie says we can't take them off. Andy asks can you cut it? Gina says no. McCrae laughs. Gina says even if McCrae goes into the diary room she has to hold the diary room door. McCrae says or we can put my end on the door and you can sit on the couch to wait. Andy tells Gina that she is going to have to stop screaming in her diary room sessions or McCrae will hear. Andy talks about his chance to win $1 – $5000 in the next 24 hours and hopes he wins more than a couple dollars. Gina tells Andy guess who is coming to our dance party in the morning? (McCrae) Andy says Yay!! The others laugh. Gina asks McCrae what his routines are? McCrae says I like to sleep and poop a lot.
Big Brother 15 Live Feeds: FREE 2 DAY TRIAL
1:35am – 2:10am Andy, McCrae, Spencer and Gina talk about Big Brother 11 where they had the groups – Athletes, Off-beats, Popular and Brains. They talk about what group they would be in. Gina says she would be an athlete. Andy says I would be an off-beat. McCrae would be an brains or off-beat. Andy wonders what would Candice be? Gina says dead! Andy comments that Candice would be a popular because she was a beauty queen. Ginamarie says where's your crown bitch? Oops, I forgot you never won an HOH! Gina laughs and says she sucked at everything! Andy says final five guys, final five! McCrae says final four (for Spencer). McCrae says that's huge! Gina tells McCrae that he really needed to separate himself from Amanda and to have guy time. Like Nick and I weren't always together so that we could build our own relationships. McCrae agrees and says he was behind Amanda and wanted to be looked at as the nice guy. Gina says you deserve it to be here more than she was. Spencer says she played a fantastic game. McCrae says he thinks Amanda played a better game than I ever could have. McCrae talks about the fight the other night between Gina and Amanda. He says he wasn't going to stick up for Amanda in a fight that she started. Andy says that one big flaw of Amanda's is that she could dish it but she couldn't take it. McCrae agrees. Spencer is in the diary room. You can here someone tell Spencer okay enjoy your HOH room. Spencer says should I hold the key or put it around my neck? Spencer then comes out of the diary room holding the HOH room key up and yells who wants to see my HOH room?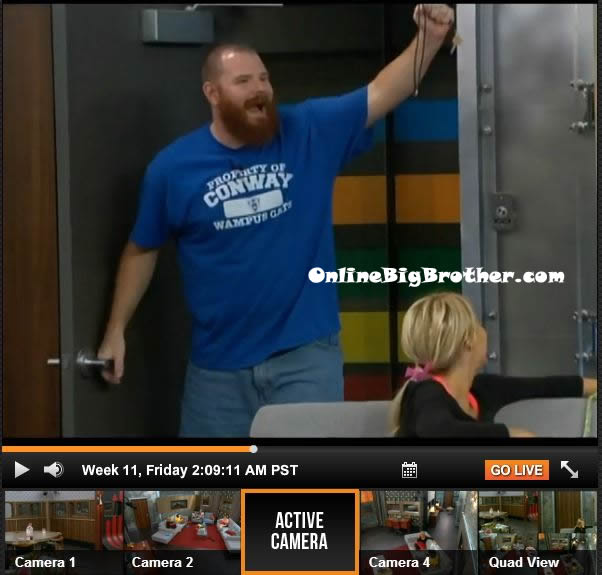 2:10am All the house guests head up to the HOH room to see Spencer's HOH room. They check out his HOH basket and then Spencer starts reading his HOH letter from Marilyn. In the middle of the letter the whistle is blown and Judd is told to do 15 jumping jacks. Spencer then finishes his letter and starts going through his HOH basket. He has beef jerky, marinating sauces, and some "pu$$y a$$ organic tea". His CD is Nirvana – Nevermind. The whistle blows again and it tells Judd "Give me 10 sit ups little girls!" Judd gets on the ground and starts doing the sit ups. Ginamarie starts punching his stomach as he does them. Gina grabs the Cinnamon Toast Crunch box and says hey look it's Candice on the box – That b***h is always trying to haunt me!
Big Brother 15 Live Feeds FREE TRIAL: FLASHBACK FEATURE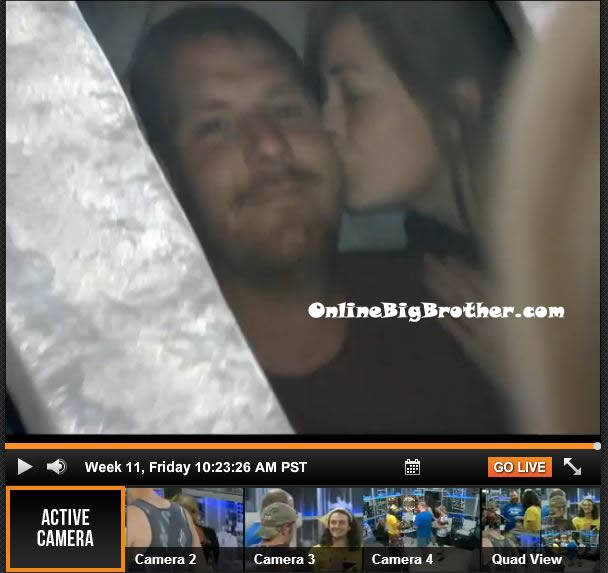 2:45am – 4:30am Andy, McCrae and Ginamarie all head down stairs. Spencer and Judd talk. Spencer tells Judd we need to stay tight. Judd asks what do we do after he (McCrae) leaves? I don't even know if we should talk about it yet. Spencer says I am the solo vote I would not vote you out. Gina and McCrae come back up. Gina takes a shower while McCrae sits out side the shower down chained to her. Gina finishes her shower and they head back down stairs. Spencer, Judd and Andy talk about how perfectly everything worked out tonight. They talk about past events and other random things. Spencer says that next week I have to win the veto because I can't play for HOH. McCrae and Gina join them again. The talk about random things.
Spencers HOH room – BEEF JERKY in one hand and JERKING IT IN THE OTHER.. @bigbspoilers #bb15 #bigbrother15 pic.twitter.com/SHVLRJqSj9

— Dawg (@DawgsBigBrother) September 6, 2013
4:45am While all the house guests are in the HOH room. Big Brother announces "You're one day closer to $500,000 dollars!" They house guests comment how weird that was. Judd says that freaked me out! They wonder if they will hear that every day.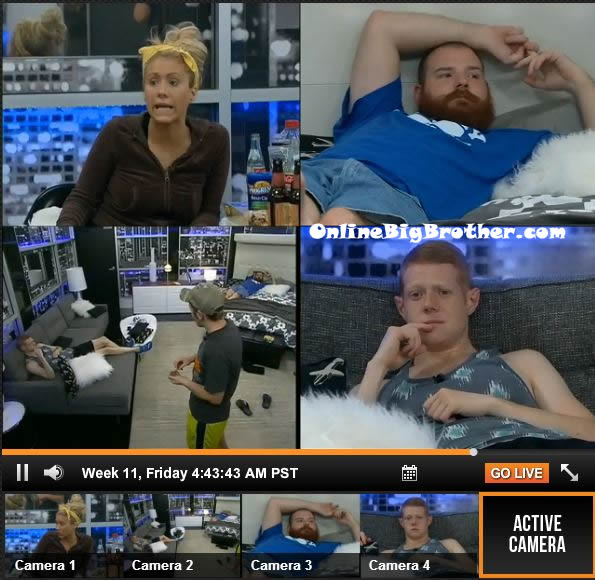 5am – 5:15am Judd, Gina, McCrae and Andy all go to bed in the rainbow room. Andy says f**K Elissa Reilly! Oh my god I hate her!!! Gina sings ding, dong the witch is dead. All the house guests go to sleep..
6:15am Still sleeping..
9:10am – 9:30am Big Brother wakes up the house guests. When the live feeds return all the house guests are now sleeping with the lights on.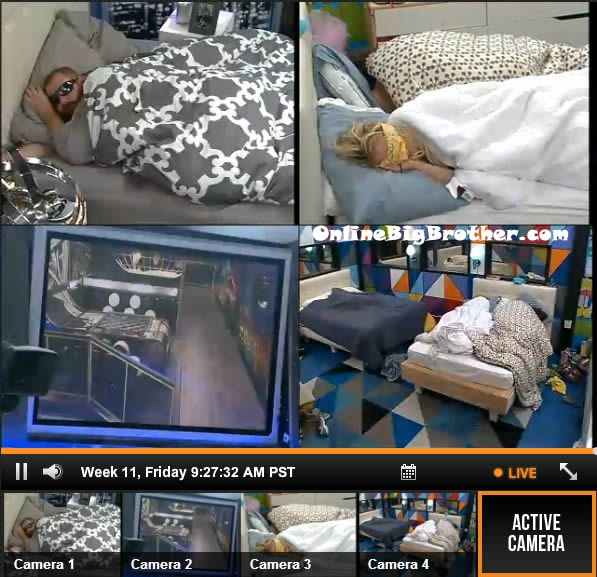 Please consider donating. Simon and I work 24/7 all season long to bring you all the live feed updates and spoilers. ANY amount is greatly appreciated, your donations go directly to paying the server and bandwidth fees needed to run this site.
[polldaddy poll=7375044]
Use the Big Brother Live Feeds to FLASHBACK to SEE what they can't show you on TV:
BB15 N!p Sl!ps / N*des
Share it YO!!
Tweet