POV Holder:
Next POV
Sept 7th
POV Used
POV Ceremony
Sept 9th
HOH Winner:
Spencer
Next HOH:
Sept 12th
Original Nominations:
Current Nominations:
Last Evicted Houseguest
Aaryn, Amanda, Elissa
Have Nots
Spencer wins HOH
10:45pm Kitchen Exterminators
Spencer tells them MC is going up they will all have to have a meeting and decide who the pawn will be.
Spencer – "On my HOH sheet I asked for Bud Lights"
JUDD – 'Moving on up.. ELissa's gone…"
JUDD is excited that he gets to see Marilyn. Spencer isn't sure she signed a release. Andy – 'I thought you said she did'
Apparently there were three rewards and punishments given during the HOH competition. They haven't mentioned the details.
10:50pm Bedroom Andy and Spencer
Spencer tells him he's not going up not even as a replacement nomination. Andy tells him he can win the next HOH they can make it to the final 2
11:00pm Kitchen Exterminators and MC
Andy – 'If the brenchel army liked me I would be offended'
McCrae feels the same way.
They all start talking about Elissa lying about her age. Spencer says she told him she was 27. JUDD says she told him 29. They think she was 30.
JUDD – 'Well here we are guys.. we got five chairs now'
Andy looks at GM 'last girl standing'
JUDD – 'man the girls really f*** up.. they are all in the cat house'
Everyone laughs
11:20pm
Andy congratulates them all on making it to final 5
JUDD points out that Spencer made it to final 4.
Andy and Spencer tells them they are certain MVP went to America and not a person in the house. GM wonders why she was nominated. Andy explains it's because she was close to Kaitlin and Aaryn and they were already on the block.
They all start sharing their dislike for Elissa. They are all hoping that Elissa isn't given the America's choice award because they don't think she deserves it. Andy hopes it goes to anyone else but her.
Andy – 'this women is a monster.. the brenchel army I don't care if you support me I will be offended if you support me'
Andy brings up when Elissa threatened him to keep Helen then when he called her out on threatening him he ended up apologizing to her.
Andy 'she said If you don't vote to keep Helen you are going on the block and you are going home'
GM and Andy tell JUDD that Elissa was targeting him. JUDD thinks it's because he told her to "Shut the F*** up"
You can re-watch ever second on the feeds using the flashback feature.. It's just like a DVR and is super easy to use. click this link for a Free Trial —> Subscribe to the Big Brother Live Feeds
11:33pm Andy and GM Living room McCrae is in the kitchen
Andy tells GM he wants to apologize with how he voted today.
A – 'I know I told you one thing and I didn something else'
GM – 'It's fine buddy'
A – 'You have to understand'
GM – 'We're here it's over and done with.. I appreciate apologizing and all that good stuff'
A – 'it's nothing against you.. i just want you to know that'
(This was said so McCrae would hear from the kitchen)
11:45pm living room
Everyone but Spencer whos in the HOH getting his HOH key
They get some arts and crafts origami and white ducks they get to paint.
GM – "ohh i'm going to make a Chu Chu magomies"
everyone laughs..
Andy – "Origami.. do you mean Tamagotchi"
GM – 'Ya I'm putting words together again'
MC says he not going to open his duck from the package it'll be worth more money that way. GM gives up trying to do a pterodactyl with the Origami set.
12:08am LIving room
Gm starts singing "Ding dong the witch is dead"
JUDD points out that Elissa made it further than Elissa and Brendon did in their first season. He thinks she did great getting to 6th place.
Andy – "Amanda deserved to get as far as she did.. she was a game player"
JUDD doesn't think ELissa deserved to make it this far he's glad the people that are left made it.
GM – 'Real people'
12:39am Cockpit Spencer and GM
Spencer says he picked GM to be chained to McCrae for 24 hours. GM isn't looking forward to this she comments that he's the dirtiest person in the house. Spencer explains he didn't want to give it to JUDD because his fear is JUDD will try make a deal with McCrae.
Spencer tells her she isn't going up but then tells her she is, ends up leaving it open..
Spencer says he Knows she's nervous about going up but he's giving her the same guarantee she gave him last week. THe exterminators are solid and unless MC wins POV he's going home. Spencer add if it's JUDD/McCrae nominated and McCrae wins POV GM will go up and JUDD will leave.
Andy will compete in a game sometime in the next 24 hours where he gets to a chance to win $1 to $5000.
JUDD has to do Calisthenics every time a whistle if blown.. the first whistle is 50 jumping
Gm and McCrae are chained together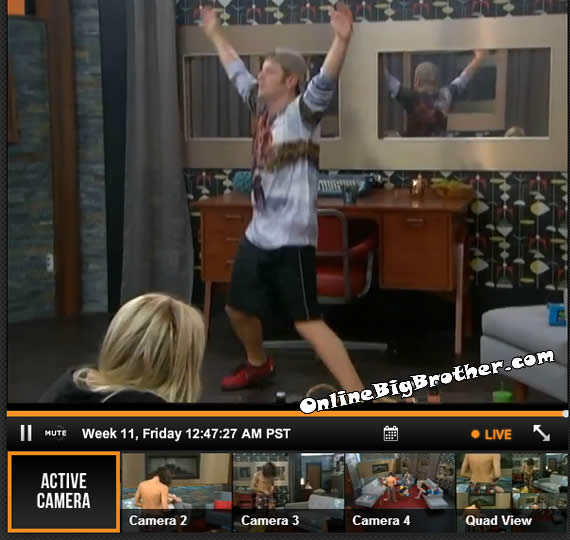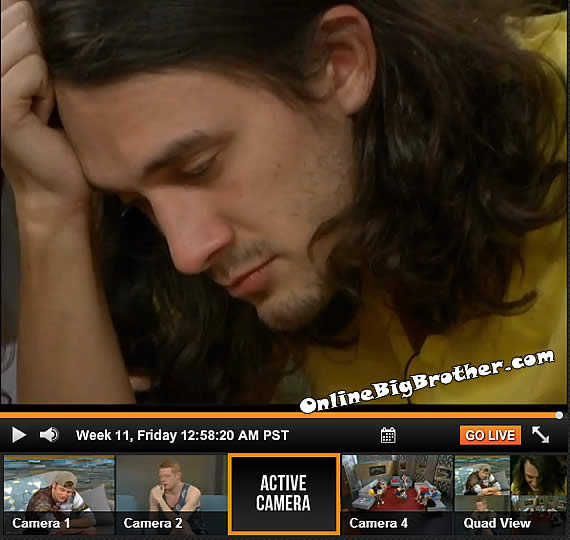 McCrae reads his HOH letter from his sister. He gets very emotional

[polldaddy poll=7375044]
Share it YO!!
Tweet