POV Holder:
Amanda
Next POV
Aug 31st
POV Used
Yes
POV Ceremony
Sep 1st
HOH Winner:
Elissa
Next HOH:
Aug 29th
Original Nominations:
Aaryn and McCrae
Current Nominations:
Aaryn and Andt
Last Evicted Houseguest
David, Nick, Jeremy, Kaitlin, Howard, Candice, Jessie. Helen
Have Nots
7:13pm living room everyone but JUDD
Random Conversations.
Andy talks about Jessie Sleep moaning says it sounds like she's having s$x in her sleep.
Andy – "Jessie is a light nympho maniac"
GM – "her and Candice all they talk about is s$x"
GM tells them how her and NICK would go to bed with a pillow between them and backs turned but when they woke up they were facing each other smiling..
Gm's back is still messed up she's walking around like a 90 year old.
(really not much going on.. )
Big Brother 15 N*de flashback times here

8:04pm Living room
Someone knocks on the table it sounds just like a knock at the front door.
Amanda freaks out "OH MY GOD"
8:06pm Aaryn and GM Bedroom
Aaryn is going through her clothes picking what she wants to wear for her eviction tomorrow. She decides against a pair of gold shoes saying they are too hard to walk in she doesn't want to fall when walking to Julie.
GM – "I can't believe I do something stupid and I pull my back out.. i'm so f** stupid.. I'm old"
Aaryn – "you are not old "
GM – "I'm F**ing old my body can't do what it use to"
JUDD rolls in with his shirt on..
GM – I smell like a old lady.. icy hot
Aaryn continues to pack her clothes shows them her Michael Kors shoes that she got in her HOH basket.
Aaryn – 34 days from now until and the end of september
JUDD – if the show is 91 days .. tomorrow is day 70
GM – 20 days left
JUDD – ya 20 something days.
Aaryn – "My birthday is on Tuesday .. so my birthday wish is not to talk sh!t about me on my birthday … that is what I want for my birthday "
JUDD says maybe Amanda and Elissa will talk sh!t about Aaryn.
Aaryn – Spencer will I called his a$$ out bad .. it was my final attempt to have Amanda and McCrae to keep me.
Aaryn says it's a bit relaxing knowing your fate. She points out that JUDD is much better in the house this time around because he's a lot less paranoid.
JUDD – I refuse to be somebody's little b!tch
Aaryn now knows why winning competitions and making moves is not a good idea in this game. Aaryn says one reason why Amanda and MCCrae do not trust her is because she picked JUDD to play in the POV. She adds that people that don't win much never have to show their cards and it's because of that they do not become targets. She points out she's won 4 HOH's and made herself a huge target. Aaryn brings up Andy's HOH and how safe his nominations were.
JUDD gives Aaryn Jessie's Texas sweater for her to give to Jessie.
Andy and Amanda joins them.. start laughing that GM slept in the same bed the entire time she was here.
8:28pm bedroom
Gm jokes says she peed her bed..
Aaryn – "that's from the water bottle"
GM – "I'm old.. I peed the bed"
Amanda is complaining about the flight CBS booked her on. She says it was Spirit airlines. GM says she flew virgin and it was really nice.
Aaryn points out that Howard wore the most expensive clothes for someone that said he had no money. Amanda says that is why she thought he was some sort of athlete.
Amanda asks JUDD if he's sure he's not related to Howie.
JUDD: Big boy sure.. Big boy sure
Aaryn says JUDD is looking better and better the longer he's in the house
Amanda – "you were busted ugly in the beginning"
THey all agree they would rather Rachel in the house than Elissa. Amanda and Aaryn point out how mean Elissa is she was telling Aaryn she wears her bathing suit bottoms on backwards. JUDD says Elissa is "Right nice"
Amanda talks about having Sex with McCrae
Amanda about McCrae "His D*** is so big"
Everyone laughs
JUDD – "Shut Up"
Amanda – "We had s$x last night"
Aaryn asks JUDD is he knows what he's sleeping on top of.
GM asks Amanda if that is true
Amanda – "Ya we have s$x all the time"
Gm – "no you don't"
Amanda – "Yes we do"
GM -Liar
GM – "there was C*M on Kailtin's a$$"
Aaryn – "There definitely was"
Amanda – "Usually when ou C** you are supposed to catch your C** when you P*ll out.. He doesn't do that he lets it squ!rt everywhere.. It's all over the bed"
Aaryn – 'Ewww how do you do that with cameras.. aren't they zoomed in on you and everything when you are doing it"
Amanda – "Well when you don't have s$x for a long time it doesn't take that long"
Amanda saying when her and mcCrae have sex it's in the middle of the night when no one is around
Amanda – "I usually end up Bl*** him to finish him anyways"
JUDD – UGH
GM – Gobble Gobble
JUDD – it makes me want to throw up
Amanda – "Didn't you year it last night Aaryn
Aaryn – ya I did
Amanda – you did not
Aaryn – I did to it was disgusting
9:06pm Living room
Production gave them a bottle of Selsum blue. Spencer asks Aaryn if she thinks he should shave his bush. (See image)
Elissa made food tonight everyone getting ready to eat except for GM who is in the shower.
10:02pm Jenga Jenga je je je Jenga
10:36pm bedroom Amanda, McCrae, Andy, Aaryn and Spencer
Random chit chat
Amanda says Kaitlin's fried rice tasted like butthole.
Andy – "top three best cooks are Candice, Elissa and Amanda"
Spencer – "Aaryn is the baker"
Spencer says if he say Sarah jessica parker he would pee on her he says her face looks like a foot.
Amanda – "do they ever feed jokes to you guys"
Aaryn – "Ya"
Spencer jokes around that about a porno movie idea he has it's called "Stoner with a boner.. Trade a$$ for grass"
Aaryn says there are guys with fart fetishes and GM is probably a superstar.
Amanda – "Theres no fart fetish"
Aaryn – "There's a fetish for everything.. JUDD likes it when I bite his knees"
They start making porn names for videos.
Amanda – "Forrest Hump"
Amanda – "Duty and the feast"
Amanda – Duty and the yeast"
Aaryn – " Beauty and the yeast"
Amanda – "Cousin clit"
10:48pm Bedroom JUDD, GM and Andy
Scheming about breaking up Amanda and McCrae.. Andy says he wants to be the one that does it. GM says McCrae has lost his fire.
JUDD says Aaryn thinks Andy is with Amanda/McCrae she doesn't know about the exterminators.
Aaryn joins them says Amanda is showing McCrae her nipple holes.. the holes in her nipple where the milk comes out.
Gm – no milk will come out she doesn't have kids
Aaryn – she's showing him where the milk will come out to prepare him for when they have children
JUDD – gross
Aaryn – JUDD hates anything sexual
JUDD says he would rather rip his ears and eyes out than listen to Amanda.
JUDD – Candice was harsh
GM – She would always talk about s$x
JUDD – Candice was a walking porno.. every time I talked to her
GM – I'm surprised her and Jessie don't eat each others boxes out
Aaryn – maybe they have
Gm – they can be like yo you tap me off i'll tap you off.. alright just close your eyes boo (See image above)
GM – It probably smells like MUNG beans and fish salad
Andy EWwww he leaves
GM – she probably has white residue sh!t on it
JUDD – Mung beans and fish salad thats awesome..
JUDD jokes that Aaryn will get with Candice and Jessie in the jury house.
GM – well you know Jessie's tastes like butterscotch
Aaryn – Maybe i'll let you know
JUDD – butterscotch and coconut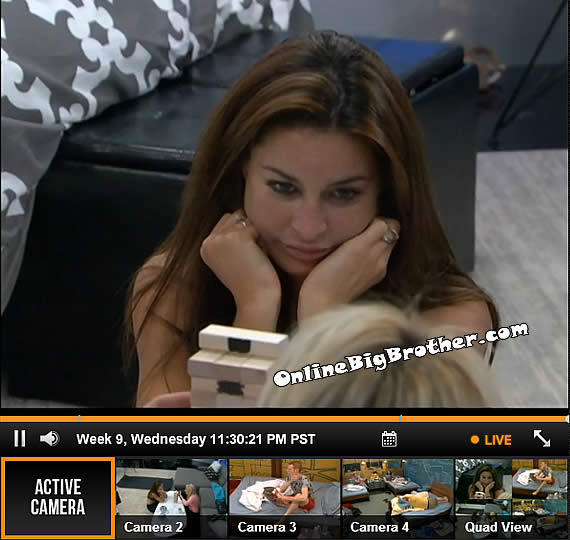 11:31pm GM and Elissa HOH GM says Aaryn told her she should stick with Elissa and that JUDD was a good guy.
Elsisa thinks that was really nice of her to say
GM adds that Aaryn knows she's leaving and is accepting it.
GM says the entire hose is targeting Amanda and McCrae next week. Elissa say to GM she really has to win the HOH tomorrow.
JUDD and Andy join them they say that Amanda and Aaryn are going to bleach their butth@les so they decided to come up. JUDD adds that he can't stand hearing McCrae talk anymore.
11:48pm Bedroom Aaryn, Spencer, Amanda, McCrae
(FYI Aaryn and Amanda are going to bleach their butth@les… I ;m nbot sure if they are joking or not)
Aaryn – "I'm not campaigning Spencer go f** yourself" (Smiles)
Spencer – " I would love to F** myself"
11:56pm Aaryn and McCrae
Aaryn points out that GM is going to work with Elissa once she leaves.
Aaryn says it's getting to the point where if you don't win comps you are going to go up. Wants McCrae to know that Elissa is a beast a vetos and she's won a HOH. Gm is strong in competitions to. Aaryn doesn't think it will be easy to get Elissa out. She adds it won't be super easy to get JUDD out but harder than Spencer.
MC – I want Elissa to go
Aaryn says if she goes up and she is not voted out she will go to the final 2
Aaryn – "She is so excited with voting me out"
MC – "I know It's making me sick.. I just wish GM wasn't working with Elissa
MC says him and Amanda just need to alternate winning comps from here on in. Aaryn points out she said the same thing to GM.
Aaryn says Andy will probably never go on the block..
MC says Elissa is probably getting a golden edit, "She looks like Mother Teresa"
(MC breaks Helens record for you knows but does it with YUPS)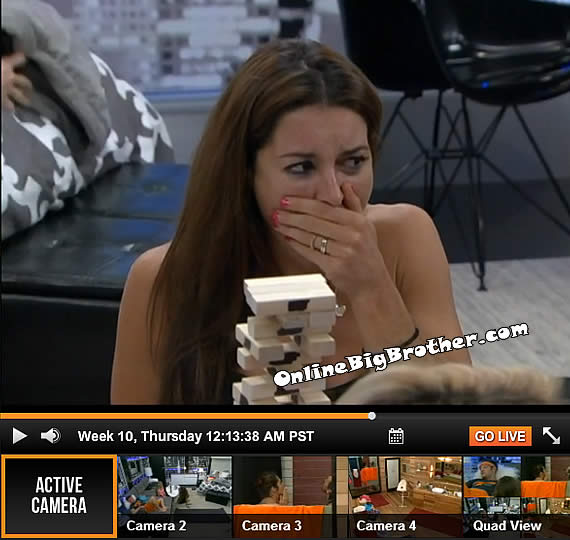 12:14am HOH JUDD, GM, ELissa, Andy
They ask spencer what is going on downstairs "Bleaching buth@les"
Spencer – "Uhh ya that's what they are doing.. just BSing" .. He likes it better up here he thinks it's a better conversation.
Elissa – "better than Mcranda saying they have the best showmance"
GM Scoffs (Her and Nick had the best showmance 😉 )
GM brings Amanda saying McCrae and her have s$x every night.
JUDD says there was condom wrappers in the bed he would sleep in
Elissa – "EEEwwwwwww"
He adds there was blood on the bed sheets
JUDD – "I was pissed the first night here I had to sleep in those nasty sheets"
GM – "He was like dude what is that I said thats period blood I'm not going to lie"
JUDD – "There was like 4 little spots"
Elissa – "They is so gross.. having sex on your periods in the Big Brother House.. thats disgusting"
JUDD says if you are going to do that kind of stuff at least clean your sheets.
GM – To be honest they haven't washed their sheets in a while
[polldaddy poll=7352641]