POV Holder:
AMANDA
Next POV
Aug 31st
POV Used
YES
POV Ceremony
Aug 26th
HOH Winner:
Elissa
Next HOH:
Aug 29th
Original Nominations:
Aaryn and McCrae
Current Nominations:
Aaryn and Andy
Last Evicted Houseguest
David, Nick, Jeremy, Kaitlin, Howard, Candice, Jessie. Helen
Have Nots
12:15am Amanda and McCrae take a shower together in the downstairs bathroom. She says I need to re-wash my butthole. There's something sticky on it. Amanda and McCrae make out in the shower. She disappears a few times and he makes facial expressions when she tugs on him. Meanwhile up in the HOH room – Elissa, Andy, Judd, Ginamarie and Spencer talk about random things. Judd asks Aaryn what time of car she drives. Aaryn says she has the Ford Edge. She says she likes it because she can answer her phone from the steering wheel. Spencer heads to bed because he has a headache. Andy leave soon after to practice his eviction speech. Gina leaves and its just Elissa and Aaryn. Elissa says I hate that we couldn't work together. Every time you time you talk normal to me it makes me sick because my heart feels for you and I never had anything against you and I always wanted to work with you. I think Amanda is just super manipulative and it sucks. It sucks that she got into your head and basically ruined your game. She did, you didn't! She ruined your game. Aaryn tells Elissa that they made an alliance with me, Andy, McCrae, Amanda. They asked be to be in a four.. Big Brother switches the camera..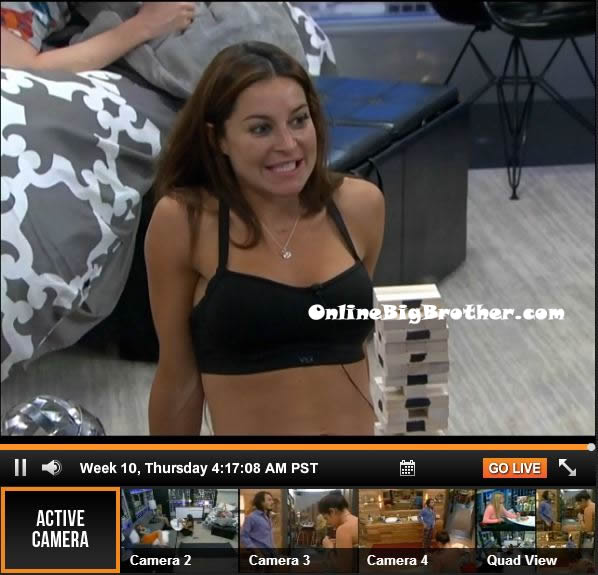 Spencer and Andy in the bedroom talking about wanting to be tomorrow for this to all be over with. Spencer says they told me things to make it look like you and I aren't as important as she is to them. Andy asks if Amanda and McCrae believe it. Spencer says he isn't too sure Amanda tries to think of a plan that is grander. Andy asks but I am okay still? Spencer says yeah, you're fine, you're totally fine. Spencer says if they get HOH, I think they would put up Ginamarie and Elissa up. We could be final 4 soon.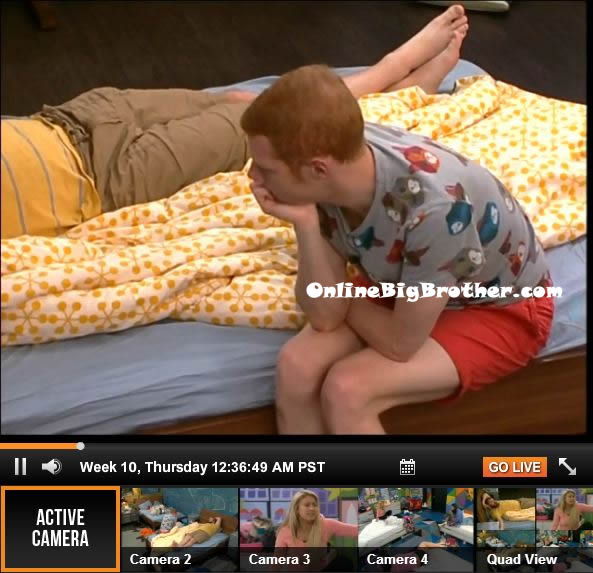 Big Brother 15 Live Feeds: FREE 2 DAY TRIAL
In the rainbow room – Gina talks to Amanda and McCrae about Aaryn trying to make waves before she leaves so that we would all not trust each other. Amanda questions why Gina was up in the HOH room with Elissa. Amanda and McCrae tell Gina that she is not their target. Ginamarie asks if it's Elissa. Amanda says yes and one other person. Ginamarie says if they want to ask her in front of Aaryn she is okay with that.
Meanwhile up in the HOH room – Elissa and Aaryn continue talk. They talk about how they wanted to work together and that it sucks they couldn't. Aaryn says it's fine we can be friends outside the game. Elissa says I really should have put them (Amanda and McCrae) up together. I wanted you to stay and was crushed that she won that veto. Aaryn says I was crushed too. I knew it was the end of my game. Yeah she is a not very nice person and she ruined my game. Elissa says she wishes she would have nominated Amanda when she was MVP because getting her out in the beginning of the game would have been a really good thing. Aaryn says that it made her want to vomit when she had to try and get Ginamarie nominated. I only did it because Amanda said the only way I would stay was against Ginamarie. Aaryn says that it was hard to do that to Ginamarie because she was my friend. Ginamarie joins the. Ginamaie tells them about how Amanda confronting her about me putting Amanda and McCrae up on the block. Aaryn tells Gina that Amanda is just trying to make sure you don't vote for me to stay. Aaryn tells Ginamarie and Elissa not to listen to anything that Amanda says. Aaryn says that she told Amanda and McCrae that she didn't know who Ginamarie would put up. Aaryn says this is because Andy is freaking out and Amanda is scared that I am going to stay but that won't happen so she doesn't know why Amanda says that. Aaryn says Amanda could have waited for her to leave before she started spreading lies about her. They study the order that Zingbot zing'd them. Gina and Aaryn head downstairs.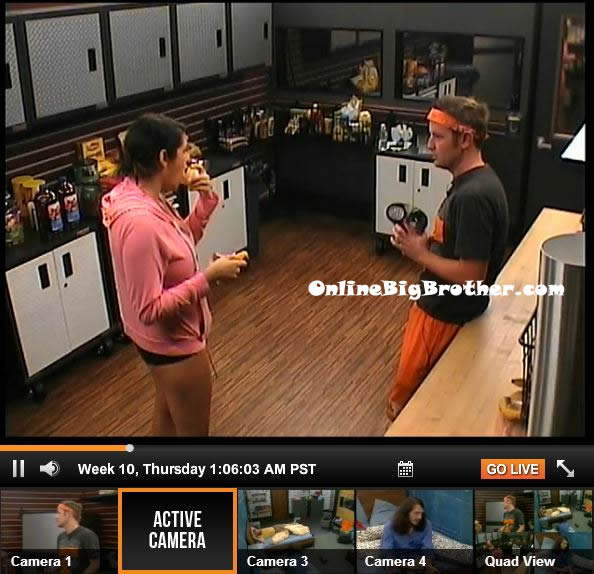 1:05am In the storage room – Judd and Amanda talk. Judd tells Amanda that he still wants to make a one week deal with her and if that works out we can go forward. Amanda agrees. Judd says there was no way I could work with Elissa she would always do whatever she wanted to do. Amanda agrees. Judd says that if I won HOH I would put up Elissa and someone else. He isn't sure and would need to talk to everyone. Andy joins them and they all leave soon after. Gina sits at the kitchen table and Amanda asks her what's wrong. Gina says she's just sad losing a friend (Aaryn). She says it sucks seeing Nicks face every day too, it was so long ago he was here. Nick that shaddy f**k, look at that smirk. Amanda says I have a new moving company and I am moving all of you out of this house. They start talking about each one of the evicted house guests. Amanda says and Jessie leaving I am not upset about that. Gina says yeah she needs to talk to someone.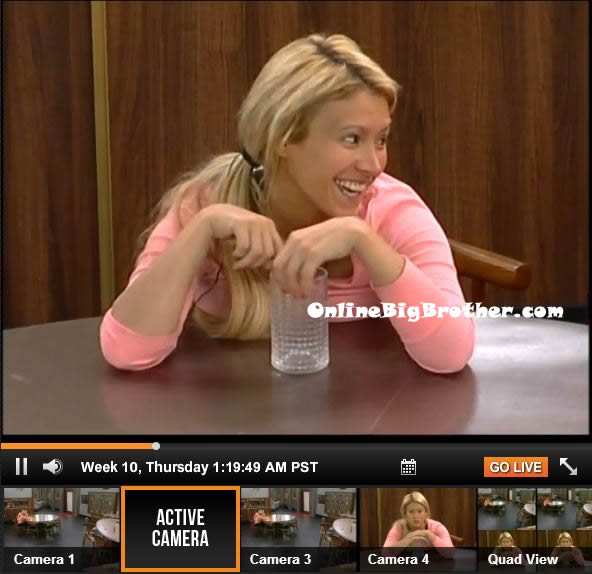 2am – 3:30am Aaryn, Judd, McCrae, Amanda, Andy, Gina and Spencer are in the bedroom talking about movies and other random things. They talk about McCrae and Amanda getting married for real outside the house. Andy heads to bed. Andy goes to bed. Amanda comments that her worst nightmare would be McCrae going to the jury house with all the girls. Aaryn tells them that her grandfather subscribed to the live feeds. Judd laughs. Amanda teases Aaryn that she wants Judd's di*k. Aaryn says no I don't. They continue to talk about random things and they turn out the lights.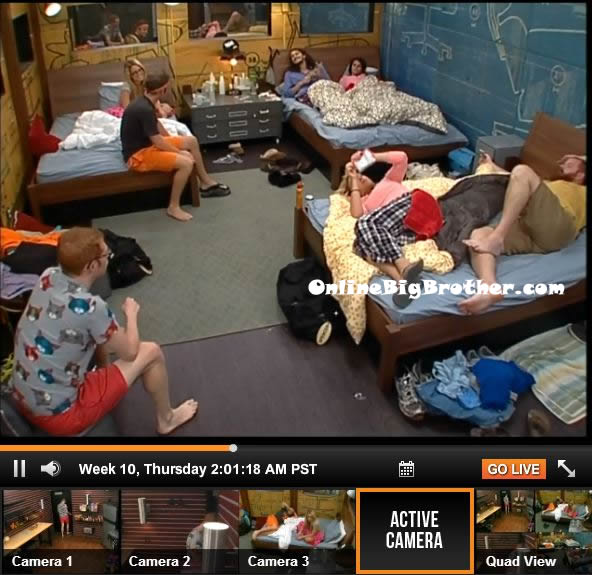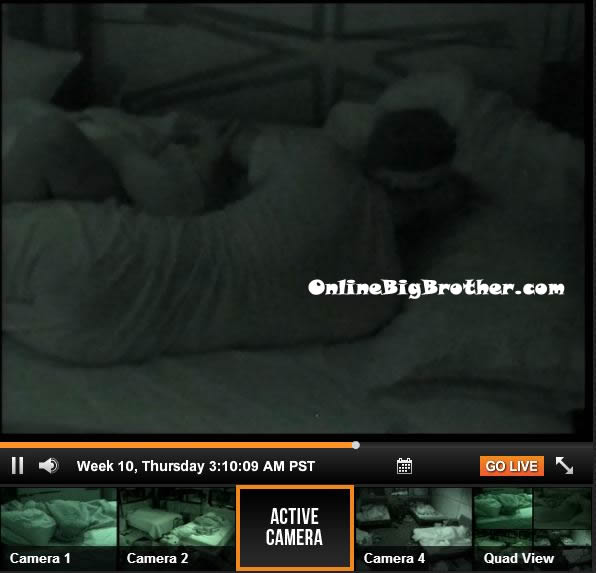 Judd and Aaryn are cuddling in bed. They start making out. Judd leaves. Amanda tells Aaryn "Slurpee time!" "That was the quickest pu$$y eating I've ever heard." Aaryn says whatever. I'm over it. Spencer says I wanted to fart so bad during the middle of that. Amanda laughs that Judd had to do the walk of shame with an erection after that. Amanda says that Aaryn just got frog gigged by J U Double D! Amanda starts kissing and slurping with McCrae. (Judd is in the rainbow room listening to their conversation at the door.) Aaryn says whatever I never make fun of you guys. Amanda says that's because we're in love and married. Aaryn says I didn't even get to bang in the HOH room. Amanda asks who would give better bl*w j*bs girls or guys. Spencer says girls, just because Andy always talks so poorly of gay bl*w j*bs. Aaryn says you just do a little figure eight and el'pepper crack hair action and its all good. Spencer asks what are you talking about Aaryn would you like to show me? Aaryn says no. Why did I just said that my grandfather subscribes. They all go to sleep..
Big Brother 15 Live Feeds FREE TRIAL: FLASHBACK FEATURE
5:50am All the house guests are still sleeping..
9:45am Still sleeping..
10am Big Brother wakes up the house guests..
Use the Big Brother Live Feeds to FLASHBACK to SEE what they can't show you on TV: