POV Holder:
Amanda
Next POV
Aug 31st
POV Used
Yes
POV Ceremony
Sep 1st
HOH Winner:
Elissa
Next HOH:
Aug 29th
Original Nominations:
Aaryn and McCrae
Current Nominations:
Aaryn and Andt
Last Evicted Houseguest
David, Nick, Jeremy, Kaitlin, Howard, Candice, Jessie. Helen
Have Nots
4:30pm Bedroom McCrae and Amanda
Amanda – He had a final 2 with Andy as well (Spencer)
Amanda – i didn't have a final 2 with anyone but you
MC – we need them to think I will bring them over you
Big Brother 15 N*de flashback times here
4:38pm Backyard Elissa and Spencer
Elissa – "I love how Amanda is like.. I'm the only showmance this season.. I'm like really did you forget about Jeremy and Kaitlin.. they were a way better showmance.."
Spencer – "I feel Amanda and McCrae are really in love whereas everyone else is a joke. "
Elissa – "I mean like if you are really in love how can you let someone when they are on TV" show their boobs and thong to everyone in America
Spencer says marilyn is so conservative she would never let one of her boobs slip out all over the internets.
Elissa – "he thinks it's cute or hot or something "
Spencer – "it has to do with i'm being 24 or something. He just doesn't know any better.. "
Elissa – I can't believe she goes into the DR like that LIKE oh my gosh
Spencer – it's not classy
Elissa – "I cannot imagine interviewing someone and they are in their underwear.. I think her and aaryn would have been perfect fits for the bad girls club or the real world"
Spencer says aaryn was a finalist to be on the real world
Elissa cannot wait until amanda is put in her place.
Spencer – "It's not going to be long"
Elissa – "I'm so sick of her thinking she runs the show"
Spencer – "Me two .. she thinks she's smarter than everyone here.. she's waiting around for us to give her the half million dollar check"
Elissa thinks production likes Amanda because she makes good TV. Elissa doesn't think it's that Good TV she thinks people hate Amanda.
Spencer says Amanda's family is embarrassed by some of her behaviour
Elissa says Rachel only did 3% of what Rachel did, "She only had a showmance and people thought it was the worst thing in the world"
Elissa – "We're so boring because they ( Amanda/McCrae) have no one to fight with"
Elissa says the house would be much more fun with Jessie, Candice and Helen then who is in the house. Elissa seems to think that Jessie, Candice and Helen have more interesting conversations.
Elissa – 'you have to win"
S – " I'm going to bust my a$$ to win.. you know me I fight hard to win competitions"
Elissa hopes it's a questionnaires and Amanda and McCrae drop off right away
E – "Do you trust Andy"
Spencer likes Andy but isn't sure where his head is at.
Spencer – "There's a part of me that really trusts Andy.. but eventually he's going to have to play for himself.. You and me are safe.. "
Elissa is worried If Andy wins the HOH,.
4:49pm cam GM and Aaryn
GM says McCrae has no more fire in his a$$ he's throwing too many competitions.
Aaryn says people throw competitions because they don't want blood on their hands
Aaryn "I have no respect for anyone here except of Amanda, JUDD, you and Andy"
GM – Why Amanda
Aaryn explains that Amanda has played a strong game.
GM – so i'm supposed to go with the house now and vote against you
Aaryn – ya
GM – oh my god.
Aaryn says last week they tried to get GM nominated beside Aaryn because they told her it's the only way she stays in the game. Aaryn didn't want to do that she went up and told Elissa the exact opposite
Gm – I can't believe I pulled my f*** back out.. i'm so old.. (GM hurt her back earlier in the day while wrestling JUDD)
Gm moans in pain..
Aaryn – Ask for the medic
GM leaves to go to the Diary room to get some Advil
5:21pm GM and Aaryn
GM – i'm sorry I let you down
Aaryn – don't be it's not your fault.. we had a good run we made it far
GM – this is only a stepping stone for you
Aaryn – Thanks
GM says she wants to start a modelling school or a dance school
GM says Amanda and McCrae are being slick now they tell her now they just don't have the votes to keep Aayrn.
Aaryn – "my last strategy was make myself a really big target.." Aaryn adds it didn't work.
GM – I would try to be friends with Amanda but I can't trust her.. I would rather be friends with Elissa
Aaryn says their original strategy was Aaryn, GM, Amanda McCrae and Andy final 5 with Aaryn, GM and Andy had a final 3.
Aaryn – "They feel that I'm a larger target up beside Andy.. "
Aaryn – "you have to play super dumb act like you don't know what is going on.. don't show your cards. "
Aaryn – "Even if you become really good friends with ELissa do not show her your cards because everything comes back to bite you"
Aaryn – "You and Andy can work together.. If I were you I would go to the end with Spencer , Andy and Elissa.. You're best bet is to team up with Elissa and JUDD"
Aaryn – "you have to get amanada and McCrea out really quickly or they will dominate.. it's going to be really hard to win against Amanda, McCrae and JUDD" Aaryn points out that Amanda and McCrae have run this game since the beginning there is no way they will not win the money in the end.
Aaryn – "if you win HOH you need to put up Amanda and MCcrae if the Veto is used put up Andy"
GM – "I'm thinking the same thing.. i'm worried about this double eviction thing coming up"
Aaryn – "don't worry about it.. just worry about getting rid of Amanda, McCrae and JUDD.. take ELissa and Specner to the final 3"
Aaryn – "This entire house is going to be in Jury if it's you and Elissa you have the votes.. everyone f*** hates Spencer no one will vote for him"
GM isn't sure that she will win against Elissa in the final 2.
Aaryn – everything you tell Amanda she will tell someone.
5:47pm indoor lockdown..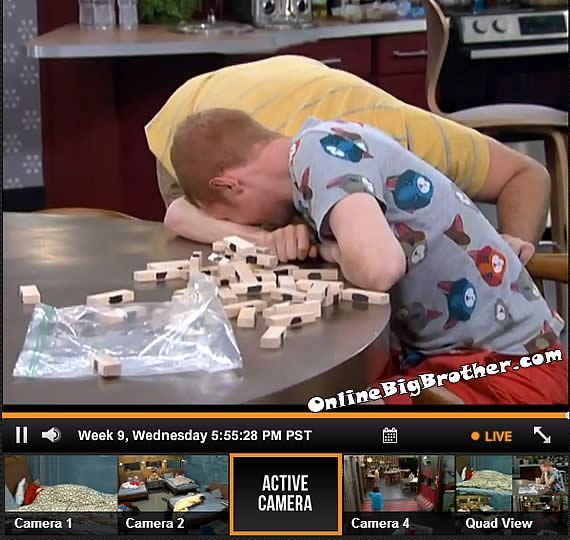 6:10pm Jenga Jenga je je je Jenga
6:20pm bedroom JUDD and Aaryn
Aaryn tell hims she knows she's going home and doesn't want there to be any hard feelings.
She wants them to be friends outside the house.
Aaryn – I don't want you to feel bad
JUDD tells her that Amanda and McCrae are voting to keep Andy
Aaryn – I know.. I'm not campaigning anymore.. I am accepting it i';m happy I made it this far.. I'm happy .. obviously it sucks.. I'm glad that I know that going into it knowing..
Feeds cut
Aaryn – tells him he came in at the perfect time… there are so many target JUDD is at the bottom of the list.
JUDD – "Amanda and McCrae are the only targets.. and me"
Aaryn shakes her head says Andy is the target to, "He voted Helen out and everyone knows he's… " Feeds cut
Aaryn – "It's going to be funny.. A lot f people said that what I've been saying this week has been lies,.. It's all going to be uncovered and what I've been telling people is true"
JUDD asks her if Spencer and McCrae are together. Aaryn says no not at all.
Aaryn – "he told me he didn't trust McCrae.. he might have been lying I don't know"
Aaryn tells him that Amanda, McCrae, Andy and her were in an alliance she took JUDD's spot. She doesn't think Amanda and McCrae feel safe right now.
JUDD tells her he was trying to work with Aaryn and Spencer before he left. He was talking to them both separately. Aaryn – "I made a mistake"
JUDD – I waited too long to make a move thought
Aaryn – you are in a really good spot
JUDD – I hope so
You can re-watch ever second on the feeds using the flashback feature.. It's just like a DVR and is super easy to use. click this link for a Free Trial —> Subscribe to the Big Brother Live Feeds
[polldaddy poll=7352641]