POV Holder:
Next POV
Sept 7th
POV Used
POV Ceremony
Sept 9th
HOH Winner:
Spencer
Next HOH:
Sept 5th
Original Nominations:
Current Nominations:
Last Evicted Houseguest
Aaryn, Amanda
Have Nots
12:20am Judd jokes to Andy that he is going to go claim his bed in the havenot room. He starts running to the back of the house and Andy chases him to try to claim a bed first. Judd claims the first air plane seat. In the havenot room – Andy says this and the cockpit were scheme central. Andy and Judd go into the rainbow room. Andy finds the election hat on his bed and wonders why it's there. He picks it up and finds a voodoo doll under it. It's a play dough stick man of Andy with it's eyes crossed out and a pin through its heart and a pen!s. Judd says I would take that to the diary room, that's a threat. Andy laughs and says this is a threat. They head to the kitchen. Spencer and Judd wonder who did it. They figure it was McCrae. Andy says it's really funny, I haven't laughed that hard in a while.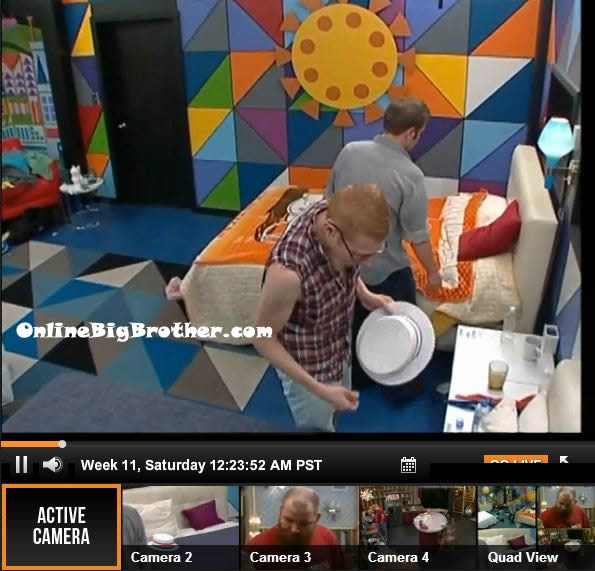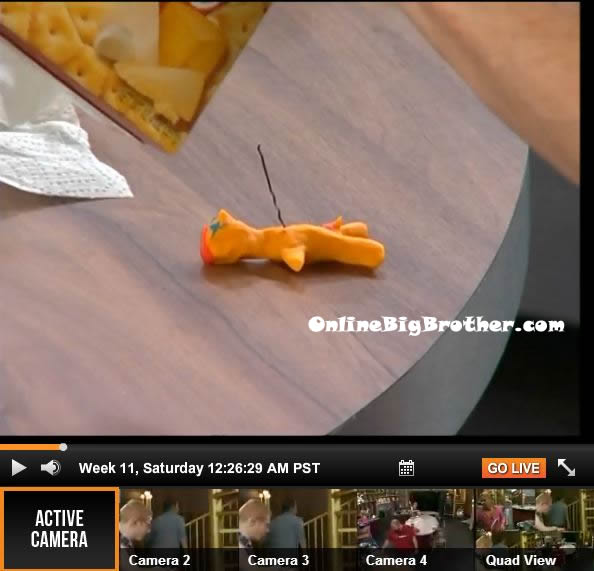 12:40am Judd talks to McCrae in the bedroom. Judd tells McCrae make sure Ginamarie don't win and then we're good. McCrae agrees. We will all need to bust a$$ to try and win and I am going to try and get off the block. Judd says yeah it's bad I don't want to go up but I know ya'll don't want to be up there either. Andy joins them. Judd says he was just reiterating how important it is for us to all bust a$$ and make sure GM doesn't win tomorrow. McCrae says I am going to bust a$$ and go a hard as I possibly can. Judd says yeah I am going to bed I want to be so f**king prepared and I want to stretch in the morning. Judd goes to bed. In the kitchen – Andy shows McCrae the play dough voodoo doll and sayd his thinks it was Judd. McCrae tells Andy I don't feel so safe until I win it. Andy says he feels fine with the guy thing for now. Andy says Spencer and I talked a ton to day about how he forgives me and sh*t.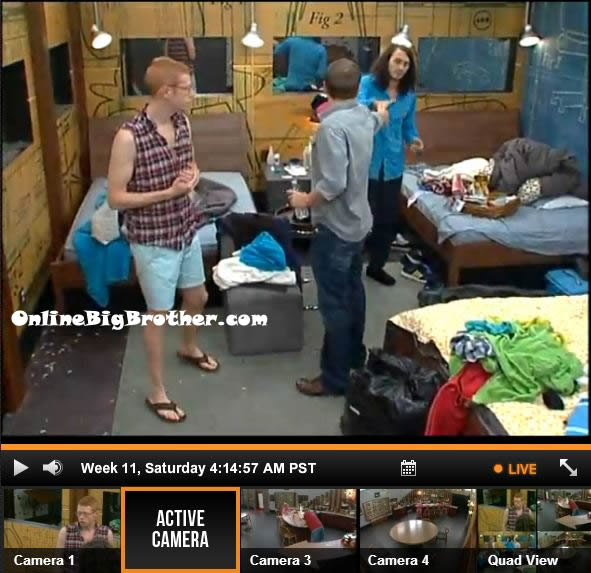 Big Brother 15 Live Feeds: FREE 2 DAY TRIAL
12:45am – 2:20am Up in the HOH room – Andy, Spencer and McCrae talk. Spencer reassures McCrae that he is sorry he had to put him up but that he is safe. Spencer says if Ginamarie win it tomorrow, then Judd will go up and he will go out. McCrae says yeah that's what I am trying to prep GM for just in case. So that it will be a 2 – 0 vote and then you won't even have to break the tie. Spencer says okay. McCrae says and I don't know how you guys feel about Judd or anything so.. Spencer says Judd is a cool dude but it has been us three for a long time. McCrae says yeah. Andy says that problem with Judd is, I feel like Judd would cut me in a second. McCrae and Spencer agree. Andy says I love Judd but when you're alone I don't get nervous but when Judd is talking alone with someone I get nervous. McCrae says yeah that's how we felt about him the first time. Spencer says its us four, this week Ginamarie goes and then next week Judd goes, then final three. McCrae agrees. Andy says even if you stay up there you've got a vote right here and then a tie breaker. McCrae says exactly. Andy says its okay and I don't give a sh*t about losing either one of them. Andy says we all have an even shot at winning. They talk about who will get what jury votes. They talk about the girls in the jury house voting for Ginamarie. They discuss how hard Ginamarie will go even though she has a hurt foot and back. They talk about the Amanda vote and how it was Elissa who voted out Amanda (Even though it was Andy). McCrae says he good riddance to bad rubbish (Elissa) that's all I've got to say. Spencer tells McCrae not to worry there is no situation that won't play out well for you. It's us in the final four. McCrae talks about how annoying Ginamarie is and how she keeps harping about Amanda. McCrae talks about how when he knew Amanda was going home he knew she was dragging him down with her antics. The more I thought about it if Amanda stayed it would have been bad for my game. I was so f**king worried that it would be so bad for my game. Andy says that none of us could beat Judd. Andy heads to bed. McCrae and Spencer talk about how they hope Elissa walks out of the jury. McCrae says I hope Amanda encourages it when Elissa realises that she has to vote for one of us. Spencer tells McCrae he is good. McCrae says I have to trust and I will go down with this ship. Spencer says when we get down to the final 3, let the best man win. McCrae agrees and heads to bed. He lays there and reads his letter and bible. After a while he goes to bed.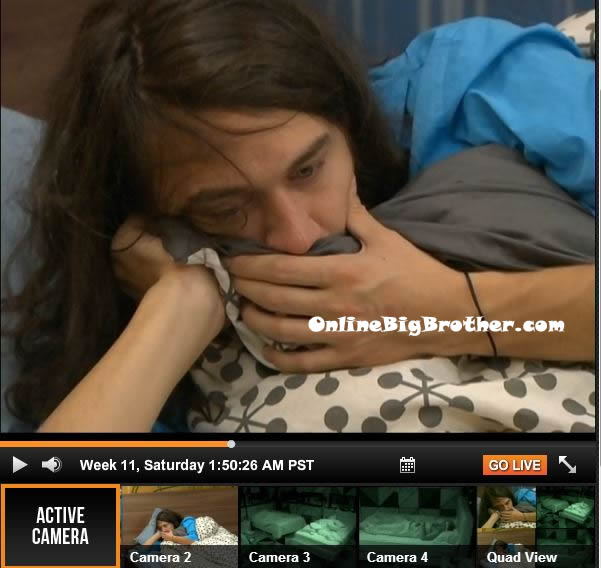 2:25am All the house guests are sleeping..
Please consider donating. Simon and I work 24/7 all season long to bring you all the live feed updates and spoilers. ANY amount is greatly appreciated. Your donations go directly to paying the server and bandwidth fees needed to run this site.
[polldaddy poll=7375044]
Use the Big Brother Live Feeds to FLASHBACK to SEE what they can't show you on TV:
BB15 N!p Sl!ps / N*des
Share it YO!!
Tweet