POV Holder:
Next POV
Sept 7th
POV Used
POV Ceremony
Sept 9th
HOH Winner:
Spencer
Next HOH:
Sept 12th
Original Nominations:
Gm and McCrae
Current Nominations:
Last Evicted Houseguest
Aaryn, Amanda, Elissa
Have Nots
8:52pm Everyone Kitchen
Drill sergeant yells out for JUDD to do 57 Lunges.
JUDD – "57!"
GM – "Go easy or you're going to vomit"
JUDD starts doing his lunges. Andy – 'JUDD's lunges are my favorite'
Drill sergeant – "hey JUDD I heard you like to party…"
Drill sergeant – "party Daugherty"
Drill sergeant – "Hey JUDD Uncle sam Just called and he doesn't want you"
GM – "Pay your taxes JUDD"
Drill sergeant says after he's done with JUDD he's going to lose that J-U-Double Chin
GM – "Drill sergeant is on a roll"
Drill sergeant "You better pick up the pace son what do you think this is Big Brother Canada"
JUDD finishes Drill sergeant "Well done soldier"
9:06pm kitchen Everyone
Andy – "JUDD do you wish your showmance JEssie"
Spencer – "When are they going to announce Have nots are over"
Andy thinks they can all just assume.
Spencer thinks in the past they told the house guests Have nots are over. You could always tell by the "Jubilation"
Spencer sings "Jubilation no frowning"
Andy -'It really is true that Elissa's eyes follow you wherever you look"
McCrae – "Dude I'm telling you she's a scooby doo bad guy"
Spencer – "100% dude"
MC – "Even the way that she acted.. not just that picture.. that picture seals the deal" (Memory wall picture)
MC – "She's a f*** groundskeeper for the Big Brother house that could never play the game because you f*** you can't play the game.. if you are affiliated with the game.. So she game in with a fake f*** weird mask.. A plastic filled mask that look really weird "
Andy – "A terrifying mask"
MC – " Ya"
Spencer- "Ya exactly"
9:27pm Everyone but McCrae
Andy – "You guys.. he cannot win the veto"
JUDD – "I know"
Spencer – "Hopefully it's something where your toe doesn't matter.. even if it does you gotta bust your a$$"
GM – "I just need to tape it up… thats why I wanted to rest today I had to walk around all day with him"
Spencer – "I'll tape it up good tomorrow.. so it's tight"
GM tells them McCrae thinks Spencer and Andy are working together and he was asking her if she has made any deals.
GM says she hasn't been feeling well today. Spencer suggests that JUDD and GM take their Advil tonight and tomorrow so they are not sore for the competition they have to win it.
JUDD asks them to remind him to take his allergy pill because if he doesn't the phlegm will build up and he won't be able to breath.
Gm tells them how much her foot has been hurting today. Spencer – "We're a rag tag bunch.. we gotta pull it together"
Andy asks GM why MC thinks him and Spencer are working together. (Right after Andy says this the door opens and McCrae walks out from the Diary Room)
After some chit chat McCrae and GM leave. Andy whispers to them he thinks MC heard him.
9:32pm HOH the boys of the exterminators
Andy – 'It's weird that he would tell Ginamarie he thinks we're working together when he knows we are "
Spence r- 'Ya"
A – you know
J – He's trying to get her
S – Thats all he's doing bro.. he's just trying to recruit and spread poison
JUDD says he'll let them know if McCrae approaches him after they get unchained. He doesn't plan on approaching McCrae he'll let McCrae approach him
JUDD – 'he don't seem too upset no that Amanda's gone.. seems kinda weird to me"
Spencer – "I don't expect to see him lay on his bed crying.. yo know what I mean"
Andy – 'He's chained to GM"
JUDD says MC was sad for 5 minutes then he was done.
They agree GM is talking mad sh!t about Amanda all day.
Andy says GM told them all Amanda has had all these c*cks then right away she tells MC no offense you're a cool guy.
Andy says Amanda started crying as soon as they all started laughing. Andy blames it on Spencer becuase he laughed first. They go over some of the more choice phrases that GM has uttered about Amanda since she's been evicted. "You're F** the Oscar myer wiener guy" Spencer says he couldn't hold it in he had to laugh.. He mentions how GM said to them she was building her masterpiece out of Jenga blocks while she fought with Amanda.
Andy – "As soon as you started laughing about that I couldn't handle it"
JUDD – "She was mostly mad at you" (andy)
JUDD – "What was she thinking stepping up to GM like that"
Spencer says Amanda met her match when she went against Ginamarie.
9:40pm Kitchen McCrae and GM
McCrae says there is a boys alliance that doesn't include him. MC points out that the boys are up in the HOH right now"They must be up to something"
GM just shrugs it off says someone will have to go.
Big Brother 15 N*de flashback times here
10:06pm HOH Everyone.
GM asks McCrae – "do you honestly think if you didn't win HOH that first week she would still be on your nuts"
MC says he's thought about that but she stuck with him when he really wasn't winning comps and wasn't the best game player so there must have been something there.
GM says him hooking up week one looked a little bad
MC knows it did
MC brings up that JUDD said it best when he said Jessie was using him but he was also using Jessie and it was going to be fun also.
Spencer thinks week one hooking up was a dangerous game plan because it could come back and bite you week 2.
MC – "I'm final 5 right now.. who did it work out for better"
GM – "Because you're a better person and she is a f***ing mutant.. nobody liked her"
JUDD – "everybody likes you"
Andy starts laughing says 'GM mCCrae really likes her… you can't say that.. you called her a mutant"
GM – 'sorry i'm just saying for future wise.. shut up stop laughing.. "
GM tells him to have a backup plan before he moves down to Florida. She points out that their lives in the house are very different than their lives outside. Who knows what people are into outside. "You don't know her friends, you don't know her family, you don't know her work schedule.
GM – 'Make sure you got backup kid.. it could slap you in the face"
Spencer- 'Backup is important'
Spencer says he was with Jessica and she left him when he was in rehab.. "It was tough dude"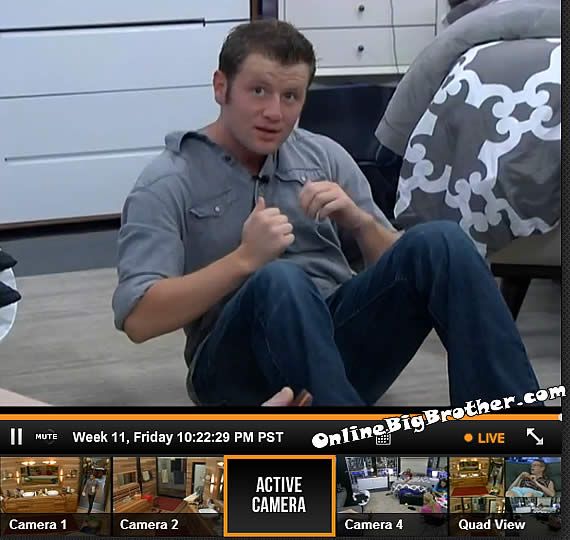 10:22pm HOH EVERYONE
Sit ups slime ball
10:37pm HOH Everyone
McCrae says GM is the Keisha of their season.
McCrae – "Jessie is the Stephen of this season.. because she's going to do porn"
GM tells them the one thing they are not supposed to do after this is p*rno
McCrae says he'll do one.
GM thinks McCrae and Amanda already have some on the internets.
GM says that Amanda told her she was going to f*** mcCrae in her bed all night. GM – "I said OK you nasty b!tch i'm going to turn the lights on and pull the f** covers off"
GM – "And it was revealed that Amanda had a d!@ck
Andy – "Oh my god Ginamarie"
McCrae – I know she didn't have a pen!s"
JUDD – 'how you know.. did you have s$x with her"
McCrae – "no.. we showered.. she showed me"
JUDD – "She showed you where she p$$d from"
GM – "Ehhhh JUDD thats disgusting"
JUDD – "That's what he told me one night.. he said Amanda touch me where I p$$ from.. it was the second day before the photo shoot"
MC – "I never said that.. no way"
JUDD – "I'm just kidding"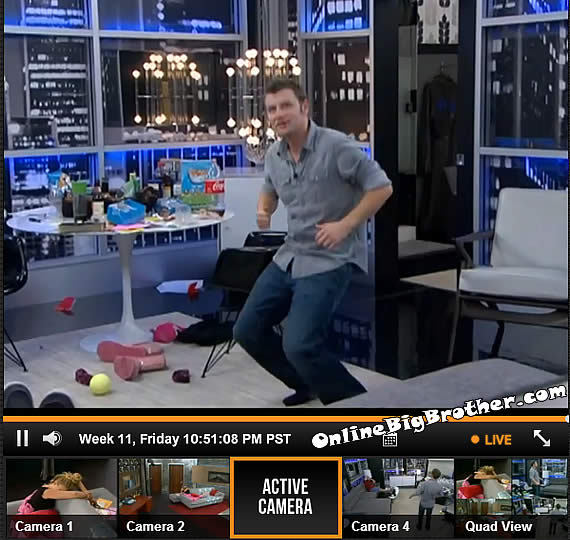 10:52pm HOH Everyone but GM and MC
Drill sergeant "give me 24 squats butt head"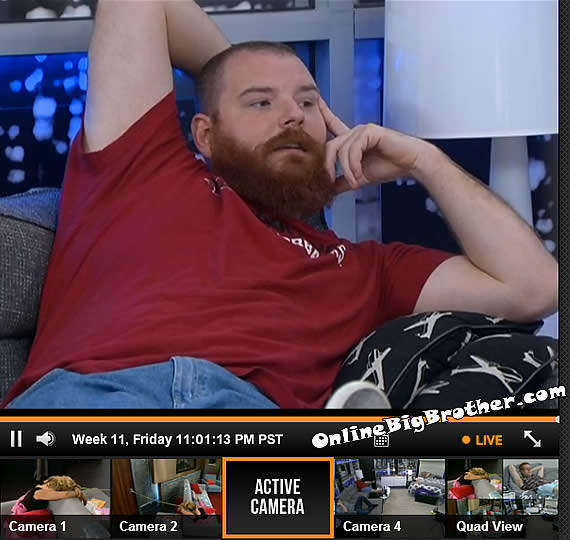 11:02pm HOH the boys of the exterminators
Spencer instructs Andy on how to count 10 minutes in his head (For competitions.. don't know why) . Spencer – "Count to 600 6 times and don't lose count"
Spencer says if he can't keep count he bites the skin on his fingers.
Spencer thinks it's kinda weird but it will work.
Spencer wants Andy and himself to chat with McCrae at midnight when they get unchained. They want McCrae to knnow that JUDD is the low man on the totem pole and if GM goes down JUDD will go up.
Spencer adds that McCrae will ask them what happens if GM comes down and the answer Spencer will give is JUDD, "It's total bullsh!t"
Andy – "Oh my god ELissa was the most obvious person ever"
Spencer – "she's was such a ding bat"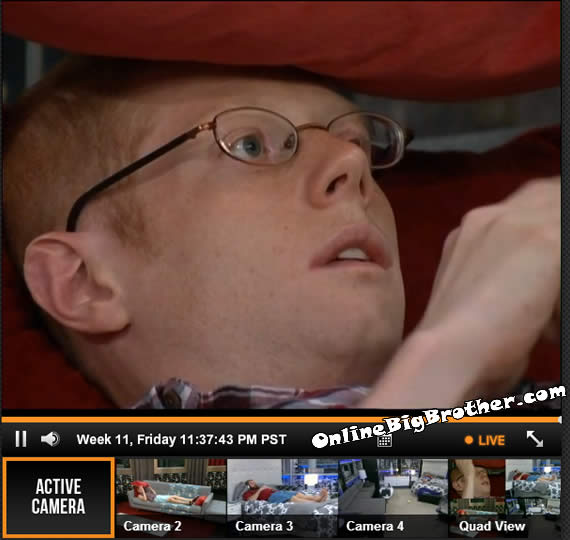 11:39pm Thinking up lies waiting for GM and McCrae to be unchained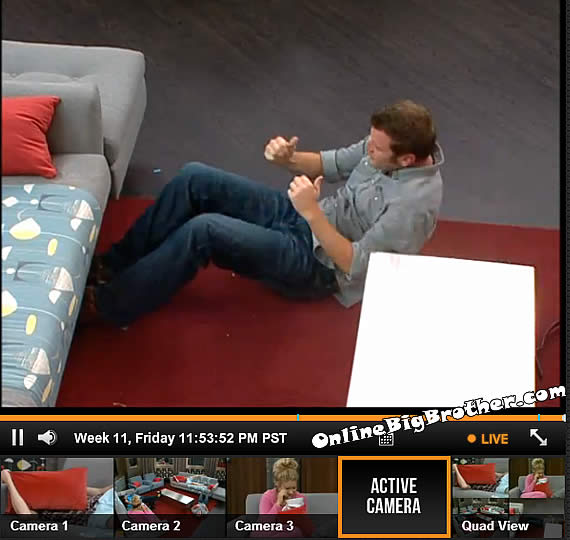 11:55pm
Drill sergeant tells him 75 sit ups, "I feel like i'm on the biggest loser" -JUDD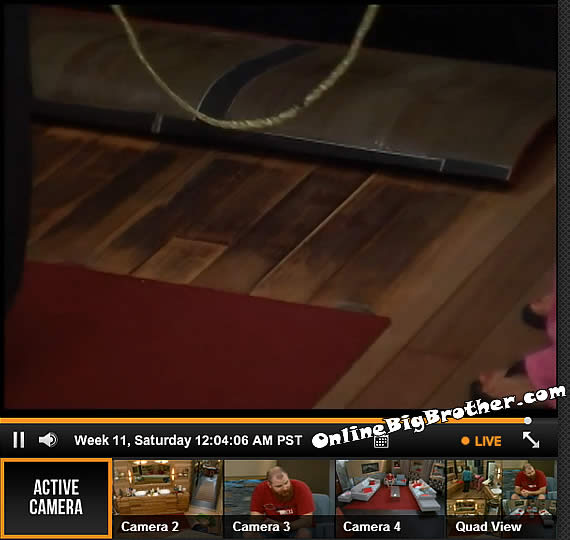 12:03 GM shows McCrae all the mildew in the bathroom. She blames it on Aaryn who she says took 45 minute showers which ended up flooding everything.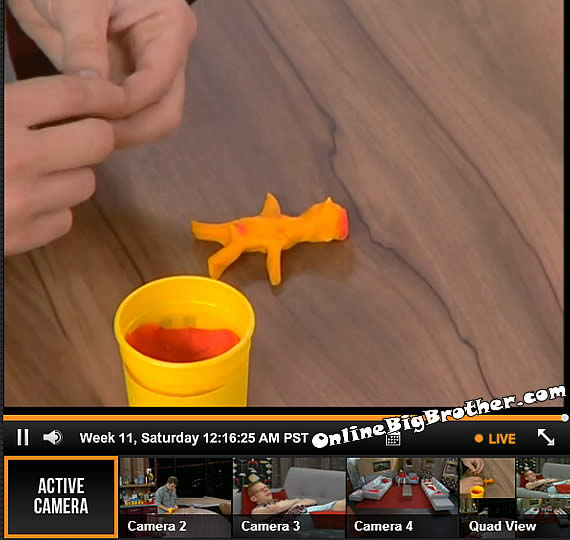 12:16am JUDD doing some play dough modelling
If you liked the spoilers this season help us out by leaving a bit of a donation
[polldaddy poll=7375044]
Share it YO!!
Tweet