POV Holder:
McCrae
Next POV
?
POV Used
YES
POV Ceremony
Sept 9th
HOH Winner:
Spencer
Next HOH:
Sept 11th*
Original Nominations:
Gm and McCrae
Current Nominations:
JUDD and GM
Last Evicted Houseguest
Aaryn, Amanda, Elissa
Have Nots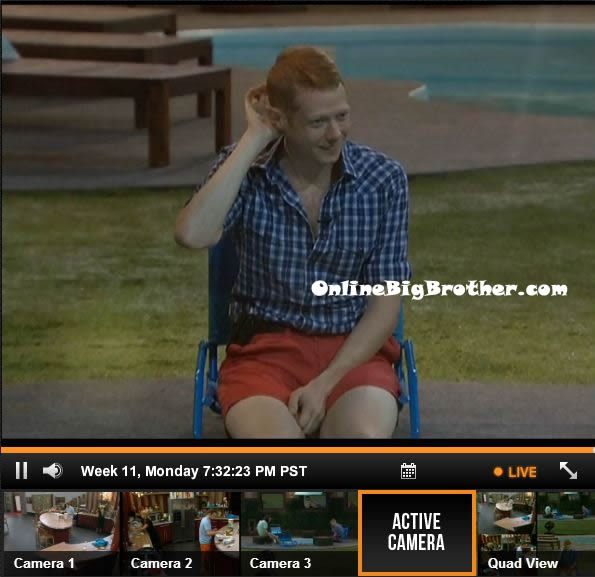 7:30pm Andy and McCrae are sitting out by the hot tub. Andy asks if McCrae is okay? McCrae says he is just super nervous. I just feel like I need to win that HOH tomorrow or I am going home. Andy asks why, I wont send you home. McCrae says yeah but if you win HOH and Gina wins veto then I'm going home. Andy asks who do you miss most other than Amanda? McCrae says the old Judd. Andy says he misses Helen. McCrae says yeah me too, although I didn't talk to her much. Andy says other than Helen, you four will be the people that I will keep in contact with the most. Hopefully people will be forgiving. McCrae says he thinks people will. Andy says hopefully Elissa doesn't poison me with my true love Ragan Fox. That ship might have sailed. McCrae says he thinks he knows better than to listen to them. McCrae tells Andy if I don't win HOH, it's going to be a real tough battle for the veto. Andy tests McCrae on his knowledge of the days things happened in the house. McCrae has no idea and says he needs to go over things tonight in his head.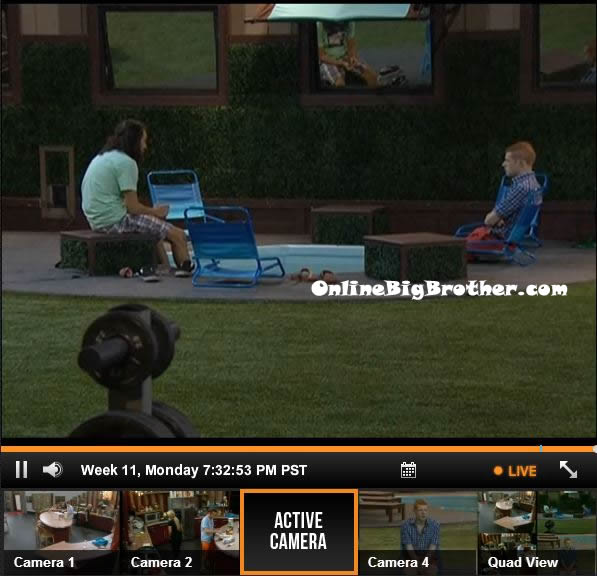 7:45pm – 7:50pm Spencer and McCrae are alone sitting around the hot tub talking about Judd's speech during the veto ceremony. McCrae says he doesn't know where it came from. Spencer says that might have worked earlier in the game but not now. I almost started to think that you and him had a deal and that was to throw us off. McCrae says oh na. McCrae says I am just so worried about this HOH coming up. Judd joins them and the conversation ends.
Big Brother 15 Live Feeds: FREE 2 DAY TRIAL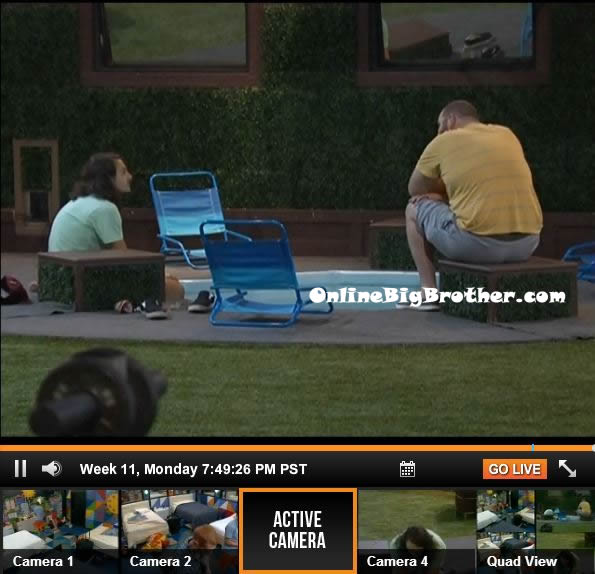 8pm Judd and McCrae are alone in the backyard. Judd pleads to McCrae to vote for him. Judd asks has anyone said anything? McCrae says no. Judd says vote for me to stay! McCrae says yeah. Judd asks promise me, shake my hand. McCrae says they are basically telling me how to vote and I don't want to be left out in the cold and all. I don't want them to be pissed off at me next week. Judd says it's not, they won't be. It's the final four, it won't matter what they think next week because the veto and HOH is all that matters. McCrae says the problem is though ..is that I don't think I am going to win either of those. Like I don't have any chance at either of those. Judd says yeah you do. McCrae says I don't my days at all, I don't know any days. Judd says just do it by 7's, just subtract or add. Come on dude, if you do and Andy doesn't then Spencer has to break the tie. McCrae says yeah. Judd says but chances are if you don't win veto or HOH .. McCrae says that's the thing I am probably just going to get voted out. Judd says yeah so why not have me so that I can keep you. But don't tell anyone because then they will vote me out. McCrae says yeah. Judd says don't let me to have done that earlier (His speech during the veto ceremony) because that would make me look like such a douche. McCrae says yeah. Judd says just don't let me to have done that for nothing. Judd asks did they say anything about it. McCrae says Spencer thought we might have had a deal to throw them off. Judd says na I told you yesterday. Judd says just do it if you are the only one so that you break the tie. Judd asks what did you say when they said that? McCrae says I just said na, na. Judd heads inside.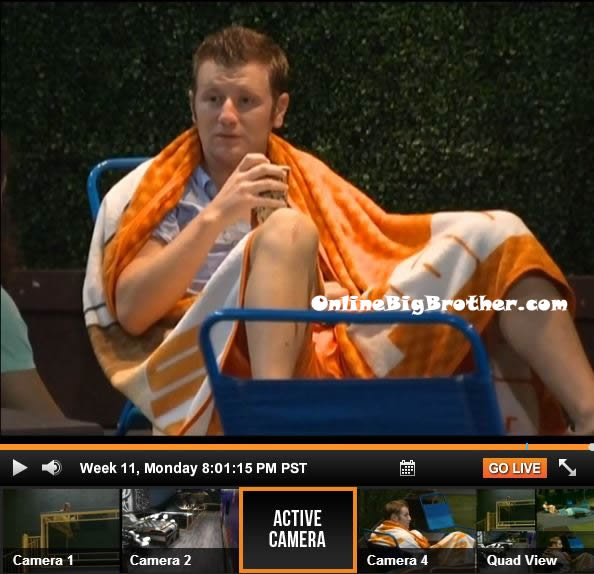 Big Brother 15 Live Feeds: FREE 2 DAY TRIAL
8:15pm – 8:30pm Up in the HOH room – Judd talks to Spencer. Judd tells Spencer that he's nervous. He asks Spencer if he is going to tell Ginamarie she's going home? Spencer says I'm not supposed to say anything. Judd asks Spencer what percentage chance is it that I will go home? Spencer says zero! Spencer says that he thinks it's good that the eviction is happening sooner because its less time for him to stress. Judd says he can't believe Ginamarie hasn't asked if she's going home. Spencer says he thinks its because she feels pretty good that she has McCrae's vote. They talk about how well Andy will do in the question competition. Judd tells Spencer to "keep my a$$!" Judd asks Spencer if there is anything that he can do to distract McCrae from winning HOH this week. Spencer says they kind of prevent you from doing stuff like that. Spencer says McCrae just can't make it to the final two. Judd says oh hell no. Spencer says if I am in the Jury and you are in the final two with him, I will vote for you. The exterminators in the jury should all vote for the remaining Exterminator if that person is up against McCrae. Judd says yeah. Spencer tells Judd that Ginamarie is going to be hard to beat in the final two. Judd asks what? Wait she's going home!? Spencer says no ah yeah, that's what I mean, that's why we need her gone. Judd says I am trusting ya'll that I am good and that I am not going home. I think. Spencer says yeah your good and Andy says he is voting to keep you. Judd and Spencer head downstairs.
Judd heads out to the backyard and tells Andy that he is freaking out. Judd says it's annoying I know for someone to keep asking you the same thing but I just have to and I will again tomorrow. Judd starts to explain how he is stressed about going home and how this HOH is the most important one. I want you or I to win it. McCrae joins them and the conversation ends.
8:35pm – 9pm Ginamarie calls all the guys in for dinner. Judd tells Ginamarie that the way she feels about Candice is the same way I feel about Elissa. They sit down to eat. McCrae finishes eating and heads up to the hOH room to listen to Spencer CD.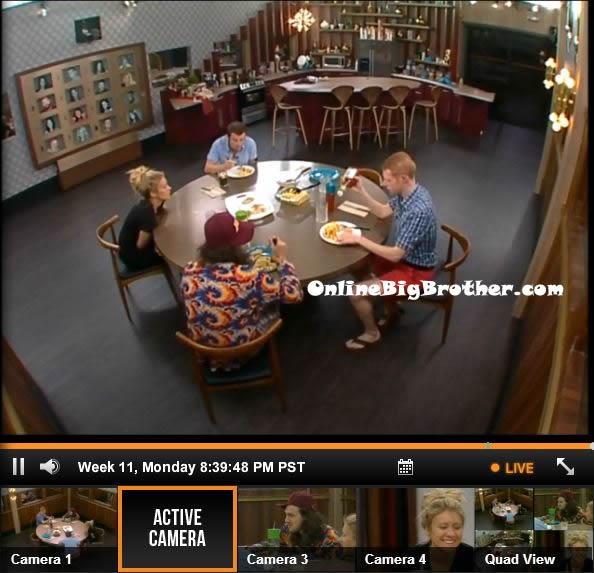 9pm – 9:15pm Judd asks Spencer and Andy aren't you guys nervous about the 18th? Spencer says no, I'm pumped! Andy says he is too. Judd says oh my god I don't want Helen to find out I kissed Aayrn. Spencer says fuck Helen! Spencer says what pissed me off so much about Helen was when she told me how sloppy my game was. She told me to get it together or I wasn't going to last long. Judd asks who the hell was she to say that? Andy says Helen had very bad HOHitis. Spencer talks about when Candice took him to Candi-land. He says if I had a gun I probably would have shot her! All four cameras switch to McCrae listening to music in the HOH room.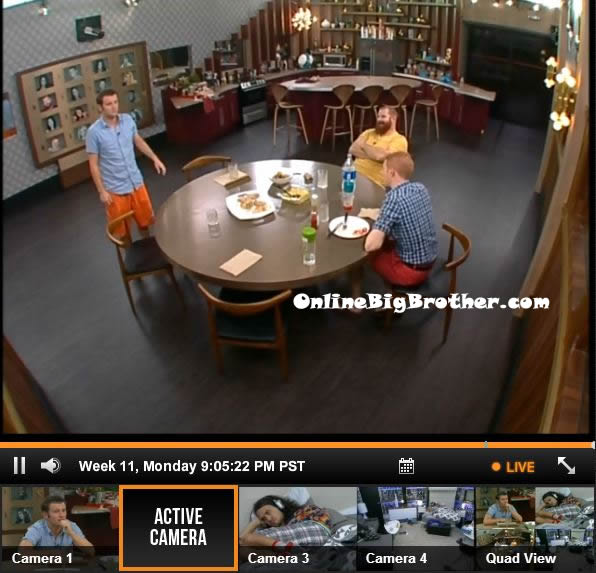 9:31pm HOH Everyone
JUDD telling them when he gets out he's going to smoke the E-cigarettes and stop smoking the regular cigarettes. Spencer says Marilyn smokes E-cigarettes.
JUDD says the instant eviciton Canada had was complete buillshit. GM has had enough of the Origami she throws her paper. Says they give you 13 steps to make a pterodactyl (See Image).
GM tries to make the on more Ogrami. She ends ups making a cicada.
JUDD would ever have thought it was going to be use that first night. Spencer says no it's impossible to predict who would make it.
Movie chat….
Spencer wants to tell them a joke about what len bias and Rock hudson have in common. He explains who len bias is. There was this young basketball player that was going to be playing for the boston celtics 2nd overall draft pick for the 1986 NBA season. ONe night he smoked crack and died. "He's kinda like the story all coaches tell their players.. don't go out and be f*****g stupid because it could happen to you."
Spencer "What does rock hudson and len bias have in common.. they both got a hold of some back crack"
Spencer – "You got to OK it or I'll get trashed"
Andy – "It's OK"
10:18pm Spencer moving around his junk
10:24pm They get Alcohol. Spencer says considering what is going on tomorrow it's a miracle they are getting alcohol
10:30pm backyard everyone (Prior to everyone meeting in the backyard Spencer and JUDD were talking. JUDD is worried that CBS will edit him as a douche because he fought with McCrae today. JUDD adds that a lot of people seem to like McCrae. Spencer tells him not to worry)
Talking about the day when Elissa was looking for a fight and started something with the competition balls. (It was the McCrae and Elissa got in a fight)
10:53pm the four guys in the back yard JUDD thinks it's funny how people think they are going to be famous after this show. JUDD points out almost everyone goes back to living a normal life.
McCrae tells them that he straight walked out of the shower. He wants to ask the DR if that was shown on the feeds. MC goes on to explain to them what the feeds are like with the 4 camera views. He adds that when they get down to just a few people there's a good chance the camera will be on you.
JUDD leaves
Andy – "Oh my god we can do this guys.. all that stands in our way is GM"
They all agree GM will win against them in the final 2.
Spencer says all GM has to say is she was the only one that had the b@lls to put Amanda and McCrae up and Amanda walked.
MC – "Yup .. Yup.. Yup.. yup"
11:15pm Backyard (Sounds like the players know that this week is different)
MC says that it's amazing how low his tolerance is with alcohol. Spencer asks MC for a smoke. MC says he's not as stressed about his supply now that he knows it's over on the 18th.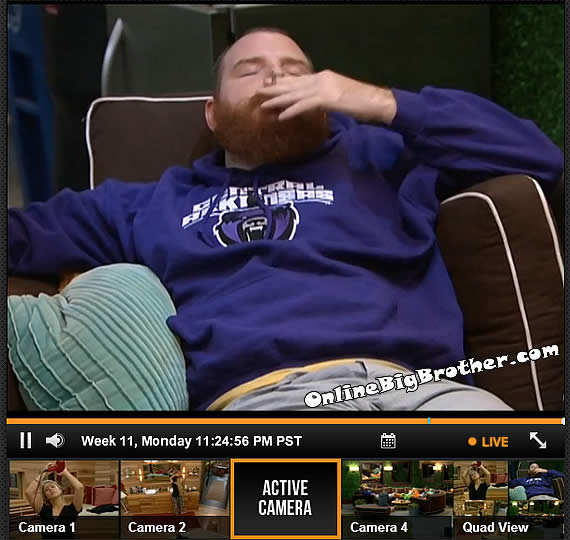 11:25pm backyard the guys They tell JUDD that he is endearing. JUDD thinks he's mean. McCrae mentions all of the times when JUDD lost his temper were off feed cameras.
Andy – "JUDD you are going to be extremely likable"
Spencer hope that he's shown as funny because he thinks f himself as a funny guy.
JUDD wonders why he cannot get a pack of cigarettes but they gave Kaysar a hookah. They wonder about Jessie and how she was portrayed. Spencer thinks because she was hot she's shown but not much in the diary room. McCrae thinks the first little bit Jessie was probably not shown much.
11:35pm Backyard JUDD and MC
JUDD apologizes for what he said today during the veto ceremony. MC tells him not to he knew exactly what JUDD was doing. MC mentions he even said it in the diary room he knew what JUDD was doing. JDUD thinks he's going to be shown as a fool now. MC doesn't think so.
11:41pm Backyard JUDD is quizzing Andy about the dates. Andy knows them and can recall them very quickly
11:46pm Spencer tells them he thinks the new HOH is Tuesday through Saturday.
After some thought Spencer corrects it he says Thursday will also be an eviction. He figures tomorrow will be eviction and HOH. This will air on Wednesday's show. Wednesday will be nominations and the POV competition/ceremony. Thursday will be eviction and the first part of the finale HOH.
(We're almost done)
Please consider donating. Simon and I work 24/7 all season long to bring you all the live feed updates and spoilers. ANY amount is greatly appreciated! Your donations go directly to paying the server and bandwidth fees required to run this site.
[polldaddy poll=7375044]
Use the Big Brother Live Feeds to FLASHBACK to SEE what they can't show you on TV:
BB15 N!p Sl!ps / N*des