POV Holder:
McCrae
Next POV
?
POV Used
YES
POV Ceremony
Sept 9th
HOH Winner:
Spencer
Next HOH:
Sept 11th*
Original Nominations:
Gm and McCrae
Current Nominations:
JUDD and GM
Last Evicted Houseguest
Aaryn, Amanda, Elissa
Have Nots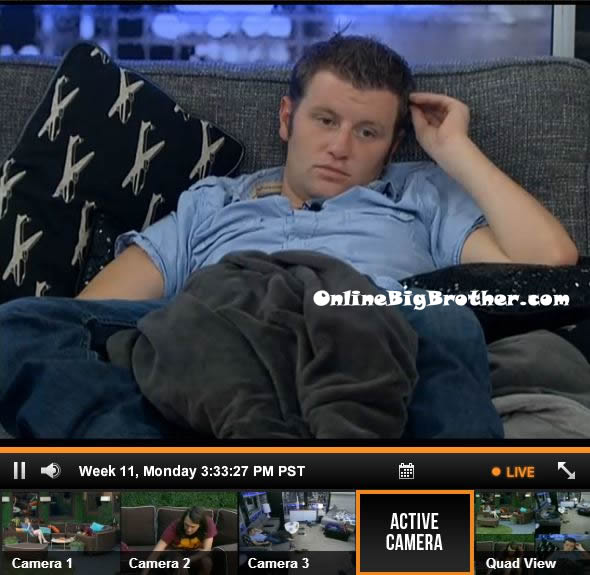 3:30pm Up in the HOH room – Judd asks Ginamarie do you know if its me or you? Gina says I don't know dude because I am not putting anybody on the spot. I just asked if they would let me know so that I can put a dress on if I am going out. Although with my scar I will probably just wear pants. Gina comments how she has been looking at the fish food to figure out the finale is on the 18th because that's when it runs out. Gina says tomorrow there's an eviction and then probably an HOH right after that. So basically there is only one more week.
Big Brother 15 Live Feeds: FREE 2 DAY TRIAL
3:35pm – 4pm Out in the backyard – Andy and McCrae are talking. McCrae says that Judd told him if he was in the jury he would vote for Spencer to win because of what he's gone through. McCrae comments that it is pretty amazing that Spencer has survived so many times on the block. Judd joins them and tells McCrae that he is sorry. I could have handled that differently. McCrae says it's okay it just took him off guard. They discuss the HOH competition being a simple set up one like the step up / step down one since they are still allowed outside. Judd asks do you think we will get alcohol tonight. Andy says I don't know, they said they were getting us up really early tomorrow. Spencer joins them and they talk about movies. Judd jokes that the brenchel army is coming out with a movie soon – Zombie Army, just kidding.. Andy says Brenchel Army do not vote for me! I only want clear minded individuals voting for me for America's favorite! Spencer says f**k the brenchel army – I hope they all commit mass suicide. McCrae heads inside. Judd asks Andy so is McCrae voting me out? Andy says yes! Judd asks really? Andy says yes, what did you expect. McCrae said what you did made it real easy. Judd asks but you're not? Andy says no. Judd says okay good. Judd tells Spencer that he apologized to McCrae already. Andy heads inside. Judd tells Spencer he is going to be the tie breaker. Spencer tells Judd he is good. They fist bump. Judd gets called to the diary room. Andy says if Ginamarie walks out here I am going to lose my shit because I can not get a minute alone with you! Andy says I love Judd to death but I think we really need to get rid of him because if we don't McCrae will be like what the f**k. Spencer agrees. Ginamarie joins them. (lol)
4:10pm – 4:30pm Spencer and Judd are alone on the backyard couches. Judd asks what is Ginamarie saying? Spencer says she's just doing sweet stuff like cooking and cleaning. I think she is just talking to Andy and McCrae because she knows I can't vote. Judd says but you can vote, you'll break a tie. Spencer says yeah but you know what I mean. Judd comments that McCrae making it to the final three, he would win the comps especially that endurance one where they throw you against a wall. I feel like they always do that one. Judd asks do you think we will have an HOH tomorrow? Spencer says yeah maybe not right after but.. Judd says Ginamarie deserves a live audience though (Being evicted). Spencer says he still thinks it will have an audience just not live. Judd asks do you think Ginamarie has offended a lot of people? Spencer says yeah probably. Judd says she doesn't mean it though. When she says stuff some times I am like oh god! Andy joins them and is upset. He comments how he was doing his goodbye messages and its hard because its come down to two people he cares about. They discuss the upcoming HOH. Spencer says I am going to be in a knot not being able to play it. Ginamarie brings them sandwiches.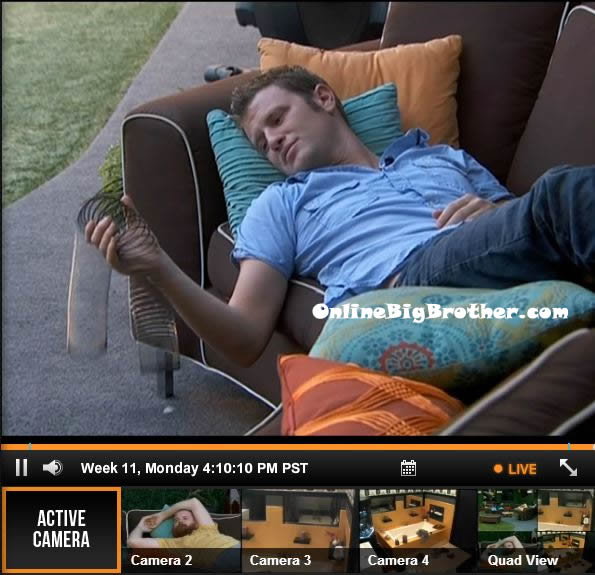 4:40pm – 5pm Spencer says it's funny how Ginamarie doesn't realize the things she says are slurs or racist. Judd and Andy agree. Andy laughs at how Ginamarie said she was going to make her play dough Helen figure yellow. Andy and Spencer head inside. McCrae comes outside. Judd asks we good, we good, we good??? McCrae says yeah. Judd says they (Andy and Spencer) said they are voting to keep me. Judd says I am going to avoid you for the rest of the night, okay? No offense. McCrae says yeah. Judd heads inside. Spencer and Andy come outside to join McCrae. Spencer laughs and asks can I ask you how you are voting? McCrae laughs and says yeah it makes it a lot easier (To vote out Judd). Gina joins them. Andy says these are the four people that I could not be more happy to be here with. Judd heads inside to take a nap. The other discuss past events of the house and laugh at how Andy didn't win much money in his reward. Gina says she wanted him to win the whole thing and says she wanted one of the pigs.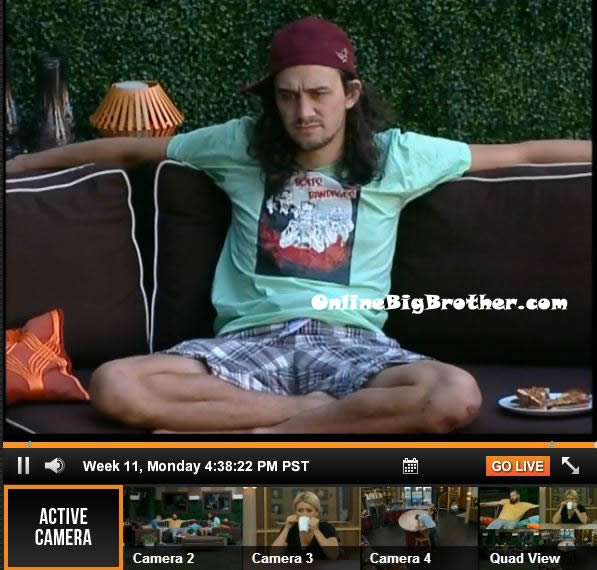 Out in the backyard – Ginamarie and McCrae talk about Elissa being crazy most of the time and how some time they were also able to have good conversations with her. Ginamarie brings up Judd's outburst / fight with McCrae during the veto ceremony. She comments on how shocked she was because normally no one talks or says anything during it.
5:20pm – 5:40pm Up in the HOH room – Andy and Spencer discuss voting out Judd. Spencer asks Andy if he talked to McCrae. Andy says yeah he is voting out Judd. Andy says essentially you can keep your hands clean because I will be the one to vote him out. Yet another bitter Jury member that I am sending out. Andy says I can tell Judd that I have been with Ginamarie longer because I cant tell him its because I don't trust him as much. Andy says why did McCrae have to win that veto. Spencer says let me be honest with you. There is a part of me that worries about how you say that you trust Ginamarie more because if it comes down to a final 3 decision. I worry about you taking her over me. Andy tells Spencer I have told you everything about Ginamarie and I. Spencer says if it came down to it and I had to make the decision I would pick you. Andy says I would too. I have not made a final two with Ginamarie at all, I will shake your hand right now. Spencer says yeah I just don't want to send Judd home and then you take Ginamarie to the end. Andy says I won't do that. Andy says ugh I don't want to tell Judd but I know I have to out of respect to him. I hate that I have to keep lying to him. Spencer says I know it's going to be hard to do bro. Andy says I just need to man up and do it. Spencer says do it tomorrow. Andy says I hate that I have to choose. Spencer says I don't want you to think that I am questioning you, because I trust you. I know you can beat me in the end. Andy says I just don't want McCrae to make it to the final 3. Andy asks Spencer if he wants to be there when he tell Judd. Spencer says I don't want to be there but feel like that would be the pu$$y thing to do. Andy and Spencer discuss how Judd's speech during the Veto ceremony was a mistake. Spencer asks what are the pros to keeping Judd. Andy says he would go after McCrae but then so will Gina. I just think that Judd would weasel his way to getting McCrae to keep him next week.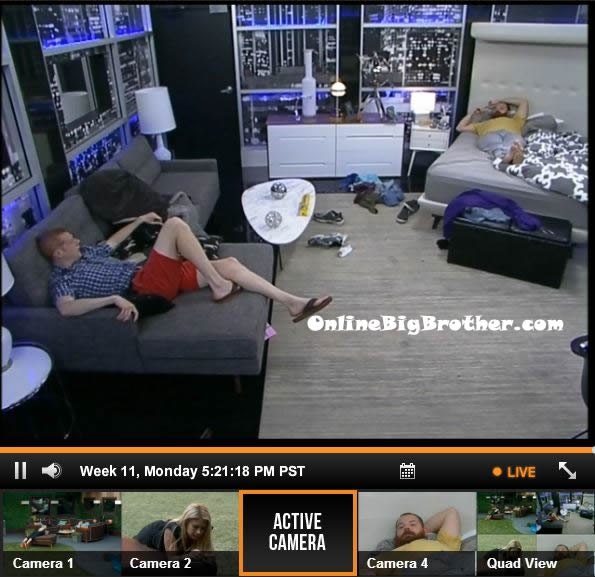 5:40pm – 6pm Spencer tells Andy if I can't win the half million, I want you to win it. McCrae has put me in harm's way so many times and Ginamarie hasn't really done anything for me. Spencer says we almost talked McCrae into using the veto on Ginamarie but it was a fine line of showing our cards and pressuring him. Andy says oh my god day 77 happened so perfectly – F**K YOU ELISSA! Spencer comments how Ginamarie has been kissing my on the cheeks a lot lately. Andy says I wish I could have kissed Nick on the lips. Spencer says you know what's weird is that the blue hat didn't make an appearance during the veto ceremony today. They talk about Judd. Andy says 90% of the time he is nice and 10% of the time he is an irritable di*k. Andy says I will tell just pretty close to the vote like a couple hours before. Spencer says or during the first commercial break. Andy says yeah I will probably do it then to minimize his reaction as much as possible. Andy heads downstairs.
Big Brother 15 Live Feeds FREE TRIAL: FLASHBACK FEATURE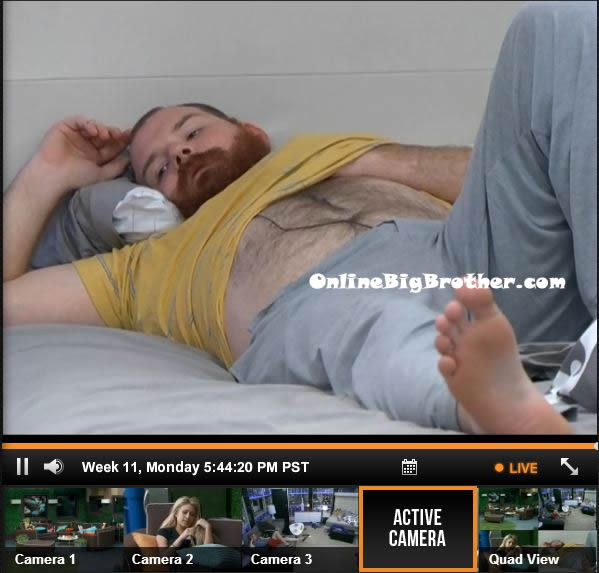 6:10pm – 6:30pm Andy heads outside and talks to McCrae. McCrae says I am just worried about tomorrow. Andy says about what, oh about the HOH. Andy says I am going to tell him tomorrow. McCrae says I would like to be there too. Andy says I would rather do it alone because I will tell him that I've had a deal with Ginamarie since the beginning. McCrae says he will talk to him after. Andy says we can beat Ginamarie. Andy says we are both on the same page .. we are both going for Judd tomorrow because I don't want Spencer to break the tie. McCrae says yes 100%. Andy says Judd was tearing up today and telling me I was one of his best friends. Gina joins them. McCrae says that was crazy this morning Judd's speech. Andy says Judd's voice was cracking and his hand was shaking. McCrae says I am nostalgic about being here. I am going to miss it. Andy asks what if we got out and found out it was the lowest rated and most hated season. McCrae says I wouldn't care I will watch it and love it. Andy agrees. They agree it's been an honor to be here. Andy and McCrae discuss how Judd is a nice guy.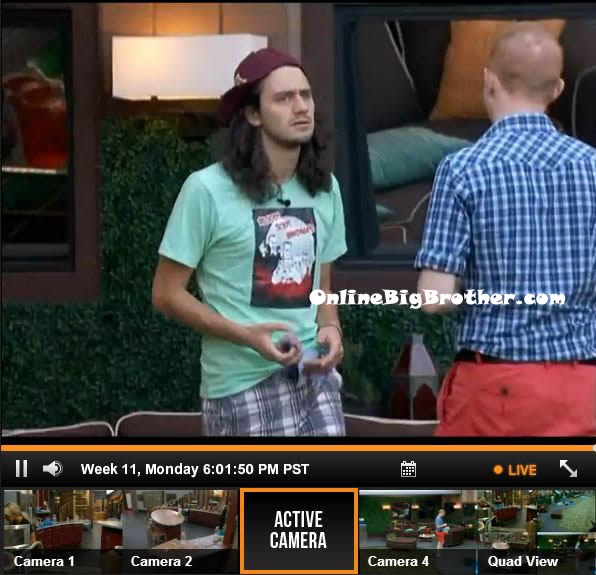 6:40pm – 7:15pm Andy and McCrae continue talking. McCrae comments that he missed Amanda for about a day and then was excited to see his position in the game. Andy, Judd, Ginamarie and McCrae are out on the backyard couch talking about random things. Andy heads inside. Judd heads inside. Gina asks McCrae if Judd apologized to him? McCrae says he just said it was just game and that we would be friends outside of here. Andy, Spencer and Judd come back out to join them. Spencer proposes that they make a big dinner together tonight. The others agree.
7:30pm McCrae heads inside. Judd talks about wanting to ask McCrae for a cigarette but is scared to ask. Judd says I was going to get Andy to ask for me but that's stupid. McCrae comes back out and after a couple minutes Judd asks him if he can bum a cigarette off him. McCrae says yeah sure. Judd says you sure you don't care. McCrae says no and gives him one. Andy asks McCrae can I have a few so that I can smoke in front of Judd when he doesn't have any more. Andy laughs.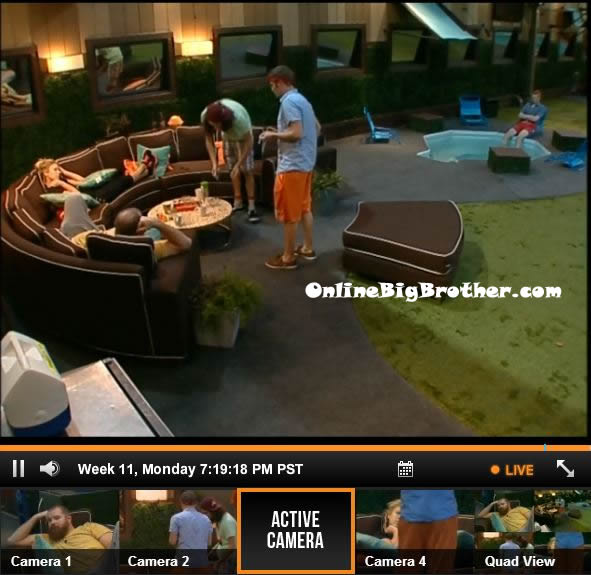 Please consider donating. Simon and I work 24/7 all season long to bring you all the live feed updates and spoilers. ANY amount is greatly appreciated! Your donations go directly to paying the server and bandwidth fees required to run this site.
[polldaddy poll=7375044]
Use the Big Brother Live Feeds to FLASHBACK to SEE what they can't show you on TV:
BB15 N!p Sl!ps / N*des
Share it YO!!
Tweet