POV Holder:
McCrae
Next POV
Sept 11th
POV Used
YES
POV Ceremony
Sept 11th
HOH Winner:
Spencer
Next HOH:
Sept 10th
Original Nominations:
Gm and McCrae
Current Nominations:
JUDD and GM
Last Evicted Houseguest
Aaryn, Amanda, Elissa
Have Nots
12:05AM Backyard Everyone
Spencer – "Can you believe it 8 more days in the f*** house" GM asks him if the last day is next Wednesday. Spencer – "I know it is.. I know it is for a fact" They all decide to head inside for a little bit.
12:15am HOH GM and Spencer
GM – "I'm getting kinda tired… I never took a nap" GM adds that after Spencer was called into the HOH room today she wasn't able to nap.
Spencer says that the will need to sit JUDD down and tell him they are sorry. Andy charges in, asks them what they are talking about.
Spencer – "J U DOuble D"
Andy – "what about it"
Spencer – 'here he comes.. Just because basically the exterminators…" Feeds cut
JUDD has now joined them. Spencer asks them all for their favorite memory from being on the show thus far, "I want to hear a good one and a bad one.
JUDD
fav – "day 77" (The day they got Amanda and Elissa out)
least favorite was day two when he was sick all day he feel she was missing out on getting to know everyone/
Andy
Fav – "Day 77" (The day they got Amanda and Elissa out)
Least favorite was Aaryn winning HOH on day 13 and me being so close
Spencer Winning that HOH day 77
Least favorite was day 37 the day he won the veto. the first half was one of the worst the second half was one of the best. THat is because Amanda went up that morning as MVP and they thought Spencer had done it. "This is when they went on their witch hunt over who was MVP.. They pulled me in the storage room and MCCrae was like if you don't win this veto you are going home… he said 100% I'll make sure you are going home"
JUDD – "Who did he think he is"
GM – "WOW.."
GM – "My worst was the day Nick left day 21 and my best was 77 and 42" (42 was her first HOH win)
Spencer adds One more of my worst was the day Jeremy told about the moving company adn was trying to make deals.
Andy tells him early on in the year another worst moment was when Aaryn caught him in the storage room talking to Elissa . Later Kaitlin told him he is probably going home soon because of that. GM adds that she was the only one out of the girls that never threatened people.
Andy says ELissa would always do that to him in front of everyone, "Andy I want to talk to you in the storage room"
JUDD – "One of my other worst was when he won the veto the other day"
Spencer – "My heart sank"
JUDD – "I was the lowest of lows"
JUDD – "i'm so nervous going home home.. doesn't it make you nervous not knowing what to expect"
JUDD gets called into the diary room
GM – "If there is a HOH tomorrow I'm going to kick a$$ in it"
Andy – "same"
Spencer- "I need it I can't play HOH it's all up to you guys"
GM – He cannot be that much on a roll (MC
Spencer – "He's one 2 HOH's and a veto"
Andy – "I'm so mad he won that veto I hate it"
JUDD comes back from the diary room.
McCrea joins them.
Andy leaves to go to bed, "Goodnight everybody"
GM says she wants to keep the HOH picture of Nick with his shirt off because he looked pretty nice. GM – "I was like NIck are you a skater.. thats the first thing I'm going to AXE him"
GM – "where's my kiss f*** face that's what I'm going to say to him.. you better tip me over and there better be fireworks.. cause if there is not i'm going to kick him in the balls"
everyone snickering.
JUDD – "don't go about it that way"
GM – "He better kiss me.. I like you I'll give you the world"
Specner says he always said Jessie was hot but Jessie doesn't hold a candle to Marilyn. Specner lists off all the good things about Marilyn.
GM and MCcrae head to bed.
12:45am JUDD and Spencer
Spencer talks about Marilyn and how they broke up for a month during the casting process for Big Brother 15. Spencer says he really likes Marylin.
JUDD – "I'm buying the feeds next year"
Spencer- "Me too.. to be honest with you I might not.. this has been exhausting I might just watch the shows with my neighbor and marylin"
JUDD says he's ready to win the next HOH tells him how great it will be if the three of them make it to final 3 like they had planned in the backyard. JUDD is worried that everyone hates them and loves McCrae because they all got ELissa out. Spencer doesn't care what the Brenchel army thinks.
Spencer tells him he is a good guy.
JUDD – "same.. friends for life.. you, me GM and Andy.."
Spencer doesn't plan on talking to "Amanda, Candice david, Elissa, Jessie, Helen, Kailtin.. I'll just talk to you, GM , Andy, McCrae and Howard"
Spencer doesn't think MC is moving to Florida, he just got caught up in the showmance and having someone to f****
They both agree there was something about Amanda that was attractive at first but she got less and less attractive every day.
JUDD – "that first night I thought she was hot"
Spencer – "Me same"
JUDD – "but then I got to know her more tand the least attractive she became.. personality means a lot.. I didn't find her attractive at all after she left"
JUDD says ELissa was attractive at first but her personality was the worst, 'She was too made up"
JUDD says he's glad they got Helen out when he was gone. When she was trying to get him out that one week she was such a b!tch to him.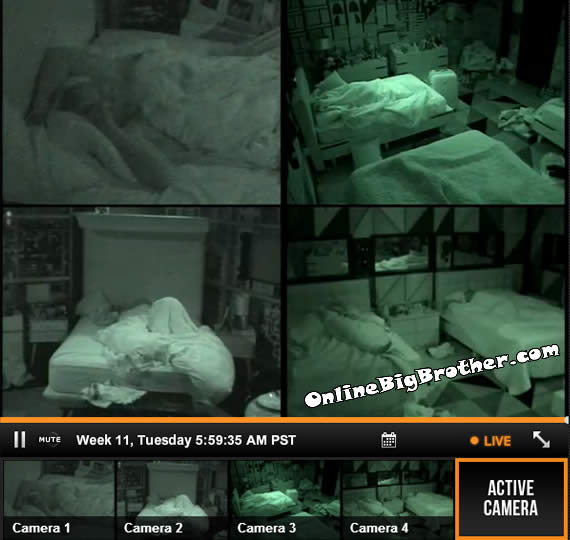 6:00AM Sleeping
8:00am ZZZZzzz
9:07am Kitchen
Everyone is up. Andy is painting a blue duck. Spencer is telling them that he how much he dislikes the song "Sweet home Alabama" The other 3 guys agree. GM is in the bathroom constructing her hair.
Spencer says he's going to give his duck to his nephew. McCrae is trying to figure out what colour to paint his.
JUDD – "I have pork chop in every single tooth.. I have to floss"
They start joking around that the day is almost over. They tell GM that they already had the episode and GM had a fight with Julie Chen.
McCrae says Amanda never work with CBS again.
Spencer – "I heard when she goes back to Bocca she's going to have a defamation of character lawsuit"
McCrae – "SHe threatened that a lot of times but I think this time she means it"
Andy – "It's been a long day"
Spencer brings up the time when Aaryn drank the nail polish removal. The Diary room asked her how much and why. Spencer suggests it would have been funny if she told them she didn't want to be in the house anymore.
GM comes out of the bathroom after constructing her hair for the past 30minutes. Spencer asks her if she's ready for bed. They are waiting for production to give them "Fun Activities" Apparently they've been told this.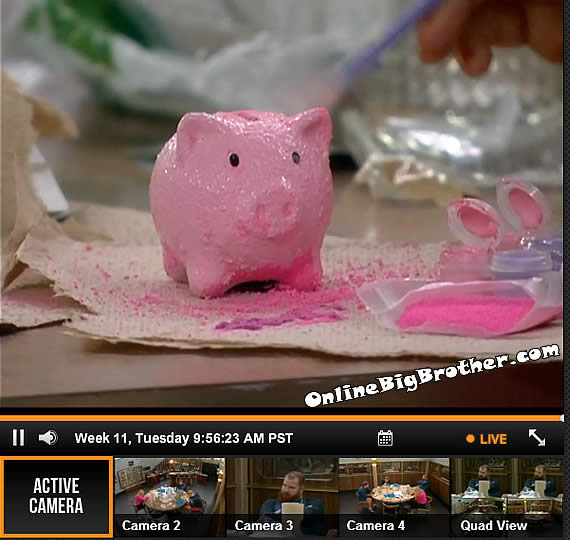 9:51AM kitchen arts and crafts
Spencer – "I remember when Elissa said Julie Chen had a lot of prestigious "
JUDD – 'what does that mean'
Andy – "nothing it's nonsense she meant prestige'
9:58AM Exterminators in the living room (Joking around like it's After Dark because this footage is being taped to show later tongiht)
Spencer says he's noticed something is up with McCrae. Andy has noticed it to he thinks he's just been nervous about the HOH. They go over how Jeremy would exaggerate everything to the extreme. Saying stuff like – NASA came in asked him to test fly space ship but he said he's not into that pu$$$y sh!t.
"Jeremy road a tiger to school, Jeremy built the pyramids, Jeremy built mount rushmore with coins"
"He had to leave early to train the entire US Olympic team in every sport"
JUDD – "America loves moms"
Andy – "I think Helen hyped up the mom factor a little bit.. She told me her and ELissa will win MVP every week because they are moms"
Spencer – "She's a insane person Andy"
JUDD being sarcastic never knew that moms would have such a pull on this show.
Spencer – "What else did Jeremy do"
GM – "He ji$$ed all over Kaitlin a$$"
Spencer – 'Lucky bastard"
GM – 'there was a snail train all over her f*** back … was there snails in here'
Spencer jokes about the time when Jeremy was skydiving and his parachute never opened so he flapped his wings and flew himself that is why he got the tattoo on his back.
McCrae brings up the time when Jeremy saw Osama Bid laden on Google maps, "Zero dark Jeremy"
They chat about Elissa some more. They say she had a real problem sitting next to people she didn't like. Andy brings up the time when Elissa didn't want to sit next to Nick because she didn't want people to think they were in a showmance. GM says she didn't want to sit next to her and Aaryn, "What.. doi we stink or some sh!t"
JUDD says not all Christians are like that
10:53AM
More jokes about Jeremy exaggerating everything,.. Jeremy turned down UN peace ambassador because it was too pu$$y but he never turned down UN war ambassador.
Spencer – "Remember when Jeremy McGuire was in a twitter war with Neil Armstrong because Jeremy told him he was a pu$$y for not doing anything exciting in his life'
Spencer "Remember that time when Jeremy was out swimming and that pu$$y boat Titanic hit him"
Andy says someone put a X over Aaryn's name in the bathroom.
11:03AM Trivia.. (This may be it until Wednesday night)
5pm TRIVIA on the feeds all day.. The Live Feeds will NOT return until after the Wednesday September 11th Episode.
How the next couple days will work
Today
Someone goes home (Probably JUDD) we go from 5 to 4
HOH is played and nominations ceremony.
Wednesday
POV competition is played and POV ceremony
Thursday
Someone goes home we got from 4 to 3 (Whoever wins the POV has the one vote)
First of three part finale HOH is played (THis will probably be endurance)
If you enjoyed the site this season please consider a donation.