POV Holder:
Next POV
Sept 7th
POV Used
POV Ceremony
Sept 9th
HOH Winner:
Spencer
Next HOH:
Sept 5th
Original Nominations:
Current Nominations:
Last Evicted Houseguest
Aaryn, Amanda
Have Nots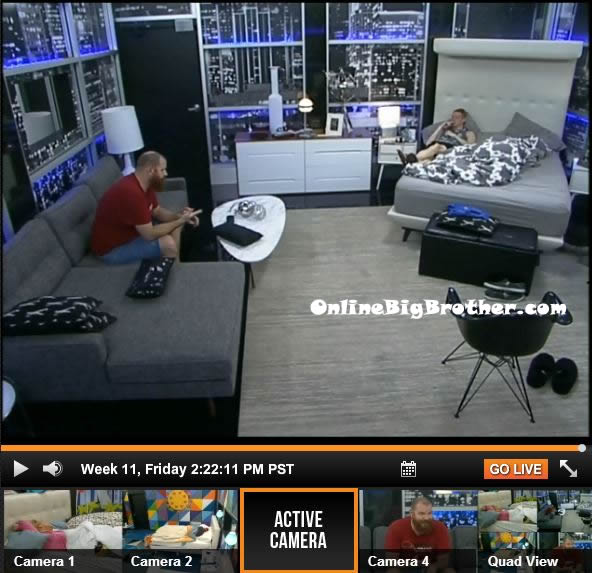 2:10pm Spencer asks Andy so if McCrae doesn't win the veto should we just tell him about our alliance or do we not just in case there is a power in the house. Andy says he doesn't think there would be a power this late in the game for final 5, that would be so unfair. Andy says if it comes down to it and we get to decide we should keep Judd because we could beat him. Spencer says that sounds good to me. Spencer says he is worried everyone will think he has been a floater. Andy tells him that in the end he can explain all the reasons why he wasn't a floater. Spencer and Andy comment on how they got to this point in the game. He says he wanted one person to strategize with, which he and Andy didn't until late in the game. He says he wanted to get in good with the girls which didn't happen and wanted to be likeable. McCrae gets called to the diary room. Andy tells Spencer he should take this opportunity to talk to Gina now about nominations while he can. Spencer tells Andy he will not go up on the block. Andy says unless Gina wins veto. Andy says although with me off the block you know 100% what you want to accomplish will happen. Spencer says he will tell Gina .. he says when she put me up she said she would owe me a favor so I will tell her I want to cash in on that. Andy comments that if Spencer had to decide between me and Judd we could do a number guess and you could just tell me before hand what number it was. Spencer says if that did happen my number would be 77 for day 77. Andy says okay. They both head down to talk to GInamarie.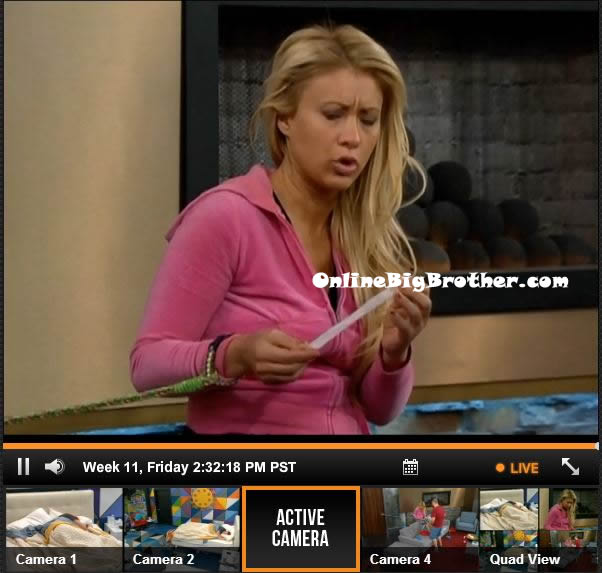 2:35pm – 2:40pm Spencer tells Gina that the best move for the exterminators is to put up her and McCrae. Gina says that she would much rather go up as the replacement. Spencer says Andy is the vote and I am HOH, you aren't going anywhere. Spencer says if Andy or Judd went up, McCrae could smell a rat. Gina says I am just worried about being up against Judd. Spencer tells her that he has been loyal to her and that she isn't going anywhere. Andy explains that we are going to tell McCrae we have a guys alliance so that he doesn't fight for his life for the veto. Spencer tells Gina to not even pack if she is up against McCrae. Andy tells Gina that if McCrae doesn't win the veto we are going to tell him about the exterminator's alliance. Gina says I know I used you as a dirty sl*t before, I understand. Spencer says one thing we will need is for you to go into the diary room so that we can talk to McCrae. Go in there and talk to them about your period. Gina says she has to go to the bathroom. Spencer asks the camera to nod if he can take her to the bathroom, she needs to sh*t real bad. The cameras don't move when he asks all of them. Spencer tells Gina that her going up is her part, he tells her that she is safe and shakes her hand.


Big Brother 15 Live Feeds: FREE 2 DAY TRIAL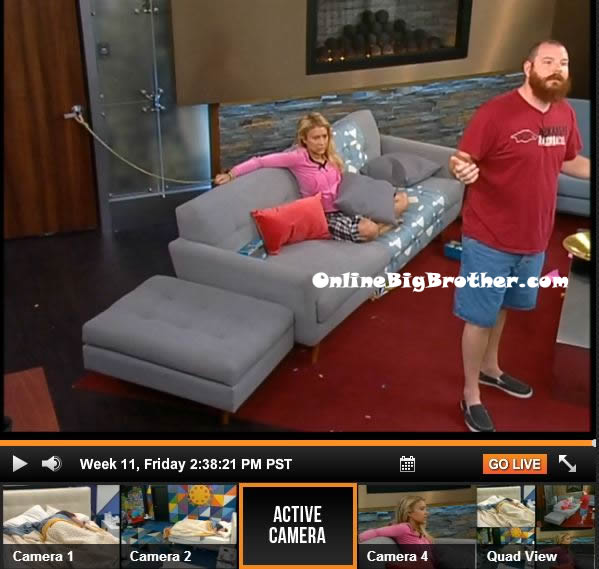 2:45pm – 3pm Gina picks up the phone in the living room and pretends to talk to Elissa – "So your husband took you to the Bahamas! You're so lucky! Psych BYE BIT*H!" She then slams that phone down. The nomination screen is up on the living room tv. Andy tells McCrae that he wishes he had gotten the chance to fart on Elissa's head. Andy, McCrae and Gina sit in the living room and talk about random things until Spencer comes back out of the diary room.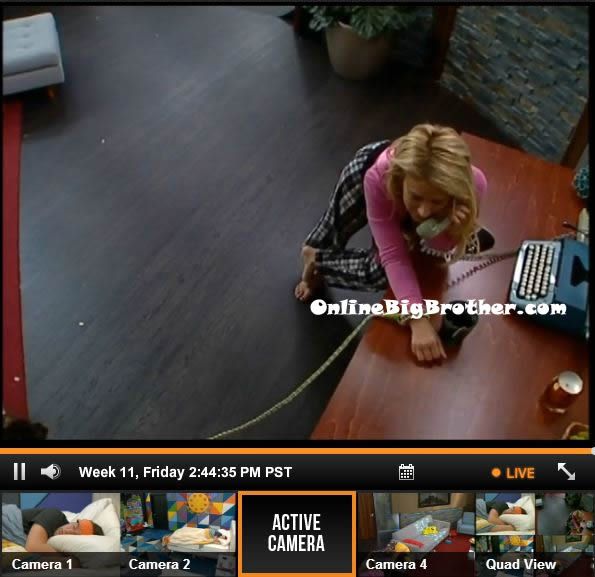 3:20pm Spencer and Andy join Judd in the rainbow room. Spencer tells Judd that he told Ginamarie that she is going up on the block and she is fine with it. Spencer tells them that we just need to keep it up with McCrae that we are in a guys alliance trying to get Gina out so that he won't play hard in the veto. The whistle blows and tells Judd to do 30 squats. "You are a pitiful excuse for a house guest." Up in the HOH room – Andy and Spencer discuss what Spencer can tell Gina. He says I can tell her that it was hard for me to put her but because she was a vote to keep me here.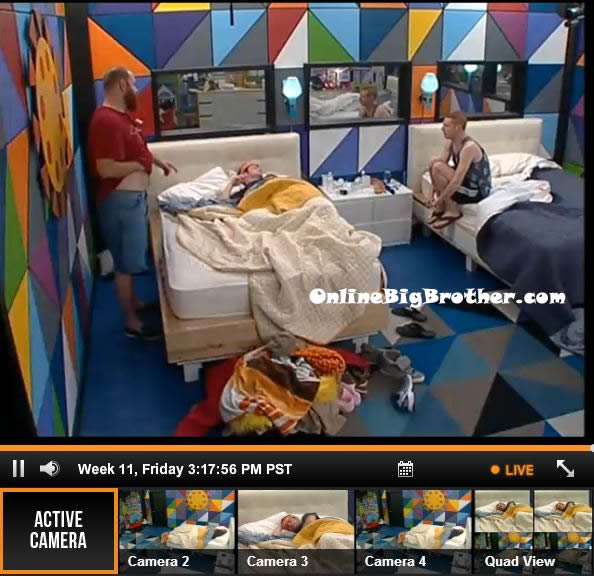 3:25pm Gina and McCrae come up to talk to Spencer with each other on the other side of the door to have privacy talking to Spencer. Gina tells Spencer that he really needs to push to McCrae that he is safe so that he won't try so hard. Gina and Spencer waste time to make it look like they are talking.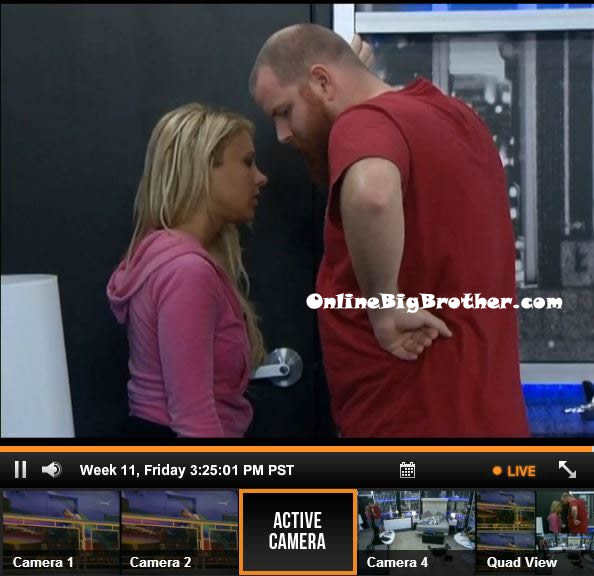 McCrae goes in next. Spencer tells McCrae that he is putting up Gina and that he will put up McCrae next to her. Spencer says I need to put you up to make it look like we aren't close. You are an easy scapegoat because of last week. No one knows how close we are. Spencer say she understands how scary it is to go up on the block. Spencer tells McCrae he is good and will be in the final four. McCrae says I hope so. Spencer lies and tells McCrae that they will get Gina out and it will be the four of us guys. Spencer tells McCrae to come talk to me once you get the bracelet off. McCrae says okay and leaves. Gina and McCrae head downstairs. Andy joins Spencer and asks how McCrae took it. Spencer says it went well and says we will reiterate it to him once the bracelet comes off.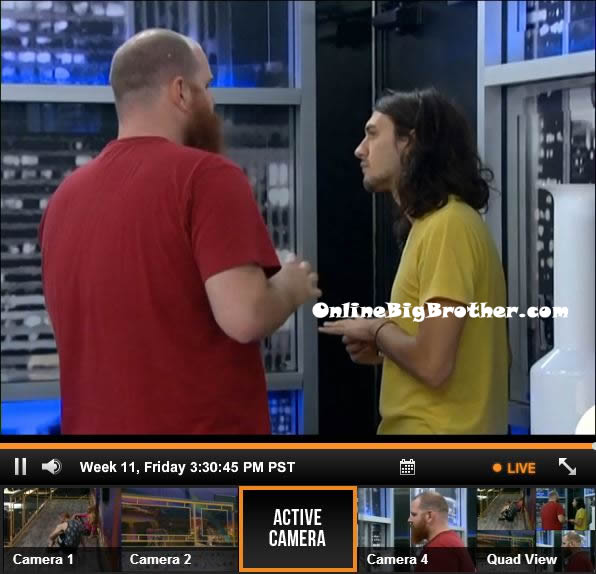 3:40pm In the rainbow room – Gina talks to McCrae about being worried about there being a guys alliance since she is the only girl left. McCrae says that if I come down I will be a vote to keep you. Gina tells him she would vote to keep him too if she comes down. McCrae comments that Andy and Spencer seem pretty close. Gina agrees and says especially after Spencer gave him the money reward. Big Brother calls Gina to the diary room.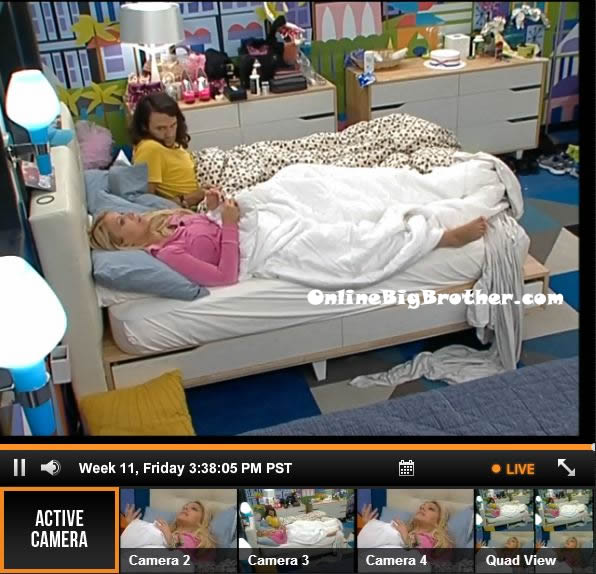 3:42pm – 3:55pm The whistle blows and Judd is told to do sit ups. Judd takes a shower. Meanwhile up in the HOH room – Spencer listens to his CD. Andy comes out from shower in the HOH bathroom. Spencer says sorry he didn't win more money. Andy says it's okay it just sucks. He says he f**ked it up. Andy says his family would be obsessed with Spencer. He would be their favorite.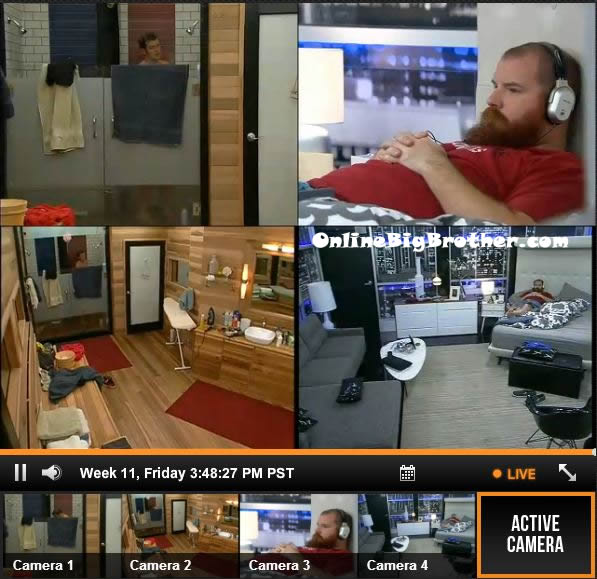 [polldaddy poll=7375044]
Use the Big Brother Live Feeds to FLASHBACK to SEE what they can't show you on TV:
BB15 N!p Sl!ps / N*des
Share it YO!!
Tweet