POV Holder:
Next POV
Sept 7th
POV Used
POV Ceremony
Sept 9th
HOH Winner:
Spencer
Next HOH:
Sept 5th
Original Nominations:
Current Nominations:
Last Evicted Houseguest
Aaryn, Amanda
Have Nots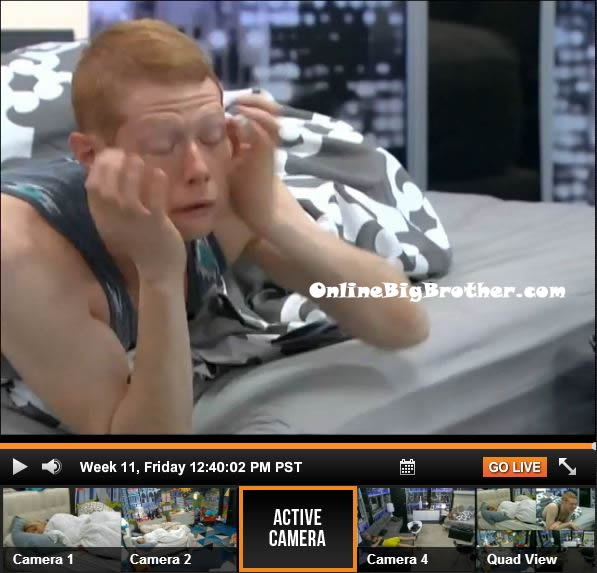 Big Brother 15 Live Feeds FREE TRIAL: FLASHBACK FEATURE
11:15am – 12:50pm The Big Brother 15 live feeds switch to TRIVIA while the house guests are on a HOH lock down. When the feeds return – Judd, Andy, Ginamarie, Spencer and McCrae are still up in the HOH room. Gina and McCrae head down to take a nap. Gina asks Spencer to wake her up if the Nomination screen comes up on the living room tv so that she can come up and talk to him. Gina and McCrae head down stairs to go back to bed. Judd and Spencer talk. Judd says man that sucks for Andy. Spencer agrees and says that Ginamarie must feel better. Spencer says that he picked two suitcaes that had nothing in them (Andy opened 3 suit cases 2 with nothing and 1 with $94). Spencer comments that Ginamarie opened up his big bottle of tea and drank it straight from the bottle. Spencer says I would never do that here being on tv and the fact that others will drink it. Spencer says I am going to put up McCrae and Gina. I will tell McCrae that I am putting him up to make others think that he and him aren't that close. Spencer says he will tell Gina that she is safe, don't worry. Spencer says that we need to win the veto because I do not want to have to send one of us home due to limited options. Judd comments that it will be hard to talk to Gina and McCrae while they're chained together. Spencer says that he will have one stand right outside the door and whisper to the other. Andy, Judd and Spencer talk about how perfectly last night worked out. Andy says we got McCrae to do what we want. Andy says I can't believe I only got $94 today!! Spencer says yeah I am sorry but it did make Gina feel better. They talk about how messy McCrae and Amanda are in the house. Spencer says he can't wait to see how Amanda and McCrae are outside the house. Andy comments that McCrae cried more when Judd left than when Amanda left. Spencer says that he thinks McCrae is just happy to be able to play without her. Spencer says that he is just a little bit worried that Ginamarie will say something stupid to McCrae. Andy says we just have to make him feel safe so that he doesn't fight for his life in the veto.
Spencer grabbing his junk again: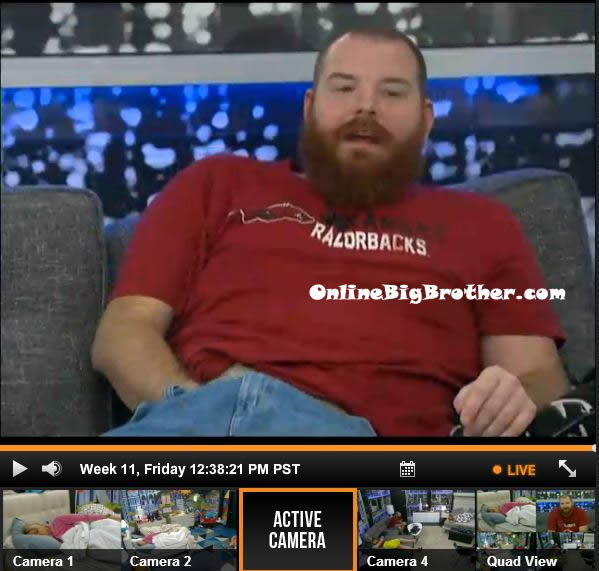 1pm Spencer, Andy and Judd talk about Amanda and McCrae's relationship. Spencer says that their relationship will be just like it is inside the house as it will be on the outside. He says that Amanda will let him know every day that she makes more money that he does. Spencer says he is worried for McCrae giving up all his friends and family to move to be with Amanda. Andy says that he thinks Amanda will be the most hated person of the season.
1:10pm The whistle blows and Judd is told to do 25 lunges.
Photo of Spencer's girlfriend Marilyn: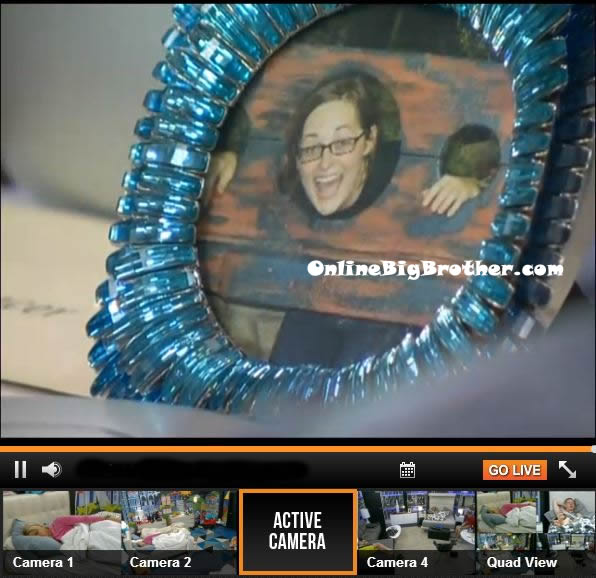 1:20pm – 1:30pm In the rainbow room – Ginamarie and McCrae are napping. Meanwhile up in the HOH room – Andy, Judd and Spencer talk about random things like cheating in school. Andy says that he cheated once in high school for a math test and got caught plagiarising a story for a new paper story. They continue to talk about random things. Judd heads downstairs to take a nap and asks if they will wake him up in an hour. Judd goes to the kitchen and motions to the camera to tell Andy what time it is. The whistle then blows and tells Judd to do 25 sit ups. The voice says my 90 year old grandma could do better than that.
1:35pm- 2pm Andy talks to Spencer about what works best moving forward. He talks about whether or not it is better to keep Ginamarie or Judd after getting McCrae out. Spencer thinks that Gina would take Andy over him to the final two. Spencer asks who do we want to go into that final endurance against. Andy and Spencer aren't sure who would be better to take. Andy is worried about comp master Ginamarie winning the comps in the end. Andy says if McCrae goes this week… I just don't know what Judd would do next week. We need to solidify things with Ginamarie. Andy says I think its a good thing that I didn't win much money. Spencer agrees. Spencer says we just have to make sure Gina and Judd don't compare stories. Spencer says if I put you up as the replacement it would be a good strategic move because it would make them think we aren't as close. Andy says it could work if Gina won the veto but not if McCrae won it. I don't want my fate to be in Judd's hands. Spencer laughs that Gina says if she won the veto she wouldn't even use it on herself. That's loyalty. Andy agrees. Andy says I don't want her to win that final HOH because I want to be in the final two with you. Spencer says that Gina wants to talk to me about the noms .. but what do I tell her. I think I just need to tell her that McCrae needs to think that there is a boys alliance and that's why she needs to go up. Andy and Spencer talk about if they decide to get rid of Judd he will need to be blindsided. Spencer says at this point I am not even worried about Gina because of her injuries. Spencer says if I had to do it all over I would have handcuffed you to McCrae but I wanted to give you a chance to win money. I hope that proves were my loyalties lie. Andy says it does. Spencer says I almost don't want you to win HOH next week so that you are the one to keep me. Andy explains that its the veto holder that decides so even if I win HOH that just means I am safe but I will play hard for the veto to keep you. Spencer says that he is worried about getting out and reading on blogs that he played the sh*ttiest game. Andy says there's no way that would happen and says he played a good game. Andy says he doesn't think McCrae or Judd would keep us, whereas I feel 100% positive that Ginamarie would. Andy says at the same time I feel like I could beat Judd in the final comps. Spencer tells Andy I know I can't beat you in the final two. Andy disagrees. Spencer says that $50,000 would change my life and I think you deserve to win over anybody. Both agree they will take each other to the final two.
New drinking game – Take a drink every time Spencer sticks his hand down his pants: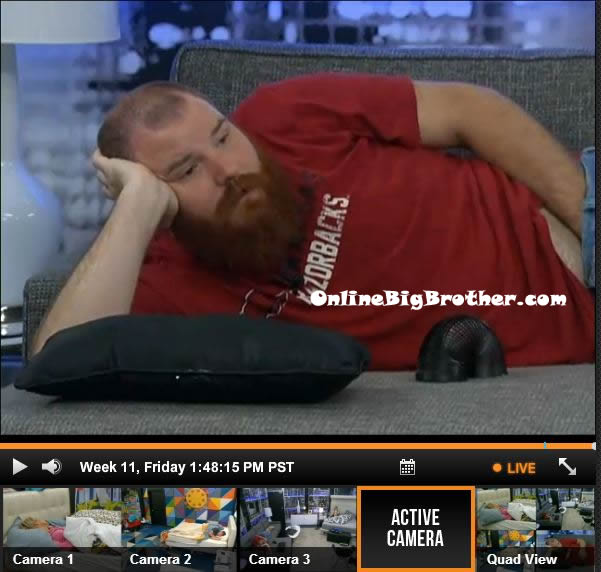 Please consider donating. Simon and I work 24/7 all season long to bring you all the live feed updates and spoilers. ANY amount is greatly appreciated, your donations go directly to paying the server and bandwidth fees needed to run this site.
[polldaddy poll=7375044]
Use the Big Brother Live Feeds to FLASHBACK to SEE what they can't show you on TV:
BB15 N!p Sl!ps / N*des
Share it YO!!
Tweet