POV Holder:
?
Next POV
Aug 31st
POV Used
POV Ceremony
Sep 1st
HOH Winner:
GM
Next HOH:
Sept 5th
Original Nominations:
Amanda and McCrae
Current Nominations:
Last Evicted Houseguest
Aaryn
Have Nots
1:10am Judd joins Amanda, McCrae and Spencer in the bedroom. Judd comments that he is going to bed to get out of this hota$$ suit. Amanda laughs at how she thinks BB made the house hotter since they got the chicken suits. Up in the HOH room – Andy and Elissa talk. Andy tells Elissa that he does not want to be responsible for Elissa going home. I am being honest with you and I hope you can trust me with that. Elissa says and I would never want to be the reason you go home and I would never nominate you. I knew you were going to stay. Andy says he was pisses at first but after the week went along he wasn't as pissed about it because he realized why she did it. Elissa says not only was I going to go home but you were going to go home too. Like they (Amanda & McCrae) don't have your back. Andy says he knows that. I hope that you give me more credit than I think that you've given me because I am a smart guy and I know what is going on. I am not their puppet. I knew what I was doing while I was with them and I was ready to distance myself. Andy tells Elissa that he trust Ginamarie more than anything. He says when you hear me talking to Amanda, I am telling her what she wants to hear because I know that McCrae is going home.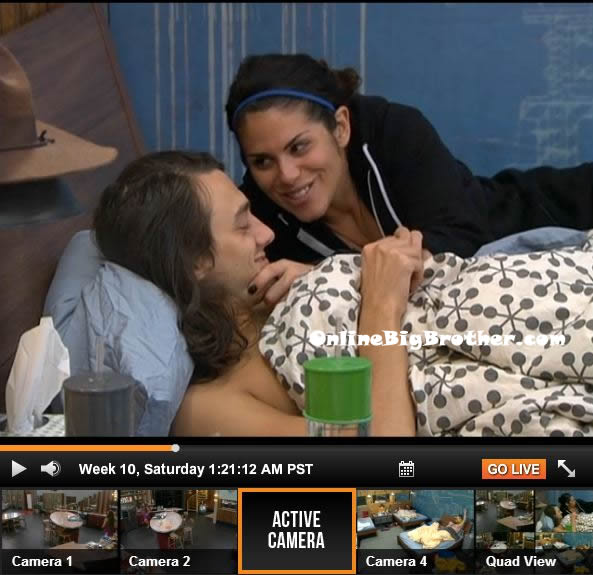 1:17am The camera's switch to Amanda, McCrae and Spencer in the bedroom talking. Amanda storms out and says that she isn't doing any more dishes at all in the house. Spencer asks McCrae if he doing all right? McCrae says yeah. Spencer says he knows how when you're on the block some people treat you like you have leprosy. I was just trying to leave you alone to process things. McCrae says yeah, and talks about how nervous he is about the veto competition tomorrow. McCrae says if she (Amanda) wins it, then I am definitely going home. Spencer says oh my god dude! I don't want you going anywhere! McCrae says I dunno, I could maybe convince her (to use it on him) but I dunno. Amanda joins them again. Amanda comments that when she goes home her whole row will be grayed out (memory wall photos). She says unless tomorrows veto competition is a knot tying contest because I am a professional knot tier and if so you are going to loss. Then you're going to the jury house and you will have to wait for me. McCrae says f**k that you are going to use it on me. Spencer says Jessie is going to be all over McCrae's d**k in the jury house. Amanda says then I will go to the jury house. Amanda says I don't even have any fight any more after tomorrow. I am spent, I am done! I tried hard and I lost. And that is the way the cookie crumbles. McCrae says I am going to try hard tomorrow. Amanda says no I am going to kick you're a$$ and I am going to send you home. They decided they don't even want you in jury, they are sending you straight home. Spencer says its going to be an eight person jury, America gets the 9th vote. McCrae says screw that I am going to go see what's up with Jessie. Amanda says I'm going to hurt you! Amanda asks you want a taste of the butterscotch. McCrae says MmmHmm She wants a taste too. Amanda says I know she would and if you say that again I am going to hurt you. Andy joins them and comments on McCrae's bracelet. Is that a friend ship bracelet? I am going to make one for Spencer and I. "Spendy" Amanda says look at Andy hitting on Spencer, I always knew you loved co*k. Amanda says I love you to McCrae but if you guys don't send me a male to keep me company in the jury house just to keep the peace, I am going to hate you. Spencer asks Judd? Andy says I feel like I count as half a male so I will try and send you a full blown male. Amanda says thank you. Spencer asks a full blown male, that is not going to be me, I am not going to be fully blown. Spencer says I hope Ginamarie gets a pandora's box so that I can get a conjugal visit. Andy says me too, just get me a gay guy, I don't care what he looks like, or what his name is or what he does. Spencer agrees and says as long as he is disease free doesn't talk. Andy says no I actually care about that if you are not at least a good conversationalist, you are not putting your pen!s in me. Spencer says he hates it when a bl*w j*b turns into $ex. Amanda laughs. They all go to bed.
Big Brother 15 Live Feeds: FREE 2 DAY TRIAL
3am – 3:50am Judd gets up and heads to the bathroom and takes a shower. Spencer joins him. Judd says is too hot and can't sleep. He says normally after a shower he can sleep better. Spencer says he can't sleep either. He is worried about the veto. Judd says he is too. Judd and Spencer head into the lounge room. They talk about what the veto competition would be tomorrow. Spencer wonders if it could be the time one. Spencer says one person just drops before Amanda and the other drops after McCrae. Then we're done. Spencer says if it's the luxury / punishment veto he won't take any because he already feels winning today put a target on him. Spencer tells Judd he is safe. Judd says not if it's a double eviction. Spencer says if Elissa gets HOH then she will put up Amanda and she goes out, simple as that. Judd says with this veto tomorrow I was to get it so bad to make them seal their fate. Spencer and Judd head to bed. They say good luck tomorrow. Spencer tells Judd if it is double eviction on Thursday, you know I've got your back till the end! Judd says he has Spencer's back too. They go to sleep.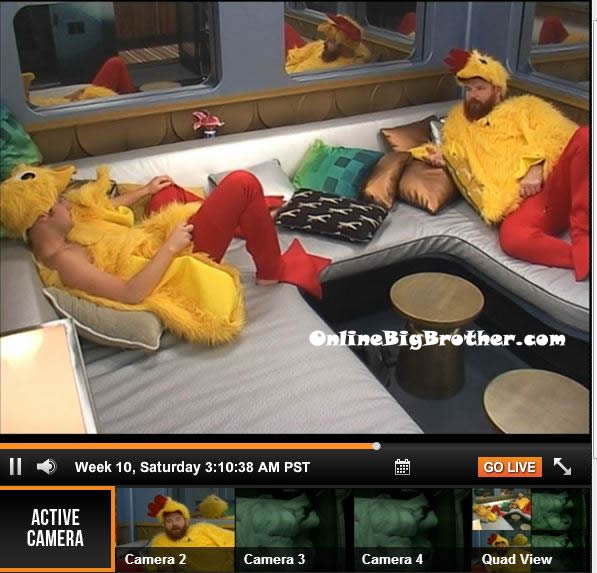 8am – 9:25am The house guests are woken up. but all but Ginamarie and Elisa go back to sleep. At 9:25am the live feeds switch to TRIVIA for the house guests to pick players for the Veto Competition.
Use the Big Brother Live Feeds to FLASHBACK to SEE what they can't show you on TV: