POV Holder:
?
Next POV
Aug 31st
POV Used
POV Ceremony
Sep 1st
HOH Winner:
GM
Next HOH:
Sept 5th
Original Nominations:
Amanda and McCrae
Current Nominations:
Last Evicted Houseguest
Aaryn
Have Nots
Players for the POV Competition: Ginamarie, Amanda, McCrae, Spencer, Andy, Elissa
Host for the POV: Judd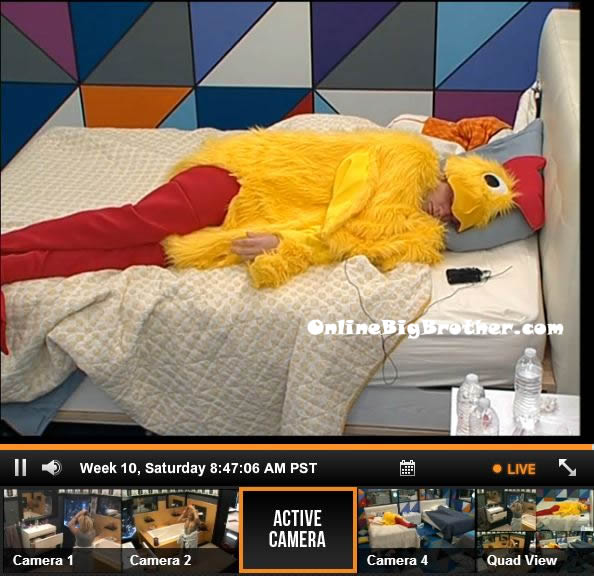 8am – 9:15am Big Brother wakes up the house guests. Ginamarie exercises in the HOH room. Judd comments that they'll be picking players for Power Of Veto competition at 9am. Judd gets dressed in his chicken costume and goes back to sleep. Up in the HOH room – Ginamarie is awake and getting ready for the day doing her makeup and hair in the HOH room. Elissa is awake and getting ready. All the other house guests are trying to sleep. At 9am Big Brother calls Ginamarie into the diary room. Elissa comments its time to pick players for the veto competition. When Elissa finishes getting ready she climbs back into bed to wait.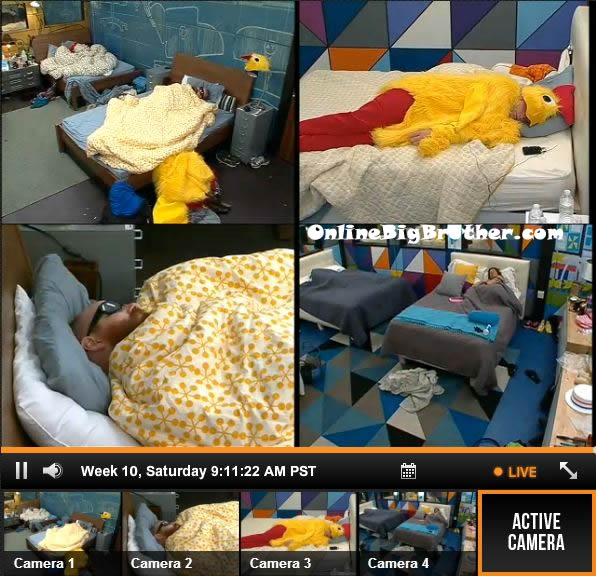 Big Brother 15 Live Feeds: FREE 2 DAY TRIAL
9:25am The live feeds switch to TRIVIA for the house guests to pick players for the Veto Competition.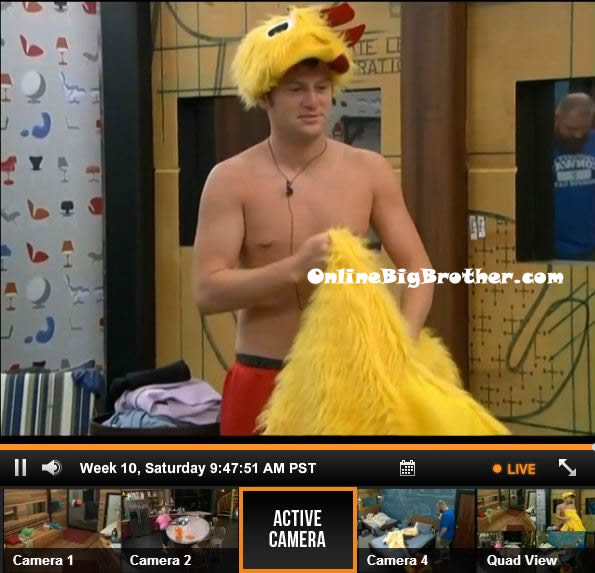 9:50am – 10:10am When the feeds return – Ginamarie, Spencer, Judd, Amanda and McCrae are in the bathroom talking. Judd comments to Amanda lets do that over again and you pick me for house guest choice so that I can win it. Judd jokes and says if I will it I will take both of you off the block. Judd says he is pissed. He wants to win at least one veto competition. Amanda gets up and says that she is going to go talk to Andy to tell him why she didn't pick him. Amanda finds Andy in the HOH room. She tells him the reason why she picked Spencer over him because she felt like it would be a hard decision for him if he won it on who to use it on her or McCrae. Spencer joins them and says that he will fight hard for the veto. Amanda says she hopes so. Amanda says I know McCrae has a better chance of winning the veto and staying over me. Amanda heads down stairs. Spencer says if this is a double eviction we have to get Elissa out after McCrae. Spencer says that he talked with Judd last night and he eluded to the fact that he is good with her but that she would be coming after you and I. So she has got to go! Spencer tells Andy that he thinks the real reason Amanda picked him to play is because they think they can beat me. Andy heads downstairs and talks to Judd, Andy and Gina in the lounge. They talk about how Amanda and McCrae are telling people that you (Gina) said she would put up Judd as the replacement if one of them won. Gina tells them that's not true she never said that. They agree Amanda and McCrae are liars. They leave the lounge room. In the bathroom Elissa tells Judd that she thinks Andy is working both sides of the house. Judd then talks to Andy privately and tells him that Elissa thinks he is working both sides. Andy says that he isn't. Judd asks so if you won the veto today, you wouldn't use it would you? Andy says no. Judd says that he will work on Elissa for him. Andy heads up to the HOH room. He tells her that he is worried if Elissa wins HOH because she thinks I am playing both sides. Gina tells him she thinks that because when they pulled your name – Amanda said YES! So it make him look like a target because it looks like you're working with them. Spencer joins them after his shower. Gina explains how she thinks this week or next there will be a double eviction. Gina says this Exterminator shit (Spencer, Andy, Judd, Gina) blows the moving company away.. AHHH sorry Nick who got the better alliance! Andy talks about how he doesn't care who goes next week after McCrae – either Amanda or Elissa.
10:15am – 11:05am In the HOH room – Ginamarie says we could go down in history for the best last minute alliance. Spencer says the next 3 targets to get out are huge (Amanda, McCrae, and Elissa). Gina says that Elissa will be pissed that we want McCrae out this week over Amanda. She says she will talk to Elissa after and tell her that McCrae was a bigger threat, Amanda doesn't win anything and not that she is dumb but she is whatever. Judd joins them. They laugh about loading up their exterminator pumps to spray the snakes, rats and ants. They talk about the veto and if it's a luxury / punishment competition they agree its more important to take punishment. They are talking about what to do if there is a $10,000 prize. Ginamarie says that she would want the 10G's but would give it to Andy and take a punishment instead. Gina comments how Amanda said her and McCrae have $ex all the time. Judd says he thinks every time he takes a sh*t he thinks about how Amanda and McCrae had $ex in there. Judd says between her week long unwashed coochie and his month long unwashed a$$, no wonder there are flies in the bathroom. Gina says that if Amanda saw McCrae on the streets she wouldn't give him the time a day. Andy says that's what make him think that Amanda isn't trustworthy or loyal because she cheated on her boyfriend from home. Gina comments that Amanda said she was going to get engaged to the guy. Judd says the guys mom even signed up for the live feeds. They talk about how Amanda turns on the fake tears all the time. Spencer heads downstairs. Gina talks about how she doesn't think they will get a Pandora's Box because its been so long it probably won't happen now. Judd says he thinks they need to wait until Thursday to tell Elissa that Amanda is staying and McCrae is going. Gina says yeah lets just wait until after the veto to see what happens. They talk about how disgusting the bullying was by Amanda and how nice it is that Elissa is walking around and smiling again. Gina tells Andy not to let Amanda/McCrae guilt trip him by telling him they saved him last week. Andy says not to worry about me, I will not use the veto if I win it. Andy says that he really thinks McCrae will regret the way he spent his Big Brother experience when he gets out. Andy points out to Ginamarie that Elissa and Amanda have been talking sh*t about her the whole season. He says Elissa literally cried because she didn't want to sit next to you and Aaryn on the couch. Andy says that he is going to tell Amanda about the exterminators in his goodbye message. Judd says yeah that is a good idea. Judd stands up and pretends to be a host talking about an extermination job they need to do to get rid of a snake (Amanda) and an ant (McCrae). We have a job to do and we're going to exterminate them. Judd then heads downstairs.
11:20am Gina asks Andy so if you are second place winner can you still win America's favourite. Andy says yeah I think even the winner can win it. Gina says just as long as Elissa doesn't win it, she has more money than she knows what to do with. Andy says that he would be enraged if she got America's facourite. Gina thinks that her, Andy or Judd could get it. Gina says I don't have much money but I am still happy. Andy agrees and says he doesn't either but still has a great life. Judd joins them again. They talk about random things then Judd heads back downstairs and is called into the diary room. Judd comes out soon after and pranks them telling to get ready for the veto competition!! Elissa asks him if it will be soon and Judd says he thinks so. He then says just kidding. Gina up in the HOH room says F**king kid! I'm gonna kick that kids a$$!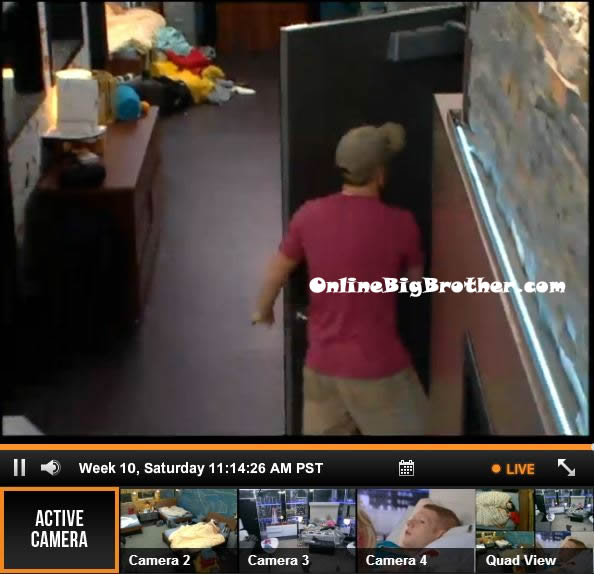 11:35am Andy and Gina go over the past events of the house and about Nick while Gina admires her photo of Nick. Gina comments that she thinks all Candice wants to talk about is di*k sucking. Gina then wonders what Amanda's diary room session are like and thinks she is in there talking about how she thinks she is the sh*t. Andy says that he can't wait for Candice to find out that Spencer totally f**ker her game.
Meanwhile in the lounge room McCrae is by himself curled up on the couch.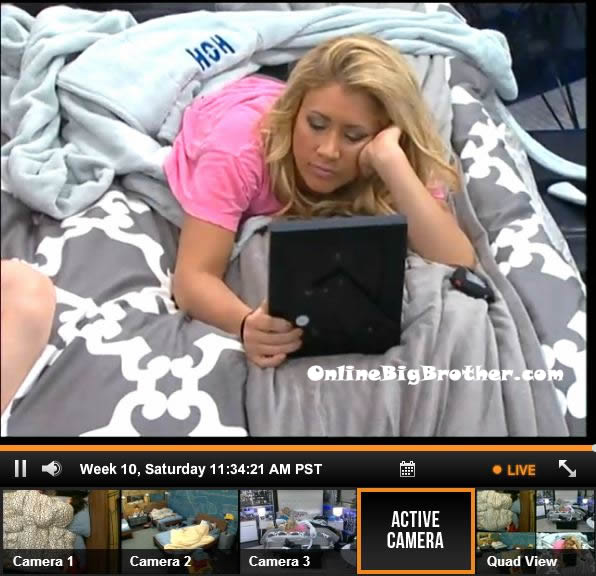 11:55am – 12pm Big Brother calls Judd to the diary room. Judd, Andy and Ginemarie all say its time. Andy listens to Ginamarie's Britney Spears cd to get pumped up for the veto competition. Gina starts stretching.
12:03pm The live feeds switch to TRIVIA for the VETO COMPETITION!
1:30pm Still TRIVIA..
2pm TRIVIA..
Use the Big Brother Live Feeds to FLASHBACK to SEE what they can't show you on TV: