POV Holder:
?
Next POV
Aug 31st
POV Used
POV Ceremony
Sep 1st
HOH Winner:
GM
Next HOH:
Sept 5th
Original Nominations:
Amanda and McCrae
Current Nominations:
Last Evicted Houseguest
Aaryn
Have Nots
8:41pm Amanda and McCrae
Amanda is asking him if she should throw the POV. MCCrae grumbles out a no. She tells him they played an amazing game they made some big moves and everyone will remember McCranda and Big Brother 15.
Amanda – "The only person you can trust in this game is Andy.."
Amanda thinks that Spencer will be trustworthy after she goes home.
Andy joins them says Ginamaire's toe might be broken. Andy asks them about tomorrow's POV and what are you doing..
Amanda – "I'm going to be taking every single luxury"
Amanda says JUDD, GM and Elissa are working together, "Poopy was right she wasn't lying she was telling the truth"
Andy says he cannot stand Elissa, "I hate her.. I hate her.. I f*** hate her so much.. I can't stand her.. I can't f** stand how much I hate her" (Fingers Elissa as she walks by see image)
Amanda – "GM said if I went down and Spencer went up and it was a tie she would vote out McCrae … She's working with Elissa and JUDD'
Chicken Spencer joins them invites them to play cards up in the Head of household bedroom.
Andy and Spencer leave
Amanda – "I'm afraid to watch this show I don't think i came off look very good"
A – 'I cannot believe it took them this long to put us on the block.. if I had to do it over again I wouldn't do it anyother way.. maybe a little nicer'
9:21pm HOH everyone but Andy and McCrae
Amanda apologizes for being a a$$ to them this season, She wants them to know she loves them all, SHe's aware that this is a game and they all fought tooth and nail to stay. She knows that either her or McCrae are going home this week she's not going to campaign against McCrae… "He loves this game and he wants to be here really badly.. I understand you are doing what you have to do .. I don't want this to be weird"
Amanda – 'If he stays and I leave please don't hold anything against him." She explains what he always tried to get her to stop the sh1t she would start. "If anything he stopped me doing worse stuff'
Amanda leaves..
GM says she is realizing now that she isn't untouchable and she is going home.. GM knows it's a game and one of them gots to go this week .
Elissa – 'She's back peddling'
GM says they are good people it's just a game.
9:34pm Playing rummy Having valuable real conversations about about how to play rummy… GM points out that the king card shows him stabbinbg his head. Spencer calls it teh suicide king.
You can re-watch ever second on the feeds using the flashback feature.. It's just like a DVR and is super easy to use.—> Subscribe to the Big Brother Live Feeds Free Trial
9:46pm Bedroom Andy, MC, Amanda
Andy doesn't think there is a big alliance in the house he just thinks GM put them up because they were a strong couple.
Amanda – "Elissa knew from the moment GM won HOH .. she was so excited.. they are pretending they are not together but they are.. Aaryn told me and she wasn't lying GM and Elissa are working together"
Amanda – 'Our alliance was the longest surviving alliance in this game'
Amanda says Andy and McCrae were the only 2 people she could trust this entire game, "We are going to be lifelong friends.. I love you … I don't need the money as much as you guys.. it was never about the money for me I just wanted to play the game.. you guys need to make it far'
Andy – "Just know if I am nice to Ellisa I really want to punch her in the face' he calls ELissa a F**** C**t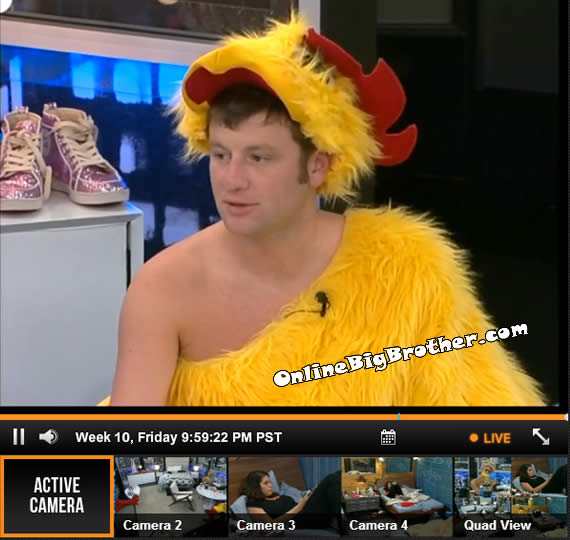 10:00pm Exterminators
"He got content Sleeping 15 hours a Day and having her do all the barking for him" -Spencer
Basically they are talking about how McCrae has pretty much stopped playing the game and is just laying around because of Amanda. Andy says he just spoke with them and they do not have a single clue about the exterminator alliance. He adds that he'll take some of the punishments but will also take some luxuries and he doesn't want them to be mad at him.
10:32pm HOH Everyone but Amanda/McCrae
JUDD saying he doesn't "Fake" at all
Andy says he's the same
GM – "She's like ohh Aaryn told me you never liked me.. "
GM says it's not that she never liked Amanda who GM didn't like was Candice.
GM – 'I don't know why Aaryn ever said shit to me about her.. I don't understand that'
JUDD – 'Cause Aaryn wanted to make sure she was closer to them than anybody else'
GM – 'I'm glad I wasn't closer to Amanda because look at where that ended up for Aaryn'
Elissa – "umm umgf Ya I know seriously'
GM thinks that is why Amanda was mad at her because she wasn't doing what Amanda wanted. GM adds that Aaryn would always do exactly what Amanda told her.
GM – 'putting up ELissa and JUDD.. you don't own me b1tch I'm older than you and I got a bigger f*** bark ruff ruff mother f***r "
Elissa -"uumm hmmmf you go girl'
GM – 'no one is going to boss me around'
Elissa – 'bAM'
GM – 'Except for NICK.. Boom .. he can boss me around any day.. that little stud muffin'
Jenga Jenga JE JE JE Jenga #BB15 pic.twitter.com/lqdnAqh9NO

— OnlineBigBrother.com (@bigbspoilers) August 31, 2013
11:12pm they get alcohol
4 beers and a bottle of white wine
11:30pm Cockpit Andy, JUDD and Spencer
Andy says if a non exterminator wins HOH they will put up another one non exterminator. He explains if McCrae stays he'll put up Elissa if Amanda stays she'll put up Elissa. Itf Elissa wins she'll put up Amanda or McCrae
JUDD – "I f** ing love the exterminators"
Andy – " I love it'
JUDD – 'We're all on equal playing field"
Andy says he's worried about Elissa doesn't think she trust him
JUDD says she does
JUDD says McCrae doesn't trust him anymore and is acting a bit pissed off. Andy says they have to take all the punishments from McCrae. Spencer agrees. (Andy and Spencer push for McCrae to go home)
JUDD says he will take the chains but the thing but the problem is if he sleeps 20 hours a day.
JUDD – 'If you chain yourself to Elissa you have to do yoga in the damn sun'
Andy – 'when did they have sex'
JUDD – 'In that damn nasty ass bed I slept in'
Andy – 'they had sex in the photo booth and in the bathroom.. but like when'
JUDD – 'They are so f**** sick'
Spencer – 'I would f** on camera for sure.. If I f***d on camera the guys at work out be like WOOOOOO'
Andy says he never would have s$x, they understand because he's a teacher.
Spencer – 'GM's nomination speech cut him to the f*** bone'
Andy says JUDD had the best two weeks not here because the two people he wanted gone both left..
Andy asks JUDD who will Elissa put up if she won HOH. JUDD thinks it will be Amanda and Spencer.
JUDD leaves.. Spencer asks Andy if he would keep him over JUDD. Andy says of course.
Spencer- 'we need to talk when we have a little bit more time if McCrae goes down and one of them goes up' Spencer says he will go up as the replacement nomination he trusts the Exterminators.
Andy says when he was with Amanda and McCrae he could tell that he was with the group that America doesn't like. He says his conversations in then DR alluded him to this.
JUDD comes back.. Andy – 'i'm talking serious game with two chickens'
Andy and Spencer agree that America loved Candice.
They all laugh at how Candice made it so far in teh game and all she did was slept and kept it real.
Andy – "Howard played the worlds shitest game'
Spencer says Howard was brain dumb
Andy points out that Candice played a horrible game but Howard played the worst game.
Andy says Amanda would have been gone if it wasn't for him. Andy is pissed that the zingbot called him a floater. Andy believes he was one of the more key players in the game this season.
Andy says Helen came up to him and said Amanda was takign credit for the things that Andy die.. , "she said you can't let her win.. you ca't trust her'
JUDD – 'I don't even want Amanda's jury vote if I make it to final 2.. next get on trash… next'
They wonder is Elissa is sneaking up to them listening in. .
JUDD – 'I love her but I hate how she eavesdrop.. I've only eavesdropped one time..'
12:00am
JUDD tells them his plan was to come in here and make everything think he was stupid and just looking to party. Eventually people started believing it and it pissed him off always feeling so degraded.
They are all sharing stories about how the other players underestimated them. Andy talks like he's the master of the game this season.
Andy says if the moving company was Nick, Spencer, JUDD. Andy and McCrae they would have been able to run the game.
JUDD – 'that is the problem starting alliances day one you don't know who people are'
Elissa comes in invites them upstairs to play Jenga..
12:23AM "Slutty Chicken"
12:41AM HOH 2 chickens, A Rat and the mother
JUDD brings up Tom from Big Brother Canada after winning the HOH he was standing in his underwear with his arms out. (See image) Andy laughs says it was the second HOH and he went out the third week (4th evicted houseguest and a trailer park boys fan)
12:54pm Andy, chickens and Elissa

Andy brings up Candice leaves. "She was evicted dressed in a outfit based on your arch nemesis childhood toy"
JUDD – 'and the toy is in the house'
They laughs, agree it was the worst.
JUDD says he liked Kaitlin. JUDD says David's mom cried when he left to be on the Big Brother show.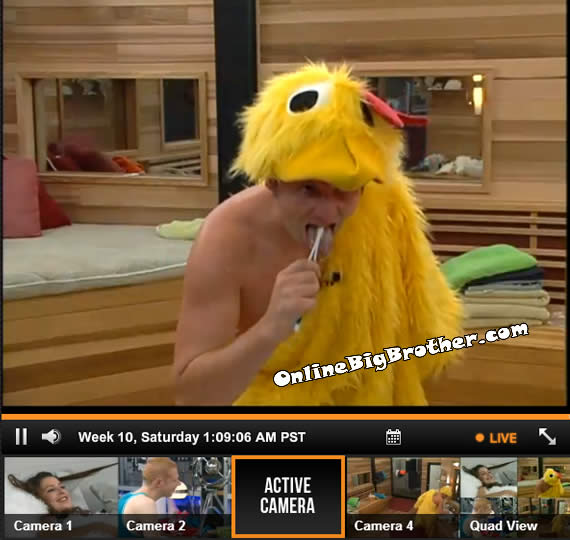 1:10AM Sl*tty Chicken gets ready for bed
\