POV Holder:
AMANDA
Next POV
Aug 31st
POV Used
YES
POV Ceremony
Aug 26th
HOH Winner:
Elissa
Next HOH:
Aug 29th
Original Nominations:
Aaryn and McCrae
Current Nominations:
Aaryn and Andy
Last Evicted Houseguest
David, Nick, Jeremy, Kaitlin, Howard, Candice, Jessie. Helen
Have Nots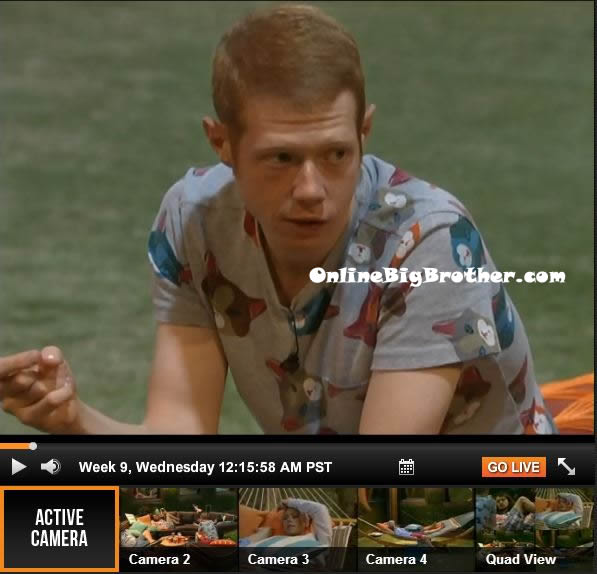 12:20am Out on the backyard couch – Andy, Amanda, McCrae and Spencer are talking. Andy says I am glad my loyalties are paying off and people aren't listening to what poopy (Aaryn) is saying. The others agree. McCrae says absolutely, I dunno, I don't trust her for a f**king second. Andy says she blatantly lied about Judd the other day and I called her out on it. Amanda asks about what? Andy says that Aaryn said Judd was up there campaigning to get me to go up and he immediately said no and went to the room and screamed at her. Andy says Aaryn and I had a heart to heart and she said she wouldn't campaign against be and 10 minutes later she was campaigning against me, you know?! Amanda say evictions all about timing. Evicting the right person at the right time. Like Aaryn saying you're skating. Andy says anyone who thinks I am skating is a f**king a$$hole, I have worked so damn hard. And sure maybe my working hard doesn't involve winning a ton of comps but getting in peoples good graces and proving my loyalty week after week is a lot harder than people think. Like people saying that you (Spencer) were expendable and I convinced them you weren't, or when people wanted to flip the house on you (Amanda). Like I am really glad that you are all here when I really need you. Spencer says yeah I would be gone if it wasn't for you. McCrae says yeah, I dunno. Amanda says the odds are in our favour. There are 4 of us that have a chance to win HOH. Andy says 66% chance. Amanda says and Elissa is a huge target. Amanda says Ginamarie would put up Elissa, I hope. Andy says she said she would. Amanda says only one person won't play in veto. McCrae is pissed and says she (Aaryn) makes me paranoid as f**k. Judd and Gina join them and they end the conversation. Amanda says if Elissa will put you up, she will put anyone up. Andy says yeah. Then asks do you think we will have anything to do tomorrow? They all hope so.
12:30am Gina, Spencer, Andy and Amanda talk on the backyard couch. Amanda confronts Ginamarie and says that Aaryn said that you would be coming after me and McCrae. Gina asks why all of a sudden when she is on the f**king block! I had her back since f**king day 1 and now she is trying to f**king say sh*t about me and Spencer! For you guys to come after us when she leaves, is that her f**king plan! Amanda says we aren't coming after you. Amanda says I have no idea what her plan is. Amanda says she thinks if she says that would change because she has influence over you. Gina says okay well if she wants to say sh*t, I will say that she tried to have a plan with Elissa so that she says so that she can go after you f**king two. How you like them apples! Nice how grimy people do f**ked up things to stay when the plan was to get Elissa out. I think we are all pretty much on the same page for 4 weeks now to get Elissa out. They all say they want Elissa out. Gina says to be honest, since Elissa always says she is so in love with her husband I don't even know why she would say that about Judd, it's so odd! You know she would not say that sh*t on camera. She won't even curse on camera. I am not defending her but that sh*t would not come out of her mouth. Amanda says I agree I think it was taken out of context. Judd says what it boils down to you have to watch exactly what you say to her. Amanda asks how they all keep their anger in when sh*t like that alcohol happens tonight. She (Elissa) poured herself some when all of us were going to wait to drink it for the game.. and decides to pour her little princess a$$ a glass of when when we are all waiting for the f**king game, did that not irritate the f**k out of you. And all of you bit*h a$$ motherf**kers just sat there and let her drink it. Spencer says there were two thinks going on, you the ruthless dictator telling everyone what to do and her drinking it. Andy says that Elissa always finds some way to break the rules.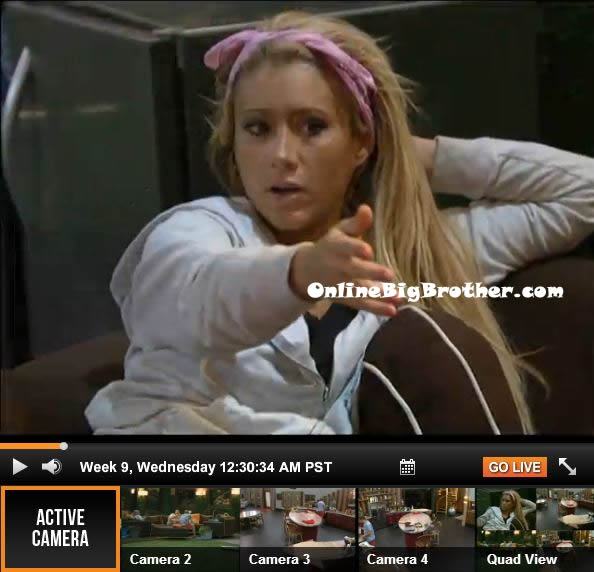 12:40am – 1:30am Judd and McCrae are talking alone on the couch. McCrae tells Judd that Aaryn told him that she won't vote for Amanda or McCrae in the jury if they don't vote to keep her here. Spencer joins them. Spencer says there are 8 other people in the jury, you don't need her vote! Dude that f**king sh*t pisses me off! McCrae says I need some blood on my hands. Spencer says it's just desperate words from a desperate woman. McCrae says there is nothing that she could say. Judd says I should just say no because now she just keeps saying the same thing over and over again to me. Andy and Amanda join them again. Amanda says I am so interested to see what America thinks about me. Judd says it could be really good or it could be really, really, really bad. I was told not to look on the internet for a year after. Gina joins them. The conversation turns to talking about past competitions.
Big Brother 15 Live Feeds FREE TRIAL: FLASHBACK FEATURE
1:30am The conversation turn to talking about Jessie. Gina says that she liked to antagonize people. Spencer I bet she will pose naked just for attention afterwards. Amanda says ew who would buy that magazine. Spencer says I f**king would! Andy says I think Jessie is pretty. Amanda says oh Jessie, I thought you were talking about Candice. Amanda says that Jessie looked like she was 6 months pregnant. Spencer says she had a cute little pot belly! Amanda says a pig has a cute little pot belly. Gina says yeah not a human. Spencer says I am not going to argue with you, a woman's view of what's sexy is altered by Barbie. Jessie was sexy! Amanda says ew her personality made her unattractive. Spencer says yeah I can attest to that. Gina says she had no tits, her legs were stalky and she did not have a nice a$$. Spencer says she is about 6 to 8 months past her prime as a female. Her body is going to get fatter, more rippled with cellulite and it's going to be all over for her. She is on the downhill slide. Amanda says agreed. Spencer says and its really closer to 18 months past her prime. I bet 25 or 23 year old Jessie was a show stopper. I bet that pu$$y would, that's like Olympic pu$$y. That's like Beijing battle pu$$y. Gina says she will f**king crack your di*k off. Spencer says dude don't you remember the popsicle, I was like dude what in the world is hanging on to this popsicle! Oh my god its her pu$$y lips! Marilyn gave me a hall pass but I am not stupid I am not going to use it. Judd says I guarantee she is a scraper. Gina asks what do you mean like she don't want di*k in her a$$? The conversation turns to which girl in the house could beat other girls in the house up. Gina says when I start I can't stop. They start talking about random things.
Big Brother 15 Live Feeds: FREE 2 DAY TRIAL
*** WARNING Graphic Conversation ***
2:20am Spencer says if you are having problems with your man, there is this thing that if you su*k his di*k twice as much it will fix it. McCrae agrees and says yup! Amanda says but that's not what women want, they don't want to be the c*m dumpster. Spencer says well I don't give a f**k you all also want nice relationships and I am a lot nice to get along with if I know that there is going to be a goodnight bl*w j*b. Amanda says well tell prudence (McCrae) over here that, that is what men want.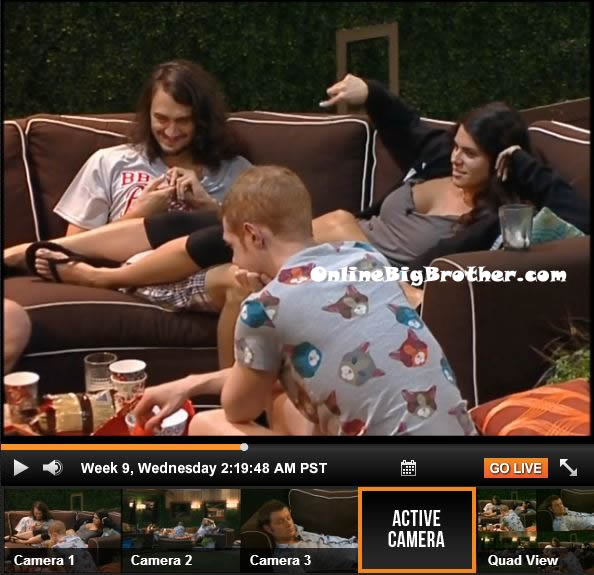 Spencer asks if you could only have oral or normal $ex for the rest of your life what would you rather? When McCrae says oral Amanda says I would like to say that is a lie because of the amount of times I have tried to go down on him and the amount of times that he has stuck his pen!s inside of me, one greatly outweighs the other and it was not the oral. Greatly! McCrae says I don't know what to say. Amanda says now you're not getting neither.
Andy says oral takes him forever. Gina says did you see me eat that fro-yo! NICK's in a good position! Amanda says Ginamarie can suck the best di*k, she can suck a golf ball out of a garden hose! Gina asks from what? Amanda says look at you, you have mouth muscles and jewellery in your mouth. Gina says I asked Nick if he ever f**ked a girl in the a$$ and he said no. They wonder if Nick is a priest. Gina asks did you see the hotdog trick, I f**king deep throat a hotdog. Spencer says I would like to see her with a smoked sausage link just to see what GM can do! Amanda asks Ginamarie if she has ever had $ex with a black guy? Gina says no, I've never even kissed a black guy. I've hooked up with Porto Rican if that counts? Amanda says no. Spencer asks McCrae if he has ever been with a black girl. McCrae says no. Spencer asks Andy if he has been with a black guy and Andy says yeah. Spencer asks Amanda. Amanda says one. Spencer says I've been with 3 black girls. Gina asks there's black girls in Arkansaw? Spencer says yeah. Gina references Aaryn's comment about black people in Texas and says swarms. Amanda says the only black guy that I had $ex with had a tiny pen!s. And I was like meh, this isn't for me! Gina says I had one kid that his di*k was like the size of my pinky. I think he had a problem. Amanda says small di*k-idis. Gina says it was probably the 3 guy I had been with and I didn't know where it was, it was really weird. Amanda says in high school she gave a guy a bl*w j*b and it was literally a baby carrot. And he was like don't use your hands. I was thinking I couldn't if I wanted to! She says it was her girlfriends ex-boyfriend and she had said she couldn't tell if it was in or not because it was so small. Gina says this kid I sleep next to and he doesn't even touch me! I am talking about Nick. Amanda says McCrae has the biggest di*k she has ever seen, it's like a kick stand. Gina agrees and says yeah I've seen it. Amanda says excuse me!? Gina says no it is shorts. Amanda says he's a grower to so it big and then it gets bigger. I am kind of scared but I like it. Spencer says di*k slap her in the face for me. Amanda says I want him to di*k slap me in the face. Gina says were did Judd go? Talking about small di*ks. Amanda and McCrae head to bed.

3am – 3:20am Gina and Spencer are alone on the couch talking. Gina doesn't understand why Aaryn is talking sh*t about them. Spencer says go out with some class. Judd and Andy join them again. They talk about how they all have each other's backs. They tells Andy that he is good and has nothing to worry about. They talk about ignoring Aaryn and what she says. They all head to bed.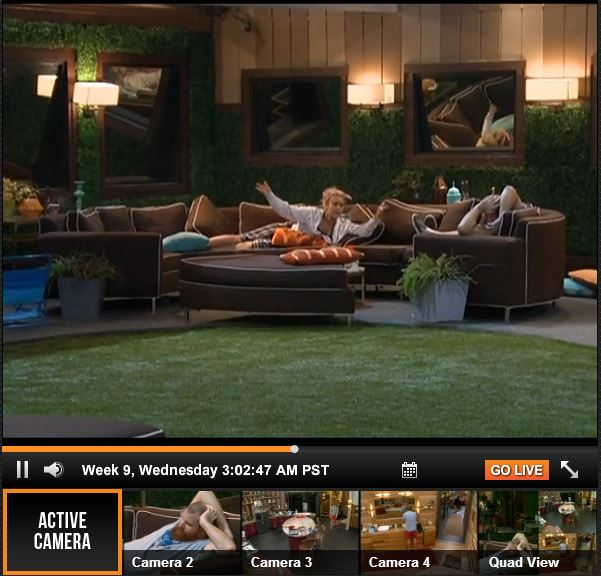 6:40am All the house guests are still sleeping..
9am – 10:50am Big Brother wakes up the house guests. When the live feeds return – All the house guests are going back to sleep except for Elissa. Before Ginamarie heads back to bed she tells Elissa that Aaryn is throwing her, Judd and Spencer under the bus. They both laugh. Ginamarie then heads back to back and Elliss goes up to the HOH room to get ready for the day. She then listens to her HOH cd. In the rainbow bedroom – Judd asks Gina if she is getting ready to do her goodbye messages. She says she did her's yesterday. Aaryn heads out into the backyard and starts working out.
11:25am – 11:50am Aaryn lays out by the pool and lathers up with Olive Oil to sun tan. Elissa comes out and starts doing yoga. All the other house guests are still sleeping.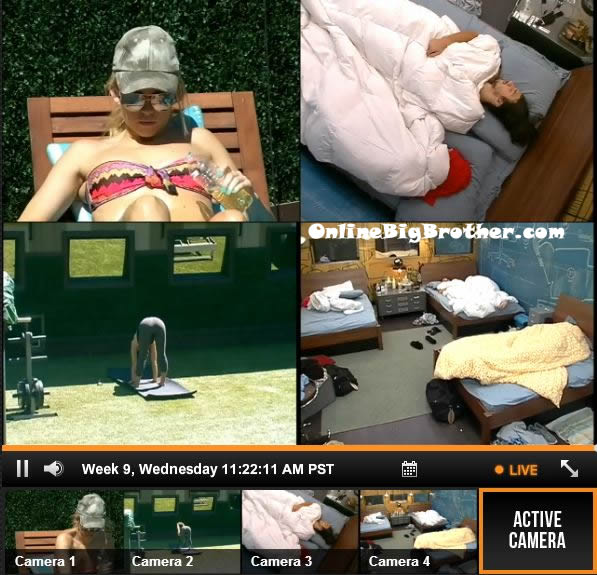 12:55pm It's been a very quiet day in the Big Brother house today. Elissa and Aaryn are the only house guests awake. Aaryn suntans, gets in the pool, lays in the hammock and does her laundry. Eliss finishes her yoga and heads up to the HOH room to change she then heads to the storage room and wraps an ice pack on her leg. Elissa then heads to the backyard to read her bible. Elissa goes to the diary room and tries to get in. They don't let her in. She says out loud these things (ice packs) don't help at all! Oh my gosh! She then goes up to the HOH room and gets back into bed.
Use the Big Brother Live Feeds to FLASHBACK to SEE what they can't show you on TV: