POV Holder:
Amanda
Next POV
Aug 31st
POV Used
Yes
POV Ceremony
Sep 1st
HOH Winner:
Elissa
Next HOH:
Aug 29th
Original Nominations:
Aaryn and McCrae
Current Nominations:
Aaryn and Andt
Last Evicted Houseguest
David, Nick, Jeremy, Kaitlin, Howard, Candice, Jessie. Helen
Have Nots
9:18pm Bathroom Elissa and GM
E – I would die if I left without seeing a Pandora's box
E – Oh my gosh
E – Everyone wants a Pandora's Box PLEASE
GM says she doesn't mind as long as it's something good.
E – oh my gosh I want it so bad
GM – Still could happen
E – I doubt it .. I'm not going to lie I will cry
Elissa asks her if she is sad Aaryn is going home
Gm says yes but she is still voting out Aaryn she loves Andy
E – Yay
E – you have to vote her out it's not even a option
GM – I know I know
9:47pm Backyard Looks like Beer pong is a go
An argument start 1/2 the houseguests want to play traditional beer pong with the beer in the cups the other 1/2 want to drink the beer and put water in the cups. Amanda is adamant that they fill the cups with Alcohol.
They end up putting wine/beer in the cups. The first ball that is thrown spills a cup and they lose the alcohol. They decide to put water in the cups.
10:38pm Beer pong continues Amanda/Andy vs JUDD/Aaryn
Aaryn and JUDD on the same team and they lose which means they do not get to drink anymore. Aaryn and JUDD head into the kitchen. Aaryn says it's not fair they only had 1/2 a beer each. She says JUDD should go into the Diary room and request some alcohol for them. JUDD leaves (I assume he's going into the diary room)
10:46pm GM/Elissa vs Spencer/McCrae
Specner and McCrae win. Amanda says the winners get to split the Alcohol. Spencer wants it to be winner Vs winner.
11:07pm Backyard everyone but Elissa
Talking About Twitter alias' that are out there. JUDD wonders if the bear shirt has a twitter account. Aaryn said she did hashtag bear shirt in her HOH tweets. Spencer says Ginamarie's cl!t ring probably has one.
Andy and JUDD start calling Ginamarie Marie. Ginamarie doesn't like that name says her name is Ginamarie, "Would you like it if I called you DUDD" (LOL)
They start playing telephone..
11:17pm Cockpit Andy and Elissa
E – I dunno i'm just freaking out.. Aaryn is going to do whatever it takes to stay here
Andy assure her he's been Silently making sure everything is alright, "I've been touching base with everybody"
Elissa – "Literally I will leave this house if she stays"
Andy:"Ya"
E – "I will walk out the door behind you"
A – "Ya.. I'm nearly positive it's OK.. Did anything happen to make you worried"
E -"Ummhmm ummphf no .. I'm just freaking out"
A – "I believe it's fine"
E -"Ummhmpfhh "
A – "I Hope it is if everyone is telling me the truth"
E – "You have to kiss Amanda and McCrae's butt"
A – "I know I know"
He gives her a thumbs up "Don't worry.. you going to bed"
E -"Umm ya"
They leave the cockpit
Andy goes coming back into the backyard after talking to ELissa. Amanda really wants to know what Elissa wanted. Andy- "She just wanted a poke before bed.. she just wanted to know if I was campaigning.
11:27pm Aaryn, Amanda, GM, Spencer and Aaryn
Amanda is saying that Elissa is obsessed with Aaryn. Aaryn should feel flattered.
Amanda: "Elissa obsessed with you since week one"
Aaryn – "I think she's freaking out because she told me a couple weeks ago she thought JUDD was the most attractive guy in the big brother house she basically has a crush on JUDD.. A secret crush on JUDD"
Amanda: "NO way she told you that"
Aaryn: Ya"
Amanda – Did you hear that brent
Aaryn – "That fact that I'm flirting with JUDD is the reason she called Andy into the cockpit to talk because she doesn't like it"
Amanda: "Cmon.. she told you.. Can I go up there and tell her you know it will cause world war 5"
JUDD walks out and they fill him in.
Aaryn explains that Elissa said JUDD is the hottest guy in the house. She's seen JUDD flirting with Aaryn and is worried that is why Elissa called Andy in the Cockpit to talk.
Of course Amanda goes up and tells Elissa.
11:30pm HOH Amanda Elissa
Amanda says Aaryn is downstairs saying the reason Elissa wants Aaryn gone is Elissa told her a couple weeks ago she had a crush on JUDD and you thought the was the hottest guy in the big brother house.
Amanda – "You want want her gone because she is flirting with Him"
Elissa – What is wrong with this girl.. I almost want her to stay because she's so stupid
Elissa – She did not say that
Amanda – I swear to god on my life
Elissa – Andy is super mad at me
Elissa says she's only attracted to her husband she not attracted to anyone else in the entire world.\
11:35pm Hottub JUDD, Amanda and Aaryn
JUDD says he wishes she wouldn't have done that. It's going to make it weird for him. Amanda tells them what she said.
Amanda – "Did she really say that to you"
Aaryn – "Yes"
11:37pm Aaryn and Elissa Hot tub
Aaryn – "Do not leave me here you pretty much threw me to the wolves.. what was the point of that"
Amanda – "Entertainment.. make you a bigger target"
Aaryn: "Make me a bigger target.. to make me leave"
Amanda:" To make you stay.. what some pretzels"
Aaryn – "I know you don't want me to stay Amanda"
Amanda – "I want you to leave? .. are you crazy.. f** love you"
Aaryn tells her to get McCrae to realize that she is a huge target and will help them. Amanda says McCrae has been loyal to Andy from the beginning. Aaryn tells her Spencer and JUDD will not vote for her to stay it's up to McCrae and Amada.
You can re-watch ever second on the feeds using the flashback feature.. It's just like a DVR and is super easy to use. click this link for a Free Trial —> Subscribe to the Big Brother Live Feeds
12:00AM Backyard McCrae, Amanda and Aaryn
Aaryn says Andy told her and Ginamarie he wanted to work with them.
Aaryn: "I have nothing else but that.. we were working together to use against you"
Amanda – "Would you take me to final three"
Aaryn – "if I made it yes.. If I strayed here I would do anything.. I'm going home Spencer and JUDD will never vote for me the only way I stay is if you and McCrae vote for me"
Aaryn – "I told them I would put you and McCrae up if they voted for me and they still won't vote for me"
Aaryn – "If you save me I'll be loyal forever.. plus i would get voted out next week unless i win something"
Aaryn says GM knows that everyone was trying to get her up on the block. Amanda wants to know who GM will put up if she wins HOH
Aaryn: "probably y'all"
Amanda: "If you stay"
Aaryn: "same but i'll be a vote"
Aaryn tells her at this point if Amanda/McCrae go on the block together one of them is probably going home. If they got on the block against her she is going home.
Aaryn – you have a better chance of me winning HOH than Andy.. If I was HOH i would keep you.. I'm officially a bigger target than you two Andy will never be a f*** target"
Aaryn -" you all voting me out after all that I've done is bullshit and the only way I will vote for you in the jury is if you are up with each other".
Aaryn – "Just think about it.. this is a game not friendship"
Aaryn leaves
Amanda whispers "As long as she was here she will always go on the block"
McCrae "I doubt it.. you are a much bigger target because of the shit that you pull.. you are always going to be a big target"
McCrae questions that Spencer is really coming after them like Aaryn is saying.
Amanda is convinced he is points out that Spencer has lied this entire game.
McCrae says Aaryn lies all the time.
Amanda points out she swore on her family
MC – "That doesn't mean sh!t to me.. means piss Dan f** lied on the bible.. doesn't mean anything
Amanda – Andy won't go on the block again
MC – Ya I know but why did we pick him for our team
A – to get us far.. he will get all the votes
MC says Andy is more loyal than Aaryn
aaryn – Ya you are right
Amanda knows Spencer did say he is targeting them.
MC – we're sacrificing one person for another person
A – I trust Andy more
MC – I trust Andy one thousand million percent more
A – me to
MC wants to know why she as starting sh!t with Elissa tonight. Amanda explains that she wants to keep Elissa and JUDD from scheming.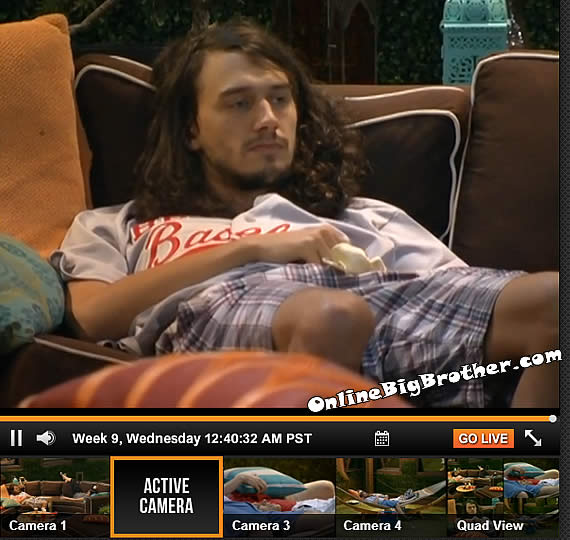 12:15AM Backyard
Spencer and Andy join them. They tell Andy and Spencer that Aaryn is campaigning. Spencer asks Amanda if she is pissed at him. Amanda says she's not she was just thinking.
S – Agrey looking thinking face
Adny – Elissa said I seemed mad at her
Amanda – ya
Andy – well she did put me up for eviction.
Andy says he trusts them all but he really doesn't want to get blindsided. Spencer says she's not going anywhere.
MC – "goddamn.. I f*** hate poopy"
Andy – you hate poopy why"
MC – She makes me feel paranoid"
MC mentions that Aaryn said she's not giving them her jury vote if they vote her out.
Andy says that is the same shit Helen was trying to pull and it only made him want her out more.
Andy – Helen got extremely pissed when she doesn't get her way
Specner and McCrae agree.
[polldaddy poll=7352641]