POV Holder:
AMANDA
Next POV
Aug 31st
POV Used
YES
POV Ceremony
Aug 26th
HOH Winner:
Elissa
Next HOH:
Aug 29th
Original Nominations:
Aaryn and McCrae
Current Nominations:
Aaryn and Andy
Last Evicted Houseguest
David, Nick, Jeremy, Kaitlin, Howard, Candice, Jessie. Helen
Have Nots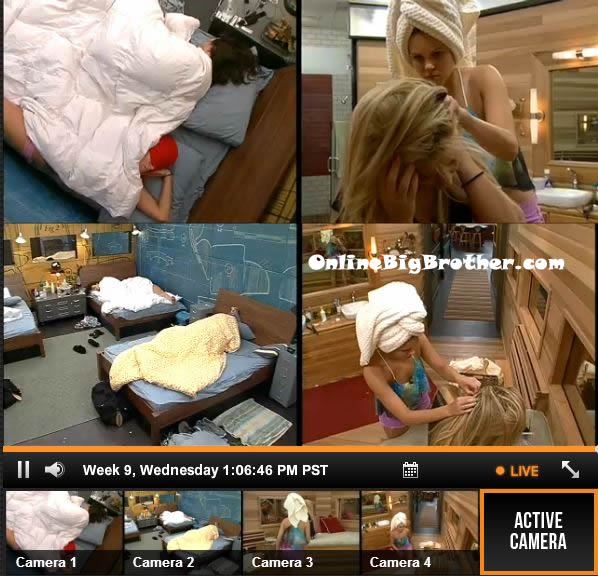 1pm – 1:30pm In the bathroom – Andy asks Aaryn what she has been up to. Aayrn tells him she worked out and then laid out. Andy says that he is going to lay out for a little while longer. Gina gets up and goes to the bathroom to fix her hair. Aaryn asks her what she has been up to. Gina says napping. I am going to fix my hair and then go back to bed. Gina gets Aaryn to help her with her hair. Aayrn talks to Gina and says that if Amanda and McCrae vote for me to stay and I stay then we can work together and then decide what to do. They stop talking when Elissa walks by. Judd joins them and then heads to the dairy room. In the kitchen Elissa is making an omelet. In the bathroom – Aaryn says if Amanda and McCrae do vote to keep me, they will probably tell you right before. If I stay I am saying that I won't put Amanda and McCrae up but I will. I am trying to make myself a big target so that people will want to keep me to because I will keep going up on the block. Aaryn tells Ginamarie I will never vote against you. Gina says duh. Gina then heads back to bed.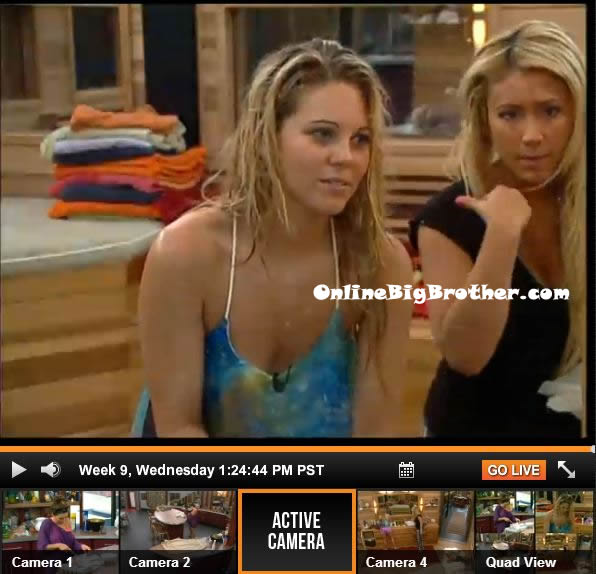 1:30pm – 1:40pm Judd joins Elissa in the kitchen. They talk about the havenot room and compare it to last yeas. Elissa thinks this seasons havenot room is worse. Elissa says I hope we get to do something fun to day Judd agrees. Amanada joins them and starts making her breakfast. They talk about New Year's Eve in New York City Time Square. Elissa really wants to go.

1:40pm – 2:15pm In the bathroom – Aaryn continues to do her hair/makeup. In the kitchen – Elissa, Judd, Amanda and Andy talk about random things and eat lunch/breakfast. Spencer and McCrae wake up. Spencer gets into the pool.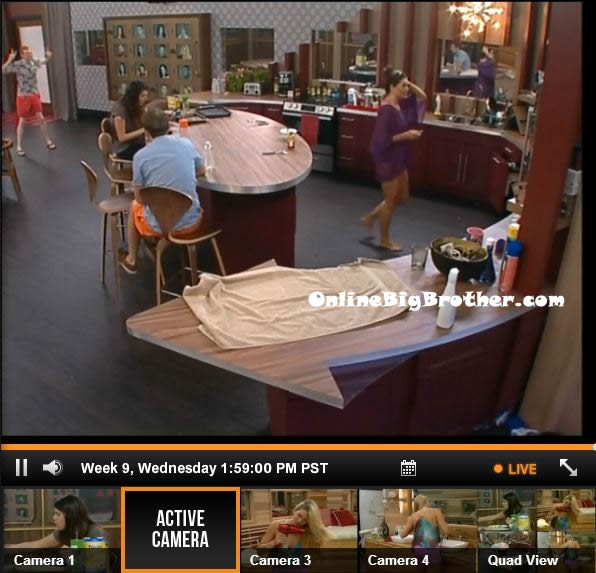 2:15pm – 2:35pm McCrae makes a meat sandwich. Out in the pool – Spencer and Andy discuss Ginamarie's farts. Spencer jokes that Gina can't digest water but she can digest pop. She lives off of a pop diet. Amanda and Judd join them by the pool. Amanda asks I don't know why you guys insist that Candice was pretty. Andy says she was a beauty queen. Amanda says yeah down in Africa!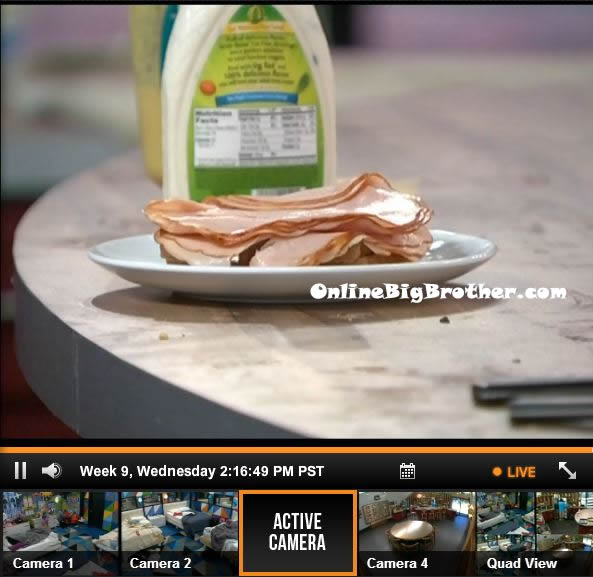 2:45pm – 3:30pm Elissa, Andy, Judd, McCrae and Amanda are in the pool talking. The laugh about what Candice would have been like if she had won HOH. They comment on Howard's speech to them in the kitchen left them all confused and thinking he was talking about each other. Amanda says I can't believe that it was rumored that I said there was a minority alliance with Howard, Spencer, Andy and Helen. Spencer says wouldn't you be in it since you're Jewish? Amanda jokes that bubby is coming back out. She goes over and squirts the duck full of water on Elissa as Elissa squirts one back at her. Andy jokes that Amanda is schizophrenic and anytime she gets nervous about something bubby comes out. The conversation turns to talking about music they listened to when they were younger. Spencer asks Andy if he will do a re-enactment of him falling into the pool. Andy says no! They talk about just before coming into the house. Amanda says there were 16 of us and 4 alternates. Andy says that Kaitlin said she was an alternate. Elissa asks did anyone have second thoughts about coming in here. Aaryn says she did. Andy talks about the movie White Chicks. He says it was hilarious. Spencer says he doesn't like racial humor.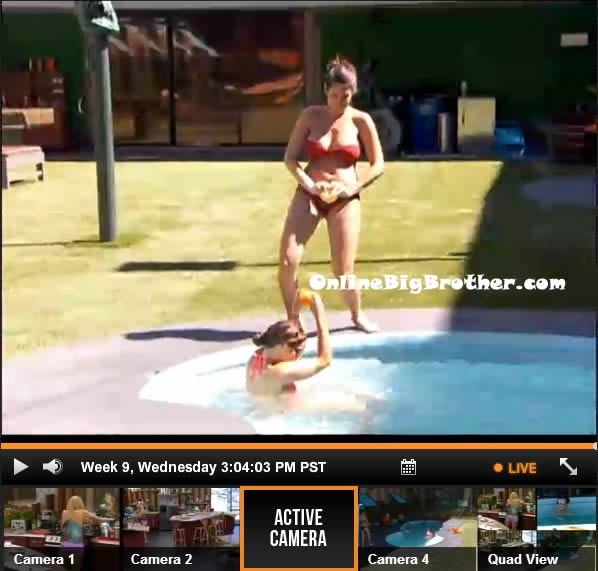 3:35pm – 3:40pm Aaryn tells them that there are new games in the storage room – Jenga, Hacky sack, card and a slinky. Judd says no way, why didn't you tell us earlier?!! Judd goes to check and finds them. He says thanks ya'll! Judd tries the slinky out on the HOH stairs. Judd heads outside. Gina asks are there games or what? Judd says uhh.. I didn't check.
3:43pm Gina says how about if I go check and if there are no games I will toss your two a$$ in the pool! Gina find all the stuff on the kitchen table and opens the door and tells them they got games. F**k you JUDD! She then chases Judd around the yard to throw him in the pool. He runs and gets into the hot tub. Gina then pulls him out and lifts and pushes him all the way to the pool as all the other house guests watch and laugh. When she gets him to the pool Big Brother tells them to stop that. aaryn keeps saying they should stop, this is dangerous. Spencer says you might as well just continue, you're already there. Ginamarie then pushes Judd into the pool. (Super funny to watch her push and pull him all the way to the pool.
Big Brother 15 Live Feeds FREE TRIAL: FLASHBACK FEATURE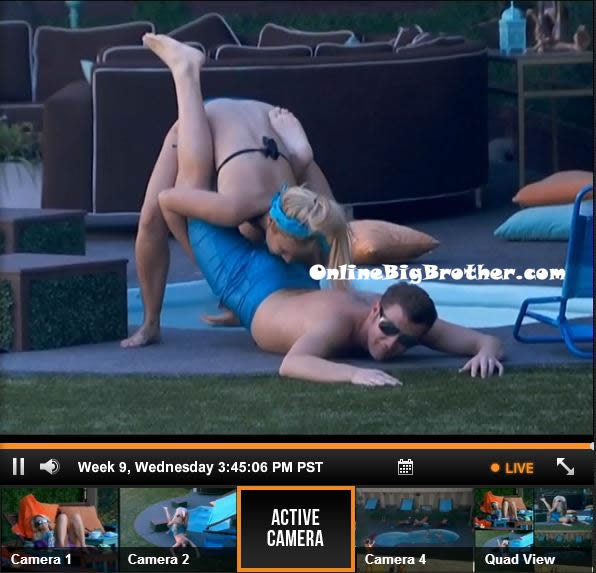 3:55pm – 4:10pm Judd and Elissa play a game of jenga. Elissa wins.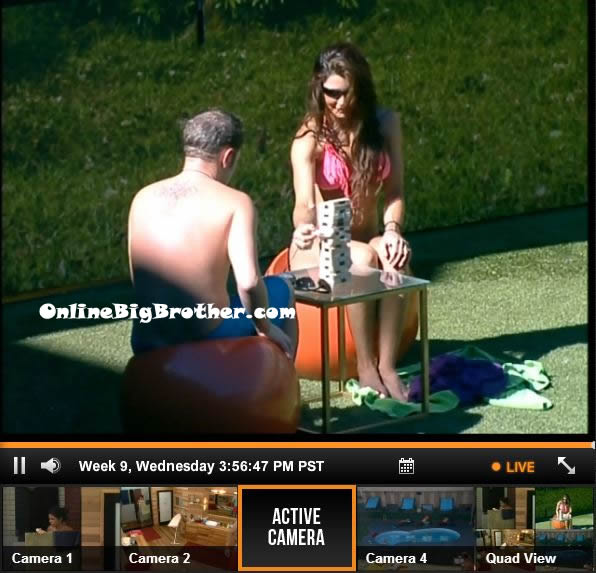 4:15pm The house guests are hanging out on the backyard couch talking about random things and eating.
Use the Big Brother Live Feeds to FLASHBACK to SEE what they can't show you on TV: