POV Holder:
McCrae
Next POV
Sept 7th
POV Used
YES
POV Ceremony
Sept 9th
HOH Winner:
Spencer
Next HOH:
Sept 5th
Original Nominations:
McCrae and Ginamarie
Current Nominations:
Ginamarie and Judd
Last Evicted Houseguest
Aaryn, Amanda, Elissa
Have Nots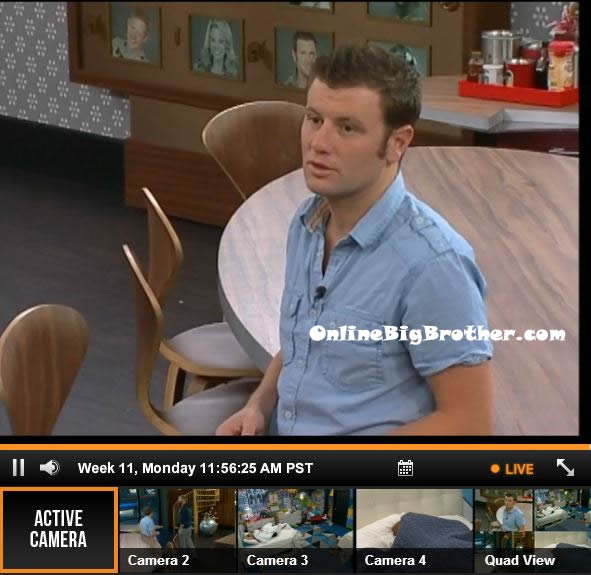 11:55am – 12:15pm Judd and Spencer are in the kitchen talking about it being weird that the luggage is already in the storage room. Judd wonders if he is supposed to pack now or what? He says they haven't even shown the veto meeting episode yet. Judd wonders if he should go ask if he is supposed to pack now or what? Spencer says it would be a good idea to ask. Spencer heads up to the HOH room. Judd goes to the diary room to ask if they should pack. When he comes out he heads into the rainbow room. Ginamarie asks Judd what they said. Judd says they didn't know and said they would let us know later.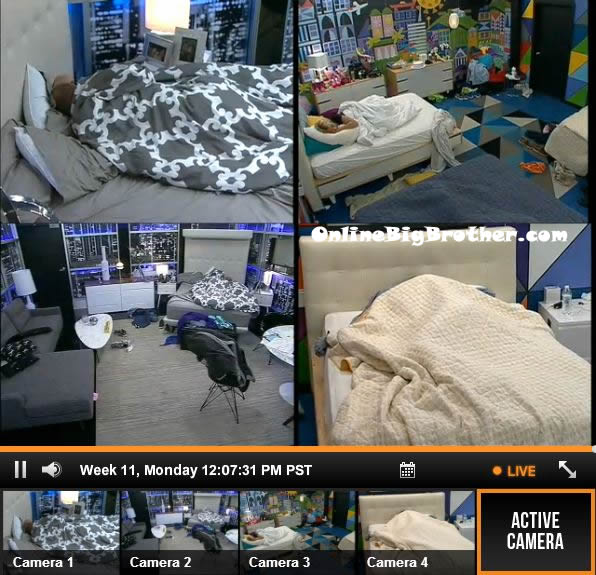 12:20pm Spencer is called to the diary room and when she comes out instead of going back up to bed in the HOH room he gets into his old bed downstairs. Spencer gets called to the diary room again. Judd shoot out of bed and says something's up! Big Brother cuts the feeds.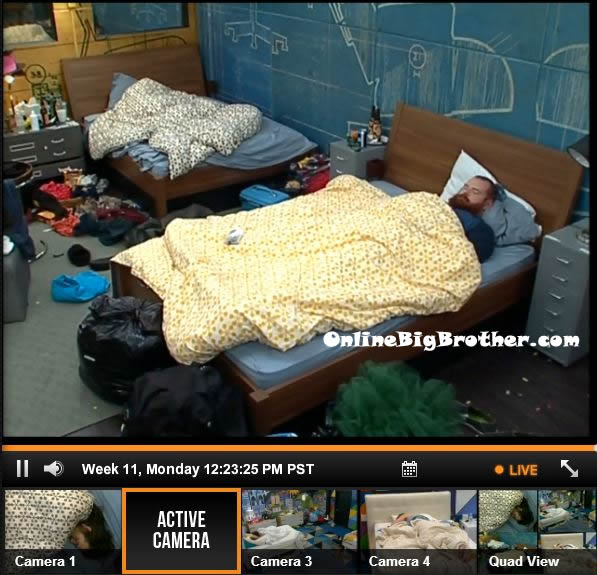 12:40pm – 12:55pm When the feeds come back – The house guests are on an indoor lock down and Spencer is locked up in the HOH room. Judd comes into the rainbow room and jumps on Andy's bed. Judd jumps straight into Andy's knees and hurts himself. Judd sits on his bed and talks to Andy about the votes. Judd says that he knows McCrae won't vote for him but that if Andy does then Spencer can break the tie. Judd says we can get out McCrae next and keep most of the exterminators together. Judd leaves. Andy goes and asks McCrae what's going on? They called Spencer up to the HOH room and now they are locking us inside. Andy asks if he should go check to see if he can get into the HOH room. McCrae says yeah go check. Andy checks and comes back saying he couldn't get into the HOH room. They wonder if Spencer is getting Pandora's Box. McCare says yeah or its the video messages from home. They both hope its something bad for Spencer. Ginamarie and Andy wonder why they're locked inside. Ginamarie says maybe it's because someones coming into the house.
Big Brother 15 Live Feeds: FREE 2 DAY TRIAL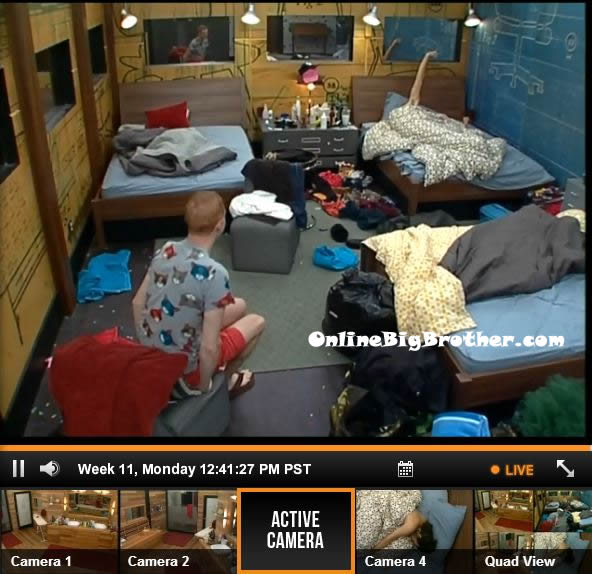 1:10pm – 1:40pmAndy jokes that the arrows at the front door are now going the other way. Andy, Judd and Ginamarie sit on the living room couches and wait for something to happen. Judd asks what if it's Talla (Big Brother Canada). Andy comments that today is day 81. It really is a huge accomplishment that we have all lasted this long. Judd asks what if he is just doing his stupid a$$ blog?! Gina says if that was the case they would have called him to the diary room for the camera first. Andy says no that's after. McCrae says watch he gets to spend time with David Grohl (Foo Fighters – singer) and we get Elissa back. Judd wonders if they will have a live show tomorrow night. Andy asks on a Tuesday? Andy says it could be a luxury comp or something fun.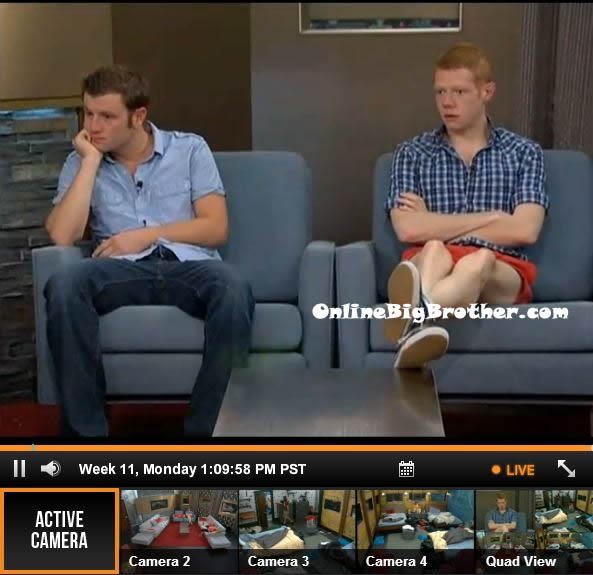 1:50pm Andy goes up to the HOH room door and knocks. Andy asks Spencer what are you doing? Spencer says I'm in here with Rachel Reilly. Big Brother says Andy KNOCK IT OFF! Andy heads back down stairs. He tells Judd that Spencer said he was in there with Rachel Reilly. Judd asks was he kidding? Andy says I think so, I don't know.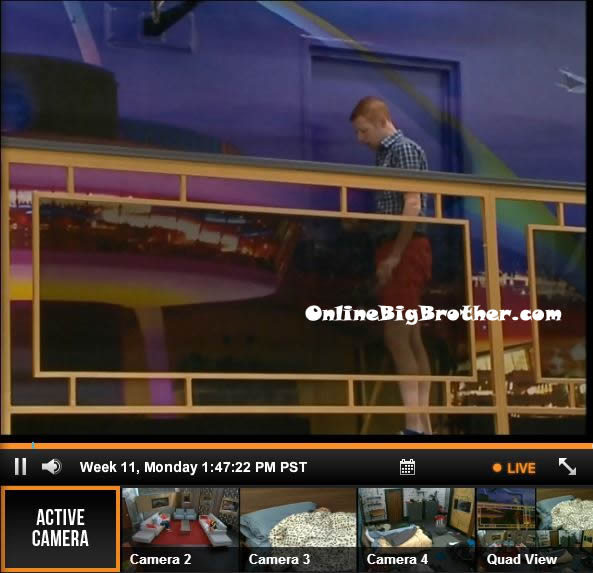 1:55pm In the HOH room Spencer is heard "I heard it, I'm going to blow my nose and walk down." In the kitchen – Gina comments from down stairs that she is going to throw something at Spencer when he comes out. Spencer comes out and says he was just doing his blog. Is that normal on a Sunday? They tell him no, usually its on a Tuesday. Spencer heads straight to the Diary room. Andy, Judd and Ginamarie comment on how they think Spencer was lying. Spencer then comes out of the dairy room with the camera. Gina says oh damn it was the blog then. They start taking photos. Spencer asks you all want to take our f**k Elissa photos now? Spencer, Ginamarie, Andy and Judd all take their photos in front of Elissa's memory wall photo fingering her. They head up to the HOH room and take more photos. Gina then heads downstairs to pack.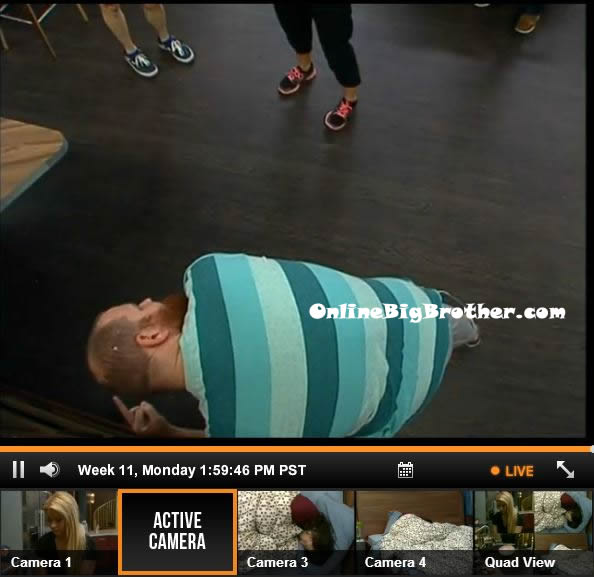 2:10pm – 2:20pm Judd asks so you guys have my back right? Spencer and Andy tell Judd they've got his back. Judd says I am just so worried, I don't want to be surprised? Judd asks is there any possibility? Spencer says no not where my head is at right now. Judd asks Andy says I'm exactly were Spencer is at. Judd says I just don't want to go to jury with all those girls. Spencer says you could have a f**k fest with Jessie and Aaryn. Judd says no likely more like the claws will come out. Big Brother cuts the feeds and when they come back – Judd questions Andy about not saying final four. Andy says sorry final four, that's what I mean. Judd says sorry I am going to be on edge until tomorrow. I will try and amp it down.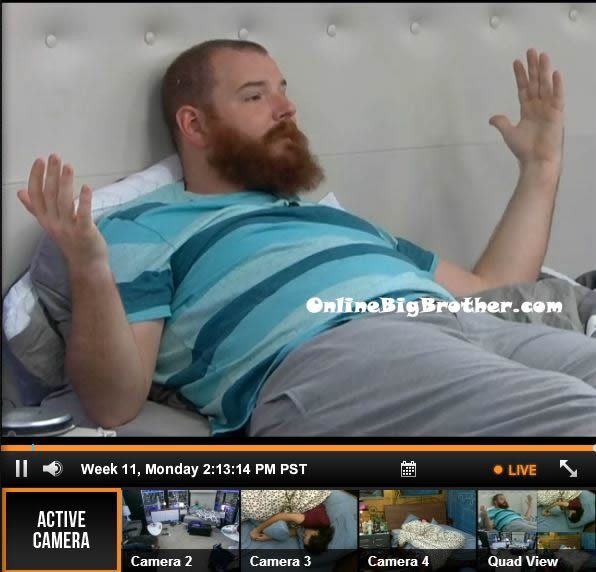 2:30pm – 3pm Out in the backyard – Judd asks Andy if he is going to give Gina the heads up or not. Andy says that he isn't sure. I don't even want to think about it right now. Judd says so you're just going to surprise her? Andy says no. Judd says I would want to know if it was me. I will kill me to not know and be surprised. Judd tells Andy if we could just get to final two it would be such a toss up ..I don't know who would win. Judd says we have both won 1 HOH and 1 POV … same comp wins. Judd and Andy reminisce about past events of the house. Judd talks about the vote and says I am just not going to worry about it, Spencer can break the damn tie. Judd and Andy head inside.

3pm – 3:10pm In the storage room – Gina asks Spencer what Judd thinks? Spencer says he think he's staying. Big Brother cuts the feeds. When the feeds come back – Andy comments that they said tomorrow is an eviction episode, they didn't say it's live. Andy, Spencer, Ginamarie and Judd all head up to the HOH room. They talk about how they were told they couldn't pack the ducks. Judd comments how McCrae is pissed at him now. Gina says she doesn't understand why because McCrae cried like a b***h when you went home the first time. I don't understand it. Judd says I am still going to be nice to him, if we hang out tonight. I am not going to be like screw you. Spencer says I don't think McCrae is going to be an a$$hole to you.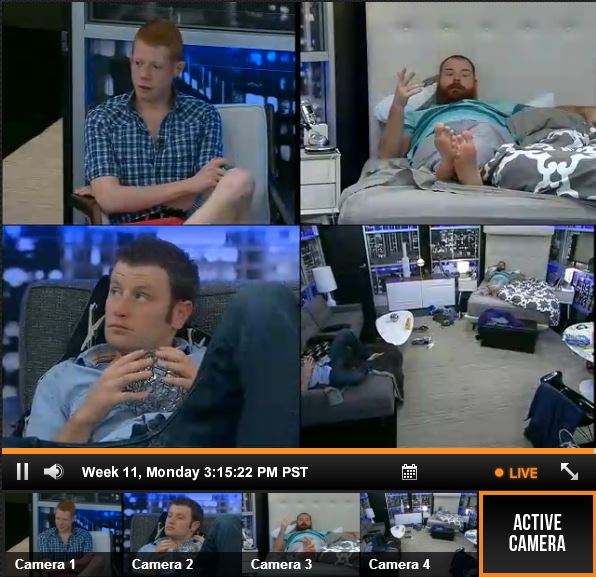 3:20pm – 3:30pm Andy and McCrae are in the rainbow room. Andy says I don't know if he was trying to get me and Spencer to try and keep him. Andy asks so where's your head at? Andy says I want to get you and Spencer alone so we can talk but both of them (Gina and Judd) are on my nuts! McCrae agrees. Andy says can you believe Chris (production)saying "Who's ready to win $10,000.. just kidding tomorrows an eviction episode." McCrae heads outside to smoke.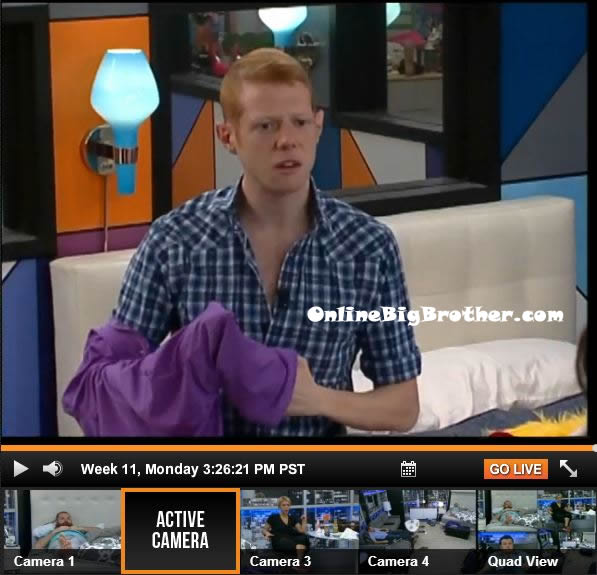 Please consider donating. Simon and I work 24/7 all season long to bring you all the live feed updates and spoilers. ANY amount is greatly appreciated, your donations go directly to paying the server and bandwidth fees needed to run this site.
[polldaddy poll=7375044]
Use the Big Brother Live Feeds to FLASHBACK to SEE what they can't show you on TV:
BB15 N!p Sl!ps / N*des
Share it YO!!
Tweet