POV Holder:
McCrae
Next POV
?
POV Used
YES
POV Ceremony
Sept 9th
HOH Winner:
Spencer
Next HOH:
Sept 11th*
Original Nominations:
Gm and McCrae
Current Nominations:
JUDD and GM
Last Evicted Houseguest
Aaryn, Amanda, Elissa
Have Nots
9:40am HOH JUDD and Spencer
Spencer says there is no difference between putting JUDD or Andy up because they will both vote for each other.
JUDD says they need him to beat McCrae because MC is a monster in competition, "I'll hold his a$$ down let you guys win HOH"
Spencer says JUDD and him have always been close in the game from the get go. IF andy was wavering about not keeping JUDD in the game spencer would put his a$$ up instead of JUDD.
JUDD says after he came back he made it his mission to take out McCrae and AManda because MCCrae was his friend and backstabbed him. JUDD adds it was his personal mission to get them out. It makes JUDD sick that MC is staying. JUDD knows MC won the veto fair and square.
Spencer – "I know dude makes me sick too I wanted final 4 exterminators but GM has to go this week.. I know how dedicated you are to us to getting them out thats why I need you here with us"
JUDD explains that MC was his number one ally before he was evicted. MC never once told him all these were after him. People that MC was close to so he had to have known, "He never said hey JUDD go make nice with Helen she is super mad.. nothing".
JUDD says he holds a bigger grudge against what McCrae did to him, He's thought about spitting out a hateful speech to MC but thinks that will hurt him more than help him.
Spencer says Andy is voting to keep JUDD so spencer doesn't think there is anything else JUDD can do he's good.
JUDD tells him if MC gets to final 2 he's going to win, "I would vote for him because he'll beat 4 people that are after his a$$.. I probably wouldn't but other people would"
Spencer Agree. JUDD says he's proud of the exterminators he adds that GM and JUDD are both good at different competitions. JUDD asks if Spencer has a final 2 with Andy and Spencer Says no. Spencer says all he has is the exterminators final 4, final 3, final 2.
JUDD reminds Spencer that the exterminators were originally Spencer, JUDD and Andy.
Spencer again says Andy is voting to keep him so not to worry.
JUDD – "I trust you.. if something changes let me know I don't want to look like a fool.. i'm not going to raise hell"
10:21am Backyard Spencer and GM
Spencer says he's worried about next week because he can't play in the HOH. GM says if she wins HOH he's good with her.
Spencer- "There's the veto to worry about"
GM -"ya I know"
JUDD joins them..
JUDD – "I hate it comes down to this.. we had our shot with veto"
GM – "I know"
Spencer – "Yaup.. f**** sucks"
10:53am HOH JUDD and Spencer
S – "How close is Andy and GM'
JUDD – I dunno.. close I guess.. "
GM comes in "Nice Speech JUDD Jesus Christ"
JUDD – "I'm not campaigning against you but that is pretty much my pitch
Andy comes in JUDD apologizes for making Andy feel uncomfortable
JUDD – "safe to say no more cigarettes for me"
Andy – "that was a good speech"
Spencer – "It's a unfortunate scenario"
Andy – "You never said nothing mean you just said what was done"
JUDD says McCrae has screwed him over a lot in this game. Spencer doesn't think JUDD looks like a d!ck at all.
GM didn't know JUDD and MC were not getting along.
JUDD explains to them that McCrae and him were friends and allies and McCrae knew all these people were after him and he never gave him a heads up.
JUDD – 'on a game level he's my nemesis"
JUDD again apologies making people feel uncomfortable.
Spencer thinks what JUDD said was admirable, didn't make him look like a sore loser made him look scrappy.
JUDD – "I'm not going to fight with him or argue.. it's tough to see someone that has lied to your face so many damn times and not say something about it"
JUDD tells them again the speech he just gave was the only campaigning he plans on doing.. He wanted everyone to know where he stands.
JUDD gets called into the diary room.
JUDD – "Ugh I don't want to go to the DR right now.. If you see me alone with him comes site beside me I don't want him twisting my words to make me look bad"
JUDD leaves
Andy – "I hate that McCrae won that F** veto"
Spencer – "Me to"
GM – "He f*** quit so.. not everyone gets a second chance" (JUDD)
Spencer – "Ya I agree"
Andy – "It sucks because I want him to stay so much more than McCrae"
Spencer – "Ya"
Andy thought for sure JUDD was going to pull a Diamond power of veto out of his pocket.
Andy – "I don't think McCrae will be voting for JUDD.. "
Spencer- 'Probably not"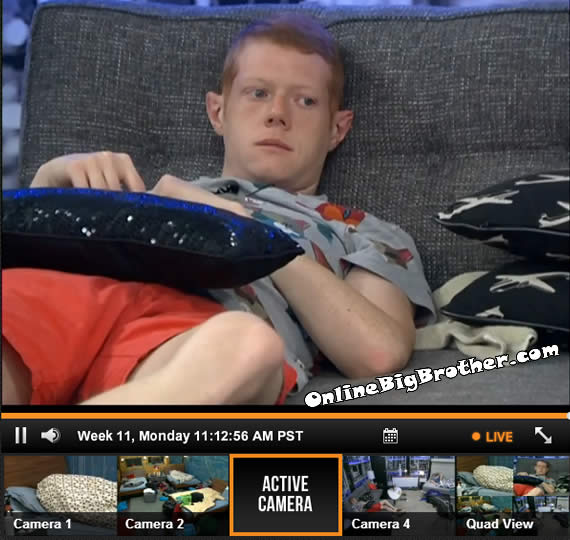 11:14AM HOH Andy, Spencer and GM Andy says JUDD still worries him a little bit because part of him thinks the speech was to try and get Spencer and Andy to keep him so he can team up with McCrae.
Andy leaves.
Spencer tells GM he's got her back there is nothing to worry about.
GM tells Spencer that nobody will beat Andy in the final 2. GM adds that McCrae will probably win the game as well.
Spencer – "the jury might say f*** McCrae he hid behind Amanda's t!ts the entire game".
Spencer adds that McCrae has won 3 vetos and 2 HOH's and he's played a hell of a game.
Spencer- "After Andy nobody can beat McCrae"
GM and Spencer shake on taking each other to the end they feel their only chance to win is against each other. (Image below)
JUDD joins them.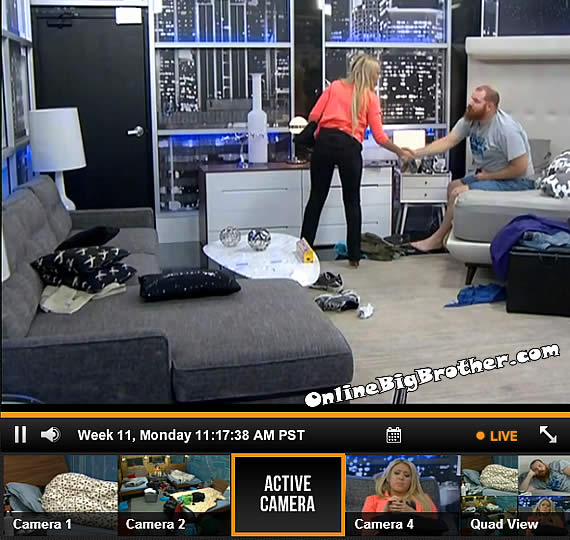 11:25am JUDD and Spencer
JUDD says Andy will win the mental competition he has all the dates memorized. JUDD says he's going to make nice with McCrae do there is no awkwardness or fights, "I don't want to make tension in the house"
Spencer- "There won't be any fights.. McCrae isn't much of a fighter"
JUDD – "That's all I had to say to him .. I've been holding it in since I've been back"
11:36AM JUDD and GM
GM says their luggage is in the storage room. JUDD says that means they are having an eviction sooner than Thursday, "Maybe tomorrow night! "
GM – "no the eviction is Thursday"
JUDD – "Near the end they do things differently"
JUDD goes to wake up Andy to tell him the luggage is in the storage. He's thinking the eviction is early.
JUDD – "Sorry for waking you up i'm just freaked out"
Andy says it's unfair if they do a early eviction and not tell them.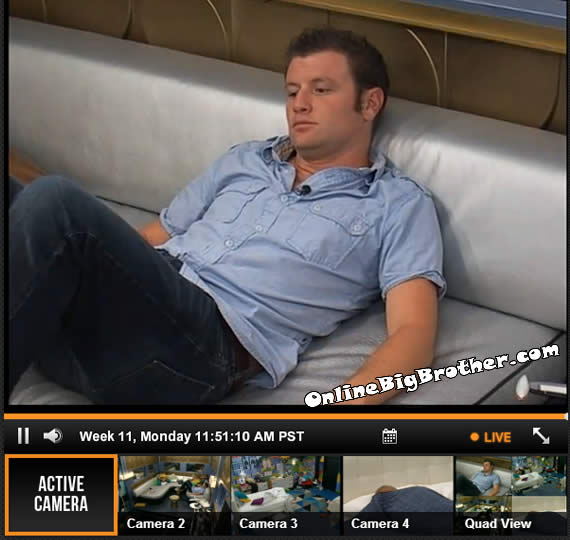 11:52am
Most players sleeping. JUDD says he's going to pace around a bit before he takes a nap. JUDD is pretty worried that the eviction is tomorrow.
If you enjoyed the site this season please consider a donation.