POV Holder:
?
Next POV
April 24
POV Used
?
POV Ceremony
April 26
HOH Winner
Pili
Next HOH
April 29th
Nominations:
Sindy and Godfrey
Have Nots
Brittnee, Sarah, Kevin, Godfrey
POV Players
Godfrey, Pilar, Sindy, Willow, Bobby, Kevin.
Host is Sarah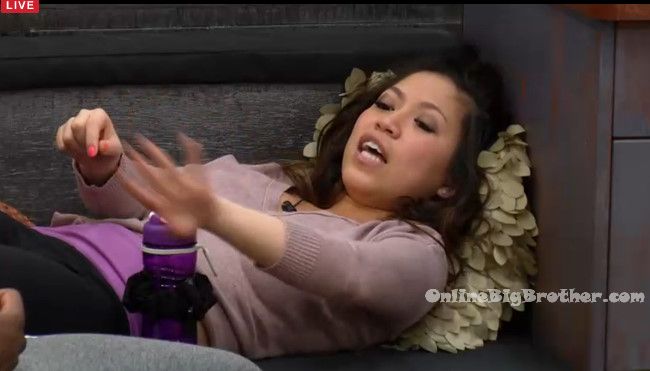 1:40pm – 2pm In the bathroom – Sindy and Godfrey. Sarah says the only people that wouldn't have put us on the block are Sarah and Brittnee. I will give Bruno the benefit of doubt ..he is here to play. I would say Bruno, Sarah, Brittnee are the only ones that wouldn't have put us on the block. Sindy says that Bobby said winning HOH is a curse and that's why he's thrown all of them. He tried not to win that last one. Sindy says that Bobby told Brittnee it was a one time vote. Godfrey says he wants to please the entire house. Sindy says he knows I am coming after him. Sindy says if I don't win the veto I am going to say to Bobby "You are the most conniving d!ck in this house and you know I am coming after you if I don't get evicted from this house." When we were in that vault it was the most awkward situation. I didn't talk game to him until the last 15 minutes because I didn't know if you guys were watching us. I used the candies to explain it to him. He told me he found a secret power of veto. In the last moment while we were hugging he opened up two empty vaults and told me he found a secret power of veto. Godfrey asks did he show it to you? Sindy says no. Sindy explains that there were numbers on the sheets and he found it while I was in the DR. How is that fair. He said he found the keys above the vault door. Godfrey says I honestly don't believe he found a secret power of veto in there. Sindy says he said he didn't tell me before because he thought I would push the button. If I won HOH I would put Bobby up and if he has a secret veto he can take himself off and I'd put up someone else. When you get a secret power of veto you don't share that with people.

2pm – 2:15pm
Big Brother tells the house guests to report to the HOH room for a lock down. Willow doesn't feel well and goes to the bathroom. She starts throwing up. Sarah comforts her. She asks if she's eaten today. Willow says no. Sarah says its just acid in your stomach. Sarah asks if she's gotten her period. Willow says no. Sarah says all of us are off.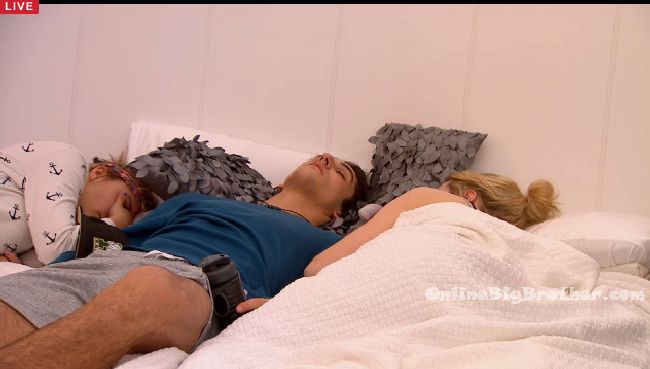 2:20pm – 2:35pm Big Brother ends the lock down. Sarah heads downstairs and sits on the couch below the stairs. Havenot Sarah picks up the jug of chocolate covered raisins and says oh my gosh! Willow lays on the vault panel and Big Brother tells her to stop that! Willow talks about how she thinks the veto comp will be a cr@p shoot. Sarah says I am sick of the have / havenot comp! Whatever I volunteer as tribute! I just don't want to do another.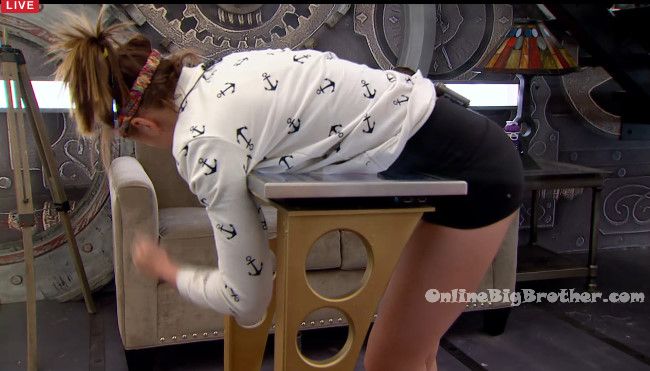 2:50pm Up in the HOH –
Godfrey says I got to make sure I win this yo! Godfrey says Bobby will trip when he hears what Sindy was saying about him. Yo Bro Sindy just said that while you were in the vault just before the 24 hours was up you opened two vaults and told her you found a secret veto. Bobby says just the fact that it got to you proves that its gotten around the house. I told her that just in case she won HOH. If I had told her after she wouldn't have believed me. Sorry I didn't tell you. I had to show that my target is Sindy because she is. Godfrey says you just have to convince people that veto isn't real. Bobby says that's kind of hard at this point. If people think I'm bullsh*tting I would rather be seen as a liar. Godfrey says I don't think people would do that just to force you to use it. Bobby says I told her (Sindy) straight to her face that I was going after her. I think the entire house would call bullsh*t on my if I said it wasn't real. If they ask I won't deny it. Bobby says I don't think people will ask me though. Maybe to ask if I would use it on them. You understand why I wouldn't tell you because you would ask me to use it on you. Bobby leaves. Godfrey says yo bro! Bruno asks he has one? (Secret veto) Godfrey says I think so. Godfrey and Bruno agree to talk later.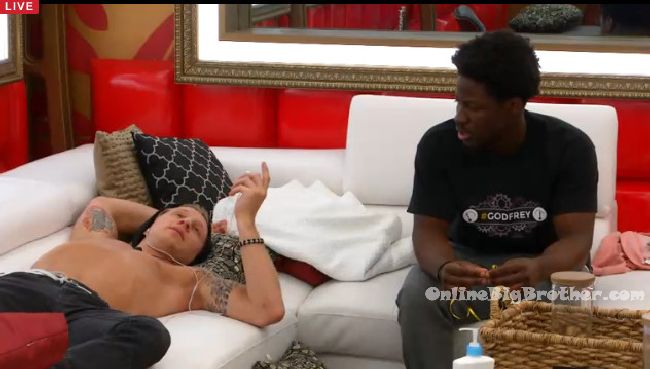 3pm – 3:15pm In the living room – Zach is asking Willow about her family. (Likely only asking now as he knows the jury has started) Willow comments on how Wednesday is Zach's birthday. Zach asks if she thinks Big Brother will give him a birthday present. Willow thinks so. UP in the HOH room – Godfrey comments I have taken one for the team by being up on the block. And I can continue to do that. Kevin says we should talk after we find out who wins the veto. Godfrey comments about a secret veto. Kevin says yeah what's up with that supposedly Bobby has a secret veto. Godfrey says its not a secret any more. He just confirmed he has it. Godfrey says after this week we need to take out the big threats. I know that Pili and you weren't part of a big alliance. All these people had something going on. The fact that I have to find out through third parties that Bobby has a veto. He didn't even tell me about it. We need to stick together. I trust you. Kevin says you're a free thinker in this game like me. Godfrey says exactly we think through the options. Ashleigh and Pilar join them and Godfrey changes the conversation to talking about how he thinks this week will be a double eviction. I feel like there is something fishy going on with the numbers we have in here… like they're going to try and bribe us again with the 10K.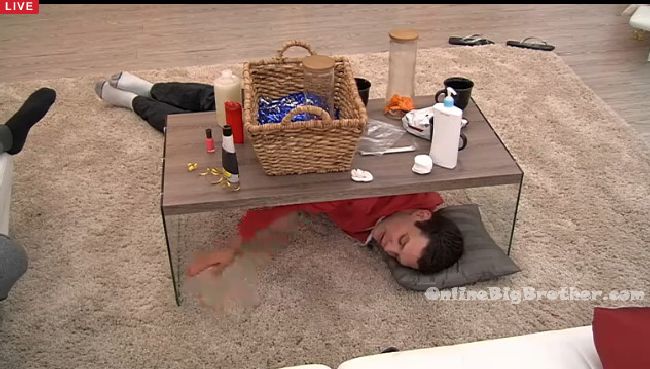 3:20pm UP in the HOH – Willow says that she really wants to win the veto. She says if I win it I would say "I won this power and this week is a waste of life and I would rather use this necklace as a noose." Willow says that Sindy told me to play the game. I've been here on my death bed while you've been in jury. Ash says honestly and I'm not just saying this ..you would be the last person I would tell that to in here. Willow says thank you. Willow says that Sindy told me I would never go home if I was on the block. And I was like oh yeah just like we told JP. Kevin says exactly. Ash says and she voted him out which she still hasn't come clean about. They talk about what the POV might be. Pilar says if its a numbers thing she (Sindy) is dumb. Ash tells Pili who ever doesn't go home this week would be the target next week. But who do we put up next to them .. Sarah or Brittnee. Bobby and Bruno think that we are more with them than with you guys. Bobby and Bruno if I was to win I don't necessarily want to put up Sarah or Brittnee up. She says I could tell Bobby & Bruno Let me chuck one of you guys up and be like chop shop shmop shop. It left with the guy that created it. I would say why don't you guys go up so they don't think the chop shop is together. Which you (Pili) are a part of. Pilar asks if her nominations were smart. Ash says I would have done the same thing. Willow joins them and they continue discussing possible noms for next week. Ash and Willow comment on how it was a good move to get out JP because he was playing really hard. Ash says I just hate that it was Sindy's move.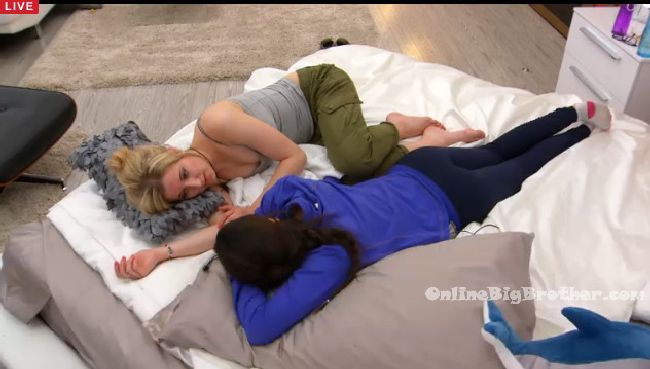 4pm In the bathroom – Sarah and Brittnee are in the bathroom talking about Bobby and how he has a weight complex. Sarah says he could gain another 25 or 30 pounds. He skips meals. Brittnee says he works out all the time. For him to look at me …like how I don't work out at all he probably thinks that is not good at all. But I am happy with myself. Sarah comments on how Bobby said that taking the 10K would only be a good deal if you were poor.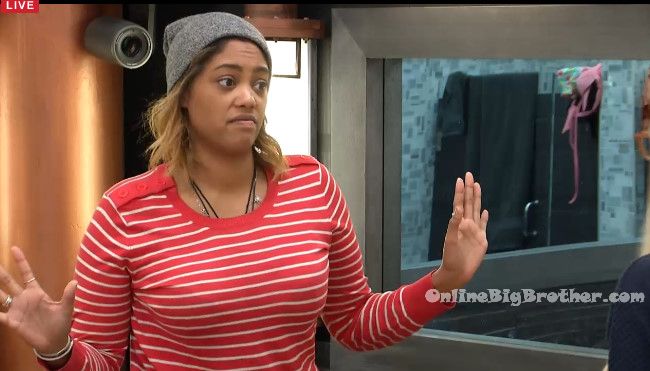 4:10pm Big Brother blocks the feeds…
4:15pm The live feeds return with Sindy, Bruno, Bobby, Kevin, Pilar, Godfrey, Ashleigh and Zach are in the living room talking about random things.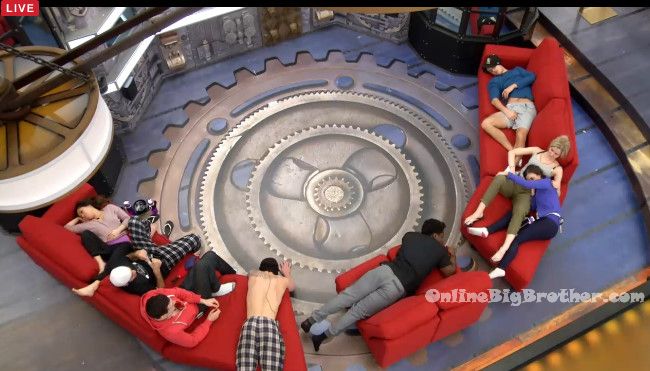 In the bathroom – Sarah and Brittnee are talking. Sarah says that Willow is sick of the way she is treated. Sarah comments on how Kevin didn't know how to spell Pili. If you're dating someone you should know how to spell their name.
4:35pm Big Brother tells the house guests to report to the HOH room.
4:46pm Big Brother calls Sarah to the diary room. (She's the POV host so the veto competition will likely be starting soon.)
4:53pm Big Brother blocks the feeds.
6:35pm The feeds are still blocked.
7:20pm Still blocked.
9:54pm Still blocked.
10:44pm Still blocked.
ALLIANCES IN THE HOUSE
There are always a lot of Alliance but we've tried to make sense of it all.. Read our alliance help guide
[polldaddy poll=8819718]