Watch the feeds for free from the US using a VPN we recommend HMA https://www.hidemyass.com/vpn/r16399/
Power of Veto Players Picked = Dillon, Demetres, Jackie, Ika, Sindy and William
Karen – I think the only showmance Kevin is with is one you (William) or 2 a bottle of lotion, I'm just saying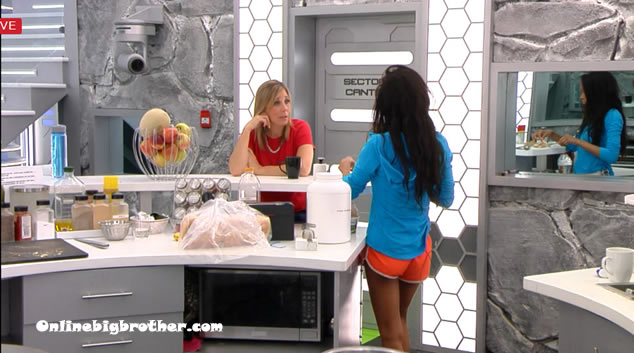 11:02am Karen and Ika Kitchen
Ika – I'm not going to betray you, Dre or Demetres in this game.
They agree that they can trust Dillon "For now" Ika stresses that Bruno has a hold on Dillon.
karen says she's working Dillon good.
Ika thinks if Jackie wins veto Bruno will push to put her up.
Karen says she's 100% sure that Dillon won't put Ika up
Ika says if Veto is played it's a perfect time to split "Those three up" (Sindy, Bruno , Kevin)
Karen – Sindy cannot win that Veto.
Ika – Sindy is completely loyal to them, Sindy, Bruno Kevin were high fiving
Karen – you have to be careful what you say to Dre right now
Karen – this POV is huge
Ika – I know I want to win it
Karen says Dillon trusts her a little bit more than Bruno and Kevin
Ika mentions Kevin was saying Karen is a dangerous player because no one is targeting her.
Karen says Dillon mentioned Kevin was pushing for her to go up
11:12am Ika and Dre
Dre- you have to win..
Ika – if Sindy goes up do you think we should send her home
Dre – is that a real question yes..
They agree they can't trust Jackie.
Ika says she's just loyal to Dre and Demetres. Says she likes Sindy but she's got to go. (LOL too bad Sindy had a shield)
Ika says that karen told her "be careful what you say to Dre"
Ika – she's also questioning William
Jackie and Dillon HOH
Jackie tells him Kevin and Bruno were worried they were going to go up. she goes on about how she's not targeting Dillon.
Dillon says If Jackie or him win the veto he might put Sindy up.
Dillon – I feel like you me and Karen can do something
Jackie brings up that when she won the veto during the double Bruno and Kevin weren't happy for her. That showed to her that they weren't on her side.
Dillon – if next week we can get HOH and put Bruno and Kevin on the block.
Dillon explains he made a deal with them.
Jackie now saying maybe keep Bruno and Kevin around because they think they have her.
Dillon – they think they have me too it's wild.
Dillon says Sindy, Kevin and Bruno are working toegther their shady as f**. Adds that Ika is also working with them.
Dillon – if you come off and we get Sindy on the block than she goes home for sure.
12:20pm HOH Dre and Dillon
William and Kevin Blue Room

Dre and Dillon HOH Couch


Bruno and Kevin Have nots Room

Demetres and Karen Storage room

Bruno and Dillon HOH

3:03pm Sindy and jackie bathroom
Sindy says Dillon doesn't care which one goes out of the two nominees. If Ika wins the veto she'll take down Demetres then Sindy feels she'll be in danger of going up.
Sindy Warns that Dre and Dillon are getting really close.
Bruno joins them says this week isn't as bad as they thought.
Sindy says she won't use the veto unless she's 100% who the replacement nomination is.

5:45pm Ika and Demetres
Ika saying they have to win the HOH.
Ika – right now William sketches me out, if he wins he'll never put Kevin on the block he'll put Bruno and one of us.
Ika – he might put Bruno and Jackie
Demetres – I want to get this over with.
Ika says Kevin and Bruno are so angry they are not playing in this veto
Iak syas she sucks at competitions
Demetres says you need luck to win these competitions.

Dillon the 270lb mouse #BBCAN5 pic.twitter.com/EBDc7lOeIs

— OnlineBigBrother.com (@bigbspoilers) April 15, 2017
Dre and Demetres red room
I'm pretty sure the POV competition has started… 6:54pm.
[polldaddy poll=9723834]