Watch the feeds for free from the US using a VPN. We recommend HMA https://www.hidemyass.com/vpn/r16399/
Power of Veto Players Picked = Dillon, Demetres, Jackie, Ika, Sindy and William
Power of Veto winner is Demetres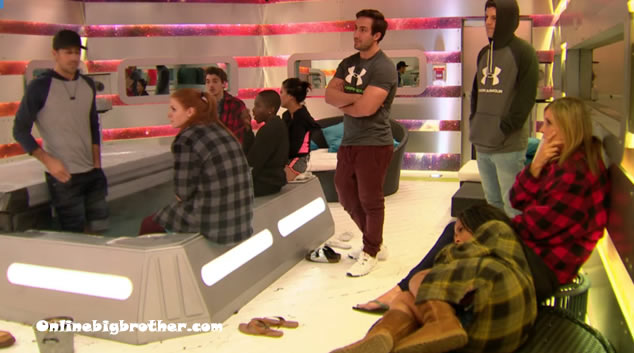 9:13pm Feeds come back they're all locked in the hot tub area.
Bruno – "Who would have guessed that was the veto"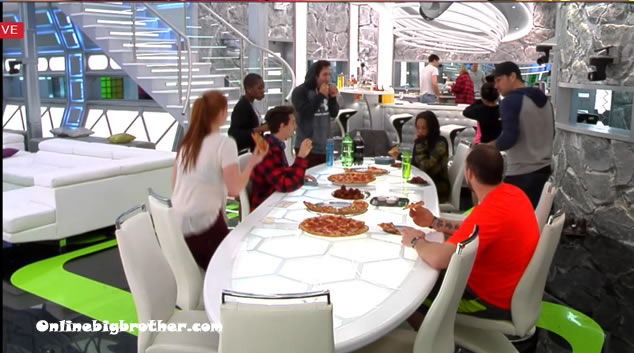 Have nots get a 24 hour break. Everyone a "have" until bed time tomorrow
Dillon – "Congratz Demetres"

AHHAHAHA Karen going on about Ika not eating the chicken bones.. (For those that watched Season 3)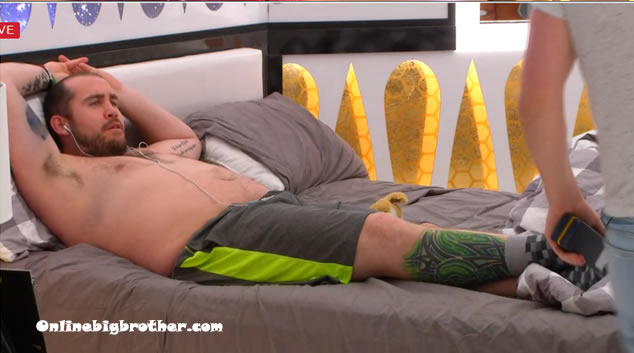 10:11pm HOH Kevin and Dillon
Dillon – if I put Sindy up..
Kevin – you want Sindy to go home
Dillon – Yup.. and Bruno told me the same thing
Dillon – I would put Sindy up because she put me up during the double
Kevin says he was working with that group and Sindy went and Backdoored Neda out of the blue.
Dillon says his other option is to put Ika up
Kevin says put the person up that is the bigger threat.
Dillon says Demetres and Ika told him if they won HOH they would go after Jackie.
Dillon – sindy would be the best bet because she put me up during the double.
Kevin promises to vote out whoever he wants him to.
10:20pm Ika Dre and Demetres

10:51pm Bruno and Dillon
Bruno is pushing for Ika to go up.
Bruno – we have to take the shot Bro

Midnight Bruno pushing for Ika to go up

Karen and Dre Red Room
Karen stresses that Ika is playing both sides (Nothing but net)

Dillon and Ika
Ika swears on her babies she won't put Dillon up.

Karen and Ika red room
12:25am HOH Dillon and Ika
(Same old. Dillon can't trust Bruno but Dillon can trust Ika. The Greek jumps in 1/2 way through and parrots what she says. ) (consider all spoilers in brackets until the next day ;0 )
2:26am Demetres and Ika
Demetres "Crack head" Story. Feeds cut before he says her name.
He starts it with 'this actually happened"
There was this house with these "Huge Huge Old trees" and one of them fell on the power line and these people were out of power "For like 2 days" the owner decided to cut the rest of the trees around the house to prevent it from happening again.
Demetres – "Oh my god I was so hung over.."
Demetres – our town has like characters that exist.. everyone knows theses people
Demetres – theres this one lady in particular she's older, but. She floats around from town to town and ah… like her name is like
Ika – DON'T.. don't say anything
Demetres – she has a nickname that everyone knows.. like.. theirs a guy that walks around that sits on the benches .. he's got a name… there characters right"
Dillon goes on about getting called early in the morning to cut these trees down. He was hug over but said 'ok whatever" he "Hopped in his car".
he drove our of his house and turned onto the highway and…. "that lady was on the corner trying to hitch a ride" she looked at him.
Demetres – She's like OHh OHh OHh I want a ride"
Poor Demetres he was like "Oh my god D***k no"
Demetres – "So she's like oh my god and runs up to my car and like goes for the door handle" "
Demetres says he barely beat her and hit lock in the car. "And she's like banging on my fucking door"
Demetres whispers "She's a crack head" and he was 'So hung over" but not to worry he "just hit the gas" and got away.
Demetres – I just merge onto the highway without looking"
Demetres – she's straight up crazy
[polldaddy poll=9723834]
Share it YO!!
Tweet