POV Holder:
Big Meech
POV Competition
July 23rd
POV Used
?
POV Ceremony
July 25th
HOH
James
Next HOH
July 28th
Original Nominations:
Frank AND Bridgette
After POV Nominations:
? AND ?
Have Nots
?
CBS All Access: Live feeds are only $5.99 per month – Try it FREE for 1 WEEK!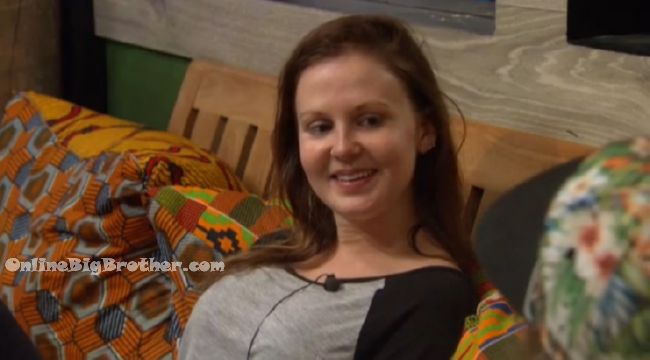 3:48am Safari room Michelle and Frank
Michelle wants to know all Bridgette's secrets.
Frank – what do you mean she has no secrets
Michelle – I want her out more than you
Frank – everyone else wants me out
Michelle says one of them is going home. She wants Bridgette gone.
Frank – I want to flip the house in a different direction.. That is what the fans want to see the house flipped
Michelle says he has been making deals left and right and none of them included her.
Frank questions who.
Michelle Everyone, Nicole, Zakiyah
Frank – I hate Zakiyah's guts
Frank says Da tried to make a final 2 deal with him day 2 .. he was in a final 2 with Nicole and that is all he had.
Michelle – I want you to stay over Bridgette hands down you won't come after me she will.
Frank says Bridgette will go after Da'Vonne and Zakiyah.
Frank brings up Zakiyah and how she's the meanest to Bridgette.
Frank says when Zakiyah is in the room and Bridgette walks in, "she has this look on her face like she smells sh1t.. You're not a mean girl but you've been hanging out with Da'vonne and Zakiyah I don't want you to look like a mean girl"
Frank – use it and Backdoor Da'Vonne
Michelle – I don't want to backdoor da'vonne she's not coming after me
Frank – neither are we
Michelle – there's no way people are going to lose the opportunity.. two big threats that have lied to everybody.
Frank pushing working with Michelle.
Michelle says she can't work with Bridgette
Frank – I'm going to be honest with you .. you are being immature
Michelle – I know.. It's a personal thing
Frank points out the dangers of going with the other side
Frank – she's one of the most loyal people in this house..
Michelle – she said she will shave off my eyebrows…
Frank – she said she never remembers saying that
Frank says if he leaves and Bridgette wins HOH she'll likely put Michelle up but if they work together the 4 of them they can flip things up and make BBhistory.
Frank – would you rather be in a group that can win sh1t
Frank congratulates her on winning the comp says she's did fantastic "You should do a big move this week"
Frank says the most important thing in Big Brother Starts with the letter L.. .Loyalty.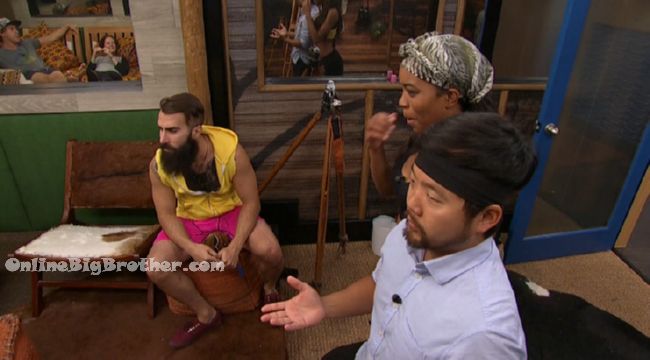 4:28am
James comes down and tells them he needs to be involved with whatever they decide to do, "Obviously I have to put someone up".
Michelle – I'm pissed Nicole didn't say you guys had a final 2
Michelle – who made it
Frank – she did
Frank says the the veterans get paid more when they hit Juy that is why Da wants to get to jury so bad
Frank – I'm proud of you for winning OTEV that's a big comp.. I got beat by BIG MEECH and BRidgette with a wobbly ankle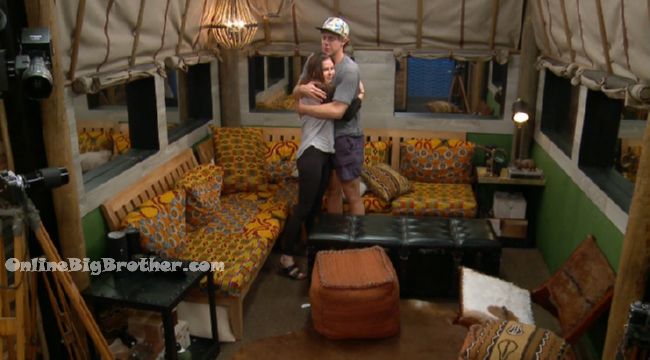 4:44am they Hug it out..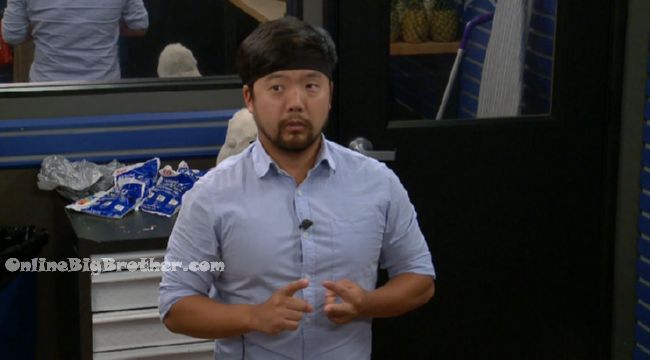 4:16am Da'Vonne and James Storage Room
Da'Vonne says Paulie is feeling bad for Frank. He's been telling the group Frank isn't winning any competitions where BRidgette has.
James says if the POV is played Paulie is going up.
Da'Vonne – Paul is pissed Paul is pissed..
Da'Vonne – Frank is a salesman.. He's got a mouthpiece..
James- people need to realize we put people up for a reason why are we changing our minds..
Da'Vonne – Ain't no changing Zakiyah, My PAul's heads.
They are freaking out that Frank will flip the house. James is going to threaten Corey, Nicole and Michelle if the POV is played he might put someone up they don't want up.
James says if they want to change the play now he'll be pissed he would have ran his own HOH and put Victor and Frank up.
Da says Frank has 2 days to work on Michelle
James- he'll use every hour
Paul comes in.. "Send Frank home .. send his ass home"
Da'Vonne leaves..
Paul says Paulie thinks Bridgette is the bigger threat.
James – If she uses that veto it'll be a bad day i'll have to put someone up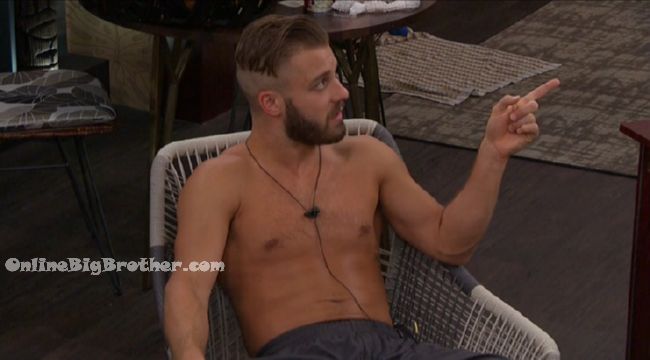 4:30am Paulie and JAmes
James- whos going home this week
Paulie – frank
James – I support your HOH week you support my HOH week
Paulie doesn't want Bridgette to be around the double HOH to take a shot.
Paulie – we can handle Vic and we can handle Bridgette.. Z'a been trying to get a rise outta me
James- about what
Paulie – she gave me sh1t… even tonight she said she didn't respect student athletes… don't have to work .. get handed A's..
Da'Vonne and Zakiyah comes in..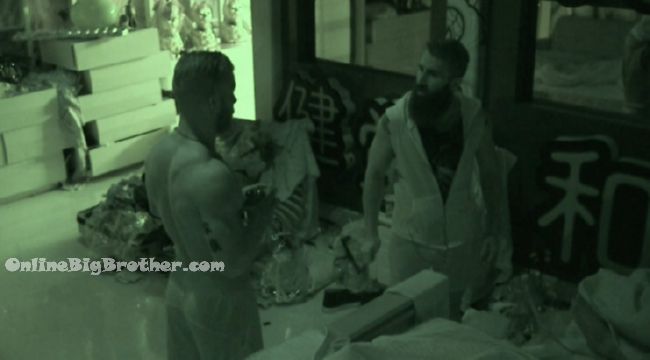 4:44am Corey, Nicole Paulie and Paul
Paul is freaking out.. He's worried Frank is going to talk Michelle into using the Veto.
Paul – Look dude she is already seeing sympathy
Nicole – who meech
PAul – ya.. I want to call him out.. If she uses it it'll be one of us and i'll be dam,n..
Pauli e- he wants Da up..
Paul – but still he's here for another week..
Paulie- I'm telling you it's not going to work
Pau – I just want to call him out.. Cause I've had it..
Paul – I'm calling him out.. Unless you don't think I should.. I'm calling him out on his bullshit.. You think I should..
4:48am Paulie pulls the boys in
Paul going on about calling Frank out on "EVERYTHING"
Nicole comes in says she's talked to Meech she's not manipulated..
Paul – I want to call him out for her pleasure
Vic – for what
Paul- I want to call him out
Paul – what he say meech..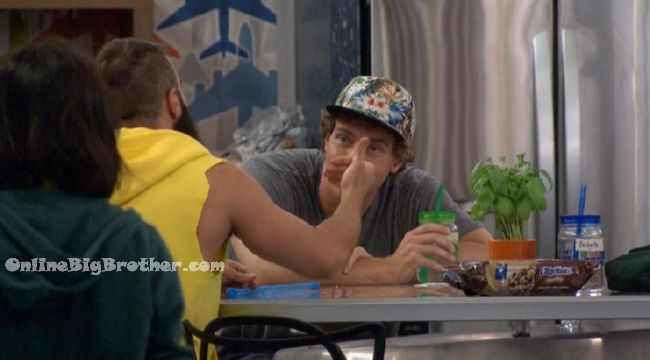 4:51am Paul confronts Frank
P – Frank.. So what's the end game now BRO
F – To what..
P – If you get pulled off the Power of veto than what..
F – Why are you worried
P – i am worried
F – I don't think it's you .. I don't put the replacement up, I was talking to Michelle …. I don't know why you're' so worried
P – i've been up 3 weeks in a row 2 of those week were probably you
F – how was it because of me
P – First week definitely was you
F – I did put you up
P – second week.. Why was I up they're
F – people thought you compete well .. who was HOH that week
P – why was I up THird week
Frank – I told you so you could compete against Tiffany
PAul – I don't get it.. Certain things are said..
P – I don't get it
F- I'm on the BLock bro what do you want me to do lay over and die.. I'm telling you now I'm not throwing your name under the bus
P – you have.. Multiple times.
F – I don't want you out Paul..
Frank – I don't know why you're coming after me i'm on the block..
Paul says he gets paranoid when he walks into the safari room and Frank is in there talking to Michelle and he was asked to leaves, "I should be concerned.. Don't tell me I shouldn't be concerned."
Frank assures him he's not suggesting Paul goes up. Tells him he told everyone that came into that safari room to leave.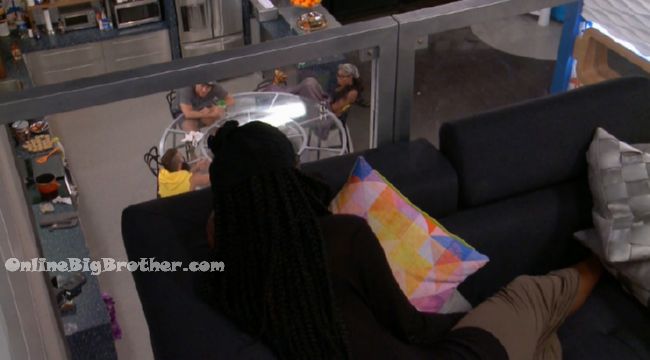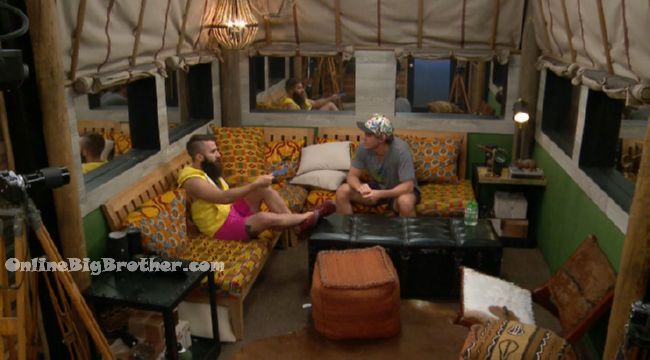 4:57am Paul and Frank Safari
Frank – Bro I want Da to be the replacement..
Frank – I'm f***g gong home on Thursday.. There's a reason I'm on the block beside Bridgette.. I didn't win Veto so i'm going home.. My only hope is get the Veto to be used on me.
Frank says he won't turn on Bridgette she's the only person that had his back. He won't campaign against her. He's loyal to her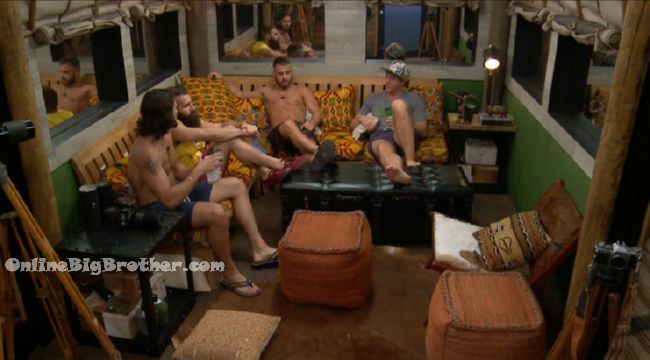 5:11am Paulie, Frank and Paul
Frank says Paul was concerned that Frank was trying to get him nominated but Frank's trying to get Da'Vonne nominated.
Frank – Da'Vonnes up they're laughing.. She was looking at the banister… laughing good someone else mad at Frank.
Victor joins them
Paulie – Da wants all the guys all out of the house..
Frank – trying to get to Michelle she seems somewhat receptive..
Paulie – Da's on my hit list.
Frank – if we go to James with enough people..
Paulie bringing up Zakiyah "Trashing Student Athletes"
Frank leaves.. Paulie says they need to keep Bridgette around to take a shot at Zakiyah.
Paul – she's the seed of F*** chucky she will come back with a vengeance if he goes home.. It'll be a stacked vote
Paulie on them.. She hates the girl more .. Da'Vonne and Zakiyah
They are counting guys vs girls scenarios.
Victor says the girls the girls don't need to win competitions they can still get people out because they have numbers.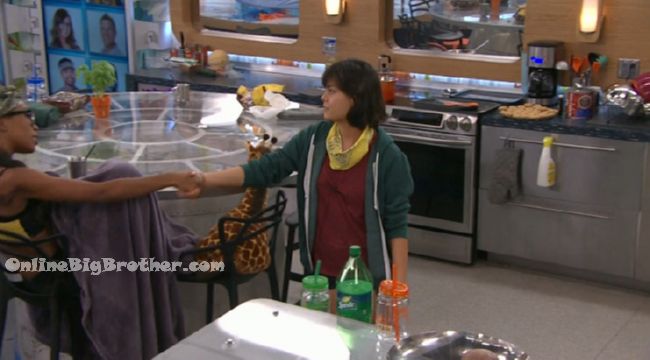 5:05am Bridgette and Zakiyah
Bridgette – for the past 2 weeks whenever i'm in a room you all walk out..
Zakiyah denies with Bridgette but says with Tiffany she did because Tiffany would keep ahrrasing her.
Zakiyah – if it was a issue then no reason to not pull me aside..
Bridgette – Well it's really f***g hard when you feel like you're being bullied
Zakiyah – Who's bullying you.. I don't bully.. Bridgette.. Bully Is someone sitting they're harassing someone being mean getting in their face..
Bridgette – you talk shit behind my back
Zakiyah You've done plenty of things.. Dropping people rings.. Little catty girl stuff. I don't get wrapped into that… I don't have a reason to talk shit ..
Bridgette – what.. People are making up shit about me and it's not OK. it's not true and it's childish ..
Zakiyah you ignore me ..
Bridgette – I felt like I was ignored by all of you
Zakiyah – No NO .. you talk to me I'll talk back you don't talk to me that's fine too
Zakiyah – I didn't think we really had a issue
Bridgette – I felt isolated
Zakiyah – Mhhhh I felt that from you
Bridgette – I feel like a lot of bullshit was said and I don't think it's true..
Zakiyah – same.. Same someone said I was stupid and I Was dumb..
Bridgette – I hope you don't think I said any shit about you
Bridgette – I want to get along with you girls but you make it hard, people were physically leaving rooms
Zakiyah – I wasn't leaving rooms… I don't have a problem with you.. I don't i don't
Bridgette says she was befriending Tiffany because she was alone and depressed.
Zakiyah says she's always going to respect people that come to her directly and tell me if theres something wrong.
Bridgette – I know what they say about me..
Zakiyah says Nicole was told she was going up
Zakiyah – I heard things about being called stupid
Bridgette says she never said that.. "I've never called you stupid I've never done anything to you"
Bridgette – I was lied to to my face.. James promised me he won't put me up, Frank up and Day up.. next day I am up on the block.. lied to right to my face..
Bridgette adds James said to her they could work together later, 'Are you kidding me"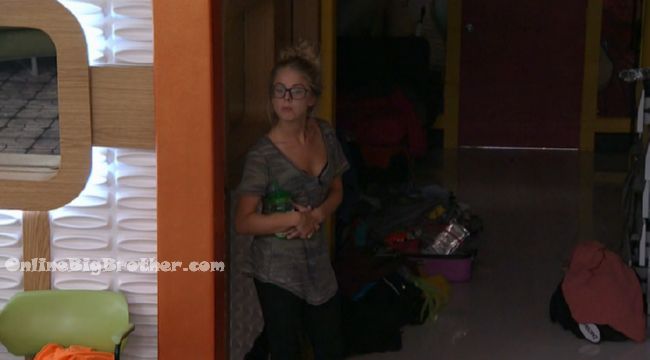 Nicole listens from a safe distance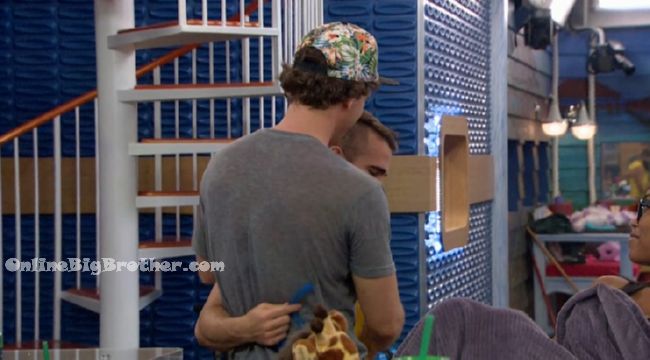 5:20am Paul and Frank hug it out..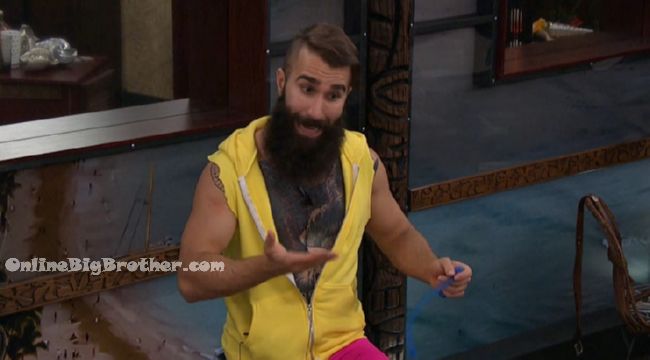 5:22am Paul, Da'Vonne, James and Natalie
Paul – he's so f***g full of sh1t.
Paul says Frank is trying to get Da'Vonne nominated and "stack the votes".
Paul – I'm not having him manipulate another person.. We swung and missed with Tiffany and it blew up in our face we swing and miss with Frank it blows up this entire house.
James tells Da'Vonne she's not going up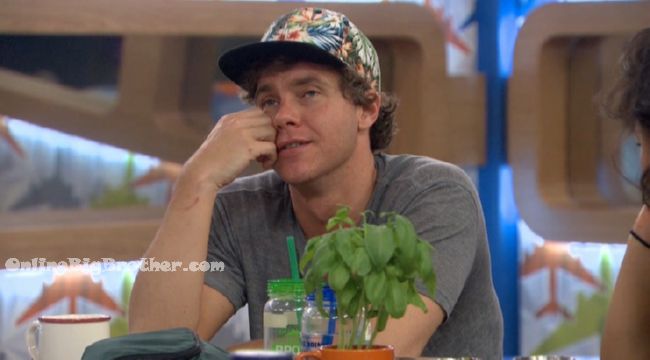 5:45am
Frank – I'm pessimistic about this week.. But that's making me feel positive about it..
Frank explains these past 3 weeks he's been positive and the outcome was negative so maybe if he's pessimistic the outcome will be positive.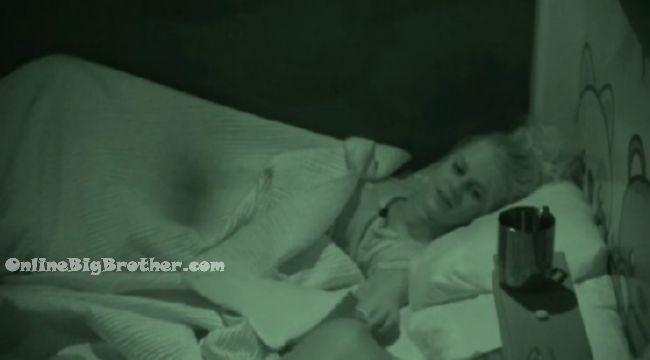 6:02am Michelle and Da'Vonne
Da'Vonne says their triangle is legit she's not sure where Natalie fits in it all.
Michelle brings up that Frank had a final 2 with Nicole
Da'Vonne says her James and Michelle had a final 3
Michelle wasn't aware of that, "Does James know"
Da'Vonne – maybe not a final 3 maybe we just got each other's back
Michelle says Frank wants Zakiyah out mentioned how she has the look like she smelled sh1t when BRidgette enters a room
Da'Vonne laughs – that's true Zakiyah does that.. She can't stand her..
Da'Vonne says her eyes were tearing up when Michelle won the veto
Michelle says that Frank was telling her she's not a mean girl he knows it's Da and Zakiyah.
Michelle – I'm probably the meanest
Da'Vonne says Frank knows his reputation is screwed for Calling her and Zakiyah sluts and slapping their a$$es. Now he's trying to make it look like he's a nice guy with helping bridgette from this made up bullying.
Da'vonne says theres no bullying going on in the house.
Michelle – I hugged her goodnight.
Michelle – I hope Corey and Victor don't team up
Da'Vonne – I still don't trust him
Michelle says Victor isn't bad to be around
Da'Vonne – he had a lot of time to think
Michelle – he's next after Bridgette right
Da'Vonne – that's what people keep saying .. That's what Paul said the next few should be easy
6:50am
More showmacning…
7:26am Frank, Bridgette, Paulie and Paul
Paulie says Corey told him he's down to flip the house
Paulie – I just feel like it would be fun, whatever f*** 500 grand.. just be a legend.. just say f** it put the visor down..
Paulie – Look Michelle who do you want to side with people that win or people that don't
Paulie – I'm going after Da regardless next week..
Frank – she's s nest of lies.. she's not that likable.
Paul – how has she remained safe
Frank – nobody wanted to get her out with me.. we had bigger targets
Paul – is it possible top convince Homie
Bridgette – whose Homie
Frank going on about pulling together a big group and going up to James.

7:38am
Frank says what he's going to do with James is what Mike did in his season..
Mike got Shane and Britney to go to Dan and Danielle and talked them "into it". Frank wants to go to James with Nicole.. "and be look like she's (Da'Vonne) bad for everybody's game.. when he sees the numbers that will be the tipping point"
Frank- maybe i'm crazy but there's a possibility.
Paul – lets start doing loose cannon sh1t
(They are all delirious from no sleep..)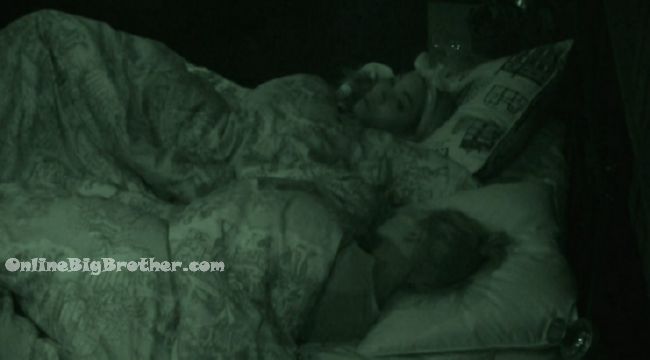 7:45am
Zakiyah and Michelle Complaining/Hating on Bridgette
Michelle – I don't want her in Jury I want Frank.. to be honest.
Zakiyah says Frank hates her a$$
They are convinced BRidgette is acting with her voice.
Zakiyah – Ohh I left the room before I'll leave the room now.. tonight was the last night..
Zakiyah impersonates Bridgette "I guess it was a misunderstanding"
Zakiyah – Girl get outta my face
Michelle scoffs
Zakiyah – I don't give a f*** like Girl.. really try to get made because I didn't clap for her.. Look you're not my friend..
Michele – Make me mad that she's like nobody is cheering for me
Zakiyah – why would I cheer for you
Michelle – ya we want you to go home
Zakiyah – you are not my friend sorry..
Michelle – she doesn't have a lot of girl friends.
Zakiyah – She's a snob she's snobby
Michelle – she even told she she got Brazilian wax all the time.. going out on all those dates and getting Brazilians..
Zakiyah says Bridgette told her she wouldn't put up Nicole and Corey "Bullshit.. she's full of crap"
Zakiyah about Bridgette – now you are all depressed and making cookies.. girl goodbye
Michelle mocks "I'm a f***G good baker
Zakiyah – who are you trying to fool I hope america feels right through that..
Michelle – they will..
Michelle and Zakiyah
Zakiyah – B1tch when did you ever care
Michelle – Frank would sh1t on her(Tiffany) every day
Michelle – no matter what she says I can never sympathize
Zakiyah – girl I wanted to punch her in the face.
8:36am Paul, Corey, Frank, Bridgette hanging around the kitchen making food chit chat
8:49am Paulie and Paul finally go to bed..
Giggling away in the bed. They get 2 stop that's from Big Brother..
They get a third stop that.. "What about STOP don't you understand"
8:51am Safari Room Frank and Bridgette
Taking about the attempt to flip the house. Frank says he's got to try.
Bridgette doesn't understand what is up with Michelle, "She said some horrible things to me.. that's mean"
Bridgette – I was pissed at Z.. I was like yo Z wee need to talk..
Bridgette – I'm not going to bow by head and let them talk shit about me
Frank says he needs her to distract Natalie when he's got to talk tot them
Paulie comes by
Frank – when you talk to Michelle you need to sell us three
Frank – I don't mind keeping Michelle around we need her here big time..
Paulie giggles "I'm in a giggly ass mood"
Frank says tell her Category 4 has won most of the competitions they should keep the group together.
Frank says Victor will roll with them if they have the numbers and Corey and Nicole will be down.
Frank thinks they can get Nicole, Corey, Bridgette, Paulie, Victor and maybe even Michelle up in the HOH to get Da'Vonne out.
Frank – Michelle's logical and she knows the game.
Frank says Production is pissed they kept the night crew up all night 'on their toes" (Feeds cut.
9:25am Looks like everyone is finally sleeping
11:40am They're all still sleeping..
12:40pm ZZZZzzzz…
1:10pm – 1:45pm Big Brother wakes up the house guests. When the feeds return the house guests continue to sleep with the lights on…
2:20pm still sleeping..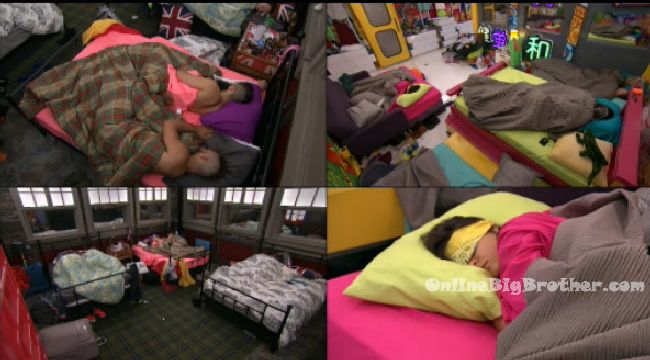 4pm Some of the house guests are up however most are still sleeping. It's a very quiet day in the big brother house.
[polldaddy poll=9477458]
[polldaddy poll=9477456]