POV Holder:
Big Meech
POV Competition
July 23rd
POV Used
?
POV Ceremony
July 25th
HOH
James
Next HOH
July 28th
Original Nominations:
Frank AND Bridgette
After POV Nominations:
? AND ?
Have Nots
?
CBS All Access: Live feeds are only $5.99 per month – Try it FREE for 1 WEEK!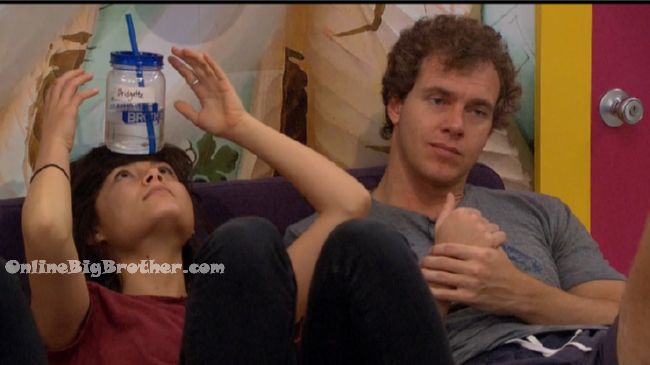 12:41am Frank and Bridigette, Corey/Nicole
Frank – Da won't look at us.. She hates me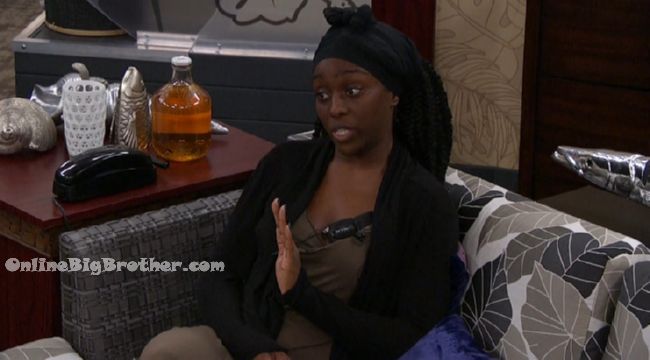 12:45am HOH DA'Vonne,. JAmes and Natalie
Da'Vonne is talking about Pandora's box.
Da brings up Bridgette saying she's being bullied by all the girls in the house. Natalie doesn't think Da'vonne is bullying Bridgette.
Natalie – I think everyone in this house is actually nice..
Natalie – Did Bridgette really say that about the shaved eye brows
Da'Vonne – that's what was told to me.. I heard she said some nasty things about me as well
James BRidgette
Da – ya .. I don't' like gossip and I don't like he said she said.. I'm going to talk to her I want to know it'll be really sad if neither one of us said these thing we heard and we've been having this war for nothing..
Da'Vonne saying that Bridgette is a nurse she's got to be careful what she says
James agrees chimes in that the live feeders will tweet things out.
James is unsure Bridgette will admit saying that
Da'Vonne doesn't think she will either
Natalie does, Bridgette will tell the truth if they talk about it. Natalie still has trouble believing it was said.
Da'Vonne now saying she doesn't know what she did to Frank to cause this rift. Adds they were very close in the house at the beginning, "I don't know what went sour.. No clue.. "
Natalie – James is going to put you up Da..
HAHAHAHAHA
Da'Vonne – little joker
Hahahahahaha
Natalie – I hope he (james) finds a power and it's something good..
Hahahahhaaah
Natalie to Da'Vonne – I want you to win HOH so we can see Cadence (Da's daughter). I told you I would drop for you (Endurance comp)
Natalie – who would Bridgette pout up if she had won
Da'Vonne – me and Nicole
James- Frank doesn't trust Nicole.. He said that she's flip flopping
Da'Vonne says Frank is really "Messy" in the game.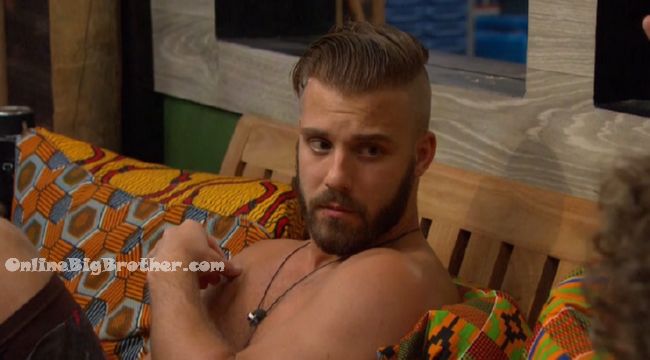 1:05am Paulie and Frank Safari room
Frank wondering where the votes are.
Paulie – Victor will do whatever everyone tells him to do..
Paulie – it's not a good situation ..
PAulie – I'll try and help.. The only things to try to get votes against Bridgette
Frank is going to try and get the veto used, Maybe get Himself, PAulie, Paul Corey victor and Nicole to support him. They can go to James and say "let's do this". Use the veto on Frank and put Da'Vonne up.
Frank – it's a long shot..
PAulie – I would rather see you stay here than her.
Frank – she (Bridgette) assumes I'll have the guys votes.. I think I'm going home, she thinks she's going home..
Paulie – everybody was celebrating like it was the damn superbowl.. (After Michelle won the POV)
The only people cheering for Frank and Bridgette were Victor, Paulie and Corey.
Victor joins them.
Frank says he's not going to campaign against Bridgette his only play is try to get James onboard to backdoor someone..
Frank – If I leave on Thursday don't leave her out to dry with those mean girls.. Someone win and don't put her on the block
Frank- I don't want her to be..
Paulie – use her as a PAwn every week
Victor says it was a toss up between Michelle and Bridgette during the POV
Frank says he wants an idea about the vote this week, He's under the assumption he's going home btu would still like to know before Thursday.
Bridgette comes in.. "Paul is blowing up the toilet right now"
Frank – she told James to f**k himself earlier..
Bridgette – I can't hide it
Vic – what he say
Bridgette – it's just the game..
Paul joins them.. Chit chat..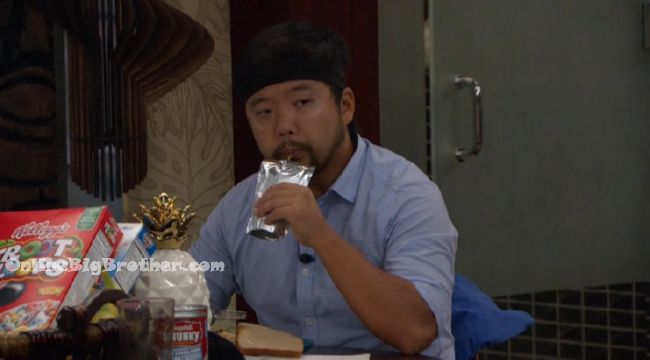 1:24am Natalie and James
Natalie is bringing up James breaking the deal with Bridgette on the wall..
Natalie – so it's ok to break a deal like that
James – it's not ok.. The thing is this is Big brother.. You trust people only as far as you can throw them.
James – A deal ok.. you don't want to definitely break deals early on, 1st ,2nd, 3rd, 4th, 5th week but if you have to break a deal make sure the whole house is behind you 100% and it's a good deal to break and it's justified than you can break a deal.
James goes on to argue the reasons why it's OK to break certain deals in Big Brother.
James – I broke a deal and nobody in this house cares.. The know I broke a deal they don't care Frank and Bridgette are in the house together..
James- I won't break deal with people I'm close with.. I'll never put Da or you up..
James is hung up on Frank saying "Just because I have a kids doesn't mean I deserve to go to jury" that is what pushed James over the edge.
James says "The girls" will get targeted next says Bridgette, Michelle, Da'vonne will be the order.
Natalie thought they all liked Michelle
James- they liked her it's just the pecking order.. The last one to leave will be you
Natalie – they think i'm zero percent a threat.. People think I'm dumb I'm starting to feel dumb.
Natalie – Who do you think it going home
James- Frank
Natalie – Michelle wants Bridgette out
James – ohh I didn't think of that.. She has a veto.. I think the house will vote Frank out..
Natalie warns him about Nicole, "She's sneaky"
James- you saw her by the memory wall..
James – Frank is going home and it's probably bad for you game to hang out with him.. Don't be mean..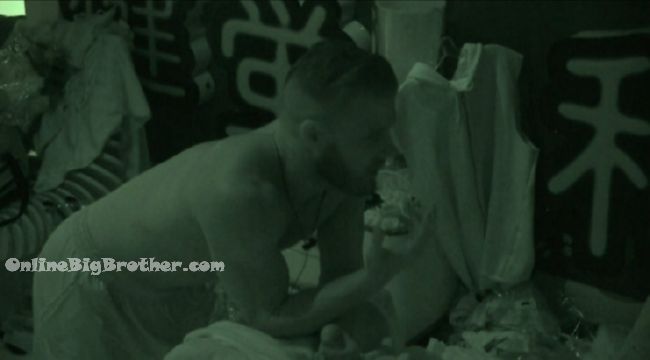 1:38am Paulie, Nicole and Corey
Commenting how Zakiyah, Da and Michelle were cheering for Michelle during the POV and it was over the top. They were really rubbing it in.
Paulie – they're going home there's no reason to stick it on them. .
Corey – I would rather have bridgette on my team than Da and MIchelle combined..
Paulie – I feel like 1 of them has to go for sure.
They agree Frank is not going to get the house to flip on Da, he's still going to try.
Paulie – I ask the girl to rub her ankle for one competition and they were yelling at me for that.
Paulie goes on listing Zakiyah getting really jealous with Paulie and natalie/Bridgette..
Paulie – it's a game I don't have to be a f***g d1ck to them
Paulie is getting worried things will go south with him and Zakiyah and the girls will rally against him. She'll force a kiss and make a move then get pissed when he doesn't
Paulie – I would be down with that next week
Corey – Da
Paulie – rather than BRidgette
Nicole says she doesn't like talking about people like the other girls have been, "I don't agree with throwing out cookies.. I'm sorry that's immature.. I don't want to be around it.. It's usually just talking about Bridgette.. "
Paulie – Da said (to james) she's going after 2 couples.. There's only 2 couples in here.
Nicole – I want to get Da out man
Paulie – If Z doesn't want to get Da out I'll put them both up.. If Da comes down I'll put Michelle up.. It is what it is..
Corey – get Vic to win hoh next week.. Have him do some dirty work..
Paulie – Natale is disposable she'll never win anything
Nicole – I'm not worried about her at all
Paulie says they should get rid of Vic, Da'vonne, Bridgette and Michelle in no particular order. That leaves the 3 showmances and Paul.
Corey mentions that the Veto came down to Frank, Bridgette and Michelle
Nicole says it looked like Frank was throwing the veto, "He looked defeated"
They plan on getting Paul/Victor to win the HOH to put up Da and Michelle
Paulie saying if Michelle wins the next HOH she could go after Bridgette and Victor.
Corey – I can't believe what Michelle was saying during that Comp
Paulie – now if Bridgete wins HOH she'll go up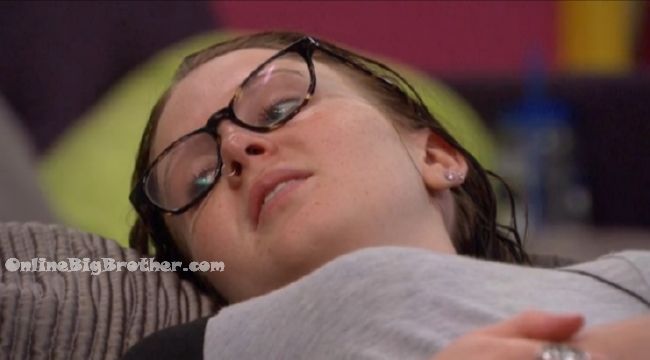 Michelle comes by they say Frank is going to try and talk her into using the veto on her.
Michelle – can't wait..
They are all surprised OTEV was so early this year.
Michelle wants Bridgette out before Frank says she doesn't want to be in jury with Bridgette.
Da'VOnne and Zakiyah join them.. (Corey, Nicole, Paulie are quiet for the most part)
Michelle – Apparently he's going to talk to me..
Da'Vonne – bout what, just go home
Da'Vonne – Ya.. I can understand as a player of the game why he would come talk to you.
Da'Vonne says Bridgette wants to talk to her after the backyard opens up.
Michelle – about what.. make another deal so she can put you back up the next week.
Da'Vonne – ya I'll make a deal won't hold up to it but i'll make a deal..
DA'Vonne says she hasn't bullies anyone in the house.
Michelle – Same
Michelle points out that they don't call her b1tch or anything like that it's not like they are saying they'll shave eyebrows off.
Da'Vonne getting mad calls it bullshit says it's not right for Bridgette to call her something she is not.
Michelle says Bridgette is just using it
Victor runs in tells them the plan from Frnak is to use the veto and Backdoor Da'Vonne.
Da'Vonne – I don't know what I did to him.. I don't know.. I don't.. I mean what did I do..
Nicole – when he start coming for you
Da'Vonne – before Tiffany's eviction.. I don't get it
Zakiyah says she intimidates Frank.
Zakiyah says Frank is like a child.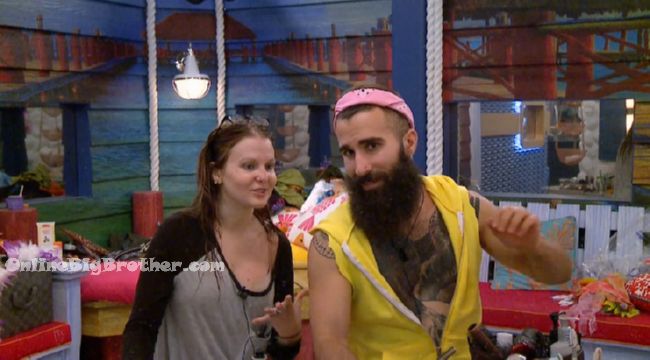 2:25am Paul and Michelle
Michelle talking about using the veto on Frank.
Paul – I would beat the sh1t out of yo in my sleep..
Michelle wants Bridgette out over Frank, "She'll be a secret comp beast"
Paul – No F***G way
Michelle – when I talk to Frank tomorrow I'll be like.. maybe i'll consider it.
She won't be using the veto but will see if she can get Frank's and Bridgette's "Secrets"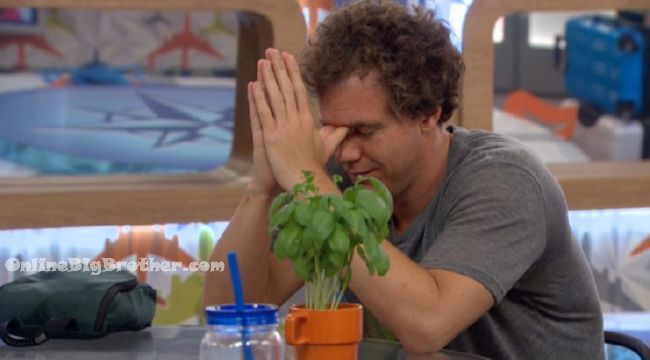 2:39am Frank and Bridgette
Frank says it's not possible to get Michelle to use it but he's still going to try.
Bridgette – how do we get her to use it
Frank – Ego.. appeal to her Big Brother fandom and her sheer lack of self confidence
Make her thinks if she uses the veto it's a BIG move that will change the game.
Nicole comes by.
Frank – trying to think how I'll approach Michelle tomorrow
Nicole – you'll figure i out
Frank – I got a pretty good little pitch
Frank – Paulie doesn't think I can get the numbers of the house to agree to go along with it. (Backdoor Da)
Nicole – he talks to the most people around here
Nicole says it's worth a try.
Frank – whats your read on Paul..
Nicole – He's funny..
Frank – It's so weird he seemed emotionally upset
Nicole – about the nominations
Frank – and about hearing how those girls have been mean to Bridgette
Nicole looks at Bridgette – I do think they are mean to you.. I've distance myself from that..
Nicole leaves.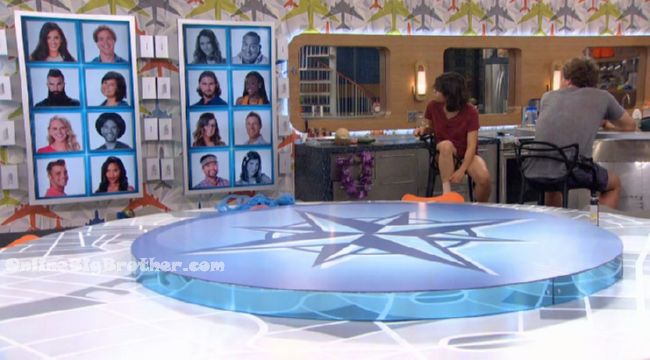 Bridgette tells him about the spy girl alliance and how her name was called Spunky Spy
Bridgette brings up Natalie stopped talking to her after Bronte left and that was the end of spy girls.
This morning Natalie was telling Bridgette how she had no idea she was going on the block, Natalie went on and on about having no idea she's not part of any alliance. Later in the day James was telling her that Natalie knew she was going up and she asked him not to put her up but said it was my HOH so do what yo have to.
Bridgette – Thanks Nat
Frank – she's a idiot
Frank says he's going to disappear in a bottle for a month.
Bridgette – I can't play this game Frank .. I thought I could do it..
Frank – you can.. I might have f***D it up..
2:56am
Frank says Bridgette will be the only one he talks to out of this cast.
Frank – Zakiyah lives in my f***G town I never want to see her again..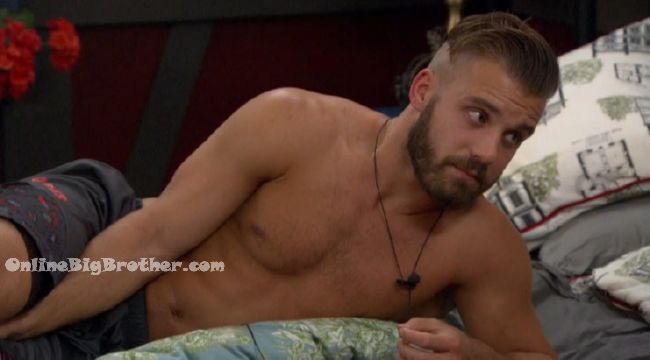 3:20am Michelle, Paul, Paulie, Da
Paul says Frank was trying to be someone he's not
Da'Vonne – he's trying to be mike (Boogie)
Paul- was Mike a a$$hole
Paul says Bridgette does not operate well when she's alone, Frank is a unknown. If left alone.
Michelle thinks Bridgette is an unknown as well.
Da'Vonne says Bridgette is the girl in a house that hate's girls.
Paul agrees, "Hommie is not as dangerous and curly cue"
Paulie – what are you talking about Tiffany
Paul – Bridgette
(HAHAHA)
PAulie leaves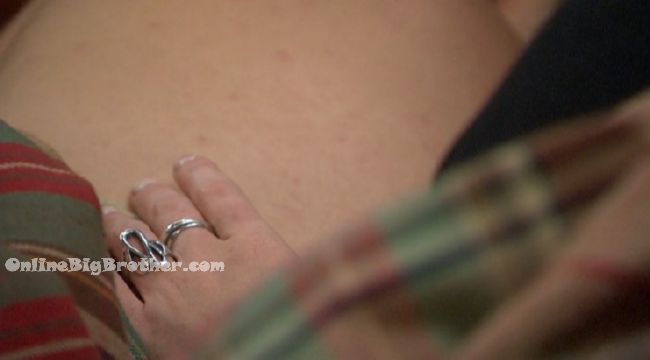 Michelle picking Pauls back zits says something about Tiffany never showering and therefore the blanket she used is cursed.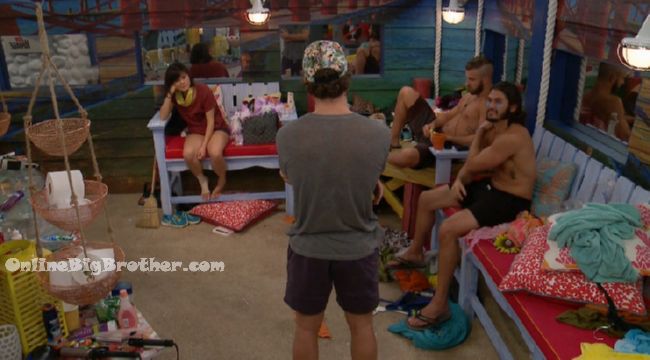 3:30am Paulie, Victor and Bridgette bathroom
Paulie tells Bridgette he told grank if he's gone he'll take care of her.
Paulie – most of them are just intimidated..
Victor – threatened
Paulie – I'm sorry Bridgette bridge
Bridgette – lied to straight to my face.. Nominated with my best buddy and beat in the challenge by my biggest bully.
Victor – tough pill to swallow
Paulie will let them know once he finds out where the vote is going.
Victor – to be honest when I tried speculating what happened I couldn't sleep.. (LOL)
Bridgette – I don't want to be trapped in the house with them.
Paulie says after this season he's not going back for 2 years to watch the season. Brings up that is what Cody did.
Victor says the the Diary room fishes for things.
Paulie – TV needs to be made.. I tell you straight up .. If I win next week I'm putting up Da'VOnne and her little protege.. Zakiyah..
Frank joins them.
Paulie going on about Zakiyah saying. "Student athletes skate their way through school and they don't have to do anything"
Corey also heard and took offense to it. Paulie says he's going for HOH and putting ZAkiyah and Da'Vonne up.
Paulie – you wanted to be shielded.. You don't bite the hand that feeds you..
Frank – I'm going to talk to Michelle tomorrow.. It's not likely.. But she is a super fan.. A big move is flipping the house.
Frank – I feel decent about it
Paulie – I don't want you to leave yourself open for people make you look like a d1ck head
Frank – what do you mean.. I have to try
Frank – I don't care people make me look to be a d1ckhead all summer.. I'm going to work it..
Frank – if I can get james to flip maybe he can put some pressure on her.. F*** it I got to try.. If that doesn't work I'll take a sh1t in each one of their beds.
Frank – don't worry about me looking like a dickhead paulie they are the ones that look like dickhjads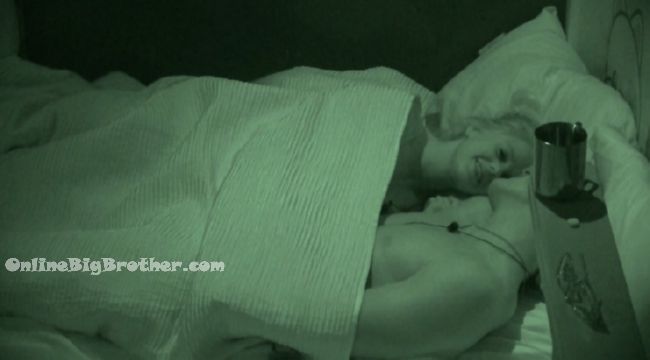 3:44am showmanceing
[polldaddy poll=9477458]
[polldaddy poll=9477456]