POV Holder:
Big Meech
POV Competition
July 23rd
POV Used
?
POV Ceremony
July 25th
HOH
James
Next HOH
July 28th
Original Nominations:
Frank AND Bridgette
After POV Nominations:
? AND ?
Have Nots
?
CBS All Access: Live feeds are only $5.99 per month – Try it FREE for 1 WEEK!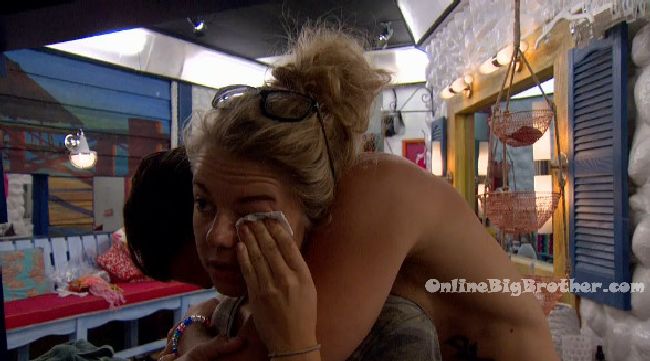 1pm – 3pm Big Brother wakes up the house guests and they all continue sleeping. Big Brother says "Buenos Dias House Guests! Rise and Shine!" At 3pm the house guests start getting up for the day. Nicole says I can't believe its 3pm! Victor says I know, that's what happens when you stay up till 7am. Nicole asks if Michelle thought Memphis was hot. Michelle says no, I don't like muscly guys. Michelle asks Nicole if she thinks Matt Hoffman is hot. Nicole says no. Michelle asks these people with wives .. why can't someone just wife me up! Nicole says someone will.
4:15pm Big Meech says well now you're going to see a side of me that my mom hates. When I'm pissed off and hate everyone in the world. Z says now people are going to come after me. Michelle says not under my watch! I don't even get what you did. James joins them. Michelle says his fans must be going crazy you won the endurance. Jame says endurance king. James says hashtag endurance king! Hashtag deal breaker! Z asks deal breaker? James says on my first endurance comp I made a deal with Clay and Shelly and broke it and then did again on this one. James says I hate when someone makes me work for 5.5 hours and then want to make a deal. Why not make a deal when I first asked you. They head to the kitchen. Natalie says she keeps feeling like she's going to get in trouble from her mom for sleeping in James's bed… like I'm sleeping with my boyfriend. James says that's why I stick to my side but we hold hands under the pillow. Michelle asks James if he gets his camera today? James says oh yeah .. I might go get my Pandora's Box! Natalie says he is totally going to get it and its going to be good for the whole house but him.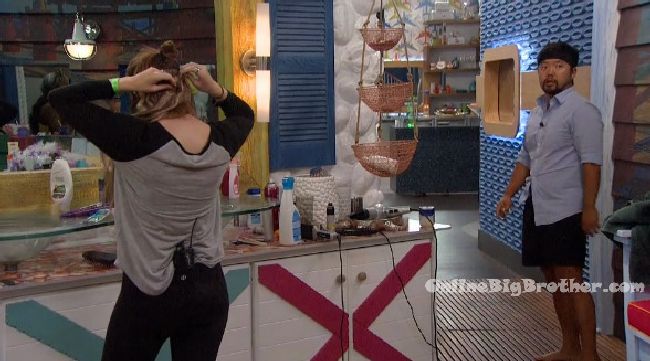 Zakiyah straddles Paulie. Paulie tells her they got in trouble for throwing those things at her. Z asks so no one came to you personally saying the wanted to put me up? Paulie says they want to put everyone up. You can't worry about that.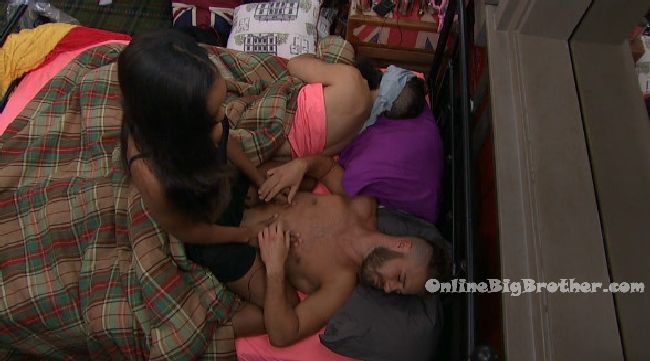 4:55pm Corey tells Victor that last night he had a w*t dream and went to the washroom. He says he came back and told Nicole it happened.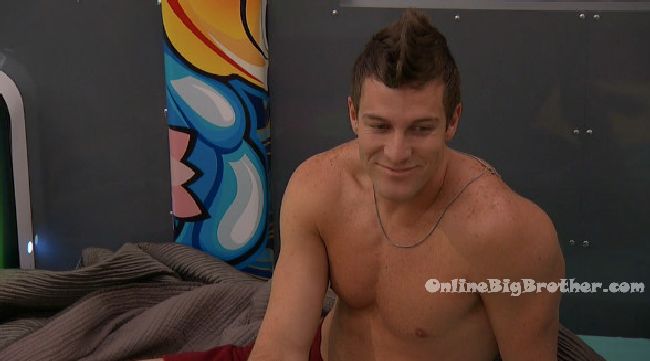 5pm In the kitchen – Corey says I had a WD! (wet dream) Frank laughs and says oh really?! Corey says yeah it was a good morning .. woke up, had a burrito and went back to bed.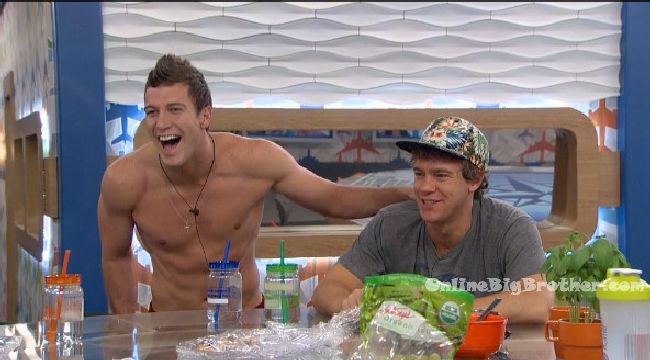 5pm HOH room – Nicole tells James that Frank wants me to come talk to you with him to convince you to put up Da. And I just don't want that but I don't know how to go about it. I don't know if I should just say no. I just wanted to get to you before .. if he drags me up here with him. James says MmmHHmmm. Corey joins them. James says I've heard your name come up a few times .. like with you and Corey. He says that Nicole is really flip floppy. Nicole says I'm not flip floppy! I've never done anything to you. Like you trust me right? James says yeah… especially us couples need to look out for each other. Nicole says I don't know what to do with the Frank thing. James says he is scared to death to talk to me by myself. He knows from watching my last season that I don't crack under pressure. Michelle joins them. Frank joins them and asks Michelle if she will use it. Frank asks what do I need to do? Get a bunch of people together and show you the numbers? Michelle says I wouldn't use it if no one wanted it. Frank says I think a lot of people want it. James asks what do we need to call a house meeting? Frank asks Nicole if she would? Nicole says if everyone else would. Michelle asks if you do stay who are you and Bridgette going after? Frank says whoever you guys want .. I don't even want to win HOH as long as the heat is off of us. James says if the group comes together and says they want it, then I'm down. Frank says I don't think I deserve to go before Da and I don't think Bridgette does either. Frank leaves.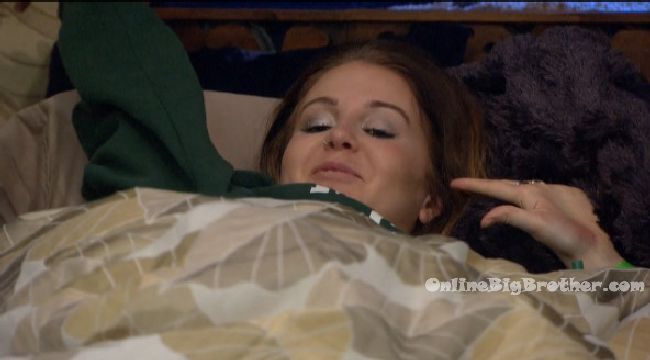 5:40pm – 5:55pm HOH room – James, Michelle, Natalie. James says as HOH I want Frank to go home. If the house wants Bridgette then.. Bridgette hasn't done anything to me. Control-wise and vote-wise we can do more with Bridgette. Michelle says if anything I think she would put up Victor for you. Probably Victor and Da. James says she might put me up. I'm not scared of the block .. I don't want to be on it but. Nicole joins them and asks what they want? You're not really thinking about it are you? Natalie what do you want? Natalie says its not my HOH. Nicole says I can't tell him (Frank) its over. Paulie basically told him yesterday its over (that Frank is being voted out). I think it would be really silly to change the plan. If he can get out of this he could go to the end. Its like how Dan did it and made it to the final 2. If he does, then he deserves to win. Nicole asks Michelle are you considering using it at all? Michelle says No! James says yeah he's done! He just has to go through the motions. He threw your name under the bus .. he said you made a final 2 deal with him. Nicole says I 100% did not make a final 2 deal with Frank (Yes she did).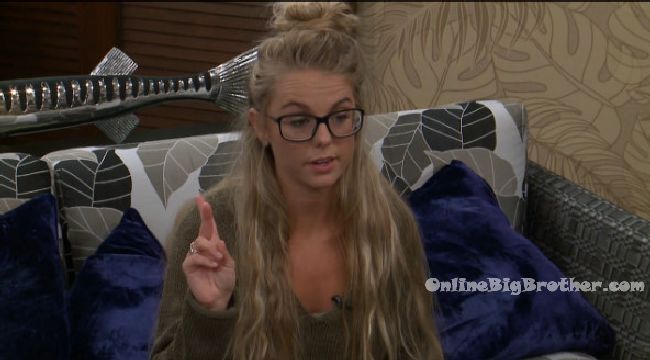 6pm – 6:06pm HOH room – Nicole, James, Z, Michelle and Paulie. Da says I don't think anyone will really understand until they're the person that's being pointed at .. Da Da Da. Nicole says I told James .. should we just tell him that its over. I know he has to fight. Da says its hard to keep hearing .. if you can get the votes we'll do it.. when all the people you're supposed to be tight with. ..and to see everyone scattering. James says If it would make you feel better I could go down and tell him it isn't going to happen. I'm not putting her up. Da says no you do what you need to do. James tells Da he is not putting her up. I will let him know if it will make everyone happy. Da says no you continue to do what you need to do. James says I promise I will not put you up.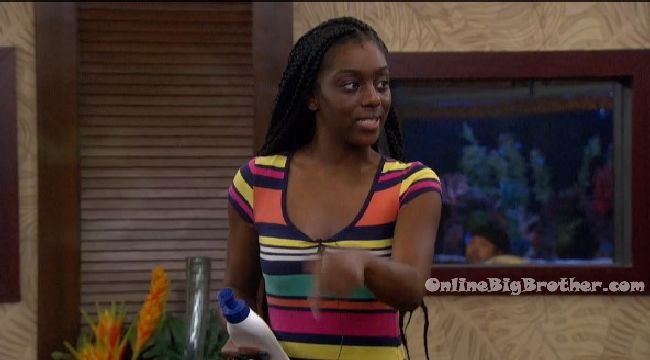 6:20pm – 7pm London Bedroom – Z, Da, Paul are talking. Da is complaining about people catering to Frank telling him if he gets the numbers they'll put me up. Paul asks why are we catering to him (Frank)!? Paul says both of them (Frank & Bridgette) lose .. Meech won it. Z says it is what it is, you're going home. Z tells Da not to worry. Da says I'm not worried. I know James won't put me up. Its that the people I'm supposed to be tight with keep talking. Nicole joins them. Paul says I just feel like everyone is scared. We have all the power.. we have the HOH and the POV. They talk about Bridgette saying she's being bullied. Z says I'm not bullying you. I just don't like you. Da asks are you telling me Bridgette Crocker is more offensive than Cabbage Patch Kid? Ge the f**k out of my face. Z says I am so over Frank .. I just can't wait for that little thing to go home. Z says I just want to fight her (Bridgette)! Maybe outside the wrap party. I just want to fight her. Paul says if for some reason Frank doesn't go this week I am going to close my eyes and go off and start shooting. I just don't get it .. you have all the power .. and he is not coming back .. we just had a pre-jury buy back. Why are we entertaining it. Z says I just need her to know we're not buddies.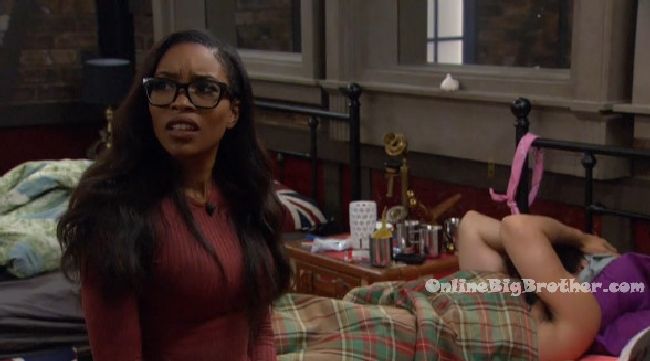 6:30pm – 6:45pm HOH room – Paulie, James. Frank joins them and says we could get everyone up here right now if you want. James says Paul need to be up here or he would flip the f**k out. Frank says we talked about it last night and he's on board. James says we can do whatever you want. I would like Paul up here if where going to do that. We do have all night. Frank leaves. Michelle says you know what I saw was the best prank ever?! These kids were at the beach and they took bread and soaked it with laxatives and all the seagulls came and ate it …and were sh**ting on everyone at the beach. Vic says the birds probably died. Paul says if you feed them alka seltzer and they'll blow up. Vic explains how it fizzes inside them and blows them up. Frank says I've heard of that.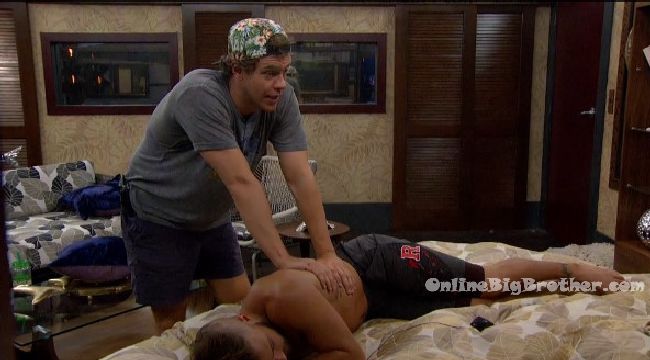 Nicole tells Vic to give Corey a kiss.
Frank "Corey's going to have another wet dream tonight!"@bigbspoilers #bb18 pic.twitter.com/txJr9kIBmW

— Dawg (@DawgsBigBrother) July 25, 2016
[polldaddy poll=9477458]
[polldaddy poll=9477456]