POV Holder:
Austin
POV Competition
Sept 5th
POV Used
Yes
POV Ceremony
Sept 7th
HOH
STEVE
Next HOH
Sept 10th
Original Nominations:
Austin and Liz
After POV Nominations:
Liz and Julia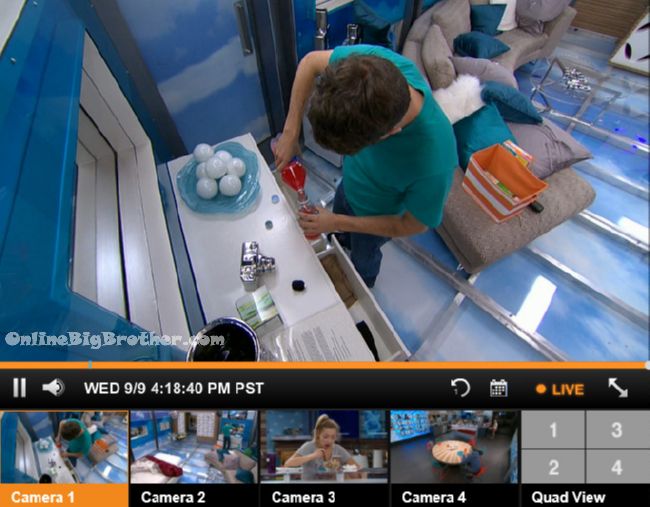 4:18pm HOH Boy has squirreled away some kool aid..
4:19pm Kitchen Steve, Jmac, twins
Talking about Jmac noticing Julia's fake tooth. Julia says Jeff was such a bully he was always trying to catch the twins.
Steve syas he never felt guilty for voting Jeff out.
Jmac says he only voted for Jeff because he didn't want Jeff to come out with the Jeff, Jackie, Clay and Shelli alliance.
Julia – Jeff was a nice guy but he took the twin thing too far
Jamc – he got too into it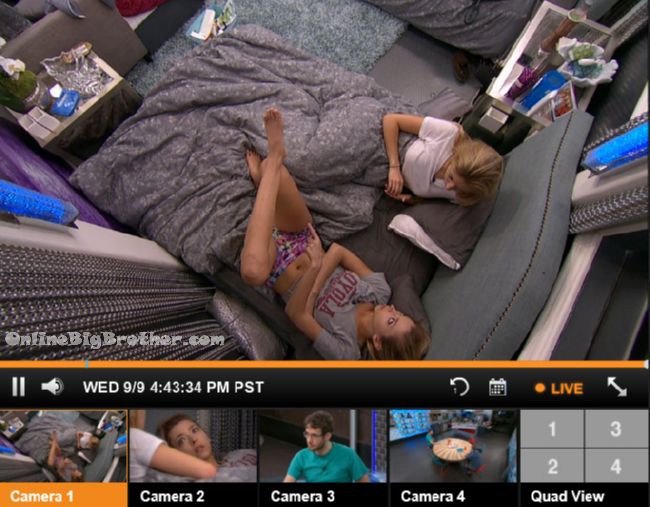 4:43pm Bedroom Twins
Agreeing if Austin leaves Liz will take Vanessa to final 2. They want a girl to win this season.
They are going to talk to Jmac and let him know Vanessa is playing everyone.
Liz says Vanessa has made final 2 deals with everyone in the house.
Julia thinks this is why Setve never threw the HOH to Johnny mac he was worried Vanessa would go up.
Liz – she's a rat and we're catching her in her own trap
Julia – I would love for her to come to Jury, I have such a strong feeling you and Austin are going to make it.
Liz says if the HOH comes down to her and Austin She'll throw it to Austin .
Julia has concern that Jmac will spill everything she tells him if Vanessa wins the HOH.
Julia goes over what she will tell Jmac about Vanessa – She manipulated and Played me she's playing all sides of the house and she wanted him to be warned..
Julia – she has a final 2 deal with Austin.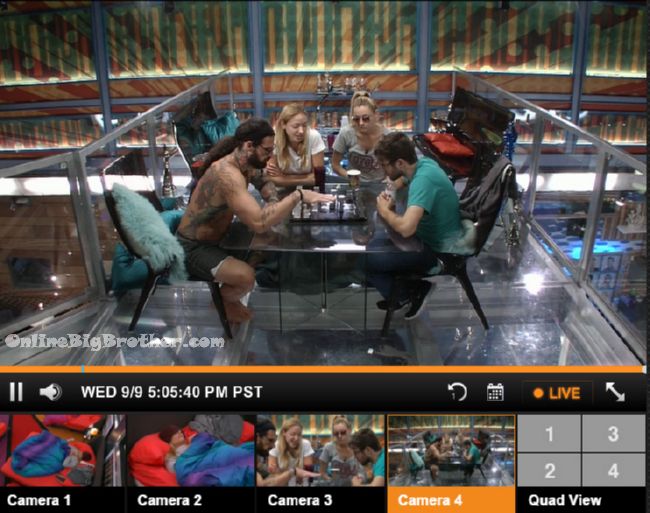 5:03pm Chess ..
Steve Vs Austin, Steve Is being 'SneakY"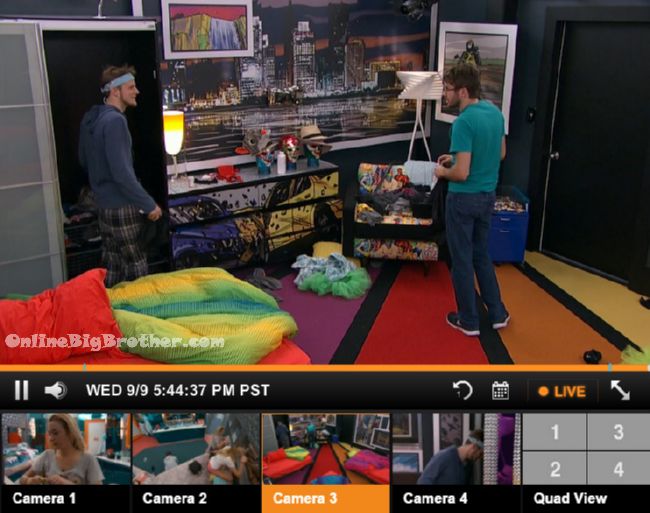 5:44pm Jmac and Steve agree on Jmac voting out Julia is fine for their game.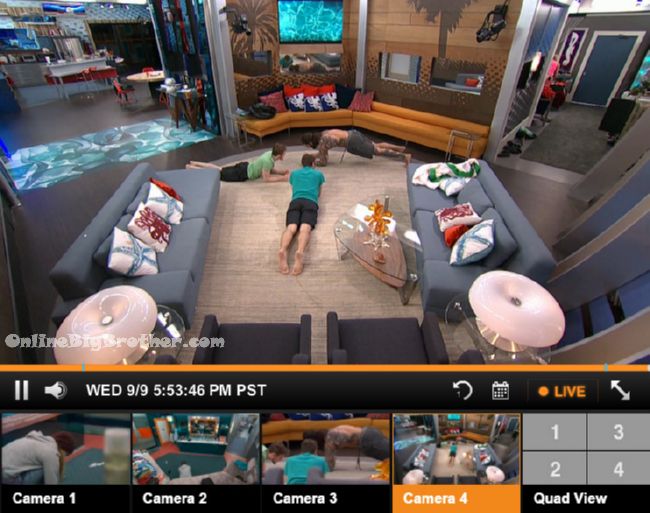 5:47pm Austin working out with Boy and Jmac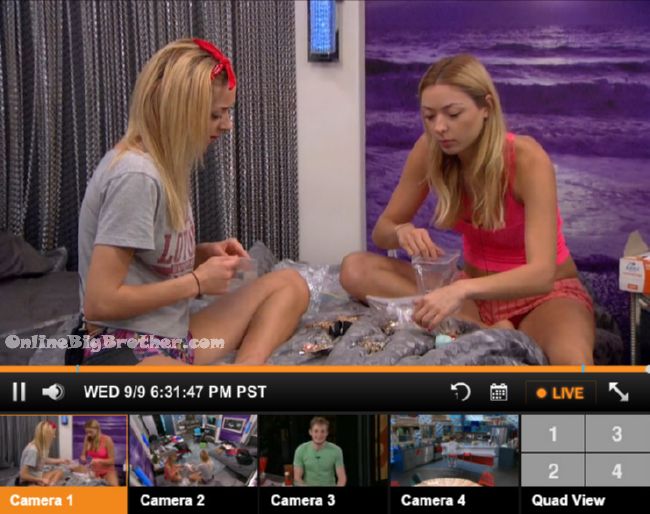 6:19pm Twins packing
Liz – I thought theses were yours
Julia – aren't these yours
Liz – There's yours
Julia – I thiugh these were yours
Liz – thses are yours
Julia – oh my god they are mine
Liz = Mine
Julia – yours
Liz – Yours
Julia – Mine
Julia – these green ones are mine
Liz – these are mine
Liz – yours
Julia – mine
[envira-gallery id="132893″]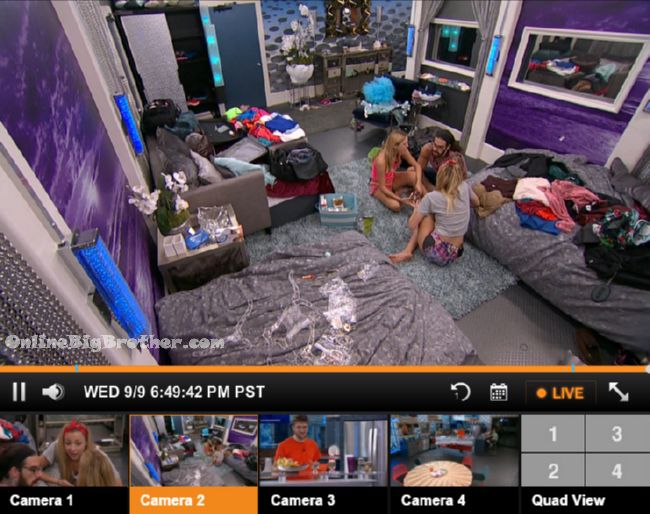 6:49pm Bedroom Austin and his twins
Twins telling him that Vanessa is saying she's got to win the next HOH. Julia wants them to promise her every night they will study.
Julia goes over some of her talking points with Jmac. Says he'll bring up the final two Vanessa made with her. wonders if she should bring up her suspicions that Austin and Liz probably making deals with Vanessa.
Austin and Liz don't think Julia so involve their names.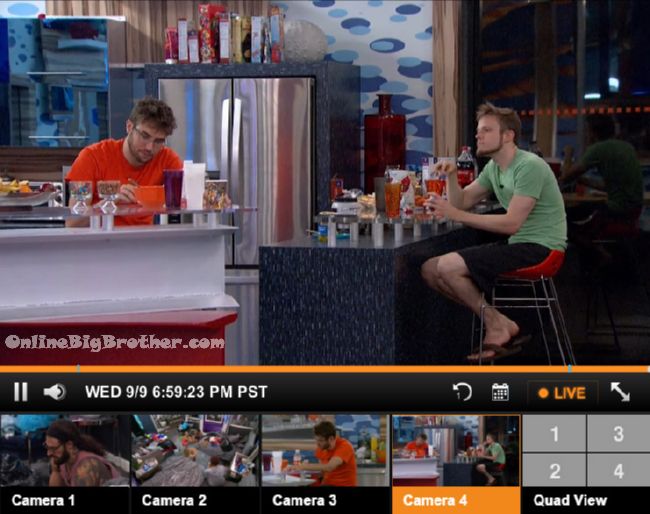 7:00pm Jmac and Steve chatting about dental work
Jmac says when there's a nerve involves he calls a oral surgeon. The reason is they are the most highly trained people in the field. Their insurance will cover them if something happens. If something wrong happens with a oral surgeon they are the best qualified to deal with it.
Jmac says when kids come in for the first time and their parents never warned them about a needle they are fine. If the parent says "you better be good for that needle" the kids will freak out. Jmac adds that the "topical" is so good the kids rarely feel needle.
Steve – you use a pain killer for the pain killer
Jmac says 5-6 appointments a day are extraction appointments. The people cannot afford a root canal or a crown, replacement.
Jmac – if you lose your back teeth your face become sunken in
Steve – you pull 5 to 6 a day
Jmac – sometimes I pull 40
Jamc goes on about the horrors of people's teeth
Steve – you've pulled all the teeth
Jmac – Oh ya Lots.. it's a full pull
Jamc – they get dentures
Jmac – I don't recommend pulling teeth unless it's the last options
Jmac – it's always some form of neglect in it.. or they get hit in the face, or they don't get enough Fluoride.. it's genetic.
Steve thinks it must be really hard to tell someone you have to pull all their teeth.
Jmac says he use to feel really bad about it was devastating but..
Jmac explains what it's like talking to people about pulling all their teeth – "You're really bad at it and they can tell from a mile away.. when you think about it you care more than they do.. they let it get that bad"
Jmac – the one guy he got oral cancer that was a tough one, the tongue split into serpent tongue (See images below)
Steve- what do you say
Jmac – we're Going to refer you to oncology
Steve – whats that
Jmac – cancer doctors RWJAHGATYAUHHH WWAA
Jmac says the guy's cancer was so deep they couldn't remove it it worked it's way into vital structures
Jamc – it looked like a serpent split tongue, Like tentacles, didn't hurt.. I've never seen anything like that.. it's usually smoking and alcohol induced..
Steve – I could never go into medical
Jmac – once you're dead inside you can tell people whatever you want ..
Jacm – once there was a cyst they couldn't remove the person died
Jmac – A cyst is sac filled with fluid (See images below)
Steve – why would it kill you
Jamc – when you're taking it out it's close to the brain cavity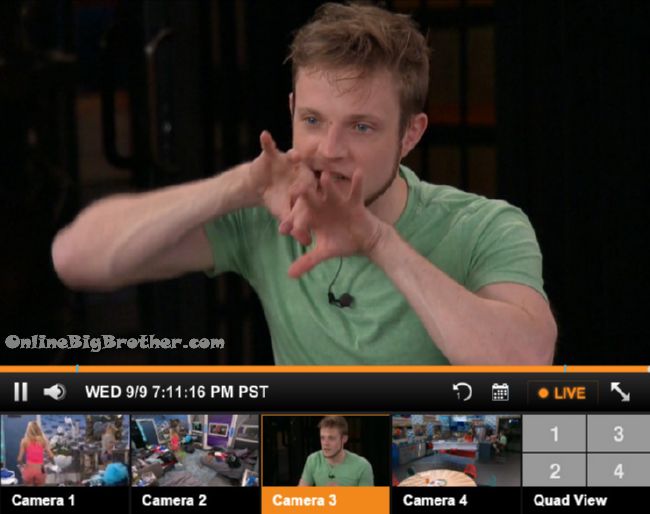 [envira-gallery id="132902″]
If you've enjoyed the spoilers please consider a donation using the drop down box below. Simon and I work 24/7 all season long to keep you updated on everything that happens inside the Big Brother house.
[polldaddy poll=9059938]

[polldaddy poll=9063299]