HOH: Derek X
HAVENOTS: Christian, Xavier, Alyssa
Nominations: Britini and Sarah
Power of Veto Players: Sarah Beth, Britini, DX, Claire, KY, Alyssa | HOST: Hannah
Power of Veto: Britini
Power of Veto Ceremony:
Prize / Punishment VETO Results:
– Sarah won 5k
– Derek X bathroom punishment – he has to unlock the washroom every time someone needs it for the next 24 hours
– Alyssa won a phone call
– Ky – has to make clubhouse sandwiches
FYI – Teams are done, Wildcard comps are done, Twist next week with Fan involvement
Big Brother 23 Houseguest Rankings – – RANK THE HOUSEGUESTS –
View the previous day ranks on the – Ranking Grid
Big Brother Spoilers – As of right now Christian is still going up but DX may not have the votes to take him out. There should be some interesting game talk today.
10:20 am
Houseguests waking up for the day. Claire applying ice hot patches to BRit.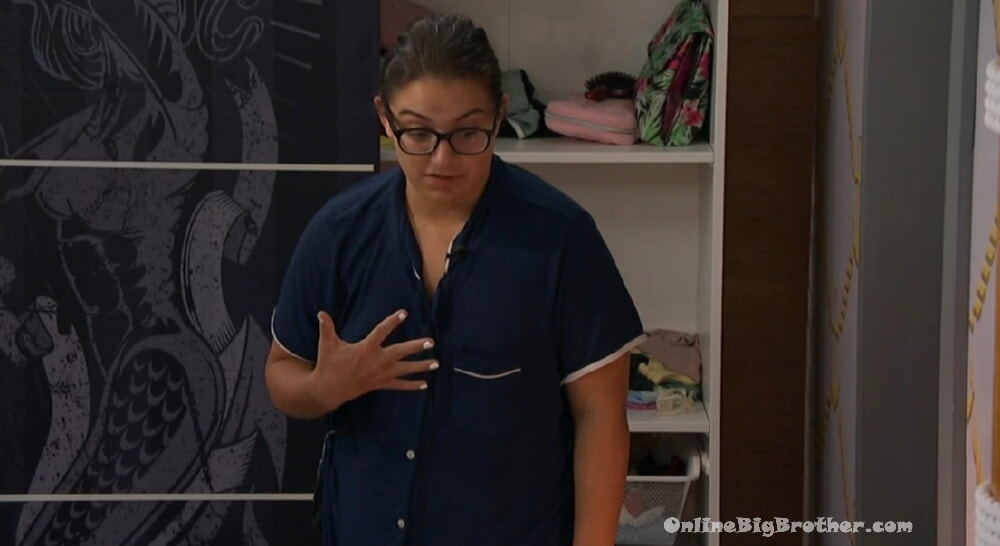 10:22 am DF, Brit, and Azah
Brit whispering "we have to keep our eyes on people"
Azah – Who
DF – everybody
Brit motions to were Christian and Alyssa are sleeping
brit – who else?
Azah – Derek unfortunately, Hannah, everybody.. and the Kings
Brit – we have a really solid 5. Pending if one of you doesn't go on the block we have a solid 5 we will control the vote this week.
Azah – Ky, SB, Derek, Hannah, And unfortunately X for me. (people to watch?)
Azah – I would keep my eye on everybody there are some people you can't say everything to.
Azah – who are the people that mentioned your name to Derek? I sure didn't he (DF) sure didn't
Brit – just so when I talk to DX there is a plan who do we think will make a good replacement nominee?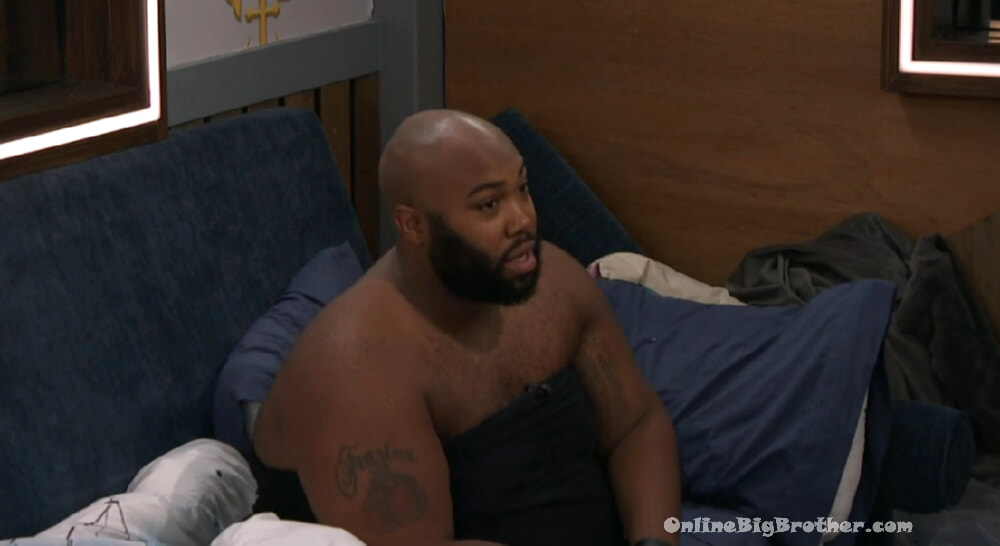 DF – any one of the KINGS
Brit – OKay..
Brit didn't know Alyssa and DX had a deal they made on the wall.
DF – I didn't know that
Brit – funny how she mentioned that after the veto was won by ME
Azah – DX told me the day he won HOH that he made a deal with her.
Brit – the way she acted last night. She showed me so much of her character
Azah – she's a big baby and the way everyone coddled her too. She's a big baby. I'm happy she straighten up her game cause I would ruin my game having to tell her a$$ off.. When she started whining I was about to start and it was X who was like calm down. Then she came over and started changing her tune.. you didn't see Alyssa came in and I think somebody was saying 'that competition was not fair to you at all Alyssa'
Azah – she was like I KNOW I'm going to say something in the DR cause that's not fair. It didn't fit my head right it's not fair. That competition was not won fair and square.
Azah – I was looking at her like am I on crack. I don't care how she feels Britini won fair and square no one was beating her in this competition. The fact that she's whining. She needs to grow the F*** up
Sb comes in.
Azah – Goodmorning SB one day until 28!
They talk about her Birthday Cake.
Alyssa comes in for a minute to grab something from a dresser. She says her neck is really sore. Brit, SB, and Alyssa leave eventually.
Azah – why was she complaining about her neck she wasn't using it. she's a BIG o' crybaby
DF – big o baby I want to send home
Azah – I want to send Christian out first
Brit joins them "I don't know why she's complaining about her neck she wasn't using it"
They go on about Alyssa's technique in the competition.
Brit – my head was slightly tilted back so that the back of my head was at the top..
Azah – it's not the fault of Production you just have a small head you should have asked God for a larger head
Azah – they were accommodating soo much for her then britini started helping her
Brit making fun of Kyland "I'm sorry Kyland you couldn't take Sarah Beth off the block.. I'm really sorry I won it instead"
They laugh
Brit – the crazy part is I was celebrating and everyone was checking in on her.. What the hell.
Azah – I know
Brit – I was like are you ok .. are you fine.. wow thanks guys
Brit leaves. DF tells Azah he thinks one of them two is going up.
Azah says if that's the case it gives them a reason to go after DX.
X hits the weights.. (skips legs again 😉 )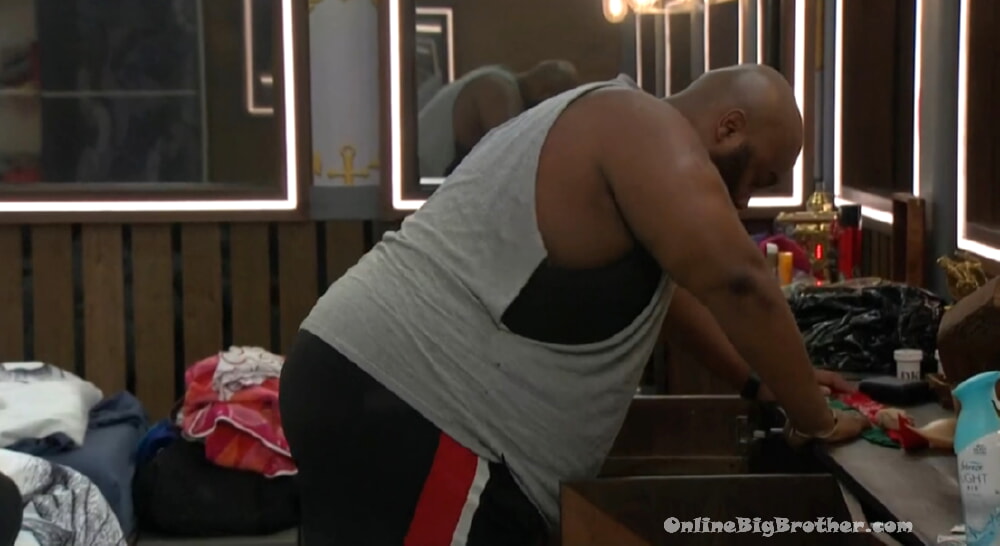 10:54 am DF and Azah
(DF gets out of bed.. out of breath)
DF – do I want Sneakers or boat shoes today..
Almost trips on his way back to his bed. He lets in a large breath "These floors are dangerous"
DF – my goal today is to sit back and relax let God handle it and trust that DX will make the right move. trust that Britini will be able to talk to him. let you talk to him. I have to let people that are close to people to talk."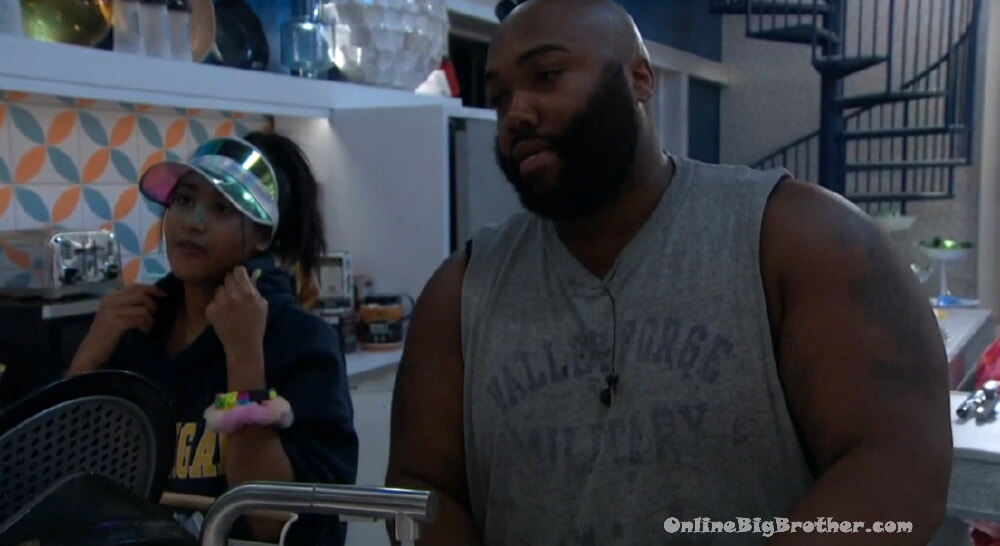 11:24 am Hannah and DF
Hannah – says she had the feeling last week that her gut was telling her she's going up
DF – that's how I feel right now there's nothing I cant do
DF muttering about going up as the pawn.
Hannah says After what Sb did last night people might just say take the 10K and go home.
Hannah – you would have me, Brit, Azah, Tiff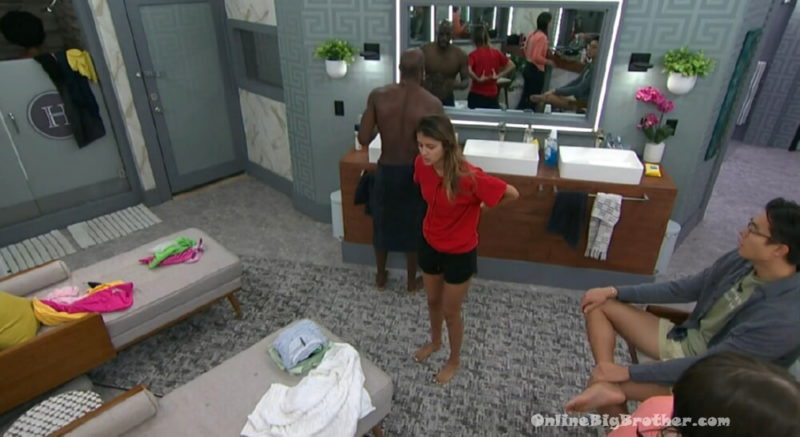 11:34 am Alyssa, SB, DX, X, Azah, Christian
Alyssa telling them how sore her back is.
Dx says she was using her whole back
Alyssa says she had to because when she moved her head she couldn't see. Now "when I move my neck it feels like I can't breath"
Sb – gasps oh my gosh.. I hate that
DX – they need to chill out with these comps
Alyssa says she's way sorer than after the wall competition.
Alyssa – even if my Helmet fit I would not have beat her
Alyssa – there's no way
Alyssa – she clearly wanted it more than me clear as day
Alyssa – first girl to win the veto..
X – let's hear it for the girls..
SB – maybe we'll have a girl HOH maybe it'll be ME
Show your support 🙂 Without your support this site and these spoilers wouldn't be possible.
Please consider a donation to keep the madness going.